Blank wall ideas
Give empty wall space a pop of personality with a statement clock, wall mirror or photo gallery.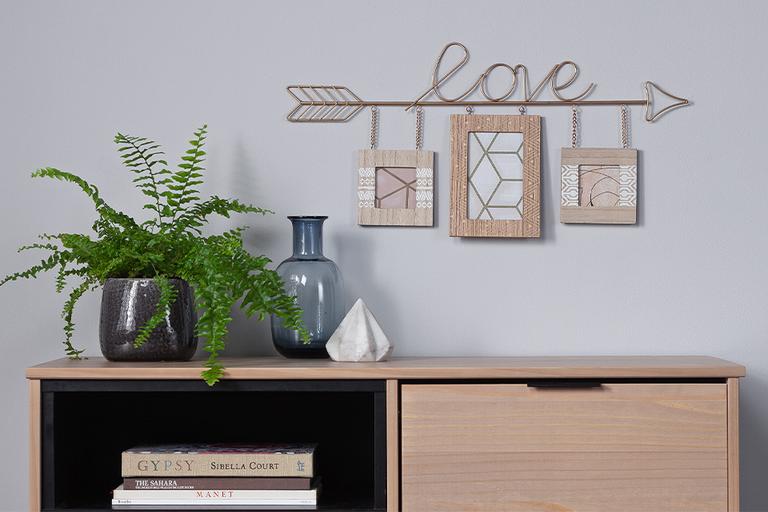 How to make the most of your walls
Adding features is a great way to bring your walls to life, and it's all about maximising the space you have. Large clocks and mirrors can do more than just tell the time and show you how you look, they can complement your home design and fill an otherwise unused space.
Nine ways to make your walls stand out
1. Add an oversized clock
Less about practicality and more about design, an oversized clock is there to make a statement. Hang one in a prominent spot on a wall, so that it becomes the focal point of the whole room.
2. Hang a statement mirror
A mirror can enhance a room by reflecting light and making the space appear larger. Don't be afraid to pick something that's showy or unusual, as it will add more interest to the space.
3. Create a gallery wall
Gallery walls work well in any room and are a great way to add a personal touch to your wall space. Fill frames with your favourite photos or artwork for a unique, one-of-a-kind display.
4. Install some floating shelves
With floating shelves, you can turn unused wall space into a useful place for storing, organising and displaying. Space the shelves out equally on the wall for a clean, uncluttered and visually pleasing look.
5. Add wall art
Wall art is a great way to show your personal taste. Choose something contemporary like an abstract print, or perhaps a beautiful watercolour inspired by nature and the great outdoors.
6. Create a brick wall
If you want to give a room a dramatic facelift, try hanging a brick effect wallpaper on a bare wall. It's an easy way to completely change the appearance of a room without much effort or expense.
7. Fit a wall light
A wall sconce is a great option if you're looking to brighten up a blank wall. Seek out one that complements the overall feel of your space, whether it be rustic, modern, or somewhere in between.
8. Frame some wallpaper
For a quick and inexpensive way to add interest to your walls, try framing some wallpaper patterns. Make sure you use frames that easily open up, so you can swap out the design whenever the urge strikes.
9. Add a memo board
Turn a wall into a functional space, by adding a memo or message board. Find one that doesn't distract from your décor and fill it with pictures, postcards, ticket stubs and things that make you happy.
More help and inspiration
Why buy at Argos?