Use up and down arrows to review and enter to select. Touch device users, explore by touch or with swipe gestures.
What is the difference between a cooker and an oven?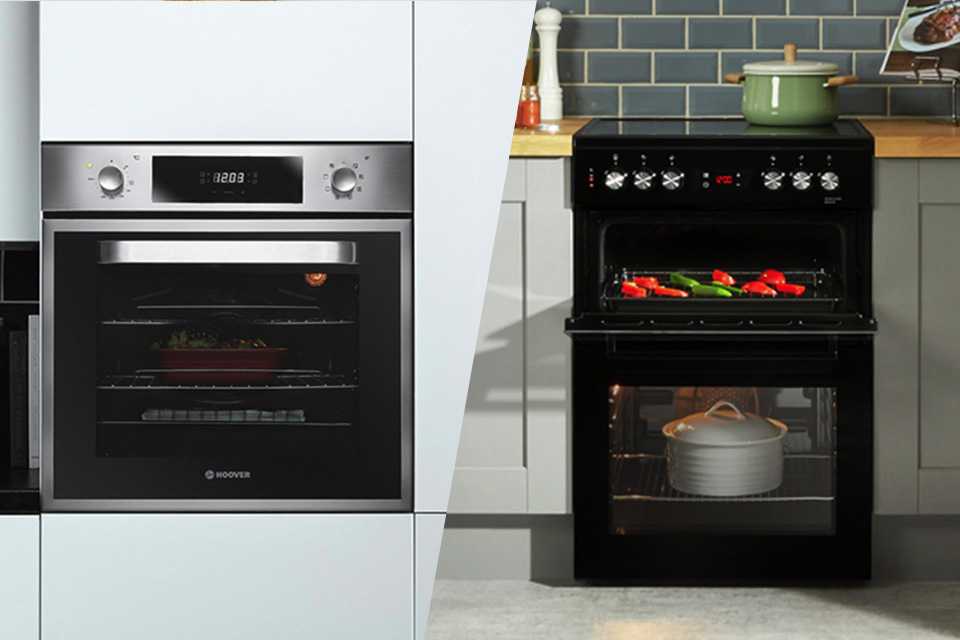 A cooker is a freestanding, all-in-one unit that contains at least one oven and a hob. It stands on the floor, and in most kitchens will slot into a gap between your units and counter. Cookers range in size, but can be a great compact solution for smaller spaces - especially if you like to have all your 'cooking stations' kept together.
Range cookers are wider than standard cookers and feature multiple oven cavities and hobs. Their size and capabilities make them a great choice for large families. Often they are associated with farmhouse kitchens, as many have a traditional, stove styling - but you can get modern finishes also to suit contemporary kitchens.
Built-in ovens can be bought and installed separately from a hob. If you want to create an integrated look, where your oven is fitted into your kitchen units, this is the way to go. You can also install your oven at eye level (a great solution if you can't bend easily) and in a separate area to your hob if that suits your kitchen design.
Cooker sizes generally have a standardised depth of 60cm, and height of 90cm - which means they'll sit neatly alongside most kitchen units. You have a choice of widths to choose from depending on the space you have available in your kitchen, and how much oven and hob space you require for cooking.
Standard cookers
Width: 55-60cm
Oven capacity: Single oven options will usually have a capacity of between 50-65 litres. If the model has a second oven or grill it usually has a capacity of 30-35 litres.
Hob: Usually 2 large and 2 small hob rings or plates.
Slimline cookers
Width: 46-50cm
Oven capacity: Single oven option usually has a capacity between 35-50 litres, with a second oven or grill usually having a capacity of 30 litres.
Hob: Usually 4 hob rings or plates that are slightly smaller than on a standard cooker.
Range cookers
Width: 90-110cm
Oven capacity: These usually come with two large ovens, each with roughly 60 litre capacities, plus a separate grill. Some models may feature one large oven with a capacity of over 100 litres.
Hob: Between 5-10 suitable for a variety of pan sizes. There may be a griddle also.
Take a look at the size options below to see what suits your kitchen needs.
Built-in single oven
Big enough for most families, a built-in single oven is the most popular and common oven option. These are quite adaptable in regards to where they can be placed, be it under the worktop or eye level in a built-in unit.
Compared to a built-in double oven they are limited in size. However, if you're not cooking for many on a regular basis and you won't need to bake and grill at the same time, a single oven is a great option.
Built-in double oven
A built-in double oven is perfect for those with larger families or keen cooks that make a lot of different dishes. Their two separate oven sections allow you to grill in the top oven while you cook something else in the bottom oven.
The increased oven capacity however, means that the size of a double oven is a fair bit bigger than a single oven. So keep that in mind when looking for your next oven, as they will take up more space. Being a built-in appliance though, they are still an incredible space saving kitchen addition.
Built-under double oven
If you need more cooking flexibility than a single oven but don't have enough space for a built-in double oven, then a built-under double oven may be the option for you. They feature the two separate oven sections in a more condensed space.
It's important to note that they are not much bigger than a single oven.
While they are called 'built-under' ovens, they can be placed either under a kitchen counter or within a kitchen unit at eye level.
Cooking functions in an oven
There is more than one way that ovens can create heat to cook your food. The three key types are explained below to help you understand the differences and decide what works best for you.
Convection oven
Convection ovens, also known as fan ovens, use internal fans to distribute the heat inside the oven evenly, meaning there will be no section hotter than another. They're great for providing an even bake across multiple dishes in your oven.
Multifunction oven
Multifunction ovens have more than one cooking feature built in for optimum cooking opportunities. This tends to be a combination of heating features that can include a grill function, defrost setting, conventional and fan cooking.
Conventional oven
Conventional ovens have a static heat source, placed at the bottom of the oven. Meaning it heats from the bottom up, and once fully heated, the top will be hotter than the bottom. These ovens are great for cooking multiple dishes that require different temperatures.
Top features to look for in an oven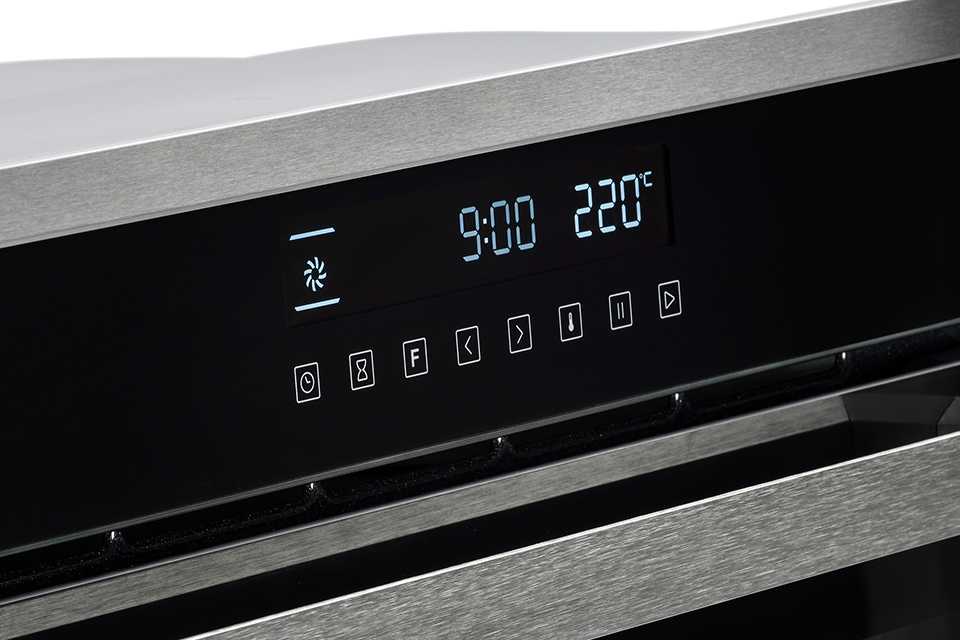 Programmable timer
This feature is great if you have something to cook for a specific time. The timer can be set to finish cooking your meal at a given time, meaning it will switch on automatically, cook your food and then switch off again once complete.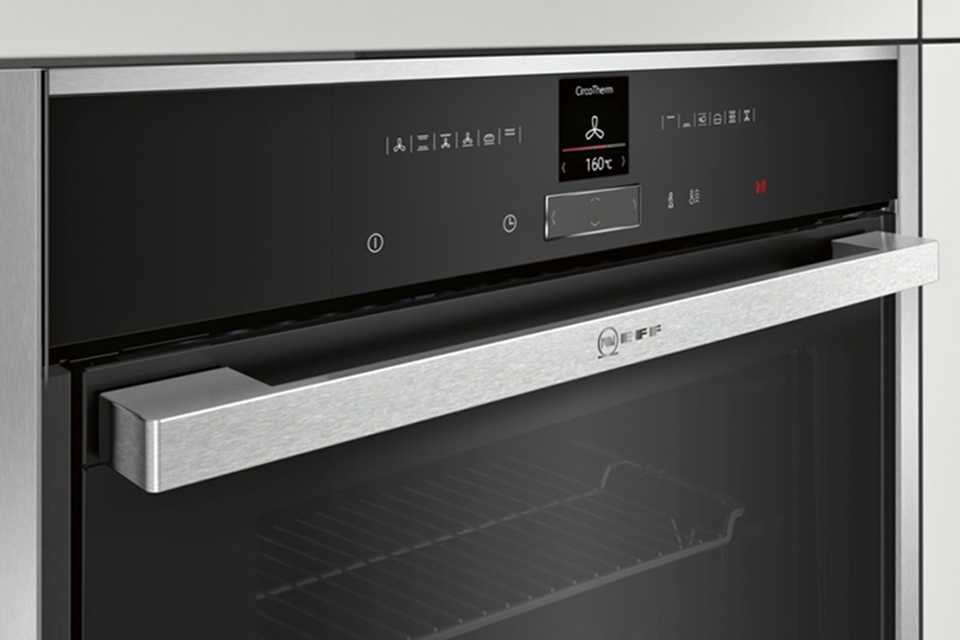 Digital controls
cooking as they can be set to specific temperatures more accurately than ovens with dials. Aesthetically they provide a sleek and streamlined look allowing them to blend into your kitchen seamlessly.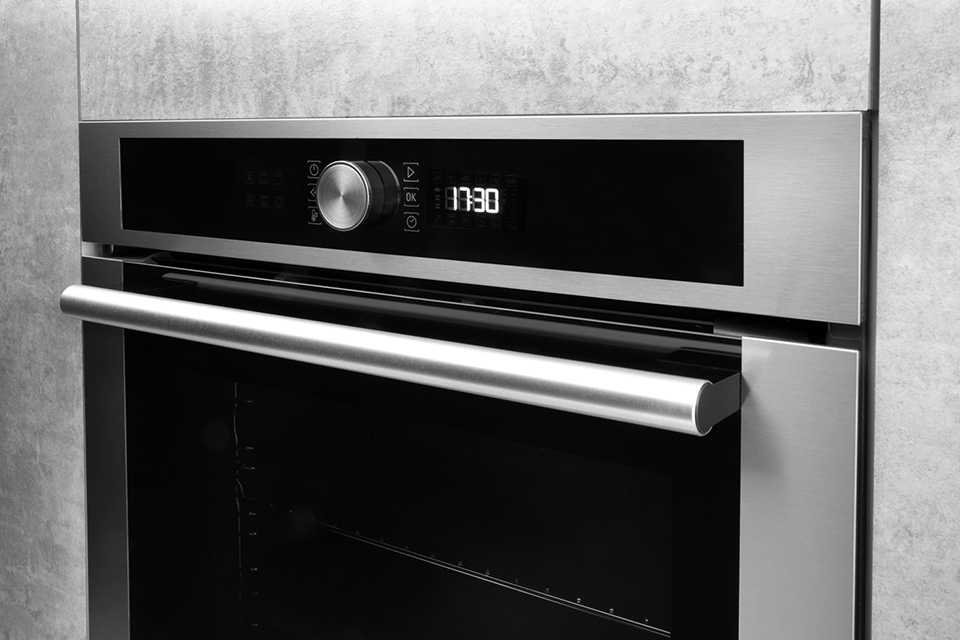 Automatic cooking controls
Automatic cooking controls give you the ability to prepare your dish, select what you're cooking on the oven and then the oven will automatically set the temperature, cooking time, heat source e.g. the grill, and even the moisture levels.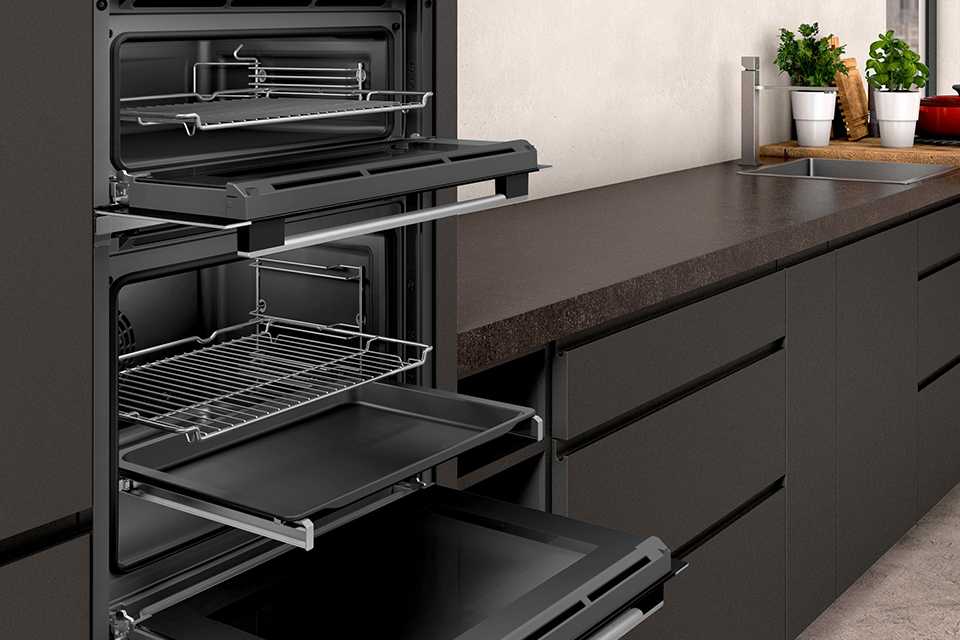 Telescopic runners
These are really useful for getting to what's in your oven with ease. The inside shelves are built onto sturdy telescopic runners allowing them to be pulled out smoothly, meaning you can check or take out your dish safely and with little effort.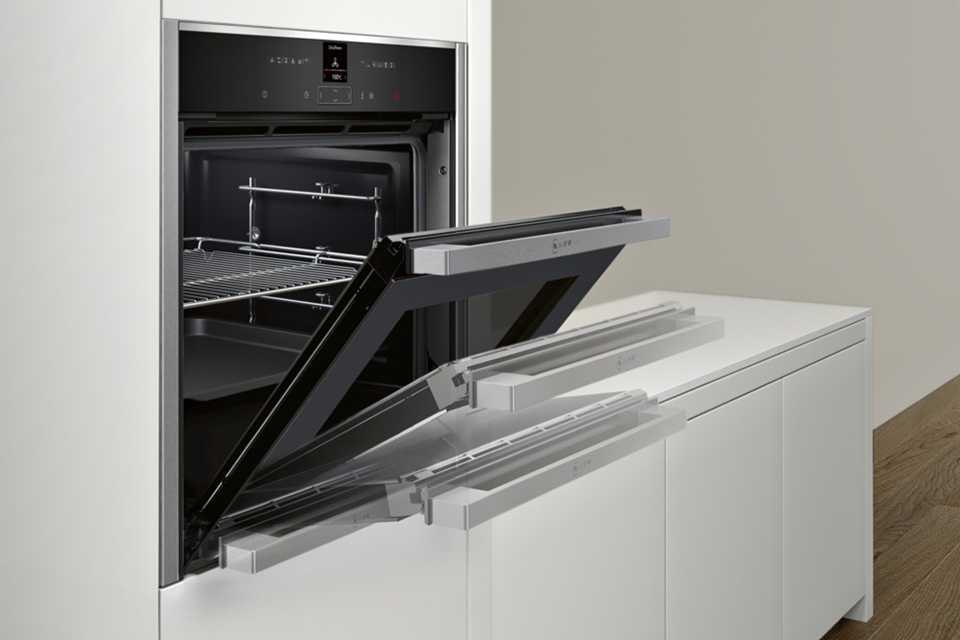 Slide and hide doors
Some ovens have a slide away door, which are great for kitchens where space is at a premium. Once fully open, the door then slides underneath the oven, giving you easy access to the oven interior without having to reach over it.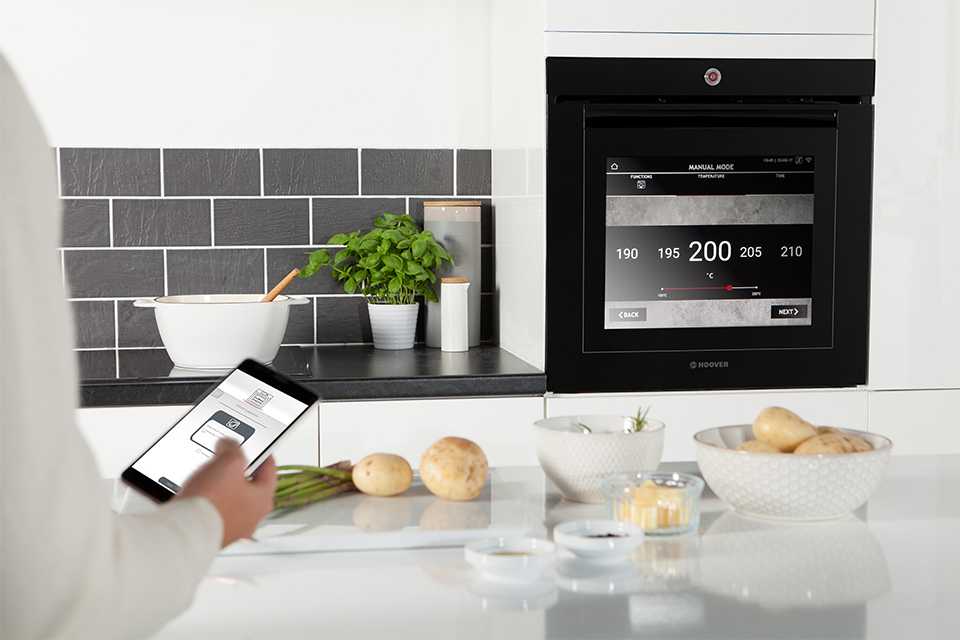 'Smart' ovens
Ovens that have 'smart' connectivity support the functionality of connecting your smartphone or tablet to it. Meaning you can control certain cooking functions or even check on your food without needing to go to the oven itself.
Hate cleaning? Get an oven that does it for you. Take a look at the three main types of self-cleaning ovens.
Catalytic cleaning ovens
A catalytic cleaning oven has specially treated liners fitted on the inside that absorb the grease created by cooking. Just wipe with soapy water and you're done.
Pyrolytic cleaning ovens
These ovens work by increasing their temperature to 500 degrees celsius and burning off the grease and dirt. It is a complete clean, so all you need to do is wipe the leftover ash.
Steam cleaning ovens
These ovens work by giving the inside of the oven a 'steam bath'. Just add a little water and washing-up liquid to the bottom and select the hydrolysis cleaning function. Once cool, clean it with a cloth or a sponge.
Get the right hob for the job
Choosing a hob is more than deciding between gas or electric. Explore the four main types of hob so you can decide what works best for you.
Gas hobs
Gas hobs are popular with professional chefs and kitchens due to their quick heating functionality. They also provide an even cooking surface temperature. As their name suggests, they use a gas feed that is lit via an in-built ignition point, rather than electricity.
Heats up quickly, meaning food reaches optimal cooking temperatures quicker.
Cheaper to run than most electric hob models.
Compatible with all types of pans and many have wok support as well.
All gas hobs have an FFS or flame failure safety feature built in, which means if the flame goes out unexpectedly, the gas supply is cut off automatically.
Things to consider
Require a gas connection, so not suitable for all homes.
Not the easiest to clean due to the pan supports and burners.
Induction hobs
Induction hobs use electricity, but work by creating a magnetic field, allowing them to heat only the pan. Ideal for those who have a busy life, induction hobs have a feature that allows you to increase the power to a cooking zone by up to 50%. Meaning, you can bring a large pan of water to boil in around 90 seconds!
Electromagnetic technology means they heat up very quickly.
As they heat only the pan, they're incredibly energy efficient.
The has very little residual heat after cooking. The burners turn off automatically once pans are removed, making them safe.
You can be specific with the temperature, making cooking a breeze.
Things to consider
They tend to be more expensive than other hobs.
If you have a pacemaker you may need to check that an induction hob won't affect it due to its use of electromagnets.
Induction hobs only work with certain pans. Steel or cast iron is the ideal choice, but some copper and aluminium pans will also work if they have a magnetic base.
Ceramic hobs
Ceramic hobs use electricity to heat elements underneath the hob surface. This heat then transfers from the glass surface to your cookware and proceeds to heat the contents within.
Easy clean ceramic glass surface.
Low maintenance while not compromising on style or ease of use.
Compatible with all types of pans, so you can continue to use your existing cookware.
Some models have built-in heat indicators so you know which areas are still hot to touch.
Things to consider
Cooking surface can take a while to heat up or cool down.
Heat distribution around the bottom of the pan is not as efficient as other hob types.
Solid plate hobs
Simple to use solid plate hobs are the most basic of all the types of hob. They're also known as sealed plate and electric plate hobs. They work by heating an electrical element that is underneath sealed metal plates, which in turn heat your cookware.
Ideal for those on a budget as they are inexpensive.
Easy to use with a simple, traditional design.
Hard-wearing making them difficult to damage or scratch.
Heat is distributed well with any pan with a flat base, especially cast iron cookware.
Things to consider
Not easy to control the specific hob heat.
Most expensive type of hob to run due to the metal plates taking a while to heat up and then cool down again.
Hardest type hob to clean, will likely discolour after first use.
Features to look out for in a hob
Gas hob safety features
Flame failure device - this feature switches off the gas feed should the flame be accidentally extinguished by an overboiling pan or a draught.
Automatic ignition - this feature automatically ignites the gas when you turn the knob, rather than you needing to push a separate ignite button.
Warning buzzer - it alerts you to let you know if a burner has been on for a long period of time, preventing you from leaving the gas on accidentally.
Electric hob safety features
Auto standby - if left unattended for a long time, the hob will go into a standby mode or a safety shut-off feature will switch it off altogether.
Pause function - lets you pause your cooking by turning all active hobs down to the lowest setting, preventing accidents if you need to leave the kitchen.
Child and control locks - found on models with touch controls, these allow you to lock the hob surface. So children cannot accidentally turning on the heat and no one can unintentionally change the heat settings.
Controls
Hobs come with two main types of controls. Typically, this will depend on the type of hob you buy.
Rotary controls - these are found on solid plate, gas and some ceramic hobs. They work by simply turning the dials at the edge of the hob to control the amount of heat produced.
Touch controls - as the name suggests, these are 'buttons' that are built in to the surface of the hob. You will typically find these on induction and most ceramic hobs.
Smart sensors
Overheat protection - this clever feature detects if the temperature is too high or if whatever you're cooking spills over onto the hob surface. It will then shut off the cooking zone or in some cases the entire hob to help prevent damage.
Pan detection - only on induction hobs, this feature detects when a compatible pan is on a cooking zone and will heat it accordingly. Once removed, it turns off the cooking zone automatically.
Overflow protection - it will detect if a pan is about to boil over, and turn the heat down to prevent that from happening.
Which fuel type is best for you?
Gas
Cookers - Gas cookers have both a gas hob and a gas oven. Known for their modest cost and environmental-friendly features, these are a popular choice for pro chefs and entry level users alike.
Ovens - They are less expensive as compared to electric ovens, but aren't as effective at keeping to the temperature they're set to. Heat acts more like a conventional oven with most built-in gas ovens. Some models probably still require an electric connection as most need this for the electric ignition.
Hobs - These have a traditional look with a pan frame support that sits over the burners. They provide instant heat as soon as you turn on, compared to electric hobs which take a little longer to heat up, and you can easily control the heat by turning down the flame. Any style of pan can be used on a gas hob.
Electric
Cookers - A popular choice in modern kitchens, electric cookers offer fast cooking times, even cooking results and are easy to clean, but usually cost more to run vs gas hobs.
Ovens - Electric ovens are more expensive to run than gas ovens. They have better accuracy in the temperature settings, allowing for more precise cooking. Most electric ovens come with fans that help distribute heat evenly. Although they take longer to heat up, they still cook food in less time. Some models also come with a wide range of features and self-cleaning functions.
Hobs - Electric hobs are available in solid sealed plate, ceramic and induction designs.
Dual fuel cookers
Dual fuel cookers always feature a gas hob and electric ovens. This gives you what many consider the best features of the two single-fuel cooker types; the even temperature control of an electric oven, and the precise, instant heat of a gas hob.
Entry level models are more expensive than entry level gas or electric-only models, and as they feature gas, they'll need to be installed by an appropriately certified engineer.