How to create a welcoming hallway
The hallway is often the first thing someone sees when they enter your home. Here's what you can do to make the space as inviting as possible.
1. Welcome mats
Not just welcoming, a doormat also has practical benefits as it can prevent muddy footprints on your flooring.
2. Shoe and coat storage
Adding some shoe storage, a coat rack or hooks and an umbrella stand can keep your hallway free of clutter.
3. Hallway bench seat
Add somewhere to sit while you put your shoes on, as well as somewhere to keep stuff stashed away.
5. Hallway runners
Want to create a great first impression? Pick a runner that's as fab as functional.
6. Hallway mirror
Give your appearance one last check before you leave the house… not that you need it.
Home Fragrance
Hallway setup sorted? Don't forget to add a welcoming scent. Whether you prefer a calm or refreshing scent when you walk in the door, create the mood you desire with our selection of aromatic candles and reed diffusers.
Wall art and prints
If you want to add a pop of personality to your hallway, wall art is a great option. A picture-perfect entry each time? We're knocking on that door.
Vases
Wondering how to impress guests the minute they step inside your home? Simple. Introduce a statement vase to your hallway. And the job's done.
Indoor plants
Elevate your hallway with faux plants. They're easy to maintain and add a refreshing vibe to the space.
Lighting
Make a glowing entrance. From statement pendants to ceiling lights- light up your hallway for that 'welcome home' feel.
Baskets and boxes
Coats, keys, scarves, and other bits and bobs- a hallway can get messy quickly. Keep the space looking spic and span by hiding away the clutter.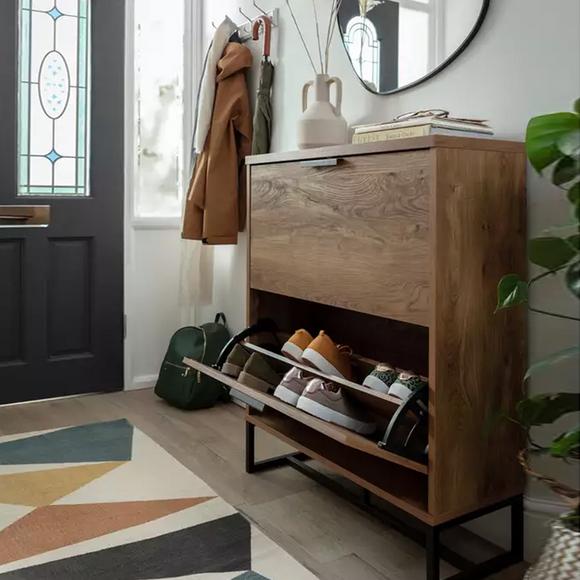 As one of the busiest areas of the home, a hallway can quickly start looking tired. Adding some fresh colour or wallpaper can bring it back to life and make it that much more inviting.
Hallway colour schemes
The décor in your hallway should set the tone for the rest of your home. From classic silver and grey to subtle and stylish duck egg and rosebud pink, we've got a pallet of paints to help you decorate your space.
Hallway wallpaper
Using wallpaper instead of paint can give your hallway an added pop of personality. From floral to neutral and modern to classic, we have wallpaper to suit whatever look you're going for.
More help and inspiration