When your baby arrives, you'll be rushed off your feet. Our comprehensive list of newborn baby essentials will make sure you'll be well prepared.
Baby car seats
An essential purchase before your due date, you won't be allowed to drive your baby home from hospital without a car seat. Ideal for going from car to foot as most have a carry handle so your little one can carry on napping,
Pushchairs, prams and travel systems
Going for a walk with your little one lets you both enjoy some fresh air and helps them experience the outdoors. Until your baby is able to sit up by themselves (this usually happens when they're 3-6 months old), they'll need a pushchair where they can lie flat.
Baby carriers
A comfy and practical way to carry your baby around, baby carriers bring your child close to you, cuddling them to your body while leaving your hands free. This allows you to do your shopping and all kinds of jobs while bonding with baby.
Breast pumps
A great way to let mum get some rest, breast pumps allow her to express milk for when she's not around or trying to sleep. Breastmilk can be stored for up to 5 days, as long as you keep it refrigerated.
Bottles, sterilisers and warmers
Breastfeeding-friendly clothing
Comfortable, stylish and discreet, these easy to button up tops and dresses make breastfeeding that little bit easier.
Nursing pillows
Perfect for providing comfort during pregnancy, these versatile pillows are also offer great support while you feed baby. And as your baby gets older, the pillow can be used to support them during tummy time.
Nursing chairs
Designed to support you while you hold your baby, a nursing chair is a comfy place for late night feeds and rocking your little one to sleep.
Bibs and muslins
You'll soon discover that newborns make a lot of mess, so we recommend stocking up on bibs and muslin squares. A bib will protect their clothing, and muslin squares are ideal for cleaning up spills and wiping baby's mouth after feeding.
Baby changing and bathing essentials
Baby changing
Although daunting at first, you'll quickly perfect the art of changing your baby's nappy. Great for keeping everything you need in reach, a changing station is a nursery must-have. A changing bag will keep your essentials organised and close-at-hand when you're out and about, and a changing mat will keep your baby comfortable during on-the-go clean ups. When you've finished changing baby, use a nappy bin to safely seal away germs and unpleasant odours.
Bathing
Sure to become one of your favourite parts of the day, baby's bath time is a wonderful opportunity to bond with your little one. Although not essential if you already have a full-sized tub, baby baths offer newborns the support they need and mean you won't have to stoop over the edge of the bath to wash your baby.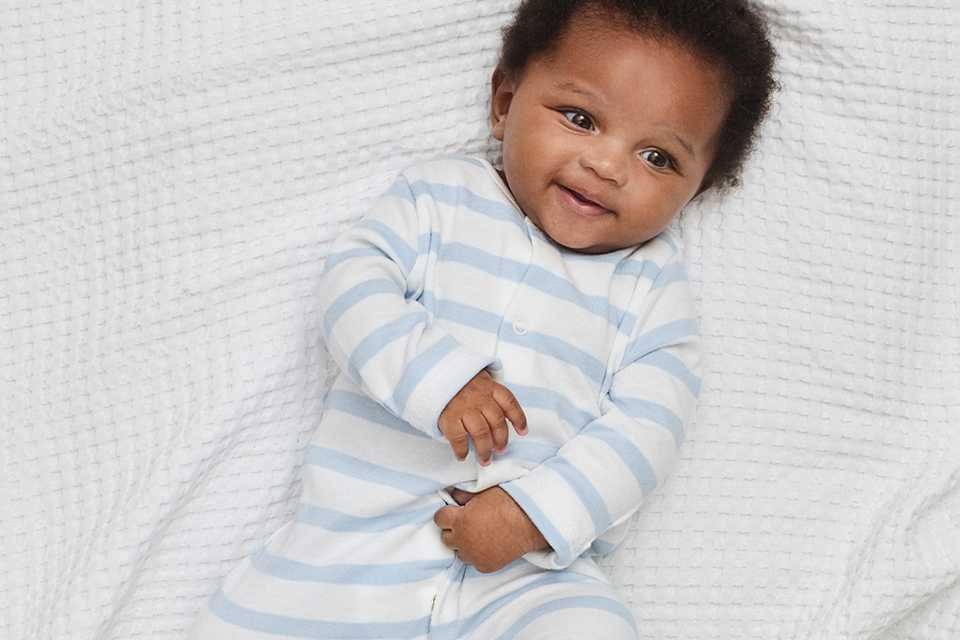 Baby's first wardrobe
Babies can be very messy and you may be surprised by how often you have to change your baby's clothes. To avoid being caught between spin cycles with nothing clean to wear, we recommend stocking your little one's wardrobe with the following:
Four sleepsuits
Six bodysuits
Four daywear outfits
Four vests
Two cardigans
Two hats
Mittens and booties
A sun hat
Baby health and safety essentials
More baby advice and inspiration