Best heaters for beating the cold
Cold weather beginning to bite? Our electric heater guide is here to help you heat up your home.
Shop all electric heaters
Best electric heaters for beating the winter cold.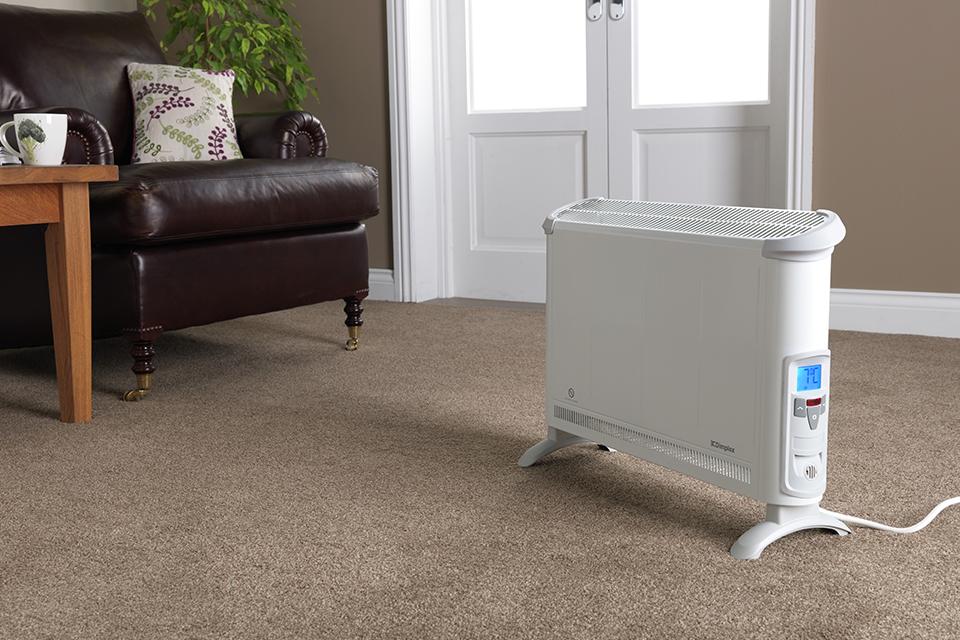 Which heater is best for you?
From portable electric heaters to fan heaters, there are lots of ways to turn a chilly living room, bedroom or conservatory into a place of comfort. Here's our rundown of the best heating options for your home.

Room heaters
Convector heaters
Convector heaters warm up to a comfortable temperature. They are best used as a backup or top-up heater, or for heating smaller spaces like spare rooms. Because they heat rooms by warming the air, they're often less effective in spaces with little or no insulation.
Oil-filled heaters
Oil-filled heaters take time to warm up, but once they have, they retain their heat for longer. Most have adjustable thermostats and variable heat settings, so you can easily control the temperature of a room. As they stay warm for several hours after they've been turned off, they tend to be more cost-effective than other heaters.
Panel heaters
Panel heaters provide instant warmth on cold days. They're ideal for warming up rooms that are used occasionally, or as a back-up to the main heating system. Their slimline style means they won't get in the way or take up precious floor space.
Energy efficient heaters
Halogen heaters
Radiant heaters like halogen ones provide more direct heat, making them effective in drafty spaces with no insulation. They emit heat through a halogen lamp, which heats up the objects around it, not the air. Although they're not designed for larger spaces, halogen heaters are good for warming up a small area within a room.
Oil-free heaters
Oil-free heaters take little time to heat up. They are light and very portable, so you can easily move them from room to room. Similar to their oil-filled counterparts, they warm up to a preset temperature and maintain that temperature level for as long as required.
Portable heaters
Fan heaters
Fan heaters are not capable of heating a whole room, but do provide a quick blast of warmth when you need it. They're small in size and great for supplementary heating, especially if your central heating system takes a while to warm up. Some also have an option for cool air, making them great for the summer too.
Ceramic heaters
Ceramic heaters are often used as a secondary heat source. They mainly come in tower or desktop forms, and the ones that oscillate distribute warm air to all parts of the room, not just one direction. Unlike oil-filled heaters, they don't get too hot to the touch, so they're safe to use around children and pets.
Electric heater features
Frost protection
An electric heater with frost protection emits low level heat when the temperature drops below a certain level.
Programmable timer
With a programmable timer you can set the heater to automatically turn on and off at any time. This is especially useful if a heater takes time to warm up.
Oscillation
Heaters that oscillate from side to side spread warmth evenly around a room. This function often gives a heater a higher coverage area.
Power output
If you're looking to heat up a smaller room, go for a heater that uses less energy. For larger spaces, you'll need a heater with at least 2kW of power.
Other heaters
Electric stove burners
For a more traditional look, opt for an electric stove burner. This type of heater is popular because of its classic looks and styling. It offers a realistic flame effect, which mimics the appearance of a real log or coal fire. Some electric stoves can also be operated by remote, so you don't have to leave the sofa to turn up the heat.
Outdoor heaters
When it comes to heating an outdoor space, there are many choices available, but some popular options include firepits, chimineas and patio heaters. These provide a cosy warmth that allows you to enjoy your garden, decking or patio area throughout the year.
More help and inspiration
Why buy at Argos?