Napping necessities
Moses baskets & cribs
Moses baskets are usually made from natural materials and have strong handles so you can keep your newborn close to you in those first few months. Many cribs have a swinging or gliding action to soothe your baby to sleep. Both are suitable from birth.
Cots & cot beds
As soon your little one starts to outgrow their crib transfer them to a cot or cot bed. Most cots with an adjustable base can be used from birth. The highest base position is best for newborns and the lowest for when baby is standing. Cot beds have removable sides and transform from a cot to a small bed, so you can continue using it as your baby grows.
Side sleeping
All sleeping babies are different, some are good sleepers and others aren't, which can impact mum and dad's sleep too. Having baby and crib bedside (also known as side-sleeping) has many benefits for both parents and baby. It can help newborns adjust to sleeping patterns, make night feeding easier, and encourage baby-parent bonding. By creating a healthy sleep routine in little one's first months, parents will find that everyone sleeps peacefully, for longer.
Travel cots
Travel cots are collapsible and designed to be taken on holiday. These portable cots usually come with a carry bag for easy storage and have mesh sides with a lightly padded mattress. Some travel costs have wheels or castors to make them even easier to move around.
Baby bedding
The safest cot is a clear cot, free of pillows, duvets, toys and loose bedding. Sheets should be firmly tucked in, below shoulder height of your baby. Alternatively a baby sleeping bag that fits snugly around the shoulders is a safe option that avoids the risk of having loose covers.
Cot mattresses
Making sure your baby has the right mattress is so important. It should be firm, flat and ideally have a washable cover for easy cleaning. Here are some other things to consider when deciding...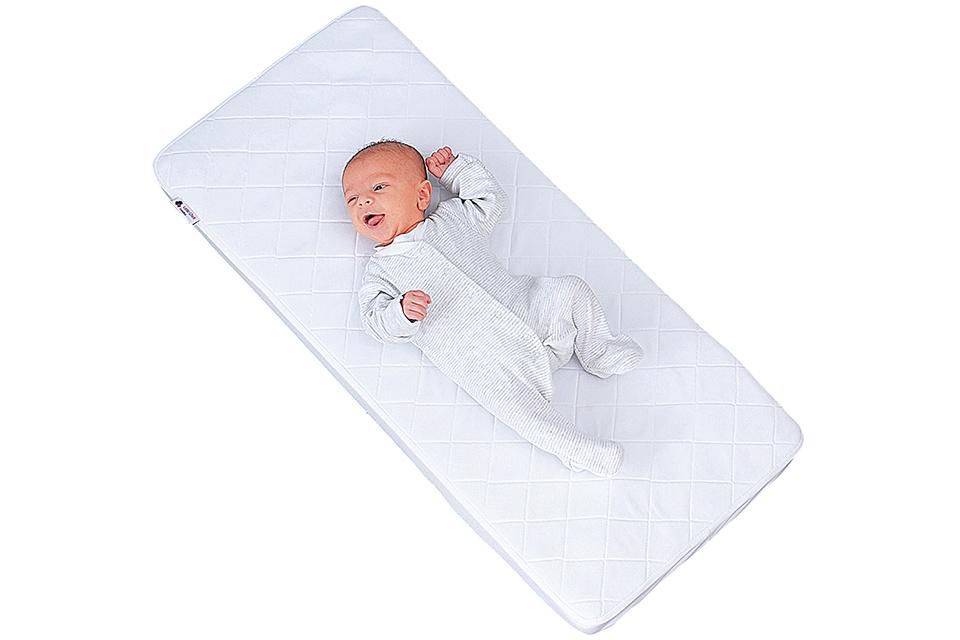 Types
Pocket sprung - has springs woven into individual pockets to provide support.

Spring - Springs are joined together by a coiled wire which spreads baby's weight across the surface.

Foam - Made from a block of foam with a memory foam layer. It responds to baby's weight and moulds to their body shape to provide support.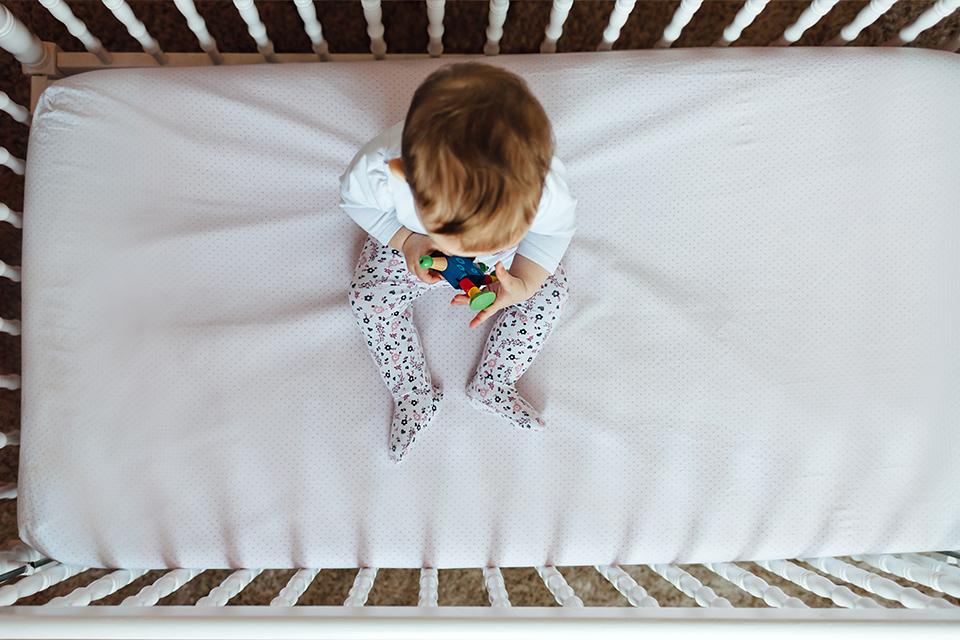 Fit
There should be a snug fit between the mattress and the sides of the cot, as this will ensure a safer sleep.

A 3cm gap at the most is ideal otherwise wriggling limbs may get caught between the mattress and the cot.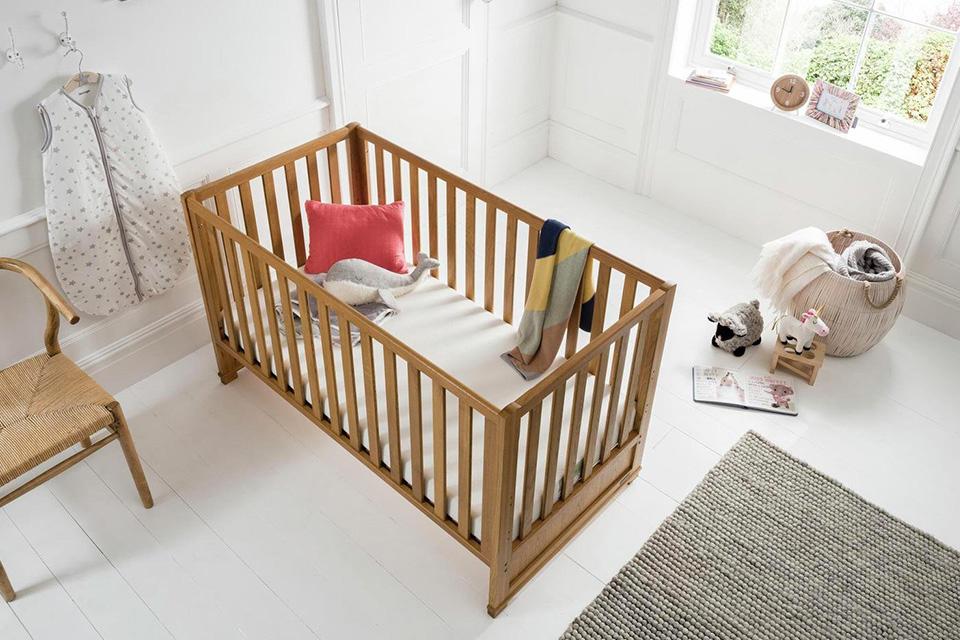 Material
Any hypoallergenic mattresses are always great options, as they protect their sensitive skin.

Opt for reversible mattresses so that it can easily be flipped during the night if it becomes wet.

Choose a waterproof, wipeable mattress cover that can easily be cleaned.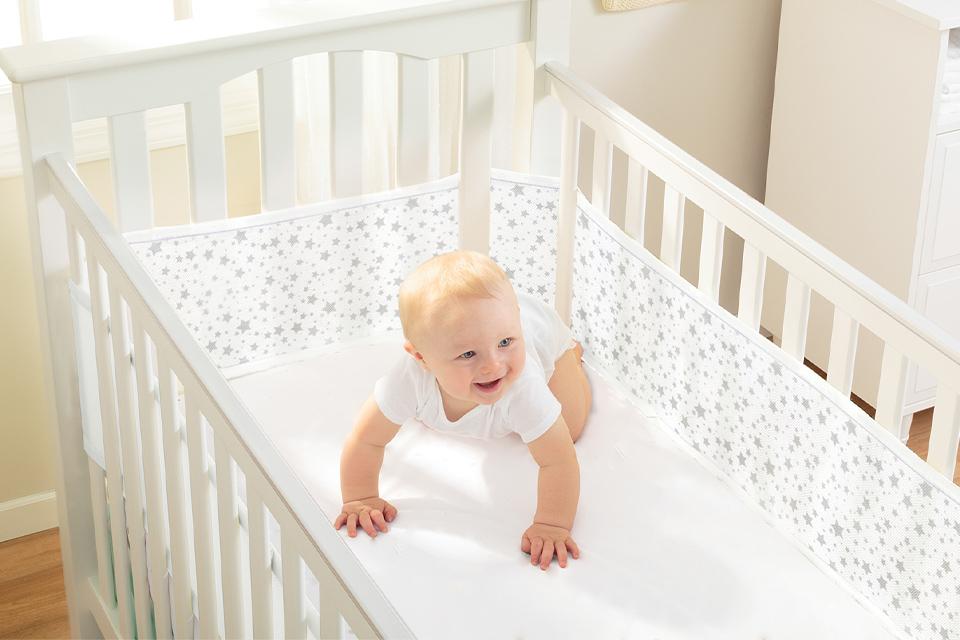 Aftercare
Depending on the mattress type you choose, regularly flip and rotate it to ensure all sides are used equally.

When cleaning your mattress cover, we'd suggest using non-biological detergent for fabric, and a mild disinfectant or anti-bac for plastic.

Either vacuum or sponge wash any mattresses that don't have a removable cover.
Top tips for a safe and sound sleep
Not too hot
Place a thermometer above your baby's cot and check that the room temperature stays at an average 18°C - this is the perfect temperature.
The right position
It's recommended that your baby should be put to sleep on their back, and moved back to this position if they roll over in the night.
Low toes
Lay your baby in the 'feet to foot' position, where baby's feet are at the bottom of the cot. They can't wiggle down under any sheets this way.
How to swaddle a baby
All wrapped up in love. Keep them snug as a bug with our step-by-step guide to swaddling.
Best baby monitors
Baby monitors buying guide
A safety monitor is a brilliant addition for peace of mind while your baby is sleeping. Find out about the different baby monitors available and handy safety features.
Explore more baby and nursery advice...
Emma's Diary
Join the club Emma's Diary has been giving parents-to-be friendly expert advice for nearly 25 years - supporting every stage of their journey into parenthood and beyond. Becoming a member of Emma's Diary will give you access to weekly pregnancy and baby updates as well as £200 of baby and nursery Argos vouchers.
Why buy at Argos?