Use up and down arrows to review and enter to select. Touch device users, explore by touch or with swipe gestures.
Christmas craft ideas for kids.
What's new in crafts?
SmART Sketcher Projector
Great for new or budding artists. The pre-loaded 'learn to draw' pictures (or use your own) help with those first steps to drawing.
Pottery Cool
Clay masterpieces at your fingertips. Use the pottery wheel to mould pots or dishes, add detail with the tools and decorate to finish.
Stuff-A-Loons
Create your own personalised balloons - fill them with glitter, party fillings, pictures and more to make fun, unique gifts.
Painting with kids
Make a colourful splash
Kids love painting. It's a messy and fun way to encourage imagination. Let your little artists express their creative side with paint sets and ideas.
Kids painting checklist
Paint brushes
Canvas, card or paper
Sheets or newspaper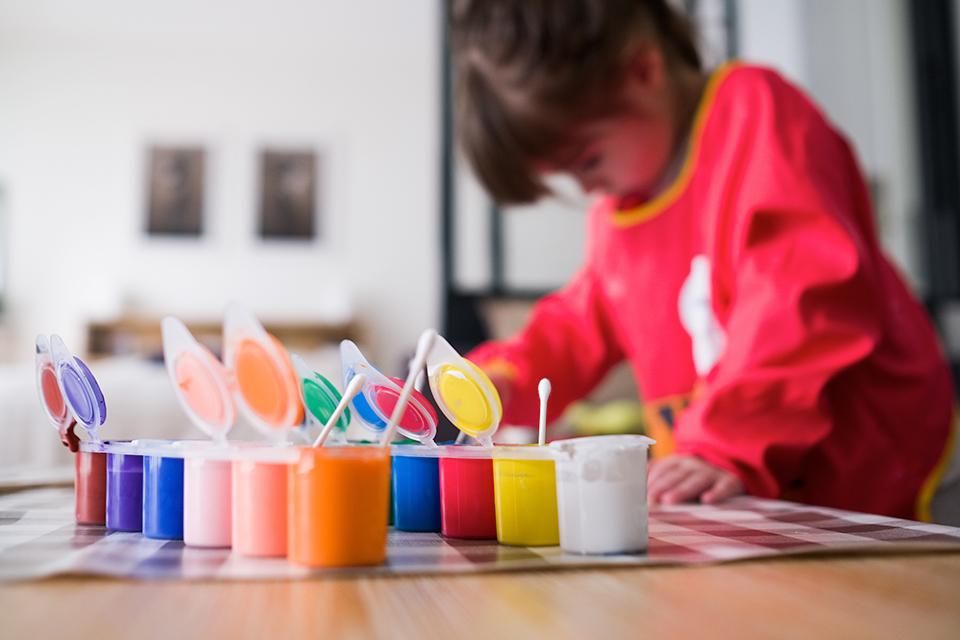 Hints and tips
There are more ways to paint than just with brushes. Your little ones will love seeing the different shapes and styles they can create with old toothbrushes, sponges and combs. And if you're feeling extra messy, why not try finger painting or hand prints?
It can be a good idea to start them off with only a few basic colours. This way they can start with a simple palette, without mixing too many colours.
Painting can be messy! Make sure to paint-proof the floor and furniture with sheets or newspaper, or you might find your home has turned all colours of the rainbow.
Use paints to create Christmas cards, gift tags or personalise baubles.
Christmas crafts
Hand and feet prints
Get a little messy and create your favourite festive friends. Dip your hand or foot in paint, then press on to paper for cards. Or try it on white plates for a special Christmas gift.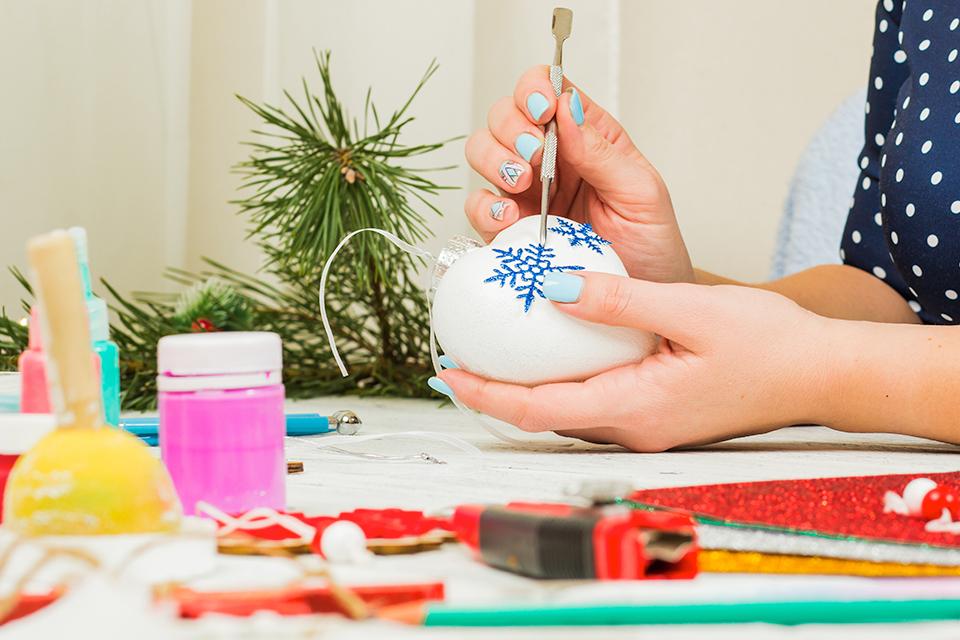 Personalise baubles
Personalise new baubles or update old ones with festive patterns. Use acrylic paints to design snowflakes and add names, or try decoupage by gluing layers of tissue paper.
Finger painting
Who needs a brush? Finger painting is a classic kids activity and you can get the most out of it by using thick paper or card and wetting it slightly for extra splashy results.
Rock painting
Collect rocks or pebbles from your garden, or out on a walk, and take them home to paint. There are all sorts of designs you can go for, from Santa to snowmen. Use them as decorations or create table place names.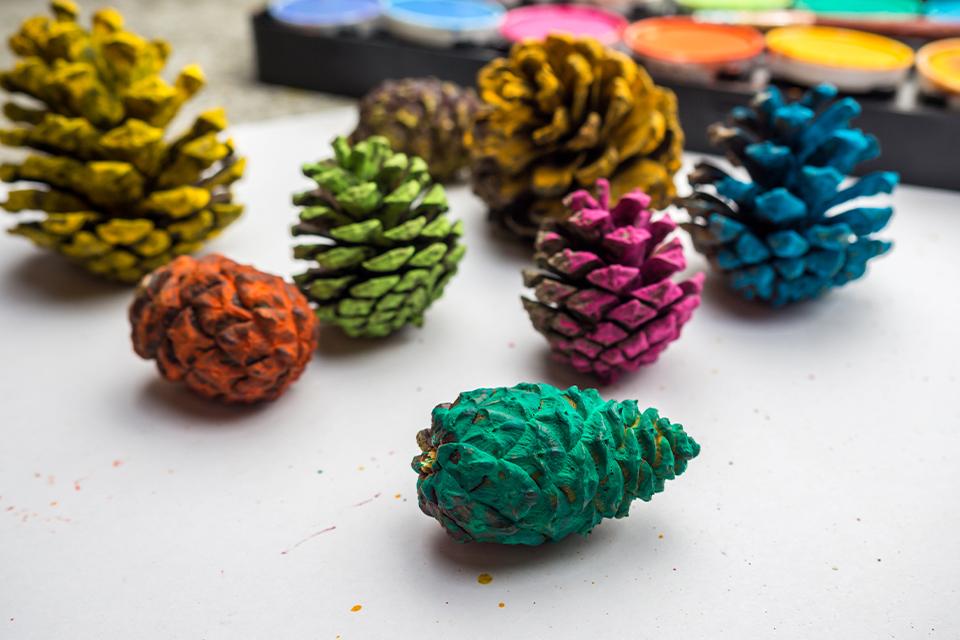 Pine cone painting
Why not collect some pinecones too? Paint them in all sorts of colours and add gems or glitter. Attach string and hang them from your tree, or use them when wrapping presents as gift toppers.
Less mess
Painting can be just as fun without the mess. Find kids' paint that offers less spills, with the same amount of colourful creativity.
Paper and card crafts for kids
Paper and card crafts
If you're looking for something a little less messy than paint, paper craft is ideal for getting creative with colour. Break out the coloured pens, pencils, scissors, glue, paper and card and see what their imagination can conjure up.
Paper craft checklist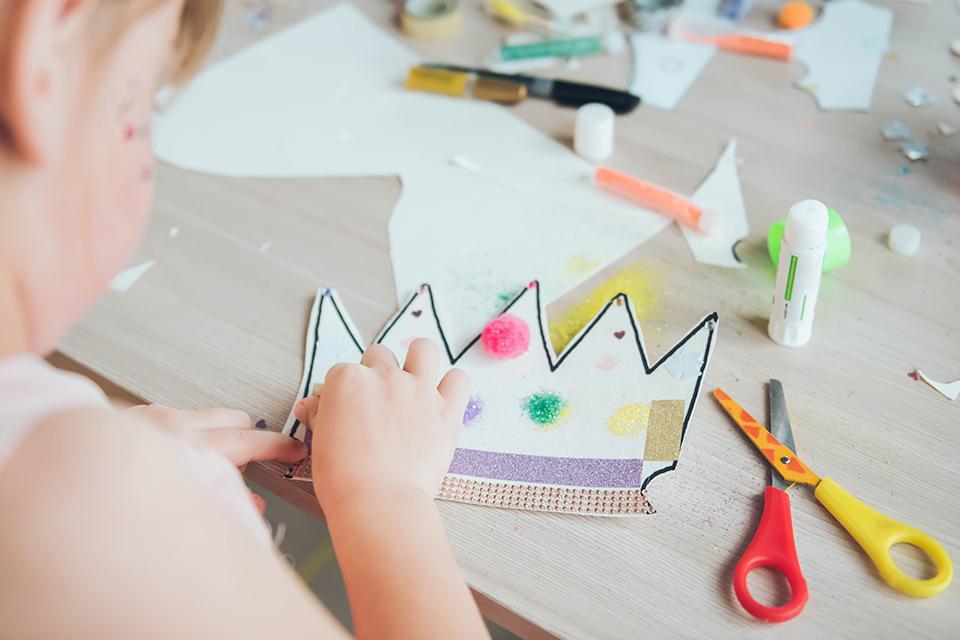 Hints and tips
Make use of cardboard and other recyclables in your crafts. Egg cartons, cardboard boxes and kitchen roll tubes are all ideal items for creating animals, spaceships and whatever else they can think of.
If they're colouring or drawing, use stencils and shapes to help them with their creations.
Glitter, beads, buttons and stickers are a great way to add finishing touches to any paper and card crafts.
Use festive colours to make some homemade Christmas decorations.
Festive ideas
Handmade Christmas cards
A great activity for kids (or adults) and a thoughtful touch for friends and family. Try collaging, using stencils or laying glitter, sequins and ribbon to create your own masterpiece.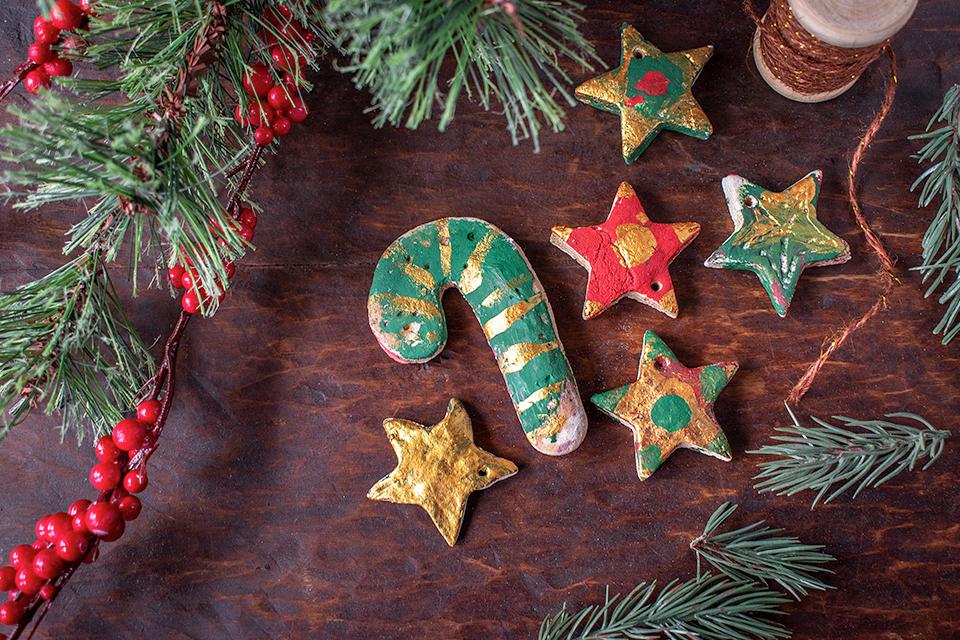 Salt dough decorations
Use Play-Doh cutters to create different shapes from your rolled-out salt dough. Remember to pop a hole in the top to thread ribbon through later. Add texture with forks or pins and bake. Once cool, paint and glitter.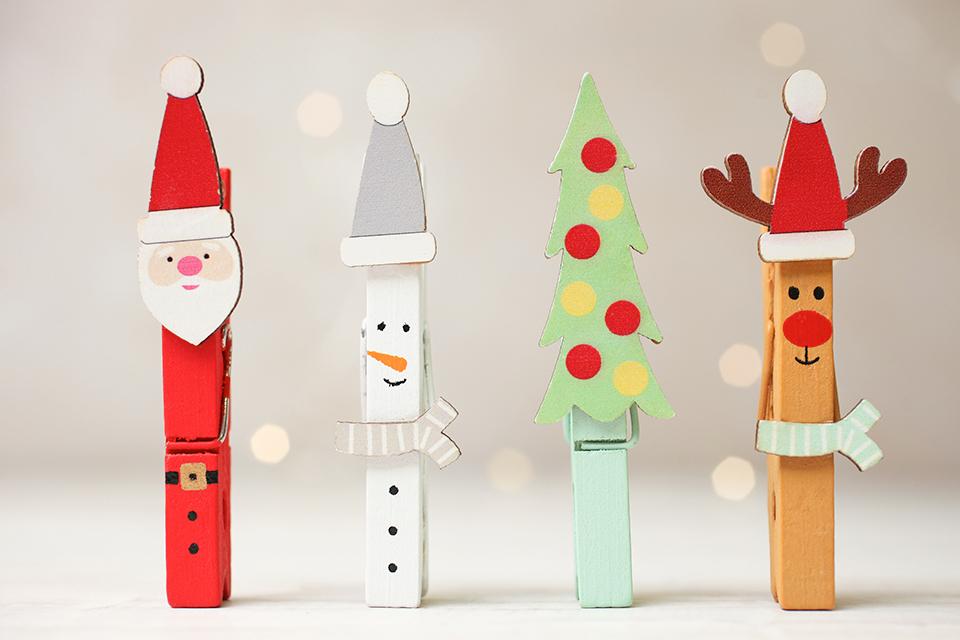 Peg pals
Use paint or felt tips to refresh wooden pegs in festive colours, patterns and characters. You can then use them to hang Christmas cards, attach tags to presents or even turn them into name tags for your guests.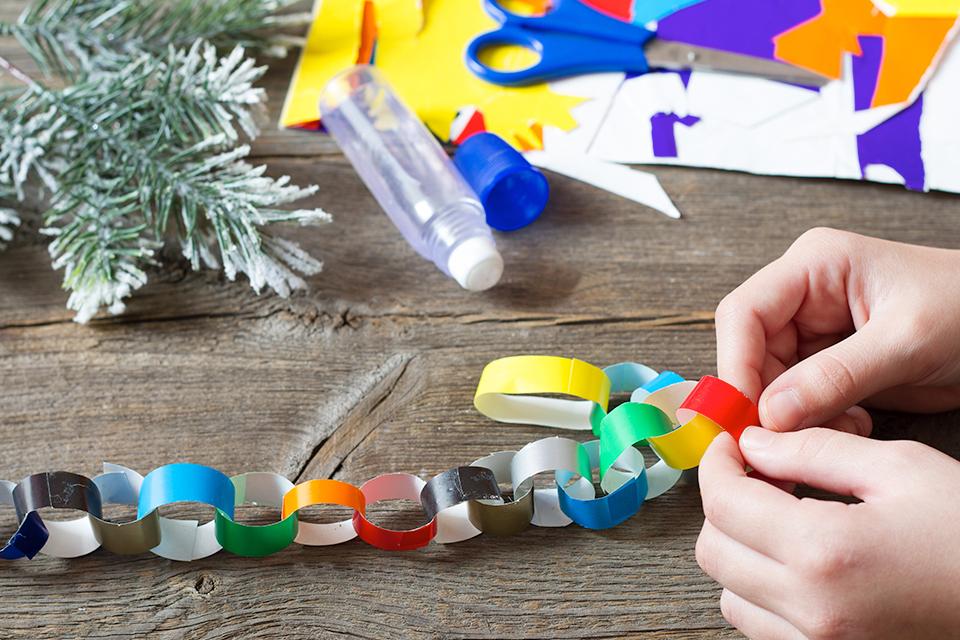 Vintage paperchains
Cut coloured paper into thin strips. Create one loop by sticking the ends together with glue, then loop the next strip through and repeat. Create any length chain to wrap about rooms, trees or banisters.
Toilet roll crafts
Toilet roll holders can be used for all sorts of crafts, let your imagination run wild creating Christmas trees, snowmen or reindeers. Feeling ambitious? How about a nativity scene!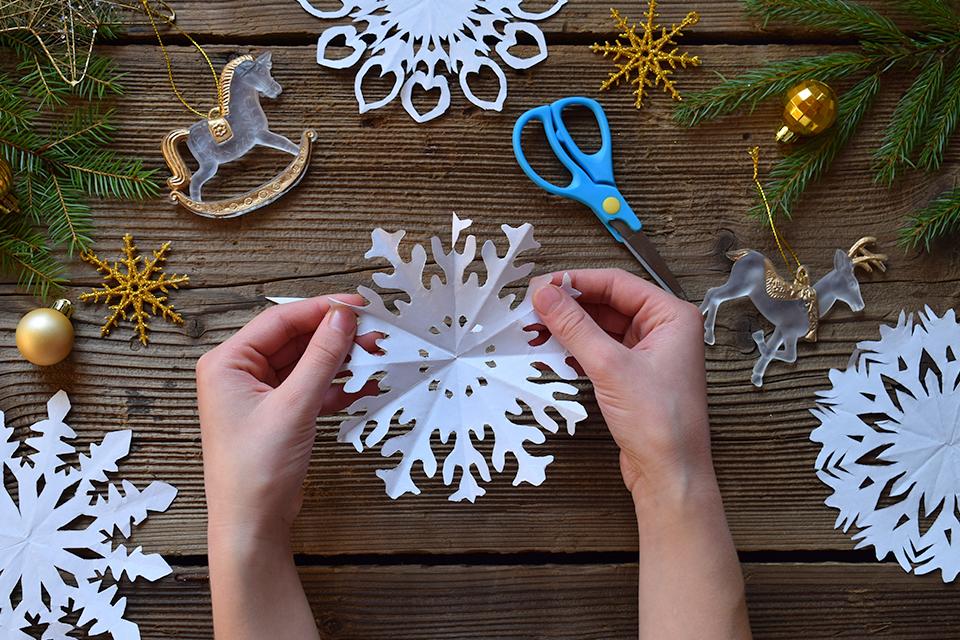 Paper snowflakes
Fold your paper in half, half again and half again. Then carefully cut away different shapes around the edge of your square. As you unfold the paper, a beautiful patterned snowflake should appear.
Crafty gifts for creative minds
A DIY Christmas
Add your own personal style with these homemade Christmas ideas…
Make an advent calendar
Start by decorating 24 paper bags to your own taste. Pop a small treat into each one, number and seal them. This is a cute and easy way to personalise the build up to Christmas.
Sew some stockings
Follow a simple stocking pattern to create the main shape. Then accessorise with lace and beads, or personalise to each family member. Fill with gifts and you're good to go.
Create Christmas wrapping paper
Wrap your gift in brown paper and use stamps, pom poms, pine cones and more to add your own festive look. And remember, all the best things are tied up with string.
Homemade Christmas gift ideas
Masterpieces in the making
Have lots of colouring fun with these great activity and colouring downloads.
Colour them impressed
Festive inspiration
Why buy at Argos?