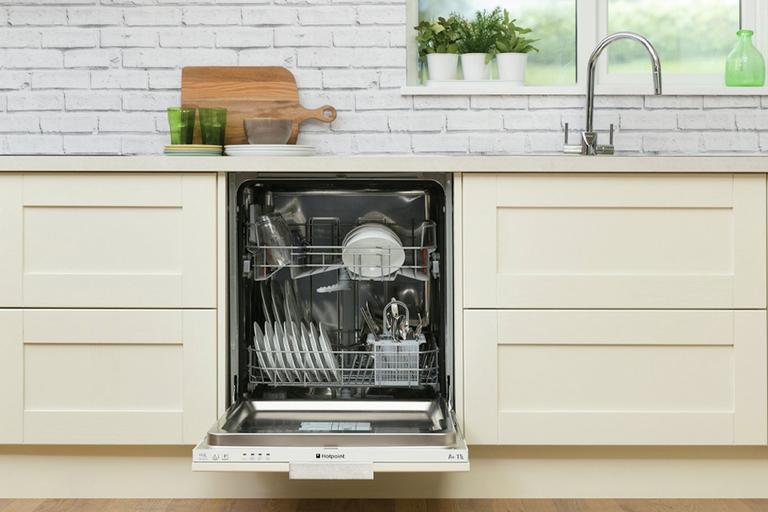 The energy label is changed
From the 1st of March 2021, the energy label is changed. To make it easier for customers to find the most energy efficient products, the energy-efficiency scale of A+++ to D is changed to A-G.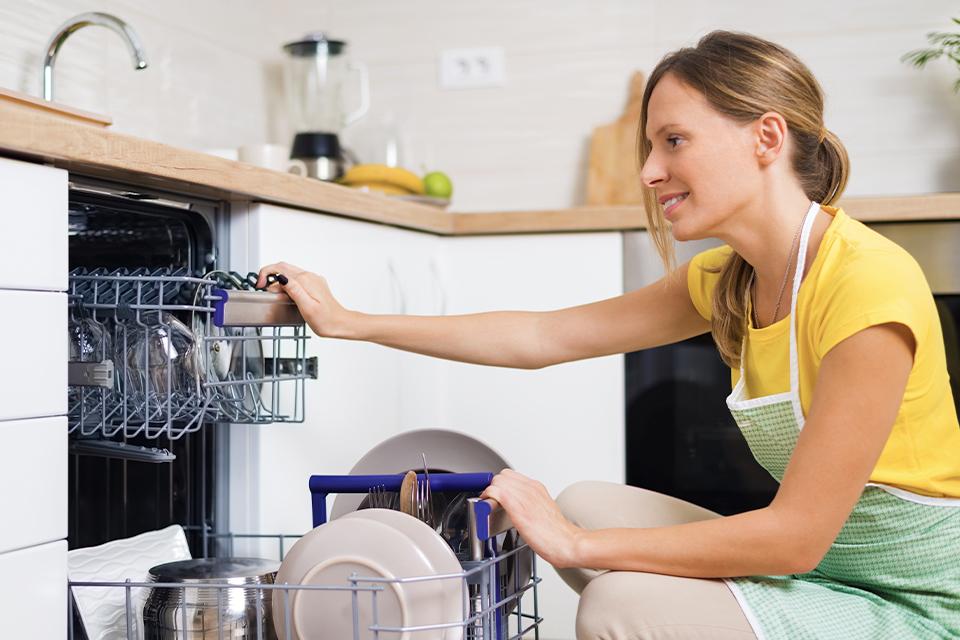 What to look for in a dishwasher
There's lots of reasons to consider buying a dishwasher. You can save time, by no longer having to wash up in the sink and also prevent dirty dishes from piling up on your kitchen counters. Dishwashers also use less water than it takes to wash up using the sink. But before you buy, there's a couple of things you need to consider.
Will it fit? - It's vital that you measure up before you buy. You need a space that's wide and tall enough to fit a dishwasher - and it's also worth checking the depth to make sure it won't stick out once installed.
Have you got the right connections? - To correctly install a dishwasher, it needs to connect to a power source, a water supply and drainage. You won't be able to use your new machine without all of these connections.
What's the best dishwasher for me?
Full-size dishwasher
Full-size dishwashers offer the most place settings, but take up the most room in your home.
Slimline dishwasher
Slimline dishwashers have a thin and compact design that makes them perfect for flats and smaller spaces, such as utility rooms.
Integrated dishwasher
Looking for a new or replacement integrated dishwasher instead? We have both full size and slimline options to choose from.
Quiet dishwashers
Quiet Mark dishwashers are approved as being sound efficient - helping to reduce unnecessary noise pollution.
Smart dishwasher
Connect your dishwasher to your phone to programme and keep track of your washes.
See the full range
Want to see them all? View our full range of dishwashers, including full size, slimline, integrated and more.
Dishwasher features explained
The key features you need to know before you buy.
Place settings - Every dishwasher has space for a number of place settings. A place setting equals one plate or bowl and the more place settings a dishwasher has, the more you can put on in one wash.
Flexible rack and baskets - This feature lets you configure the trays inside your dishwasher depending on what you're washing. Ideal if you need to wash bigger items like casserole dishes or saucepans.
Energy efficiency - Every dishwasher has an energy rating, with A being the most efficient. Having a more efficient dishwasher can mean it uses less water and even save you money on your energy bills. Click here to learn more about the Energy Label.
Delayed start - This feature lets you choose the time that you want your wash to start.
Sensor wash - Dishwashers with a sensor can adjust the water and intensity used in a wash if all of the racks aren't used - whilst still ensuring that dishes are thoroughly cleaned.
Wi-Fi and NFC - A dishwasher with NFC or Wi-Fi can be connected to your smartphone and controlled through an app. This lets you program washes and check on your washes, as well as view information from the brand.
Anti-flood protection - This feature prevents your machine from flooding if water builds up during a wash.
Temperature settings - Some dishwashers let you change the temperature of each wash. Higher temperatures are best for intensive washes, but use more energy, while lower temperatures do the opposite.
Dishwasher programmes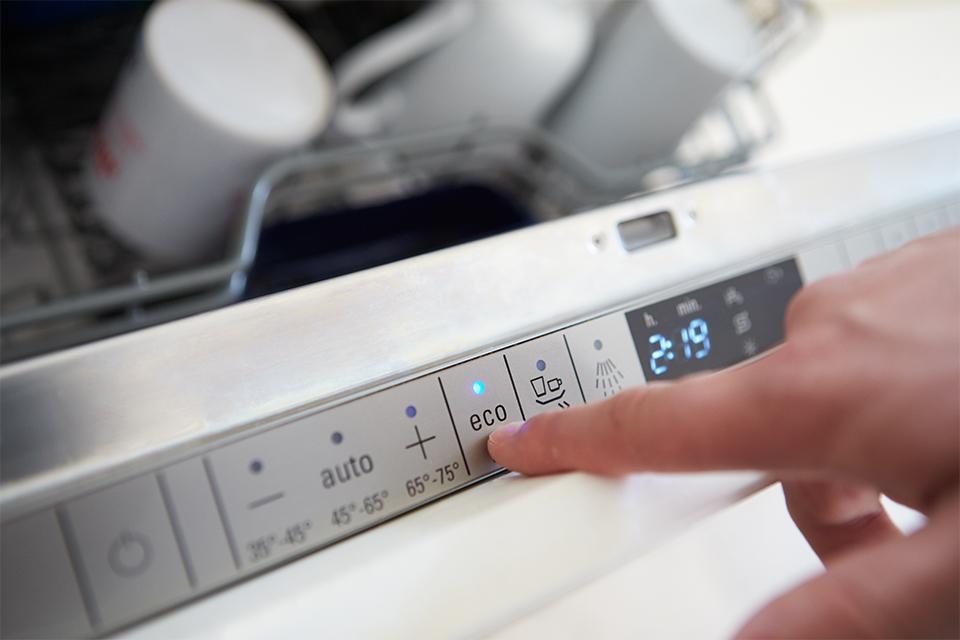 Dishwasher programmes
Normal - A standard wash for everyday use.
Quick wash - An economic wash that can be completed in as little as 30 minutes.
Half-load - A wash that uses less water depending on the size of the load.
Economy - A lower intensity wash that uses less water and energy.
Intensive - An intensive wash that provides a deep clean.
Glassware - A wash that goes particularly easy on your glassware.
Baby care - A intensive wash that removes more detergent.
Our best-reviewed dishwashers
Our delivery and installation service
Thinking of opting for our paid installation service? To ensure your delivery and installation goes smoothly, we've put together a short video to walk you through the process, step by step. It's really important that these steps are met otherwise we may not be able to deliver your new dishwasher to your home.
Washing machine delivery and installation
Before you order
Check your measurements – where your appliance will fit as well as access to your room of choice, including gates, doorways and stairways.
Preparing for your delivery
Before we arrive, you'll need to check that your cold-water feed and waste pipe are in good condition, and that an electrical socket is nearby and accessible.
If we're unable to connect your appliance due to one of the above checks not taking place, we won't be able to refund your delivery and connection charge (this does not affect your statutory rights).
We'll text you the day before your delivery with a 2-hour time slot.
On the day of delivery
Make sure someone is home as we can't leave these items in a safe place.
Ensure there's space for our delivery lorry (they're quite big).
For our driver's safety, please clear their delivery route from lorry to location.
It'll take around 25 minutes for delivery and installation.

Recycling your old appliance
If you've ordered our recycling service, before collection, you'll need to make sure your old item is fully disconnected from any plug sockets and pipe work and is emptied of any water.
For more details about our recycling service click here.
Installation and recycling update
For the safety of our customers and colleagues, we've made a few changes to this service. Whilst we deliver and install your item, customers will need to maintain a social distance of 2m. If you are self-isolating, please make us aware so we can rearrange your delivery.

Check here for our latest updates to this service.
Did you know you can recycle your old electronic items in-store for free, when purchasing a new item?
We'll recycle items if the store sells similar items and you've purchased a replacement item from us within the last 28 days, click here for full details.
More help and inspiration
Why buy at Argos?