Kitchen gadgets and gifts
Our guide to the best kitchen gadgets looks at how to make cooking quicker and features some top gift ideas for what to buy the would-be-chef in your life.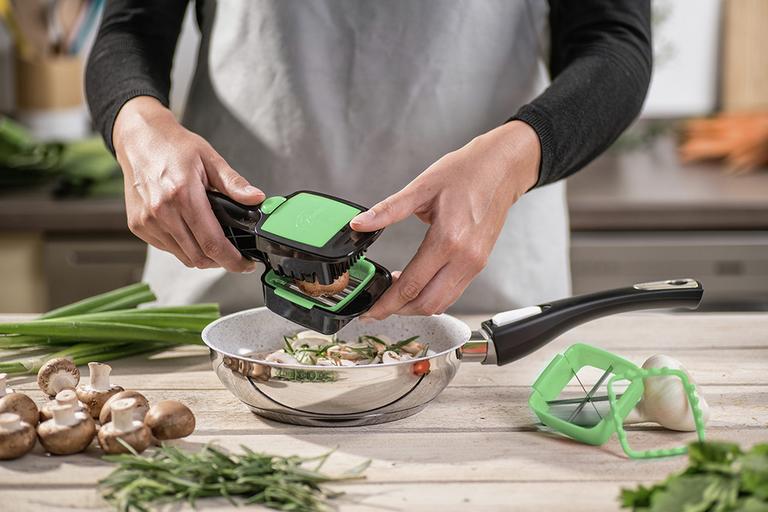 Food prep made easy
Dice, spin and slice your way to better cooking with these time-saving kitchen gadgets.
Dicers
Want to stop the slog of chopping vegetables? A dicer can do it seconds, saving you precious minutes when you're cooking.
Juicers
Get the most out of your fruit and veg with a time-busting juicer. No cutting or chopping, just nutritious juice straight to your glass.
Spiralizers
Spiralize everything from courgettes to cucumbers. Swap pasta for healthy veg spirals or make beautifully presented salads.
Salad spinners
Salad spinners make quick work of preparing those healthy leaves and greens. You'll benefit from fresher salads – plus you'll have somewhere to serve them from too.
Mandolins
A mandolin is a multi-purpose prep machine. Getting your five-a-day is finally achievable with easy slicing, dicing and grating.
Pasta makers
Fresh pasta, made just the way you like it. Makes light work of sizing and shaping your pasta dough.
Kitchen gadgets - our top picks
Best kitchen accessories
Don't forget these super useful extras, which will make a great addition to any kitchen.
Kitchen utensil sets
Cover all bases with a set of kitchen utensils – all you need to serve, scoop, mash, peel and cut your way through day-to-day cooking.
Digital kitchen scales
Get accurate measurements with a digital kitchen scale. Giving you ultimate precision when making meals.
Chopping board sets
Sets with multiple chopping boards can help to prevent cross contamination, as you can use each board for different types of food.
Best kitchen gifts
Know someone that loves to cook or fancies themselves as a bit of a chef? Here's some great gift ideas for foodies and kitchen connoisseurs.
More help and inspiration
Treat yourself or a fellow top chef to some of our innovative and most sought-after kitchen gadgets and accessories. We made a fantastic gift collection that boasts style and efficiency, so you can spend less time sweating over a hot pot and more of the fun stuff, eating!

Kitchen gadgets
Save time and elbow grease by investing in our handy kitchen gadgets. Whether you're after high-tech gizmos or simple kitchen tools that can help you whip up delicious meals in no time, you've come to the right place. Minimise mess, stress and the hassle of slicing, dicing and shredding with the multi-talented Kenwood food processor. Whether you need something thinly sliced, diced or chopped, our food processors are the perfect cooking assistant. Complete with blades and discs for a variety of tasks, some even come with bowls and attachments for whisking and mixing. So, whip out your favourite cook book and enjoy making deliciously fresh meals from scratch.

At the top of every baker's wishlist you'll see them mention a mixer. With such high demand, we've made sure to include a selection of kitchen mixers that can do everything from producing the smoothest cake batter to the softest dough. Check out our Russell Hobbs food mixers for style and functionality, or our KitchenAid models for unbeatable performance and timeless quality.

Kitchen accessories
From kitchen utensils to scales and chopping boards, we've got all the essentials you need in your kitchen. Make cooking a smooth and effortless experience by ensuring all your tools are working at their best, this will in turn have a positive effect on your cooking skills and overall results. Chop like a sous chef with our collection of sharp kitchen knives; create precise, consistent and uniformed cuts for every dish. Keep all your utensils clean and organised with our cutlery tray range. Choose from compact modern designs to more traditional full-drawer trays to keep your cutlery neat and tidy.

The best kitchen gifts
For the avid cooks, aspiring chefs and enthusiastic foodies who know their way around a kitchen. Show them you recognise and appreciate their efforts with our fantastic kitchen gifts. We've put together the latest gadgets, appliances and tools to spice up anyone's kitchen. Let's start with the basics, everyone needs a good toaster; whether it's for making breakfast toast or a crunchy afternoon crumpet. Find simplistic designs and decorative models in our huge toaster range that will look absolutely stunning on your kitchen countertop, especially when they match the theme of your kitchen.

Moving on to more specialised kitchen gifts, we understand that cooking can sometimes be a very calculated skill that requires concentration, care and precision, that's why a trusty measuring cup is a kitchen must-have to ensure each recipe is followed through accurately for perfect results.

Why not update your pantry with our beautiful baking supplies? From non-stick cake tins to magic muffin trays, our bakeware range has everything a star baker needs to create mouth-watering cakes, cookies, brownies and of course, all the savoury treats in the book.