Home office ideas
Own working from home with our guide to office furniture and ideas for creating a productive study space.
Office inspiration
Working from home the new normal? Our ideas are here to help you create a space that inspires focus and creativity, as well as helping you stay happy and healthy at home.
Choose the best desk and chair combo and read our tips for finding the perfect posture to leave you comfortable all-day long.
Loft living office
Argos Home loft living console table.
Argos Home loft living 2 x 4 storage unit.
Modern, minimalist furniture
Combining on-trend minimalism with classic industrial styling, our loft living range is all about flexible storage and slimline designs.
Show home study
Argos Home Valence office desk - rose gold.
Argos Home Beni velvet office chair - blush.
Multi-functional furniture
This stylish study area doubles up as a dressing or console table, saving you space where you need it most. Workstation by day, somewhere to get ready by night…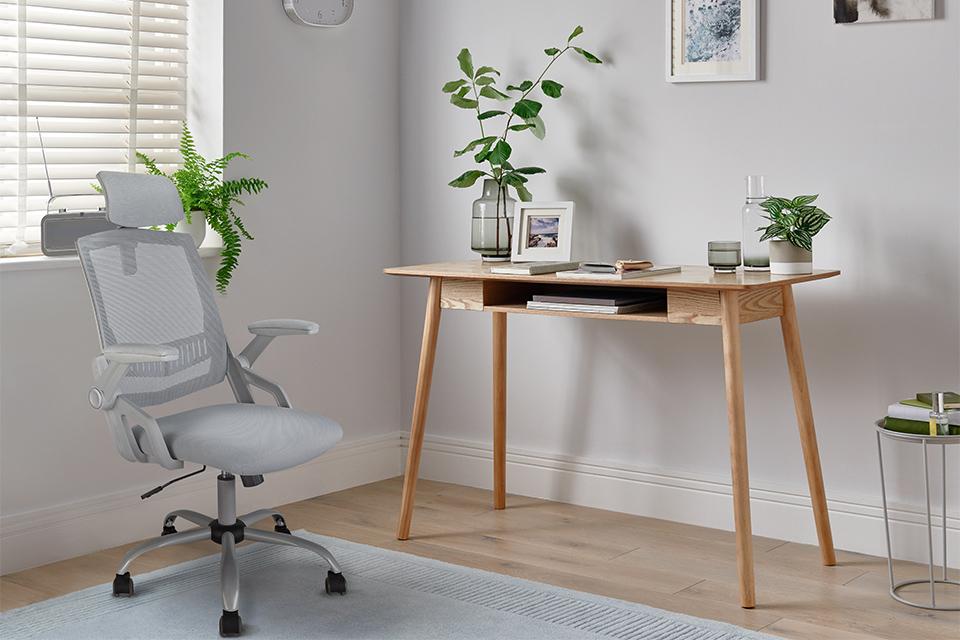 Looking for more inspiration?
Office desk guide
There's a few key decisions to make when choosing a desk and the options below should help you to narrow down your selection.
Space and storage
Your work space should have enough room for your computer, equipment and any accessories. If you have a dedicated home office room, you might have enough space for a large desk - but for smaller spaces you might have to get creative.

See if any of the types below suit your needs, or view our full range.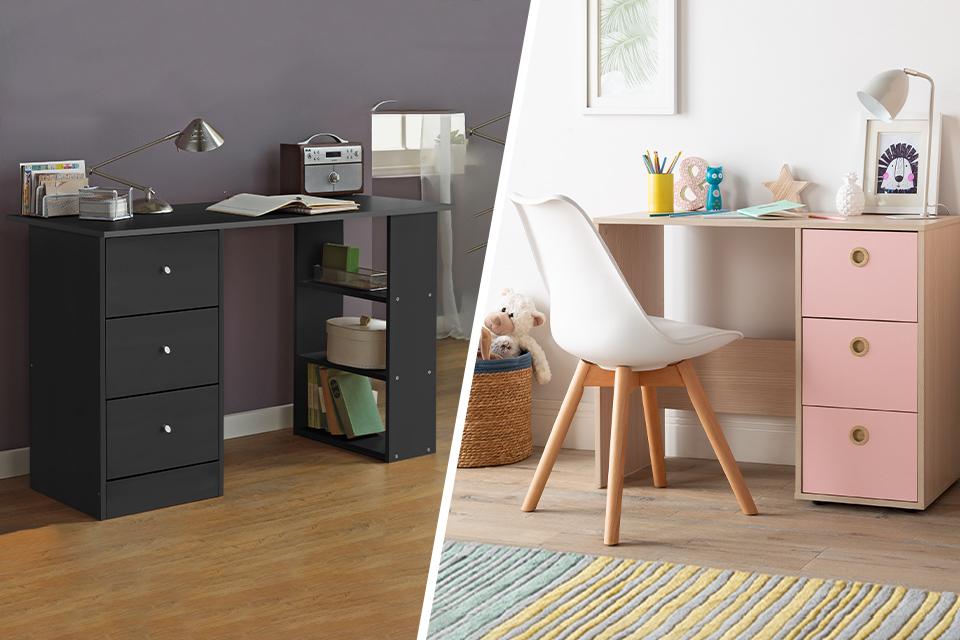 Office chair guide
Comfort is the most important feature when choosing an office chair. If you're going to be using it for work day-in day-out, you need a chair that is adjustable and supports a healthy posture.
Office chairs
Office chairs come in many designs, from the simple standard to the plush executive chairs.

Wheels and swivel functions provide more manoeuvrability, while a padded seat or headrest add to the comfort of any chair and provide more support for your back and neck.
Style and colours
There are two main choices of office chair material. Fabric office chairs are comfortable and stylish, while faux leather options provide great support and offer a more classic office look.

If the colour of the chair is important for your décor, you can choose between sleek whites, greys and blacks – or pinks, blues, reds, yellows and greens for added personality.
Ergonomic furniture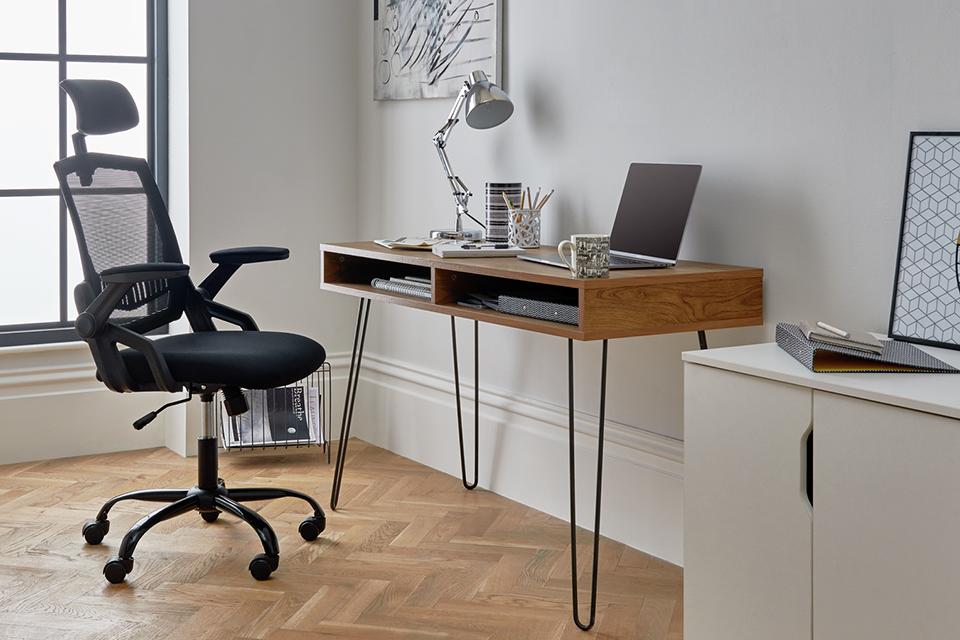 What is ergonomic furniture?
Ergonomic furniture is designed specifically to provide comfort and support to those using it. They help to reduce the risk of numerous health issues such as arthritis, joint pain, musculoskeletal problems, and poor blood pressure, to name a few. Here are some of the key features that can help you sit comfortably:
Adjustable heights - allows you to customise furniture to make it comfortable for you, maintaining the correct posture by keeping your back straight and legs at the correct angle, as well as reducing the risk of joint pain and stiffness.
Fabrics that regulate temperature - helping to keep your body at a regular temperature.
180 degree adjustable chair arms - to mimic your arm movement.
Keyboard and mouse supports - these support your wrists and help to reduce the risk of developing conditions such as carpal tunnel syndrome.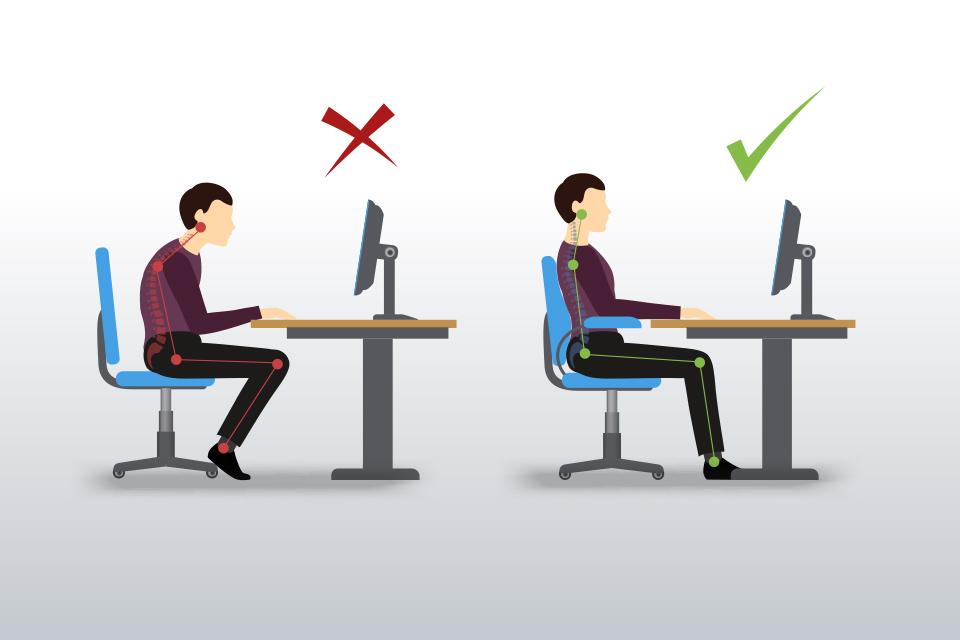 What's the correct posture for sitting at a desk?
Your eyes should be level with the top of your computer monitor.
Your back and neck should not be bent or hunched.
Your shoulders should feel relaxed.
Your hips and knees should be at a 90° angle and feet firmly on the floor.
Your wrists shouldn't be bent and your arms should sit on the armrests.
With an adjustable office chair you can change the width, height and tilt to suit your needs. As well as the correct sitting position, it's important to take regular breaks when sitting in an office chair for long periods of time.
You could even consider a standing desk, which allows you to work on your feet, as well as sitting down.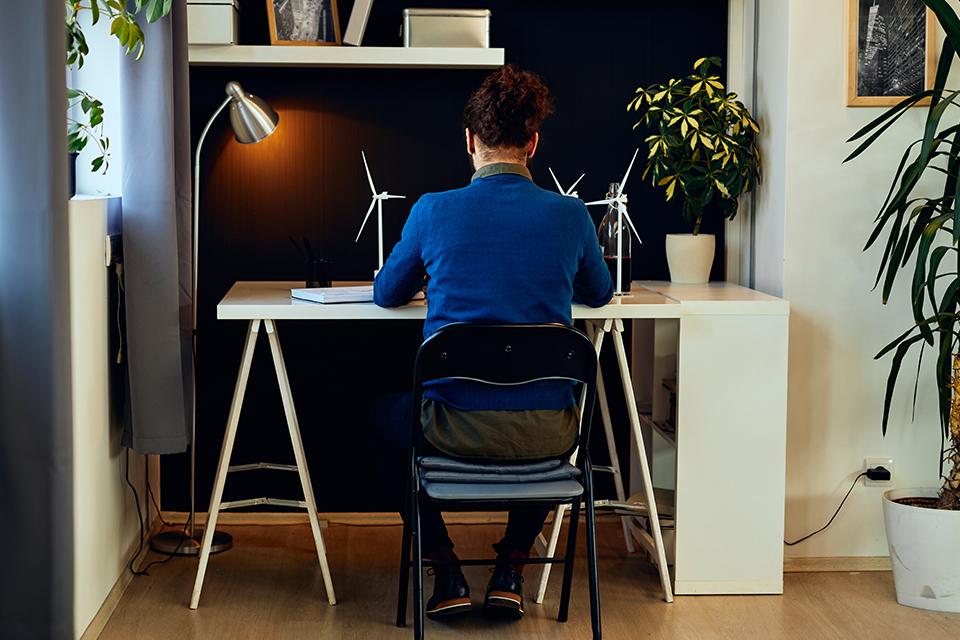 Here's our top tips for taking care of yourself when working from home
Take regular screen breaks to give your eyes a rest.
Stretch your legs a few times a day, including a walk outside.
Throw the curtains and windows open for some fresh air and sunlight.
Keep your desk tidy and clutter-free.
Stay hydrated by keeping a drink at your side all day.
Stay active with some indoor exercise? Anyone for chair yoga?
Create a harmonious atmosphere with soothing scents and faux plants.
Arrange social events with colleagues, like a virtual coffee break or quiz.
Ergonomic office furniture
Ergonomic office chairs
Most office chairs have some level of adjustability – usually allowing you to change the height, tilt and arm rests.

These ergonomic features are ideal if you're sat at a desk for several hours a day. They provide a level of comfort and support that helps to reduce stress, therefore increasing productivity and efficiency.
Ergonomic office desks
An ergonomic office desk is one that allows you to remain comfortable whilst using it for longer periods of time.

This can also refer to sit-stand or standing desks, that help to alleviate the health risks you may encounter from prolonged sitting.
Ergonomic office accessories
Having the right computer accessories can help to keep your hands and wrists comfortable whilst working for long periods of time. They can help reduce the risk of health issues such as carpal tunnel syndrome.

Other accessories, such as footrests under your desk, can also help to maintain an ideal posture to prevent any aches or pains.
Office storage
Home office finishing touches
More help and inspiration
Why buy at Argos?