Go get baking
Whether you're just starting out or an experienced baker, find everything you need to create a showstopper right here. So what are you waiting for? Ready, steady...bake!
Bake of the week
Spanish Empanadas
These pastry parcels from Kenwood are easy to bake and so tasty to eat. Ideal as a lunchtime snack, or to nibble on whilst watching your favourite show.
Prep time: 15 mins
Cooking time: 20 mins (plus chilling time)
Serves: 4

What you'll need:
For the pastry:
325g plain flour
150g butter
1/2 tsp salt
For the filling:
1 onion, peeled & quartered
1 celery stick
1 carrot, peeled & trimmed
1/4 savoy cabbage
2 tbsp olive oil
1/2 tsp paprika
50g goat's cheese, crumbled
Salt & pepper
Method
Add your plain flour, butter and 1/2 tsp of salt to a bowl or mixer and pulse together until they resemble the texture of breadcrumbs.

Pour a few tablespoons of water into the mixture, until the pasty comes together into a ball.

Place your pastry onto a floured surface and knead briefly before wrapping in cling film. Chill in the fridge for 30 mins.

Thinly slice your vegetables with a food processor or knife. Heat some oil in a large pan, over a medium heat and add your vegetables. Cover them with the lid and cook for 10 mins, stirring occasionally.

Remove the pan from the heat and stir in the paprika, cheese and seasoning to taste.

Take out your pastry and roll out to 4mm thick. Using a 10cm round cutter, cut out 12 circles of pasty.

Place a tablespoon of filling into each circle, then fold the pastry into a half moon. Seal the edges by pressing down with the prongs of a fork.

Heat some oil in a deep pan to 190°C. Fry your half moons in batches for 3-5 mins, turning once, until golden and cooked through. Drain on kitchen paper and serve warm.
Baking for beginners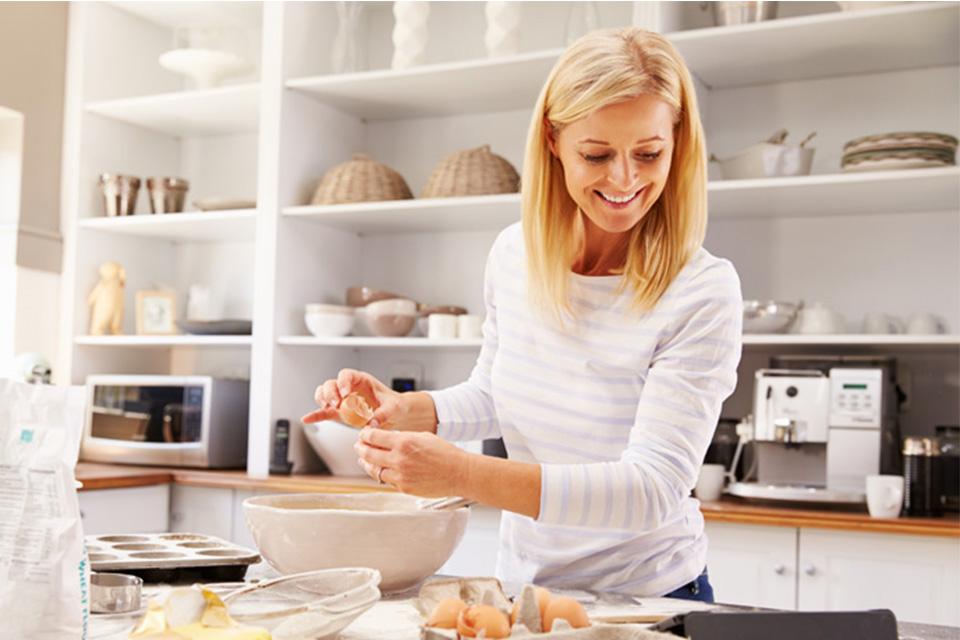 Best for budding bakers
Want to try baking, but unsure where to begin? We have the kitchen kit you'll need to begin your baking journey.

Grab a tin for a big Victoria sponge or a muffin tray for smaller treats, and don't forget a wire rack to let your creations cool down.
Sainsbury's Jammy Fairy Cakes
Impress your guests with easy cupcakes, and a sweet surprise.
Baking enthusiasts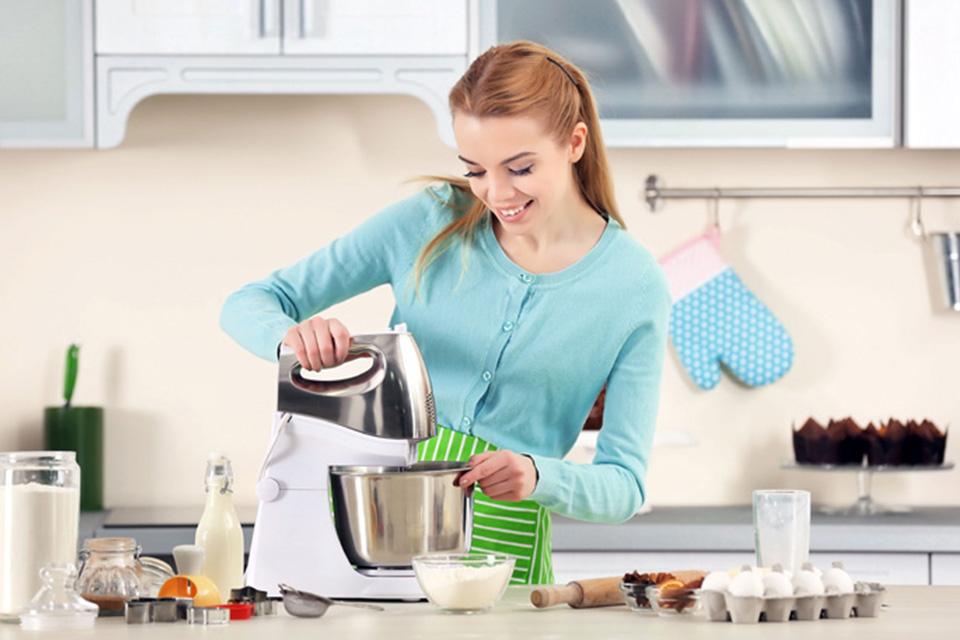 Mix it up
If you've mastered the basics and feeling inspired to try something new, upgrade your baking equipment with these helpful assistants.

Get more done with appliances such as stand mixers and blenders, that can mix ingredients whilst you crack on with the next step.
Sainsbury's nutty banana bread
Ideal for lunchboxes or a tasty snack, and perfect for boosting your bread baking skills.
Smart kitchen
Smart appliances
Control your kitchen with smart appliances. Pre-heat your oven while out, before checking the fridge camera for missing ingredients. After baking, tell the dishwasher what you're putting in and how dirty it is to get the perfect cycle.
Smart speakers
No more grubby fingerprints on recipe books or tablets. Have a smart speaker take you through a recipe step-by-step, plus get them to help with measurement conversions and set a timer.
Hoover Vision
Take cooking one step further and monitor your oven via your smartphone. Use the interior cameras to check on your dishes or use the interactive touchscreen door to watch cooking tutorials and save your favourite recipes.
Baker's corner
Baking electricals and equipment.
Baking brands
Blackberry cupcakes
Berry delicious
Showcase your skills and bake some standout cupcakes with KitchenAid. Not only do they look impressive, they taste amazing too, and they're so easy to create.
What you'll need:
2 tbsp milk
100g salted butter, softened
2 large eggs
1 1/2 tsp baking soda
400g blackberries, mashed and strained to remove seeds
225g sugar
1 vanilla bean or tsp of vanilla extract
320g all-purpose flour

For the icing:
70g salted butter, softened
130g confectioners sugar
200g cream cheese

Prep time: 30 mins
Cook time: 20 mins
Serves: 18
Method
Preheat your oven to 180°C and line cupcake trays with 18 paper or foil liners.

Measure 315ml of strained blackberries into a separate container. Combine with milk and set aside. Keep the remaining mashed blackberries for decoration.

Add the butter and sugar into a bowl and beat until light and fluffy. Add vanilla seeds or vanilla extract, then add eggs one at a time, beating until well blended.

Combine flour and baking soda and set aside. Add your blackberry and milk mixture to the bowl and stir in. Once combined, add your flour mixture.

Spoon batter into cupcake cases, filling each one about 2/3 full. Bake for 18 to 20 minutes. Cool for 10 minutes then remove and cool completely on wire racks.

To make the icing, mix together the butter and cream cheese in a bowl until creamy. Add confectioners sugar and mix until combined. Keep going until light and fluffy.
Flourless chocolate torte
Gluten-free goodness
Sainsbury's have caught our attention with this indulgent slice of chocolate heaven. Sure to please even your non-gluten-free guests.
What you'll need:
200g unsalted butter, plus extra for greasing
200g organic Fairtrade dark chocolate, broken up
1tsp Madagascan vanilla extract
5 medium British free-range eggs, separated
150g Fairtrade caster sugar
100g ground almonds
50g cocoa powder sifted
1tbsp icing sugar, for dusting

Prep time: 25 mins
​​​​​​​Cook time: 40 mins
Serves: 12
Method:
Grease a 25cm round cake tin and preheat the oven to 180°C, fan 160°C, gas 4.

Melt the chocolate and butter together in the microwave for 1-3 minutes, depending on your model, or melt over a pan of simmering water on the hob, taking care not to let any water come into contact with the chocolate. Stir in the vanilla extract.

Beat the egg yolks with 50g caster sugar until pale in colour, then pour in the chocolate mixture. Fold in the almonds and cocoa powder.

Whisk the egg whites until stiff, then gradually add the remaining 100g caster sugar until combined. Fold one-third of the egg white into the chocolate mixture, then gently fold in the rest until just blended.

Spoon into the tin, spreading evenly, and bake for 30-35 minutes. Let the cake stand for 10 minutes before dusting with icing sugar.

Add any additional toppings and enjoy!
Baking tips
Why has my cake peaked and cracked?
Your oven is probably too hot or you may have placed the tin too near the top of the oven. Cracking can also happen if you overfill the tin so make sure you've got the right size for the mixture.

Why has my cake sunk?
You may have added too much raising agent. Measure your baking powder or bicarbonate of soda carefully before adding.

Why are the sides of my cake burnt?
The cake tin may not have been lined properly or you may have greased it too much. Or, your oven may have been too high.
Top tip: When baking sponge, wrap the outside of the tin with a wet tea towel and tie with string to stop the edges from burning and to achieve a nice even rise.

Why is my cake dense?
This is usually because the cake mixture didn't have enough air beaten into it. Try an electric whisk to get more of a light and fluffy texture. Be careful when folding in ingredients as you don't want to knock the air out.
Bakers recommendations...
Kitchen inspiration
Why buy at Argos?