Birthday party ideas
Surprise! You're invited to throw the best birthday party ever. We've wrapped up some ideas to make party planning a piece of cake, from hosting a first birthday to a whole classful of kids.
Perfect party planning
First things first
Decide on how many guests, whether you're hosting at home or a venue, and choose a great theme. Pick up a party pack so you can organise plates, cups, party bags and fun decorations all in one go.
Party invite checklist
Your child's name and age
Date of party
Start and finish time
Address (home/venue) and map
Telephone number
Theme/dress code
Whether you would like parents to stay
Date for RSVP, with any allergies or dietary requirements
And a fun design! Think treasure map for a pirate party, or start off a Star Wars invite with "A long time ago, in a galaxy far, far away..."
Hints and tips
Send invites 3-4 weeks before the party with an RSVP date of 1-2 weeks out, giving you plenty of time to prepare.
If you're using a public venue, either invite parents to help out, or let them know how many adults there'll be per child.
Inviting the whole class might not be an option - post or email invitations to avoid making anyone feel left out.
It's always a good idea to cater for an extra one or two, just in case some kids turn up who've forgotten to say they're coming.
Be sure to get the mobile number of any parents who are leaving their kids with you.
Awesome activities
Fun and games
Plan plenty of games and activities to help the party go with a swing. Throw in a few old favourites, like musical statues, to get them burning off energy. Sleeping lions is a great choice for when you want things to quieten down.Traditional games can be adapted to fit a party theme, like pin the patch on the pirate or pin the crown on the princess.
Arts and crafts
Bring out their creative side. Finger painting is a classic activity for little ones, older kids can design their own jewellery or make slime. Pack their creations in party bags to take home.
Get outdoors
Host an "Olympics" for sports-crazy kids, with ball games, a tug of war and an obstacle course. Hold a Mad Hatter tea party (finish with a game of croquet), or have an all-out Nerf war.
Fancy dress
Dress-up is great for themed parties. Invite kids to dress up as their favourite superhero, TV show character or fairy tale character.
Bright ideas
Baby's first birthday
Keep it brief. Babies have short attention spans and will tire easily with all the excitement.
Invite guests your baby knows well - close family and friends with babies the same age.
Keep food simple. Snacks that tots can grab with their fingers will keep them happily occupied.
No need for organised activities. Spread out some toys on the floor where little ones can play safely alongside each other.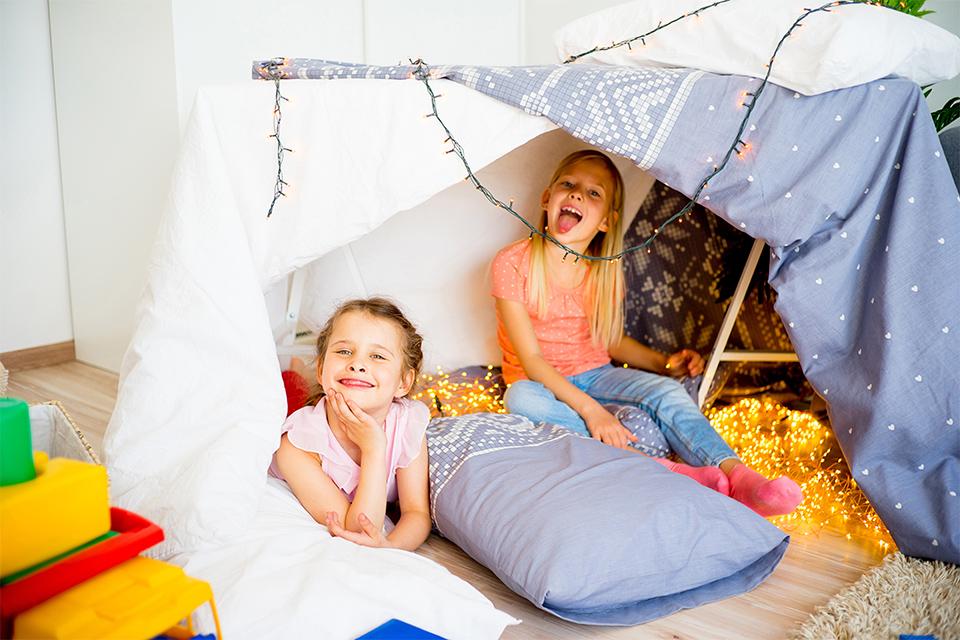 Sleepover survival guide
Keep the number of guests small.
Ask them to pack their favourite teddy, sleeping bag and pillows.
Plan the times for lights out, to quieten down, and to really go to sleep.
Arrange with parents in case a late night pick up is needed - prepare for a child to want to go home in the night.
Make it a pampering party with fun kid-friendly treats such as these Disney face masks - great for children aged 8 and up.
Got grown-up guests?
Extra adults can assist with games and activities, keep an eye on little guests and help with any spillages or other little accidents. A simple finger-food buffet for adults makes life easy on the day, with a glass of wine or cup of tea to accompany.
Party extras
Sweet treats
Piece of cake
It's the moment everyone's been waiting for. If you're looking to really wow, why not have a go at making the birthday cake yourself? Grab a tin, browse kitchen gadgets and get sound advice at the Go Get Baking page. Just add candles, wishes and some off-key singing.
Party bags
Send kids home happy with a loot bag full of goodies. Lots of our party packs include party bags which are perfect for making sure they match your theme. Check the product information to see what you're getting with each pack.
But what to fill them with?
Sweets are always a firm favourite, as are stickers and bubbles. Tick off our checklist below:
Sweets
Stickers
Bottle of bubbles
Slice of birthday cake
Arts and crafts the kids have made
Join the birthday club
Get exclusive discounts, plus hints and tips to help you plan the perfect party.
Why buy at Argos?