DIY tricks for a spring refresh
By Medina Grillo (Grillo Designs)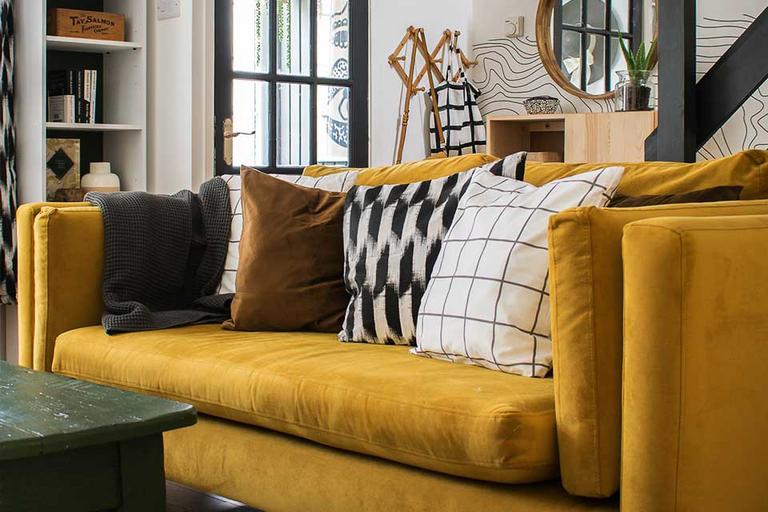 Simple tricks to refresh your home
Follow blogger Medina Grillo's DIY hacks and space-saving tips for a stylish home, perfect for renters.
Declutter and get organised
Streamline your stuff
A clear-out doesn't have to be drastic, but follow Marie Kondo's advice and 'spark joy' with a less cluttered home. I like to send items that I no longer need to my local charity shops. Use a variety of baskets to organise any remaining clutter. You can never have too many baskets- fact!
Stash clutter away in style
As a mum of a young boy who likes to play in the living room, baskets are great for hiding colourful Lego or action figures that really don't match the decor. Thankfully, Argos has a variety of trendy storage systems that have made organising in this space a whole lot easier. These square woven baskets slot perfectly inside a deep bookcase.
Stylish storage for every surface
Choose a mix of storage solutions for different items and areas in your living space - wire baskets are perfect for keeping your desk tidy, a wooden crate will slot perfectly under a coffee table, and softer rope baskets are handy for storing larger items within easy reach.
Make your space feel brand new with a furniture reshuffle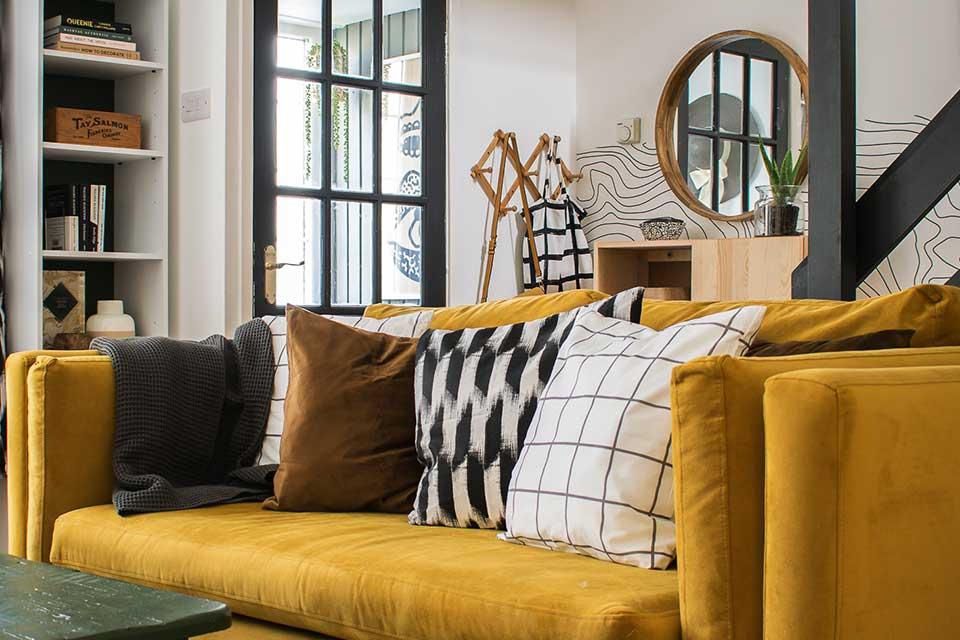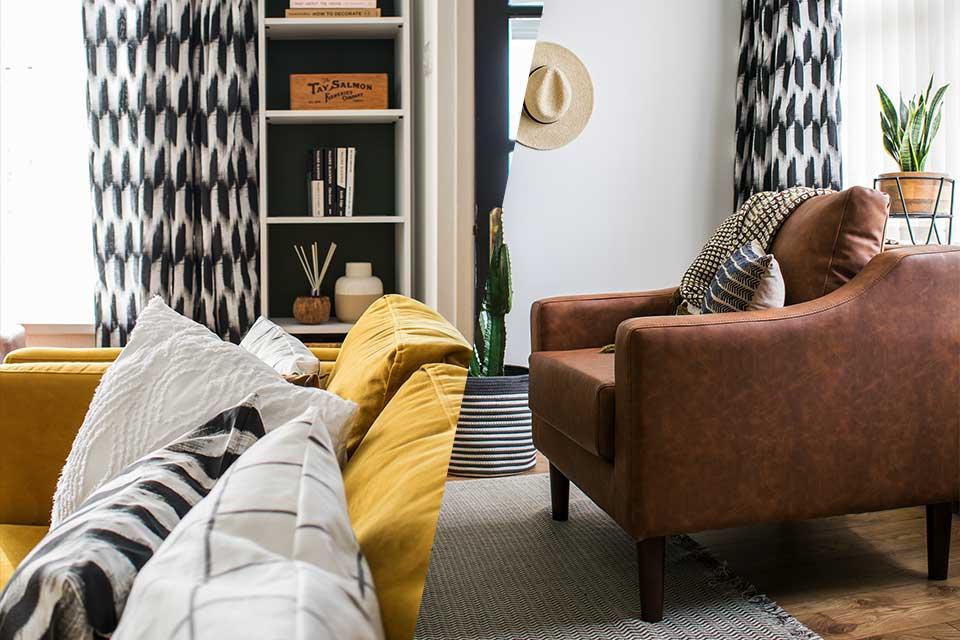 Nothing says 'refresh' more than a quick furniture reshuffle. It creates the sense of a brand new room, without actually being one! Moving my sofa in front of the stairs gave me space to fit a compact and practical faux leather chair and new shelves. I've always wanted an opportunity to experiment with 'shelfie' styling – this bookcase is slim with deep shelves. To liven it up, I painted the back dark green before assembling it. This trick is a great way to add a burst of spring to your room.
Crafty tips to refresh your accessories
Must-have DIY curtains
Changing or cleaning fabrics will give your room a fresh new look, and breezy curtains make the most of spring's natural light. These are DIY- they're actually king size bedsheets that I made into curtains. The pocket for the rails uses iron-on hemming tape, so if I ever decide I want to use them as sheets I can!
Freshen up your cushions
Wash existing cushion covers and replace dark or warm winter styles with lighter cotton textures. I replaced my heavier knitted cushions by recovering the foam inserts and using the pillowcases from the bedding set (another quick DIY!). Matching your cushions to your curtains is an easy way to bring a cohesive room together.
A new home for your green friends
I'll admit my plants usually don't live very long because I forget to water them. A rule of thumb: if they've made it through winter unscathed, they deserve a new home. I used a rope handle basket to house my dear cactus who I like to call Fred. Apparently naming your plants helps them grow? This could be true, because Fred seems to be thriving!
Shop my favourites
Looking for more home decor ideas?
Visit our spot for talking the latest trends, inspiring interiors and handy home improvement hints.
Why buy at Argos?