Hosting at home over Easter
By Frankie Johnson @luckyplot13
Got familiy and friends staying over the Easter weekend? Blogger Frankie shares her tips for stress-free hosting and creating a warm and welcoming space for your guests.
Little touches make all the difference
Make a festive first impression
Wreaths aren't just for Christmas! Hang an Easter wreath on your front door to greet your guests as they arrive on your doorstep, or add one to your dining space. I embellished this Argos Home pre-lit woven wreath by adding artificial flowers and decorative eggs, to complement a springtime table setting.
Don't forget home comforts
Whether your guests are staying for the whole long weekend or just a few hours, providing an Easter basket of treats and comforts will make them feel right at home. This year, I have filled my new Argos Home seagrass baskets with towels, toiletries, and other essentials, and I will leave them in the bathroom for my guests to help themselves as needed.
Add a fresh springtime scent
Keeping my home smelling fresh with a house full of people (and cats!) can be a challenge! I like to place scented diffusers around my home to ensure my guests are greeted with a clean, fresh scent in every room. Argos Home have a gorgeous new range of scented diffusers, candles, and room sprays. My current favourite for spring is Peony and Rose.
Preparing a big Easter lunch
Organisation is key
Ensure you have enough crockery and cutlery! We've all been there: you're hosting and spend ages making the table look pretty, only to find you don't have enough tableware. I recommend buying several good quality, classic white dinner sets such as this Everyday Luxury set. It's timeless and can be dressed up with accessories to suit any occasion.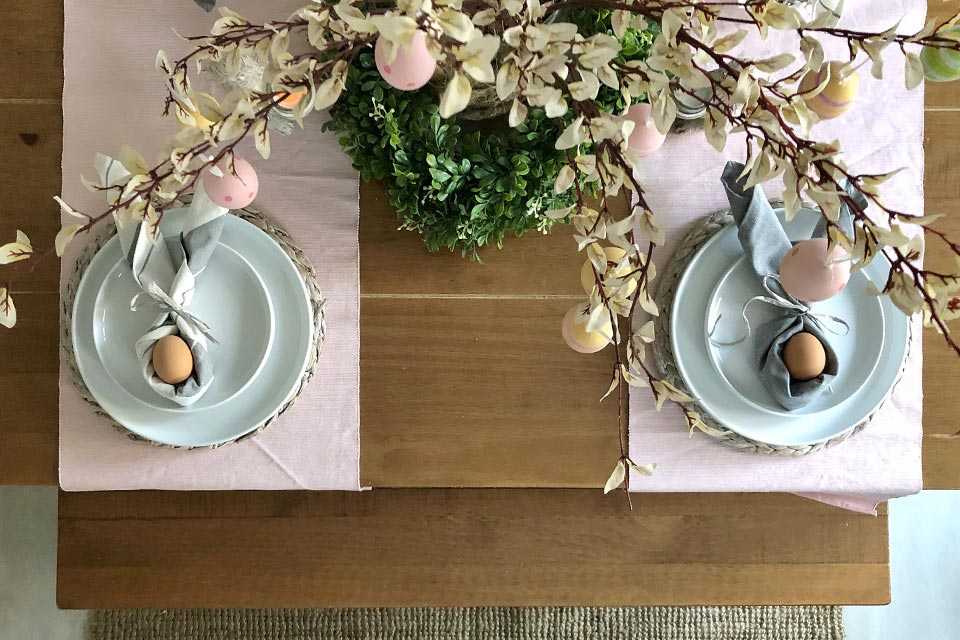 Dress your table to impress
Deck your dining table in its Sunday Best to impress your guests before the food has even been served. Drape two matching runners in seasonal shades across your table, and team with woven placemats to add texture and interest. Add a simple but effective Easter centrepiece by hanging egg decorations on real or artificial blossom branches in a vase.
Seasonal finishing touches
Create a cute bunny ear effect with napkins by rolling them up: starting from the corner, folding them in half, then tying with ribbon or twine. Add an egg (real, artificial, or chocolate) to the centre of each one. Paint or draw your guests' names or initials onto the eggs to use them as an Easter-themed alternative to place cards.
Looking for home decor ideas?
Visit our spot for talking the latest trends, inspiring interiors and handy home improvement hints.