LEGO® Star Wars™ 10,000 Gifts Giveaway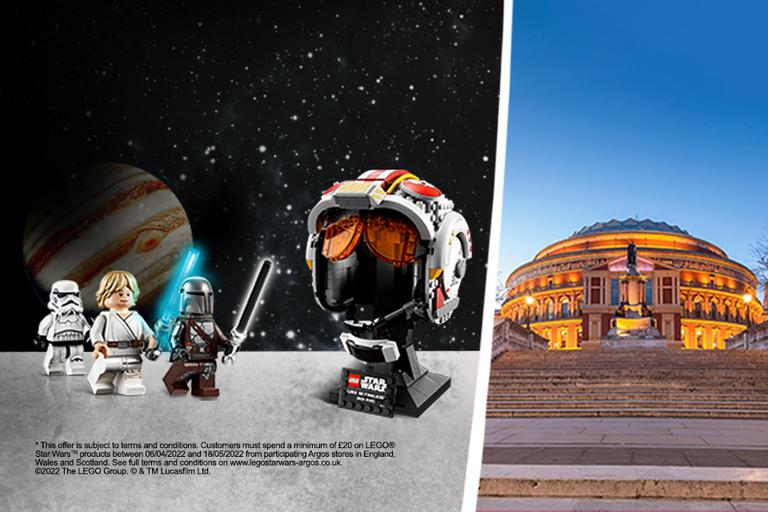 The LEGO® Star Wars™ 10,000 Gifts Giveaway. Claim 1 of 10,000 free gifts with purchases of £20 and over on LEGO® Star Wars between 6 April and 18 May
Calling all Star Wars™ super fans, claim 1 of 10,000 free gifts with purchases of £20 and over on LEGO® Star Wars™ between 6 April and 18 May. You could receive:
An unforgettable Star Wars experience for 4 at the Return of the Jedi in concert at the Royal Albert Hall with hospitality and 2 night stay in London worth £3,000
1 of 100 NEW LEGO® Star Wars™: The Skywalker Saga console games
1 of 100 amazing LEGO® Star Wars™ sets
1 of 9,799 Star Wars inspired activities supplied by Rewards For All
Simply upload your receipt to the link provided and claim your gift! Gifts drawn at random on the 24 May.
Terms & Conditions
No purchase necessary. Only one entry per person.
By entering the prize draw, entrants accept these terms and conditions.
The prize draw is open to all UK residents, except employees of Sainsbury's SSL.
The prize is as follows:
Calling all Star Wars™ super fans, claim 1 of 10,000 free gifts with purchases of £20 and over on LEGO® Star Wars™ between 6 April and 18 May.
You could receive:
- An unforgettable Star Wars experience for 4 at the Return of the Jedi in concert as the Royal Albert Hall with hospitality and 2 night stay in London worth £3,000
- 1 of 100 NEW LEGO® Star Wars™: The Skywalker Saga console games
- 1 of 100 LEGO® Star Wars™ sets from; LEGO® Star Wars™ Hoth™ AT-ST™, LEGO® Star Wars™ Luke Skywalker's X-Wing Fighter™, LEGO® Star Wars™ 501st Legios™ Clone Troopers, LEGO® Star Wars™ Trouble on Tatoonie
- 1 of 9,799 Star Wars inspired activities supplied by Rewards For All
Simply upload your receipt to the link provided and claim your gift!
Any personal data relating to entrants will be used solely for the purposes of these Promotions by the Promoter and/or by any agent appointed to it to assist with running the Promotion on behalf of the Promoter and will not be disclosed to a third party for any other purpose. Entrants' personal data will be handled in accordance with the Promoter's privacy policy, available at privacy-hub.sainsburys.co.uk/privacy-policy/.
Runs until 18.05.2022 inclusive.
The winner will be notified via e-mail by Argos within 14 days of the closing date. If the prize is not claimed within 28 days, we reserve the right to redraw.
The winning entry(ies) will be randomly selected by an independent judge and the judge's decision is final. No correspondence will be entered into.
The prize is supplied by The LEGO Group, TLC. No cash alternatives will be substituted for the prize. The promoter reserves the right to offer alternative items/activities of a greater or equivalent value should unforeseen circumstances require it.
Use of a false name or address will disqualify any applicant from receiving the prize. Additionally we reserve the right to ask for proof of age or any other variable the promotion requires.
The winner may be requested to participate in post-event publicity arranged by or on behalf of the promoter.
The Promoter must either publish or make available information that indicates that a valid award took place. To comply with this obligation the Promoter, will send the surname and county of the winner to anyone who requests such details (enclosing a self-addressed envelope) within one month after the closing date of the competition. If you object to any or all of your surname or county being published or made available, please contact the Promoter. In such circumstances, the Promoter must still provide the information and winning entry to the Advertising Standards Authority on request.
The Promoter will only process your personal information as set out in the privacy policy and in accordance with these terms and conditions.
Insofar as is permitted by law, the Promoter, will not in any circumstances be responsible or liable to compensate the winner or accept any liability for any loss, damage, personal injury or death occurring as a result of taking up the prize except where it is caused by the negligence of the promoter or that of its employees. Your statutory rights are not affected.
Promoted by Argos Limited, 489-499 Avebury Boulevard, Saxon Gate West, Milton Keynes, MK9 2NW.
T&Cs apply: please refer to the T&Cs for full details
Royal Albert Hall gift and trip redeemable 23.12.2022, includes:
i. The total value of this trip is £3,000 Inclusive of VAT. There is no cash alternative.

ii. The trip includes a 2 day / 2 night stay in London for 2 adults (18+) and 2 children.
iii. Transport from any UK destination to London is included.
iv. 2-night accommodation in a 4* London Hotel with breakfast included.
v. 4 Hospitality dining tickets to 'Star Wars return of the Jedi concert' at The Royal Albert Hall on Friday 23 September at 7:30pm.
Hospitality tickets include:
- Premiums stalls seating
- Three course dinner in Coda by Chavot Restaurant (booking required in advance)
- Welcome glass of Laurent-Perrier champagne and half bottle of wine pp
- Still & sparkling mineral water, tea or coffee
- 1 Programme per person
LEGO® Star Wars: The Skywalker Saga console games platform selected at random
If the LEGO® products become unavailable or out of stock, a suitable alternative to the same value will be offered.