Welcome to Ring at Argos
Create your own Ring of security inside and outside your home, even when you're away.
Shop all Ring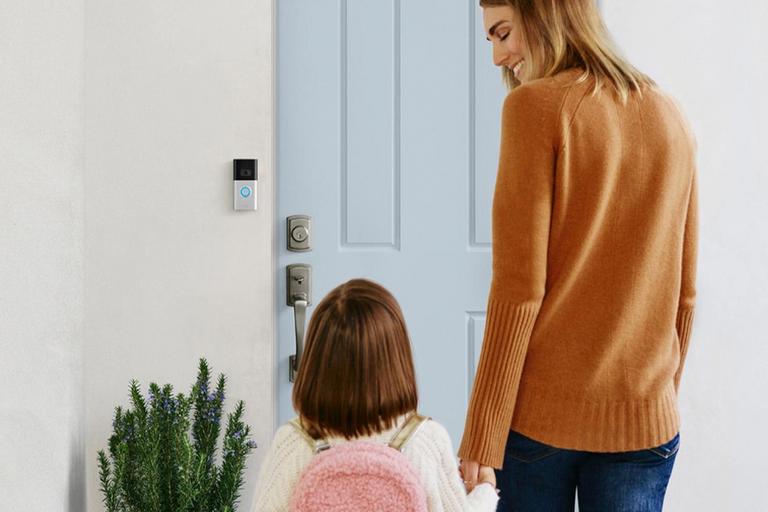 From video doorbells to security cameras, access Ring smart technology directly from your smartphone to help keep your home secure.
Ring Video Doorbell 3
Video Doorbell 3
See, hear and speak to visitors from anywhere with Video Doorbell 3. Always know what's happening, day or night. Customise your motion settings to focus on key areas and with new Dual-Band Wi-Fi you'll be connected and closer to home than ever before.
Meet the new Ring Video Doorbell line up
See, hear and speak to visitors from anywhere with Ring Video Doorbell 3. Always know what's happening, day or night.
Ring security systems
Ring Alarm
Welcome to your safer, smarter home. Ring Alarm easily expands to fit your needs, on your terms. Simply plug in the Ring Base Station, connect your components, get set up with your account in the Ring app and control your Ring Alarm all with the Keypad or from the Ring app. Everything you need to get started is in the box.
Your safer, smarter home
Your family, pets, property – we protect it all. Ring Alarm Security System packs the power of whole-home security into an affordable, DIY package.
Ring security system
A smarter way to protect your property from within. The Ring security kit is effortless to install and customisable to fit any home.
Ring Alarm contact sensor
Secure and stylish. Mount Ring contact sensors to doors or window frames so you always know when they open.
Ring Alarm motion detection
Mount Ring motion detectors to walls in your home, and choose to get audio or mobile notifications if motion is detected.
Ring indoor cameras
Indoor Cam and Stickup Cam
Add security anywhere you need it – inside or out – with the flexible Stick Up Cam. Featuring several power choices and countless placement options, our most versatile cam gives you endless possibilities.
Introducing the new Ring Indoor Cam
Bring protection inside with the mini marvel that packs a powerful punch. The perfect combination of tiny and mighty.
Ring Indoor Cam
A compact camera that brings smart security inside, Indoor Cam is your solution to easily check what's happening at home.
Ring Stick Up Cam - battery
Add security anywhere – inside or out – with the versatile Stick Up Cam Battery. Its wire-free design means you can put it where you need it and move it when you need to.
Ring Stick Up Cam - plug-in
This mains powered smart camera records video in full HD quality, so you can always see what's going on at home.
Ring security cameras
Spotlight Cam and Floodlight Cam
Versatile Ring security cameras send notifications to your phone or tablet whenever motion is detected, so you can see, hear and speak to people caught on camera. All cameras feature LED lights, 1080p HD live video stream and a 110-decibel siren to help scare away any suspicious people on your property.
Ring Spotlight Cam - wired
Perfect for homes with outdoor power sources. Features motion activation and two-way audio.
Ring Spotlight Cam - battery
Ideal for homes without outdoor power sources, it has an easy to charge quick-release battery pack.
Ring Floodlight Cam
Hardwired and great for homes with outdoor lighting, with customisable motion detection.
Why buy at Argos?