Welcome to Epson
With Epson you'll discover innovative, cost-effective solutions for your home or office needs.
Shop all Epson products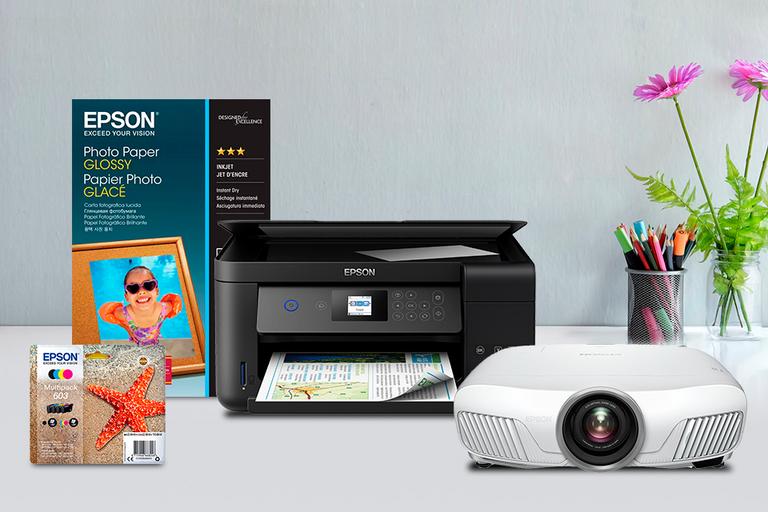 The future is Epson EcoTank
Save up to 90% on printing costs with Epson EcoTank*
Get ultra-low-cost printing everytime with an Epson EcoTank - different to other printers, it features an integrated ink tank that you fill with the included bottles - the equivalent of 72 ink cartridges*.
The equivalent of 72 Epson ink cartridges in one set of bottles*
Save up to 90% on the cost of Epson ink*
Cartridge-free printing
Print up to 14,000 black pages with the included ink**
Integrated ink tank system for mess-free refills
Scan, copy and print
Print on the go by connecting to laptops, tablets, phones and more
Save time and effort with Epson
Go longer between refills as the included Epson ink is equivalent to 72 cartridges*. Visible ink levels also show when it's finally time for a refill.
Epson, world leading
Over 50 million Epson EcoTank printers have been sold worldwide***. EcoTank has also won numerous international awards for it's innovative and economical design.
Unlimited Printing for two years with Epson
Print as much as you want without worrying about cost. Get an unlimited supply of Epson ink for two years while enjoying the benefits of Epson EcoTank.
Epson helps you print on the go from mobiles and more
With Epson's range of mobile and Cloud printing services, you can print and scan wirelessly easily using smartphones and tablets whether you are at home or in the office.
For every day home use
Supersize Entertainment with Epson
Epson's new EpiqVision Mini EF-12 complete with Android TV™ and sound by YAMAHA is a mini laser projector that can move from room to room easily.
Compact and lightweight design with Android TV and sound by YAMAHA
Enjoy home entertainment for 10 years****
Experience a 150-inch display on a wall or ceiling
With Chromecast built-in™, you can cast your favorite entertainment apps
Epson Home Printers
Enjoy easy-to-use features and the freedom of Wi-Fi and mobile printing with compact models that print, copy and scan.
Epson Ink and Paper
Our printers and inks are designed to work in harmony for consistent, reliable results each and every time.
For home office/small businesses
Not all printers are the same, some use more heat to print.
Epson inkjet printers use Heat-Free Technology and the benefits are significant:
Consistent high-speed printing
Less power consumption saves energy and money
Fewer replacement parts, lower environmental impact
Less intervention increases productivity
Epson Business Projectors
Epson projectors redefine corporate presenting, ensuring efficient and productive meetings in any working environment.
With Epson's dedicated apps and software you can ensure visual clarity from every angle, eliminating glare and reflections.
Epson Ink and Paper
Epson paper is engineered for the best possible results with Epson products.
Achieve professional looking documents that are water, smudge and highlighter resistant
Inks are supplied individually so you only ever replace the colour used.
Why buy at Argos?
* Based on Epson calculations, average cost per page saving and average number of inkjet cartridges required to print the same number of pages as EcoTank "102" and "104" ink bottles. Comparison between average yield (A4 prints of ISO/IEC 24711) of EcoTank "102" and "104" bottles and the genuine consumables used within the 50 best-selling inkjet cartridge printers (according to GfK Inkjet Printing Devices and Inkjet Printing Cartridges Point of Sale panel market data for Germany, France, UK, Spain and Italy Apr-19 – Mar 2020). Cost per page calculated with reference to the average printing costs for EcoTank "102" and "104" bottles and amongst these top 50 models, calculated by dividing the relevant bottle/cartridge sales revenue and total yield by unit sales (according to GfK Inkjet Printing Cartridges Point of Sale panel market data for Germany, France, UK, Spain and Italy Apr-19 – Mar 2020).
** Not available on the ET-2700, ET-2710, ET-2720 and ET-4700 models.
*** Visit www.epson.co.uk/ecotank
**** Based on watching content for five hours every day with the projector set in Eco mode.