Spring gardening
Create beautiful borders.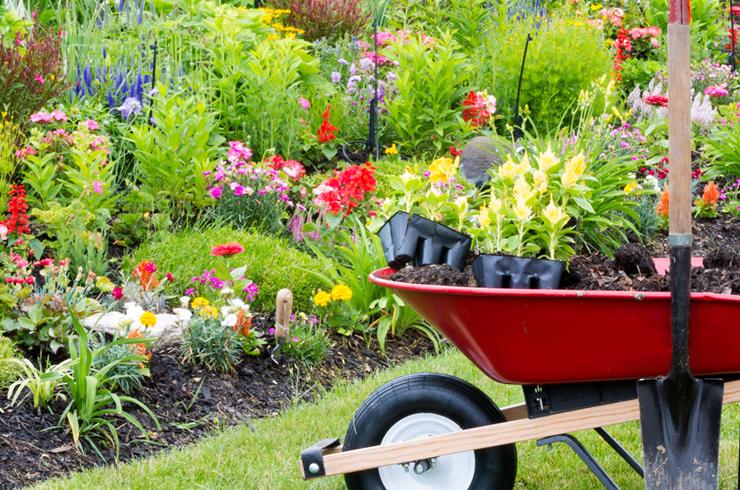 As winter comes to an end, it's a great time to get out in your garden and plant your beds for spring. With the right planning and best tools for each job, you can sow the seeds for beautiful borders all through the year.
Spring clean your garden
WIth better weather coming, now's the time to give your garden some TLC - check out our top garden tips for spring.
•Clear fallen debris with a combination leaf blower and vac.
•Prune back your plants and use a hedge trimmer to tame overgrown bushes or hedges.
•Remove weeds whilst they're small and the ground is damp, then cover exposed soil with nutrient-filled mulch.
•Scarify your lawn to remove dead grass, moss and weeds.
•Aerate or spike the lawn to help air, water and nutrients penetrate the grass roots.
•Make your first cut of the year in early Spring on a dry, sunny day.
Step by step - How to plant a border
What is a spring border?
Spring borders are all about sprucing up your beds following the winter and watching them add life and colour to your garden for the rest of the year. Planting in early spring means that your borders should be in full bloom by the time the weather is warm again.
Step 1 - Prepare your garden
Before you can make your borders beautiful, you'll need to plan where you want to plant and get rid of any troublesome weeds. Tidy up any plants that survived the winter and choose an area for planting that enjoys regular sunshine. Garden forks are best for forcing out weeds from their roots and a specialist weed puller can help make easy work of any that are particularly deep and tough to remove.
Step 2 - Rejuvenate your soil
After a long winter, your soil is probably due a little love. Use a strong spade to turn over the soil and break up any compact areas that could harm growth. Loosening the soil helps to improve aeration and drainage, while you can also fertilise the ground with compost or mulch to give it extra food for growth.
Step 3 - Get planting
You'll need to dig holes large and deep enough to fit each new plant. Once your plants are in, use a trowel to fill in the soil around the base and ensure they are tightly embedded. Not sure what plants are best for the season? Pansies, tulips and lilacs are just a handful of spring favourites.
Step 4 - Keep them watered
Once your plants are in and covered, make sure they thrive by keeping your garden well-watered. Grab a watering can, or a hose if they're really thirsty, giving them the essential moisture they need to grow well.
Top tools for spring
Tried, tested and user recommended
More garden inspiration
Advice, features and design tips to help you transform your garden.
Why buy at Argos?