Use up and down arrows to review and enter to select. Touch device users, explore by touch or with swipe gestures.
Find the best type of hob for the job
Know your thingymabobs from your hobs? Our guide is packed with everything you need to know.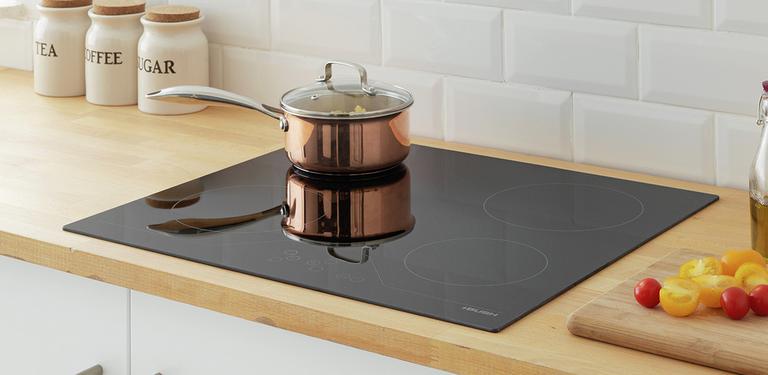 Types of hob
Confused about hobs? Choosing a hob is more than deciding between gas or electric. Explore the four main types of hob so you can decide what works best for you.
What is an induction hob?
Appetite for induction
Induction hobs are a relatively new innovation in cooking compared to the other types of hob. They use electricity, but work by creating a magnetic field, allowing them to heat only the pan.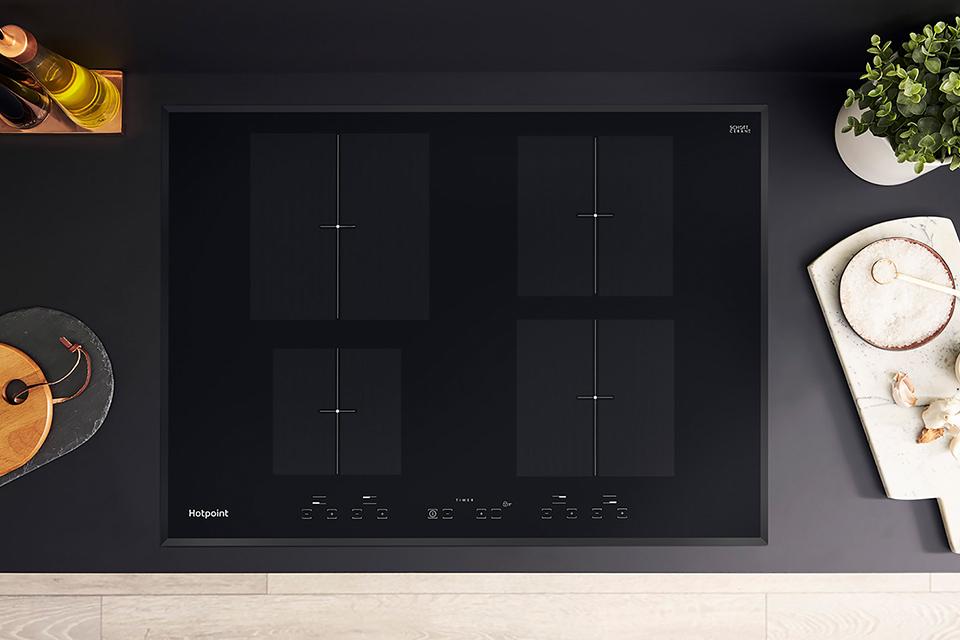 Best bits
Electromagnetic technology means they heat up very quickly.
They heat only the pan, making them incredibly energy efficient.
The hob will only have a little residual heat after cooking. The burners turn off automatically once pans are removed, making them very safe.
You can be more specific with the temperature, making boiling or simmering a breeze.
Most models have a range of extra features to enhance your cooking experience.
They are very easy to clean.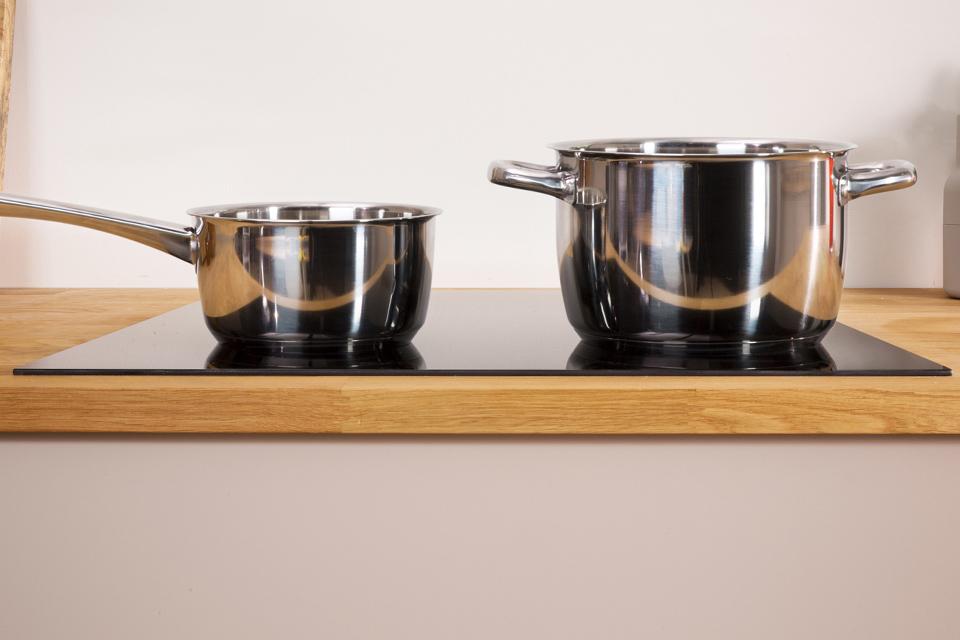 Things to consider
They tend to be more expensive to purchase versus other hobs.
If you have a pacemaker you may need to check that an induction hob won't affect it due to its use of electromagnets.
Induction hobs only work with certain pans. Steel or cast iron is the ideal choice, but some copper and aluminium pans will also work if they have a magnetic base. The good news is we have lots of pans suitable for induction hobs, take a look.
Power boost
Ideal for those who want a meal fast. Only found on induction hobs, this feature allows you to increase the power to a cooking zone by up to 50%. Allowing you to bring a large pan of water to boil in around 90 seconds!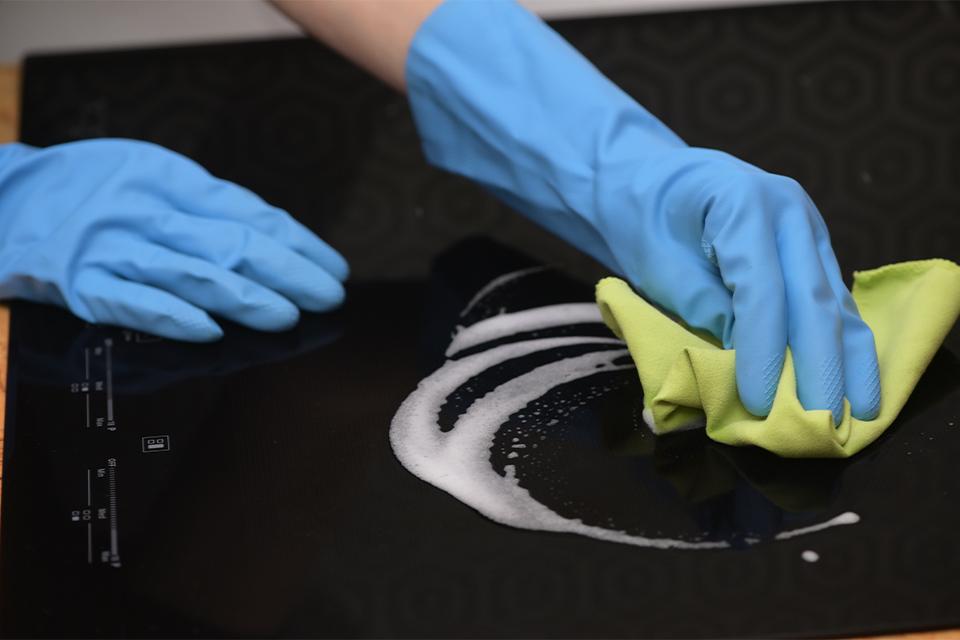 How to clean an induction hob
The sleek glossy surface of an induction hob may make it look difficult to keep clean effectively, but it is in fact one of the easiest hob types to keep looking spick and span.
Use a damp cloth or sponge to wipe over the surface once it is cool enough to touch. To help prevent stains, it's best to try and clean any sticky spills as soon as you're able.
Don't use any scratchy cleaning tools such as scourers or steel wool, nor detergents that contain bleach or ammonia. Scratches on the hob surface can lead to food becoming embedded, which will permanently damage the glass.
Some of our favourite induction hobs
What is a ceramic hob?
Ceramic aesthetic
Ceramic hobs use electricity to heat elements underneath the hob surface. This heat then transfers from the glass surface to your cookware and proceeds to heat the contents within.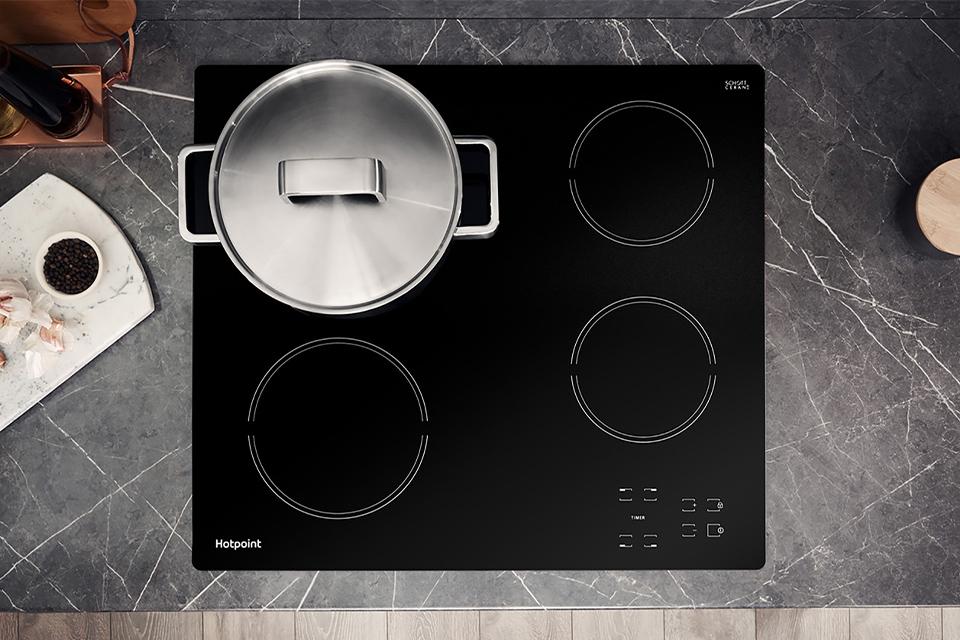 Best bits
Easy clean ceramic glass surface.
Low maintenance while not compromising on stylishness or ease of use.
Compatible with all types of pans, so you can continue to use your existing cookware.
Some models have built-in heat indicators so you know which areas are still hot to touch.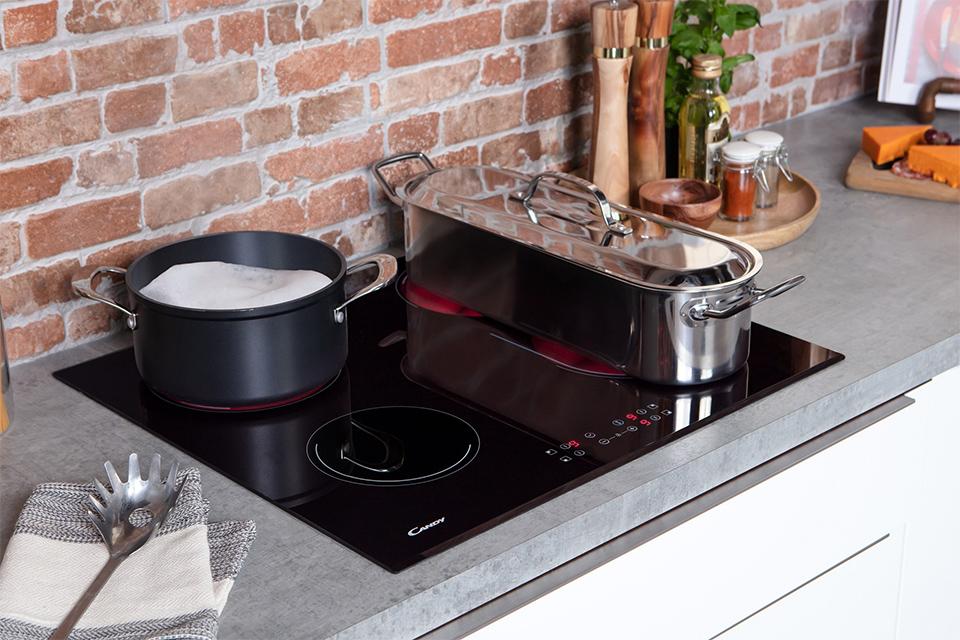 Things to consider
Cooking surface can take a while to heat up or cool down.
Heat distribution around the bottom of the pan is not as efficient as other hob types.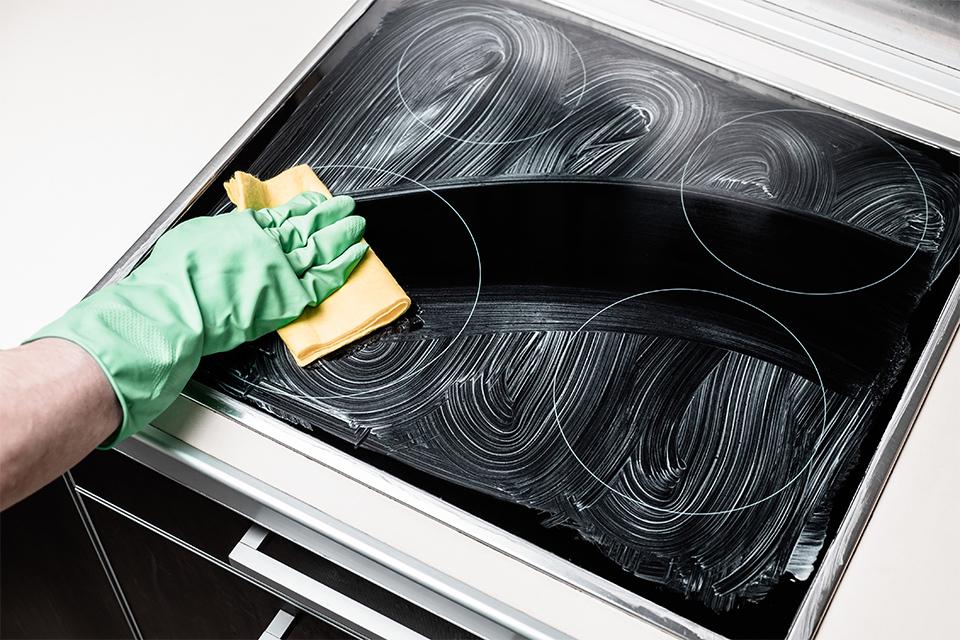 How to clean a ceramic hob
A ceramic hob should be cleaned in a similar way to an induction hob. Thankfully its glossy surface means, with the right care and attention, it should maintain its stylish sleek appearance.
Use a damp cloth or sponge to wipe over the surface once it is cool. It's best to try and clean any sticky spills as soon as possible, as this will help prevent hard-to-remove stains.
Don't use any scratchy cleaning tools such as scourers or steel wool, nor detergents that contain bleach or ammonia. Scratches on the hob surface can lead to food becoming embedded, which will permanently damage the glass.
If your spill is stuck fast, there are some ceramic hob cleaners and tools you can use. With a bit of elbow grease, they should help get those stains off without scratching or damaging the surface of the hob.
Some of our favourite ceramic hobs
What is a gas hob?
They're a gas
Gas hobs are popular with professional chefs and kitchens due to their quick heating functionality as well as providing an even cooking surface temperature. As their name suggests, they use a gas feed that is lit via an in-built ignition point, rather than electricity.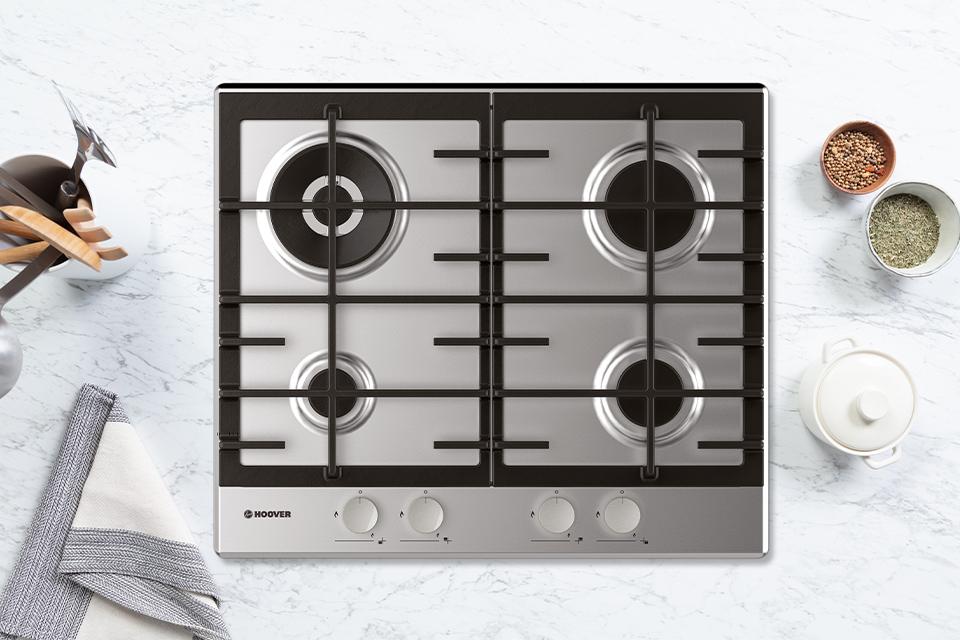 Best bits
Easy to use, just ignite and get started.
Heat provided is instant, meaning food reaches optimal cooking temperatures quicker.
Cheaper to run than most electric hob models.
Compatible with all types of pans, so you can continue to use your existing cookware.
All gas hobs have an FFS or flame failure safety feature built in, which means if the flame goes out unexpectedly, the gas supply is cut off automatically.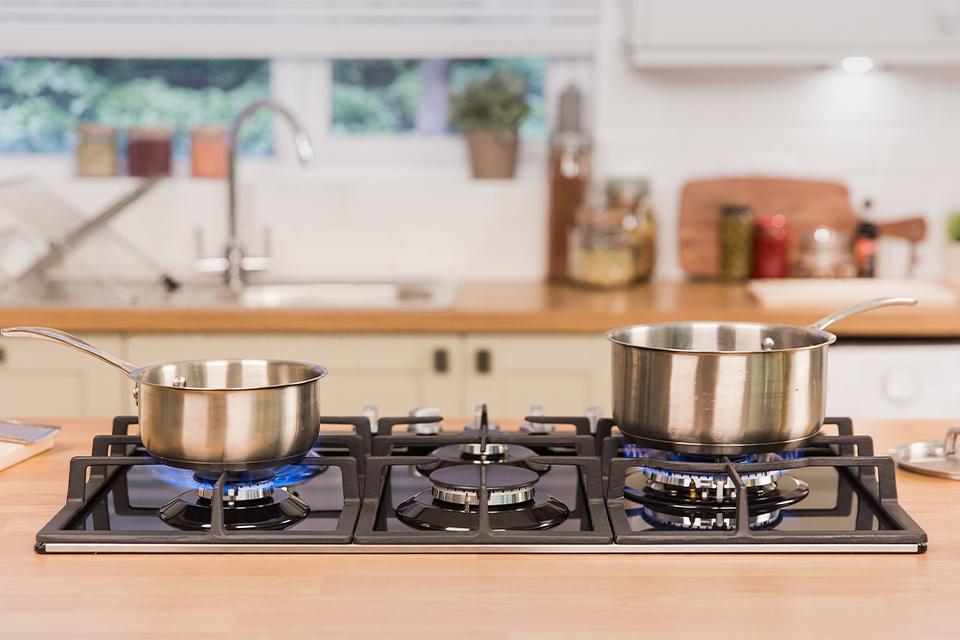 Things to consider
Requires a gas connection, so not suitable for all homes.
Not the easiest to clean due to the pan supports and burners.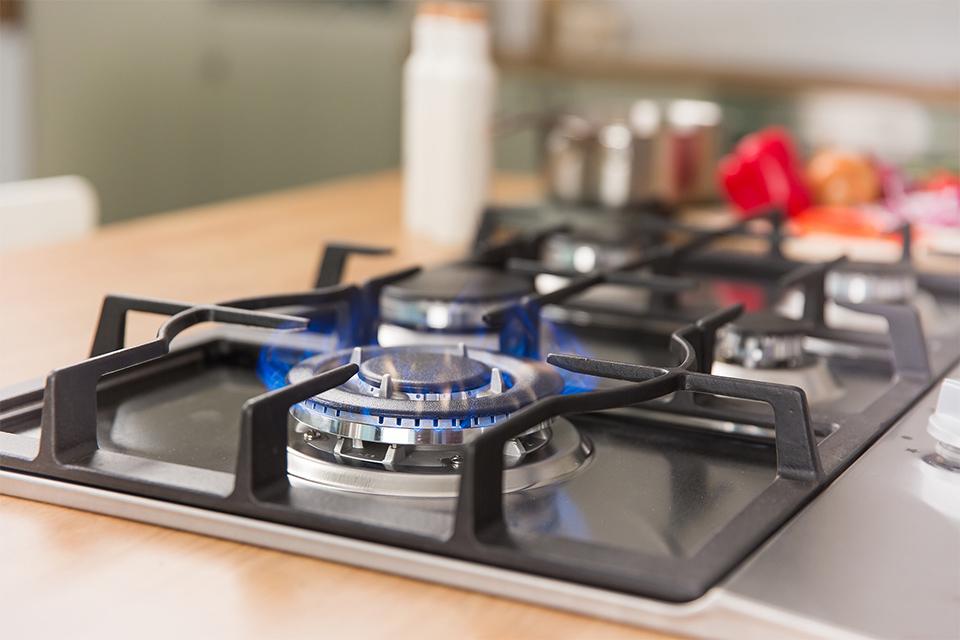 Gas hob pan supports
A gas hob will always come with pan supports that sit on top of the hob, allowing pans to rest directly over each burner. The pan supports will be made of one of the below materials.
Cast iron - High quality supports that are very hard-wearing and resilient to everyday wear and tear. Some can be put in a dishwasher to be cleaned but check before you do.
Enamel - The most commonly found pan supports, these keep costs down and can also be cleaned in a dishwasher. However, due to the heat exposure they can chip and become a bit brittle after a while.
Stainless steel - Not as common but normally used to match a stainless steel hob surface. The steel is susceptible to tarnishing because of the heat it is exposed to, however you can get them in black which averts that issue.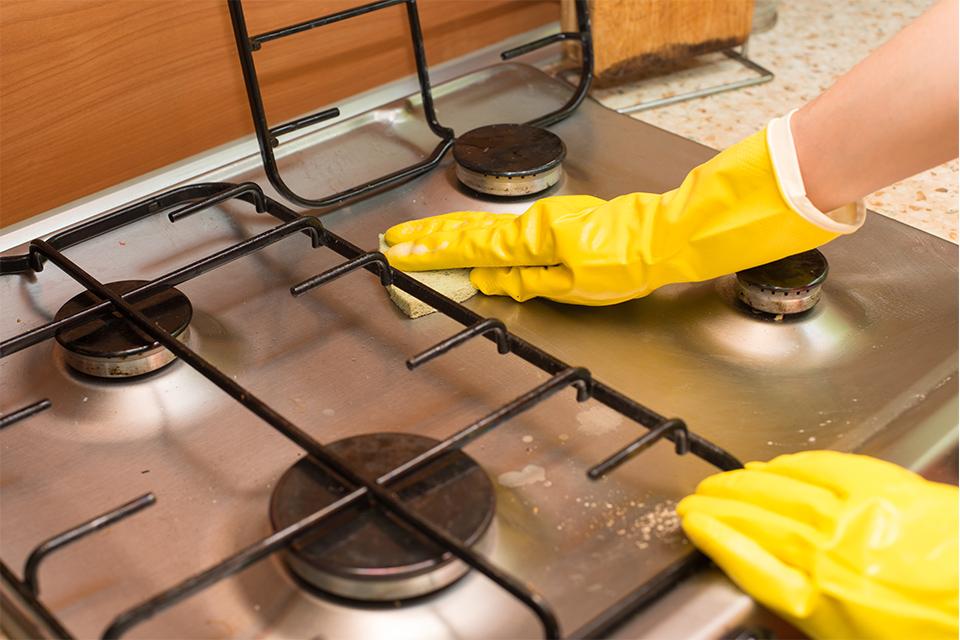 How to clean a gas hob
Gas hobs may seem daunting when it comes to cleaning in comparison to the other hob types available. However, if you break it down into two key areas, you'll find it a doddle.
First up, the pan supports. These can be simply removed from the hob, making them the easiest part to clean. If they are attached, check your manufacturer's guide to see how to remove them (ensure they're cool first!).
Once removed, soak them in a bowl of washing up liquid and warm water, then simply use a cloth to wipe the grease and dirt off. Rinse again in clean water and leave them to dry before placing them back on the hob.
Now for the hob itself. First remove all the excess food and dirt from the hob (when cool). Then find a suitable hob cleaning product (avoid using soap and water as this can oversaturate the hob's burners), and follow the instructions provided on the label. Using a clean cloth, wipe away the cleaning solution and all the grease and dirt.
Some of our favourite gas hobs
What is a simple solid plate hob?
Simple solid plate
The robust and simple to use solid plate hobs, also known as sealed plate and electric plate hobs, are the most basic of all the types of hob. They work by heating an electrical element that is underneath sealed metal plates, which in turn heat your cookware.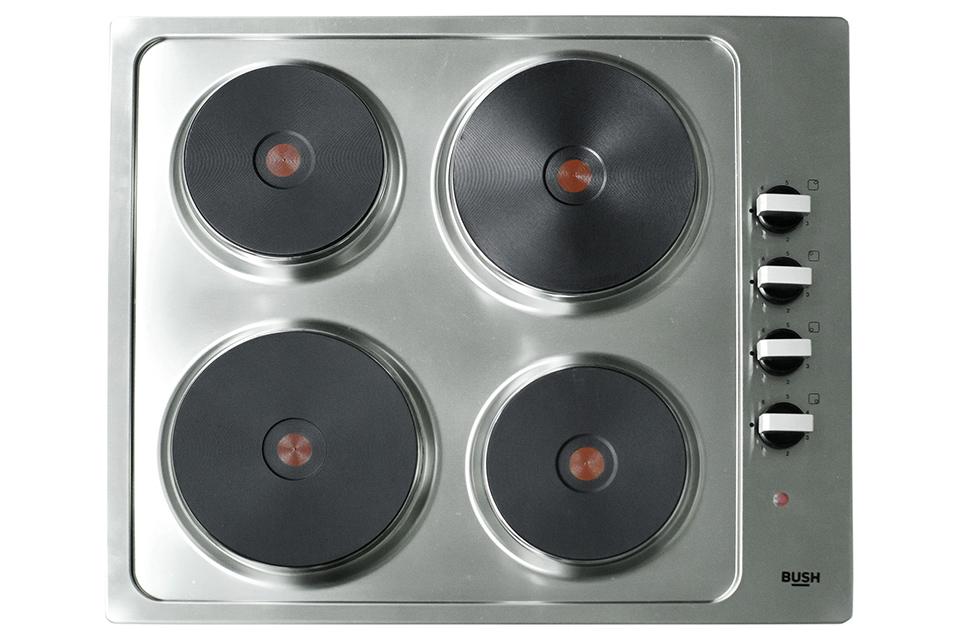 Best bits
Cheapest of all the types of hob, ideal for those on a budget.
Easy to use with a simple, traditional design.
Hard-wearing making them difficult to damage or scratch.
Heat is distributed well with any pan with a flat base, especially cast iron cookware.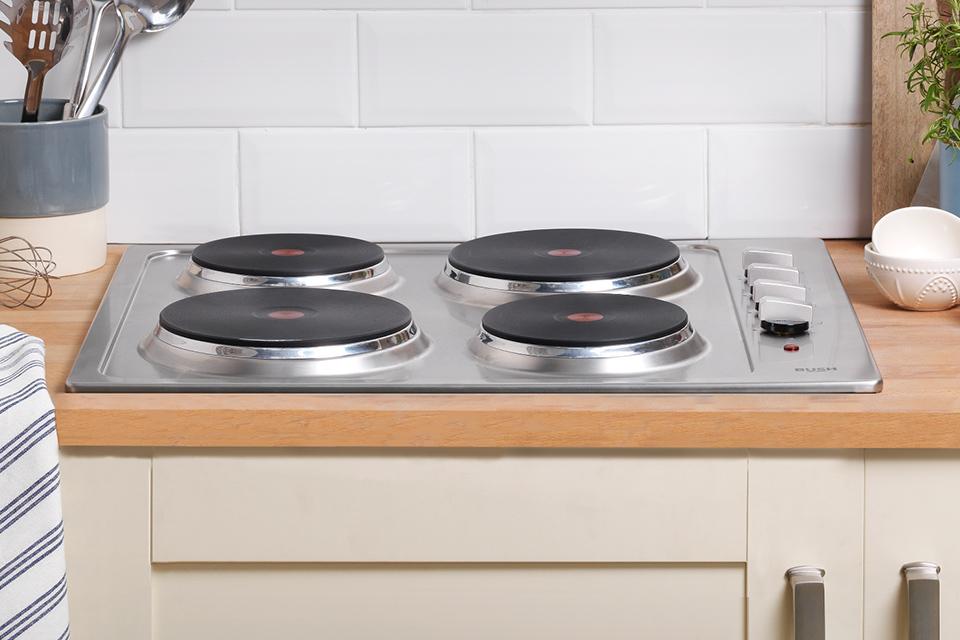 Things to consider
Not easy to control the specific hob heat.
Most expensive type of hob to run due to the metal plates taking a while to heat up and then cool down again.
Hardest type hob to clean, will likely discolour after first use.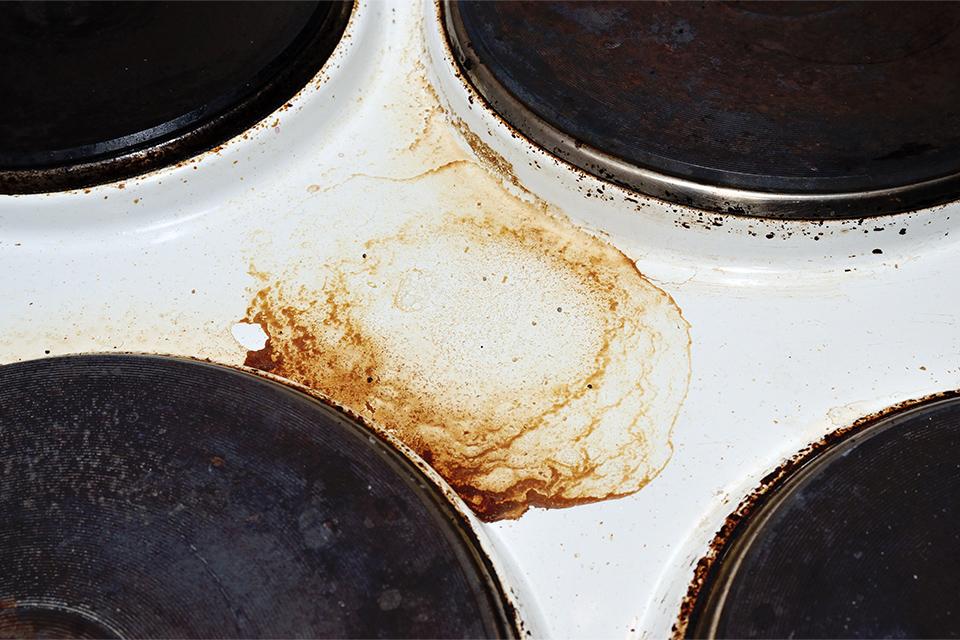 How to clean a solid plate hob
While they are likely to become discoloured after the first use, there are a couple of things you can do to help maintain your solid plate hob for a longer life.
For the best results, use a solid plate hob cleaning solution. Once the hob surface is cool, apply the solution and follow any given instructions on the label. It is recommended to wipe the cleaning agent off with a cloth or sponge to help prevent any damage to the enamel surface.
If you find grease or dirt is not budging, it is better to repeat the cleaning process rather than scrub harder to further protect the hob surface.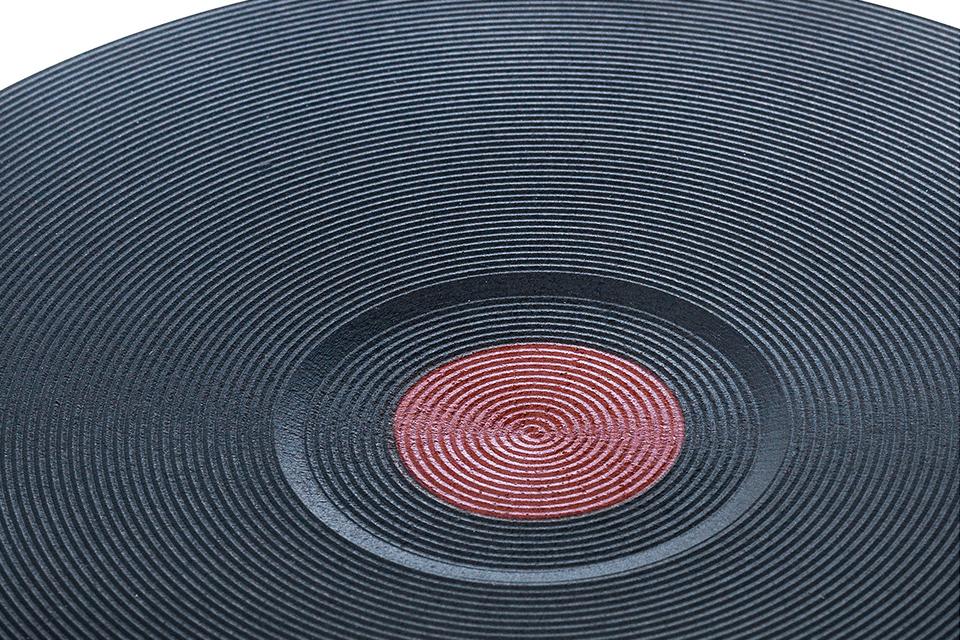 Top tip
If you want to prevent the metal plates pitting or rusting, you can 'season' them with a bit of oil. Similar to how you would build up a non-stick coating in a regular dish without it.
To do this, brush the metal plate with a light coating of oil on a cloth or kitchen towel (olive oil tends to work best) and once the surface is shiny, put the heat up high on the hob and leave it for a couple of minutes. Then turn it off and let it cool down.
While this seems a bit strange, it helps form a barrier on the metal plate, protecting it from the worst heat damage and can extend the life of your hob significantly when done correctly and on a fairly frequent basis (every 1-2 months is recommended).
Hob key features
Whether you're after a hob that's safe, smart or speedy, check out some more key features to help make your decision that bit easier.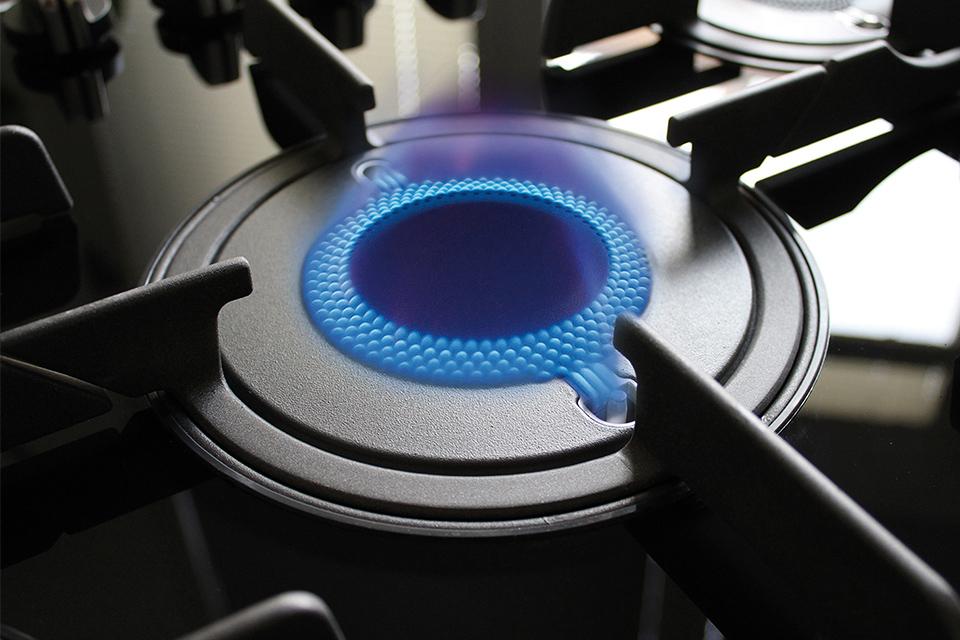 Safety features - gas hobs
Flame failure device - you will find this on most modern hobs. This switches off the gas feed should the flame be accidentally extinguished by an overboiling pan or a draught.
Automatic ignition - this is also found on most modern hobs. This simply automatically ignites the gas when you turn the knob, rather than you needing to push a separate ignite button.
Warning buzzer - this alerts you to let you know if a burner has been on for a long period of time, preventing you from leaving the gas on accidentally.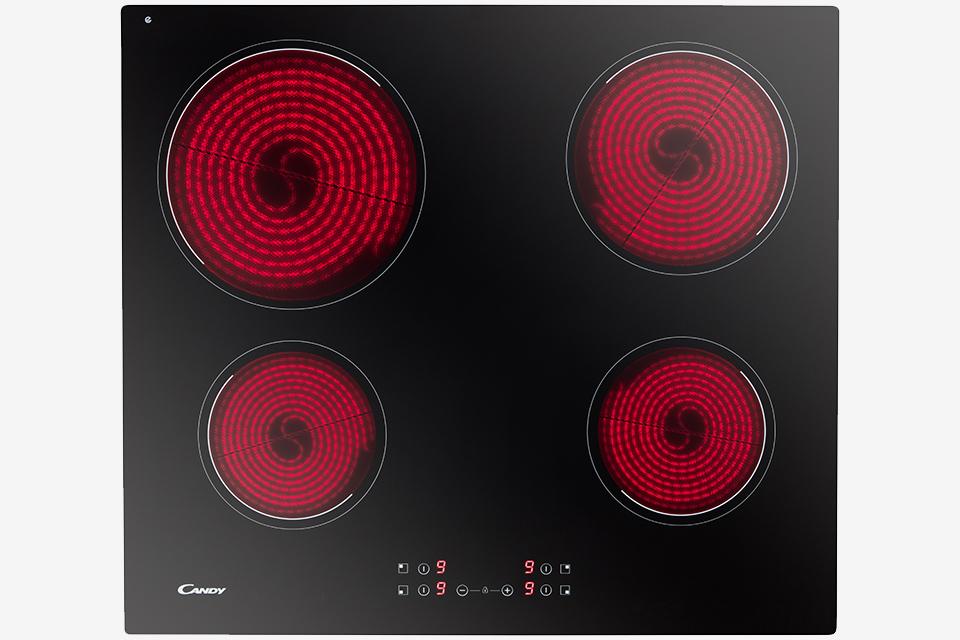 Safety features - electric hobs
Auto standby - after a long period of time of being unattended, the hob will go into a standby mode or a safety shut-off feature will switch it off altogether.
Pause function - ideal for those with busy lives, pause your cooking by turning all active hobs down to the lowest setting, preventing any accidents should you need to leave the kitchen.
Child and control locks - only found on models with touch controls, these allow you to lock the hob surface. Preventing children from accidentally turning on the heat as well as anyone unintentionally changing your heat settings. Ideal for averting accidents as well as saving energy.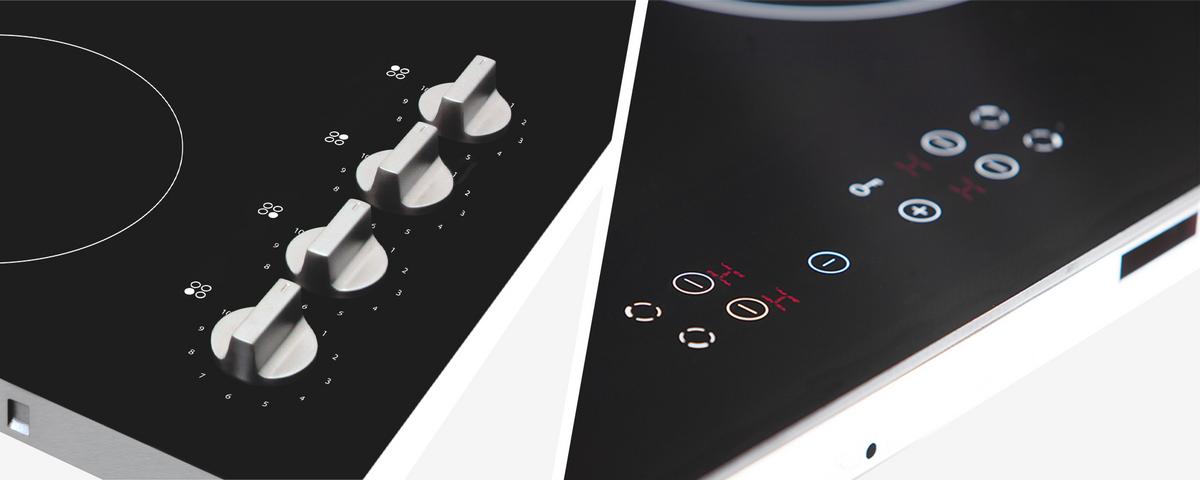 Controls
There are two main types of controls that your hob will come with, typically this will depend on the type of hob you buy.
Rotary controls - these are found on solid plate, gas and some ceramic hobs. They work by simply turning the dials at the edge of the hob to control the amount of heat produced.
Touch controls - as the name suggests, these are 'buttons' that are built in to the surface of the hob. You will typically find these on induction and most ceramic hobs.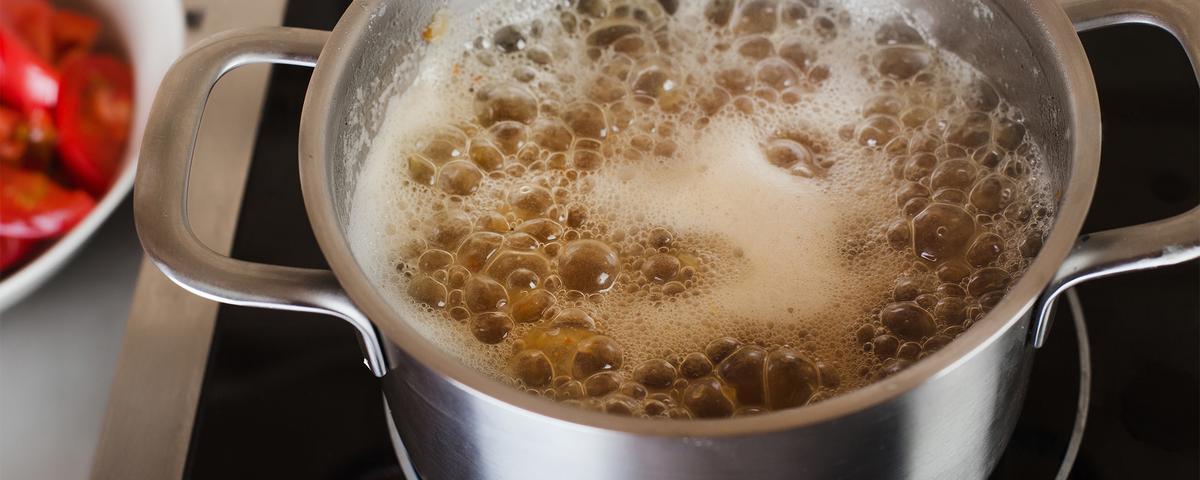 Smart sensors
Overheat protection - this clever feature can detect if the temperature has become too high or if whatever you're cooking spills over onto the hob surface. It will then shut off the cooking zone or in some cases the entire hob to help protect it from damage.
Pan detection - as obvious as it sounds. Only on induction hobs, this feature detects when a compatible pan is on a cooking zone and will heat it accordingly. Once removed, it turns off the cooking zone automatically.
Overflow protection - a simple feature, but useful nonetheless. It will detect if a pan is about to boil over, and turn the heat down to prevent that from happening.
Our delivery and installation service
Thinking of opting for our paid installation service? To ensure your delivery and installation goes smoothly, we've put together a short video to walk you through the process, step by step. It's really important that these steps are met otherwise we may not be able to deliver your new hob to your home.
Cooker and hob delivery and installation
We're working with a partner on some of our deliveries, your item will arrive on an AO van, but you'll still get the same expert installation and aftercare that you'd expect from Argos.
Our partner will contact to schedule your delivery.
Suitable for electric, gas and dual fuel cookers, ovens and hobs.
We'll text you the day before your delivery with a 4-hour time slot.
On the day of delivery, you'll be able to track your order.
Before we arrive, you'll need to ensure the hot zone (the area above your cooker) is free from combustible materials such as wallpaper, cupboards, shelves, plug sockets and switches.
If we're installing a gas appliance, ensure your gas pipework is in good condition and 1 metre away from where your appliance will sit.
These are legal requirements and if we're unable to connect your appliance due to one of the above checks not taking place, we won't be able to refund your delivery and connection charge (this does not affect your statutory rights).
Delivery and installation will take around 1 hour.
Kitchen-spiration
Hob and oven packages
If you're looking for a complete built-in look, check out our hob and oven packages.
Why buy at Argos?