Juice at Argos
Juice power banks, where bold design meets great technology.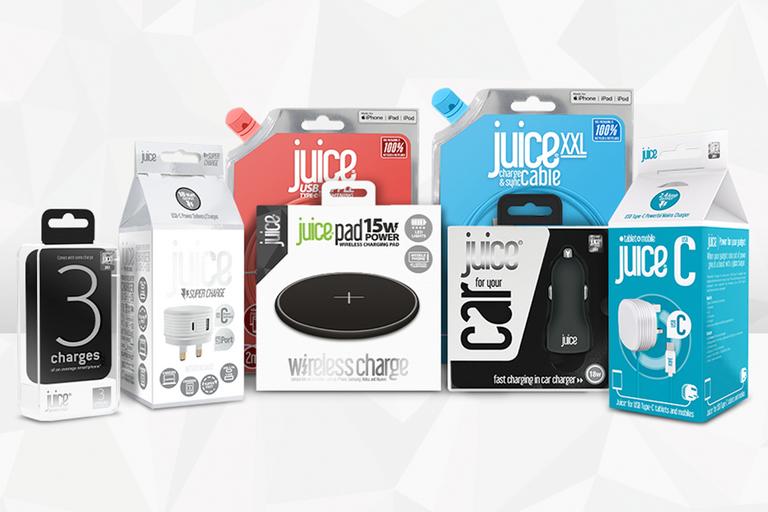 Juice power banks
Stay charged and stay connected anywhere with our elegantly designed and lightweight portable power banks The Juice 5,4,3,2,1 charge range allows you to easily identify how many times your phone can be charged, with clear and bold messaging.
Juice wireless charge
Is there anything more convenient than popping your phone down on a wireless charger and carrying on with your busy day whilst our phone gets more power? The Juice wireless range is slick and allows you to do exactly that!
Juice cables
We pride ourselves on bringing colour into the tech world. Our bold and vibrant lightning cables will sync and charge compatible Apple devices whether it is for on the go, in an office or at home. Our cables come in 1m, 2m and 3m for when you need that extra length.
Juice car chargers
The Juice in-car charging range allows devices to remain fully charged whilst in motion! Ranging from a singular universal charging port to a super-fast charging port (0-25% in just 15 minutes) with an integrated cable for multiple connectors.
Juice mains chargers
The fastest charging capabilities on the market. The Juice mains range covers all of the bases for at-home charging solutions. Our range of powerful plugs enables the charging of up to four devices at once!
Juice's Eco-friendly promise
At Juice we care about our planet. That's why we've developed a range of packaging that is gentle on the Earth, yet bold enough to stand out on the shelf. We are fully committed to manufacturing all of our new plastic packaging from post-consumer waste materials that can be recycled again and again. Made from 100% recycled plastic and completely recyclable too!
Juice product range
Why buy at Argos?