Use up and down arrows to review and enter to select. Touch device users, explore by touch or with swipe gestures.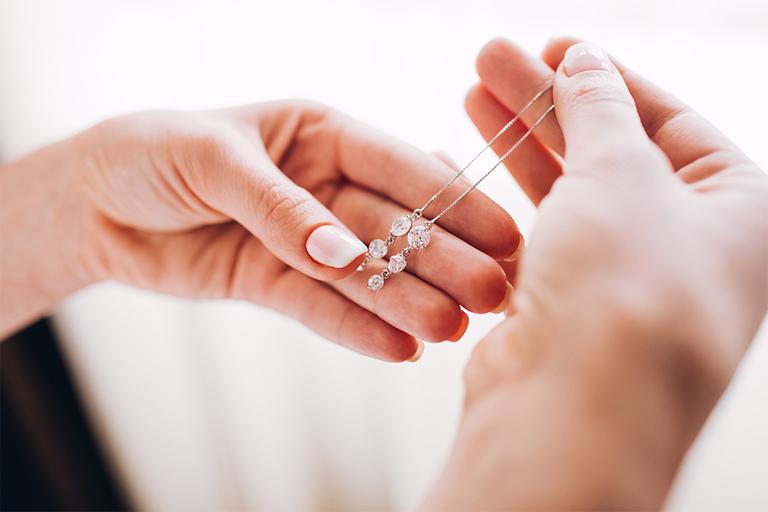 Whether you want to complete your ensemble in style or make a loved one smile- a piece of jewellery is a perfect choice. Discover everything you need to know to find the jewellery you are looking for.
Precious metals in jewellery
They deserve a spot in your jewellery box. But choosing between platinum, gold, and silver can be confusing. Let us help you understand the benefits of each, so you can pick the perfect piece.
Platinum jewellery
Celebrate eternal love with exquisite platinum. Naturally white, it's rarer than gold. This metal is highly dense and durable, an ideal pairing for precious gemstones such as diamonds. A thing of beauty that lasts forever, it's hard not to fall in love with platinum.
Benefits of wearing platinum jewellery
It's hypoallergenic, making it a good choice for sensitive skin.
Thanks to its 95% purity, platinum does not tarnish. The metal retains its brilliant white lustre for generations.
Look out for
Relatively rare, it's available in fewer designs.
Gold jewellery
Timeless and elegant, gold never goes out of fashion. This precious metal comes in three colours: yellow, white and rose. Pure gold is often mixed with harder metals to form a more durable alloy.
Benefits of wearing gold jewellery
High carat gold won't tarnish easily.
Since it's easy to shape gold, you'll find an impressive array of creative designs to choose from.
Look out for
High carat gold can be prone to scratches. But with a jewellery cleaning kit, you can always keep it in tip-top shape.

Sterling silver jewellery
Looking for jewellery to be worn daily? Sterling silver is an excellent choice. Pure silver is soft and prone to scratches. When it's combined with a harder metal like copper, the result is sterling silver that's both lightweight and durable.
Benefits of wearing sterling silver jewellery
It makes for a thoughtful and lasting gift for friends and family without breaking the bank.
Being extremely versatile, you can pair it up with tons of different outfits and pull off a stunning look each time.
Look out for
Gold carats explained
The carat refers to the amount of pure gold in the alloy. 24 carat is the purest form of gold but 9 carat and 18 carat are most commonly used for jewellery. Lower carat golds are cheaper and more durable, but may have a duller appearance.
Yellow gold
The 'typical' gold colour, it has a rich yellow tone. It's often mixed with copper and zinc to create strong alloys.
White gold
Yellow gold is combined with white metals to create this alternative to platinum.
Rose gold
Yellow gold is mixed with copper to create a blush colour. It's considered more durable than yellow or white gold.
Discover fashion jewellery
Looking for something beyond gold, silver, and platinum? Thankfully, there's a whole host of options to consider.
Titanium jewellery
Very strong, lightweight and durable, its grey colouring makes it a popular choice for men's jewellery.
Surgical stainless steel jewellery
Versatile and inexpensive, stainless steel is a popular choice for fashion and body jewellery.
Metal plated jewellery
Plated jewellery is coated with a thin layer of a precious metal to create the look of solid gold, silver or platinum.
What is hypoallergenic jewellery?
If you are sensitive to nickel and copper, hypoallergenic jewellery is a great option. They are usually made from pure metals such as platinum and titanium. Surgical steel, sterling silver, and high carat yellow gold jewellery contain a very small amount of nickel or copper so can also be considered hypoallergenic.
Jewellery collections
Treating yourself or looking for a gift? Take a look at our beautiful jewellery collections.
Best metals for piercings
Bold, playful, or chic, embrace that what makes you unique. Body piercings can be a form of self-expression. But before you pick something you like, here are a few essential things to keep in mind.
Tongue bars
Surgical stainless steel is a popular choice.
Avoid plated metals that may chip or crack.
Ear piercings
Titanium, being nickel-free and lightweight, is the go-to metal for ear lobe or cartilage piercings.
You can also consider surgical stainless steel that's both durable and safe.
Nose studs and rings
Gold and silver work well for studs as they are flexible.
Stainless steel is hypoallergenic, making it perfect for septum rings.
Organise in style
Jewellery boxes
Properly storing jewellery is as important as buying the right kind. If not taken care of, it can get damaged. Invest in a sturdy jewellery box so that your precious pieces always stay as good as new.
Inspired jewellery ideas
Revere jewellery
Give that special someone a gift from the heart. Revere is here for you.
State of Mine jewellery
We give you the quality to wear your body jewellery with confidence.
More advice
Why buy at Argos?