Use up and down arrows to review and enter to select. Touch device users, explore by touch or with swipe gestures.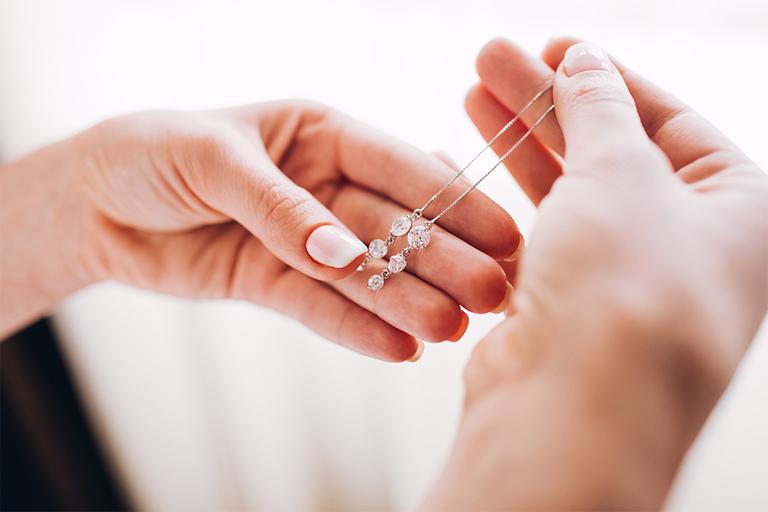 A key part of choosing a piece of jewellery is deciding what it's made of. Finish, durability, cost, and importantly your personal style, are all factors to consider.
Different metals used in jewellery
For fine jewellery, gold, silver and platinum are popular choices. Classic and timeless, the choice is largely down to personal taste, although there are some differences in their features.
Gold jewellery
There are three colours of gold; yellow, white and rose. Pure gold is often mixed with harder metals to form a more durable alloy.
Benefits of wearing gold jewellery
High carat gold won't tarnish easily.
It's malleable, allowing for intricate designs.
Look out for
High carat gold is prone to scratches.
Alloys may contain nickel which some wearers are sensitive to.
Sterling silver jewellery
Pure silver is soft and prone to scratches so is often combined with a harder metal, usually copper, to create the alloy sterling silver.
Benefits of wearing sterling silver jewellery
Bright white colour and high shine.
Generally a less expensive precious metal.
Look out for
Can tarnish or develop dark coating.
Can scratch or scuff, although more durable than pure silver.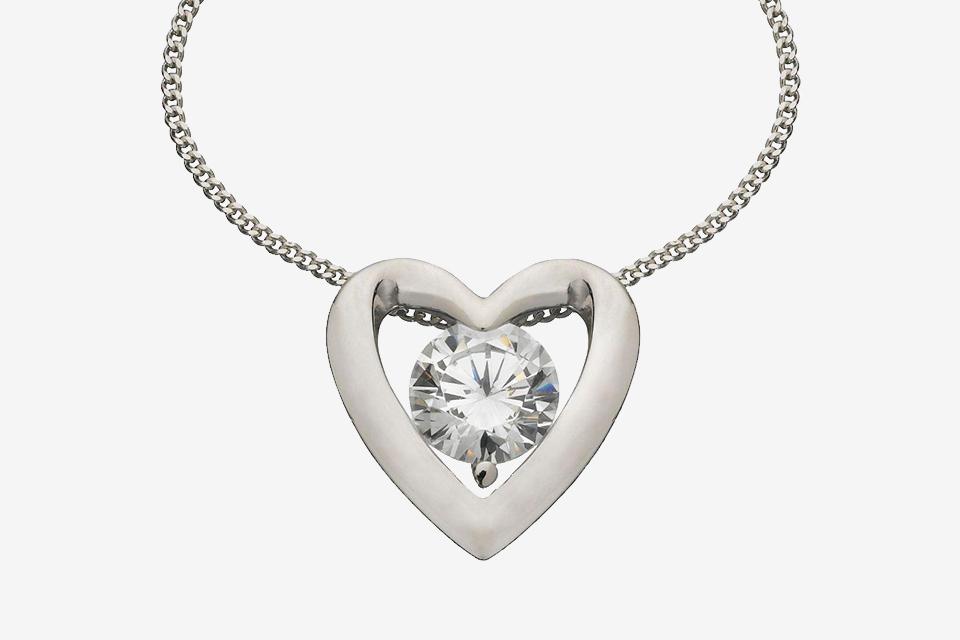 Platinum jewellery
Naturally white, platinum is rarer than gold and often used in a near pure form. It is heavier than other metals used in jewellery.
Benefits of wearing platinum jewellery
It's hypoallergenic.
It's very durable and resists tarnish.
Look out for
Platinum is more expensive than gold or silver.
Relatively rare, it's available in fewer designs.
Gold carats explained
The carat refers to the amount of pure gold in the alloy. 24 carat is the purest form of gold but 9 carat and 18 carat are most commonly used for jewellery. Lower carat golds are cheaper and more durable, but may have a duller appearance.
Yellow gold
The 'typical' gold colour, it has a rich yellow tone. It's often mixed with copper and zinc to create strong alloys.
White gold
Yellow gold is combined with white metals to create this cheaper alternative to platinum.
Rose gold
Yellow gold is mixed with copper to create a blush colour. It's considered a more durable than yellow or white gold.
Other kinds of metal jewellery
Titanium jewellery
Very strong, lightweight and durable, its grey colouring makes it a popular choice for men's jewellery.
Surgical stainless steel jewellery
Versatile and inexpensive, stainless steel is a popular choice for fashion and body jewellery.
Metal plated jewellery
Plated jewellery is coated with a thin layer of a precious metal to create the look of solid gold, silver or platinum.
What is hypoallergenic jewellery?
Some people are sensitive to nickel and copper so look for hypoallergenic jewellery. These are usually made from pure metals such as platinum and titanium. Surgical steel, sterling silver, and high carat yellow gold jewellery contain a very small amount of nickel or copper so can also be considered hypoallergenic.
Best metals for piercings
It's important to consider the material when purchasing body jewellery because some metals are more suitable for sensitive piercings.
Belly bars
Surgical stainless steel is a popular choice.
If you are not sensitive to nickel, consider gold and silver.
Ear piercings
Gold and sterling silver are popular choices.
Gold and silver plated are also affordable options.
Cartilage ear piercings
Surgical stainless steel is a popular choice.
If you are not sensitive to nickel, consider gold and silver.
Tongue bars
Surgical stainless steel is a popular choice.
Avoid plated metals that may chip or crack.
Eyebrow bars
Surgical stainless steel is a popular choice.
If you are not sensitive to nickel, consider gold and silver.
Nose studs and rings
Gold and silver work well for studs as they are flexible.
Stainless steel is a popular choice for septum rings.
Unhealed piercings
If your piercing has not yet fully healed stick with surgical stainless steel body jewellery. If you know you have a metal allergy, avoid this metal in your unhealed body piercing.
Inspired jewellery ideas
Treating yourself or looking for a gift? Take a look at our beautiful jewellery collections.
Revere jewellery
Give that special someone a gift from the heart. Revere is here for you.
State of Mine jewellery
We give you the quality to wear your body jewellery with confidence.
Moon & Back jewellery
Memories are best when they're shared, like our jewellery.
More advice
Jewellery & Watch Care
A piece of jewellery or a watch can mean a lot to us and damaging a precious item can be both stressful and upsetting. But with Argos Jewellery & Watch Care, there's less to worry about.*
*Jewellery and Watch Care is provided by Domestic and General Insurance PLC.
Why buy at Argos?