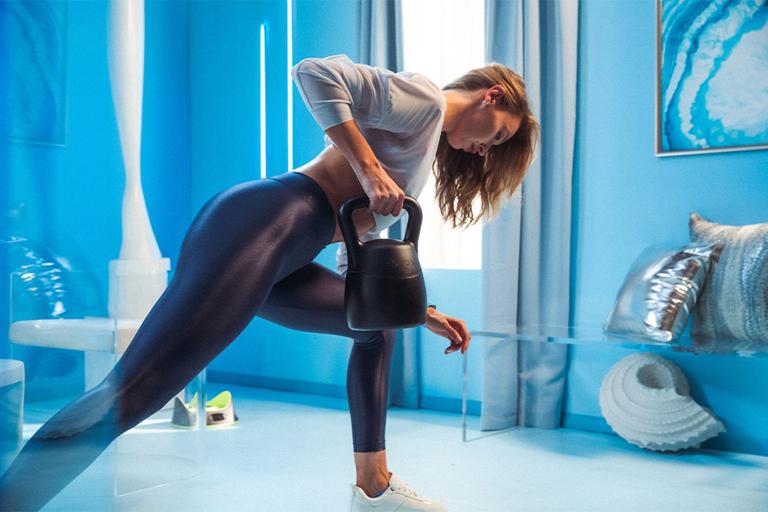 Whether it's leg day, or a HIIT session's on the cards, we have an abundance of gym gear, including some clever multi-functional kit designed to work the entire body – great for smaller spaces. Click the options below to jump to the equipment type you're looking for and some workout tip videos.
Weights
Curl, lift, squat or slam, our huge variety of weights will cater to everyone and every goal.
Check out these videos below for a few examples of the different exercises you can do with this equipment.
Kettlebell exercises
Learn how to work the upper and lower body with a single kettlebell.
Dumbbell workouts
Discover dumbbell workouts for your core and lower body.
Single function fitness kit
From push and pull up equipment to ab wheels, work specific muscle groups with our targeted kit.
Hula hoops
For fun and energetic exercise, opt for a weighted hula hoop - you'll hardly realise you're working out! Plus, it disassembles into small, easy-to-store pieces.
Core equipment
From ab wheels to ab crunchers, we've got all the helping hands you need to target that stubborn mid-section.
Upper body kit
Add variety to your workouts, modify your push ups or improve your upper body strength.
Small multi-function fitness kit
Workout multiple areas and burn those calories. Stay motivated and you'll see results in no time.
Exercise balls
Work with the ball alone to improve balance or introduce weights to add elements of strength and coordination.
Resistance bands
Great for pilates practice and adding extra difficulty to non-equipment exercises. Resistance bands can tone and strengthen many muscle groups.
Yoga & exercise mats
Mats provide a cushioned surface for you to carry out your yoga practice or workout on. They reduce impact on joints and create a comfortable surface to kneel or lay on.
Foam rollers
Provides a deep tissue massage before or after an intense workout. Also great for assisting with stretches and cool downs.
Steppers
Use in aerobic-style workouts or incorporate into a HIIT session. Jump or step on and off to improve your cardiovacular fitness, or use alongside bodyweight exercises like tricep dips.
Skipping ropes
A favourite of boxers, and for good reason. Skipping's an excellent cardio workout which improves coordiation, balance, agility and stamina. These ropes are an all-rounder!
Watch these videos for great workout tips for exercise balls and resistance bands.
Exercise ball exercises
Work your core and more with this workout video.
Resistance band workouts
Low impact exercises that tone and sculpt.
Larger multi-function fitness kit
Take a look at our multi-function equipment designed for petite spaces. Workout your entire body in a variety of ways with only one piece of kit.
Browse our videos to learn how to use some of the kit and get some exercise inspiration.
TRX Fit Suspension Trainer
Provides a range of motion to work every muscle group. Great for HIIT sessions, improving agility and cardiovascular fitness.
New Image FITT Cube
Achieve 100+ exercises with this compact cube. Burn big calories in the smallest of spaces.
Gym accessories
Space-saving products our customers love
More inspiration
Why buy at Argos?