BABY HEALTHCARE PRODUCTS
Know when your little one has a fever, keep the air in their environment clean and at the right humidity level and watch their weight. Remember, a healthy baby is a happy baby!
WHAT SHOULD A BABY'S TEMPERATURE BE?
No baby is the same, so what's normal for one, may be abnormal for another. It's also important to know that a typical fever temperature changes with age so while a 1 year old may have a fever with a certain temperature, a 4 year old wouldn't necessarily have one too.
Use the chart on the left to get an idea of what temperature is considered normal and what's considered feverish for your child's age. You should only use this for guidance though - if you're ever unsure or concerned your child has a fever, consult your doctor.
HOW TO TAKE BABY'S TEMPERATURE
Different thermometers can require you to take your little one's temperature slightly differently, so it's best to check the user manual for specific instructions. But here's a few tips for the preparation:
-Keep your baby as still as possible as wriggly babies can affect measurements.
-Make sure they're in a comfortable position - most parents will lie them down, or sit them on their laps.
-Try to avoid taking their temperature after a bath, when they're wearing lots of layers, or are in a warm room as these could skew the reading.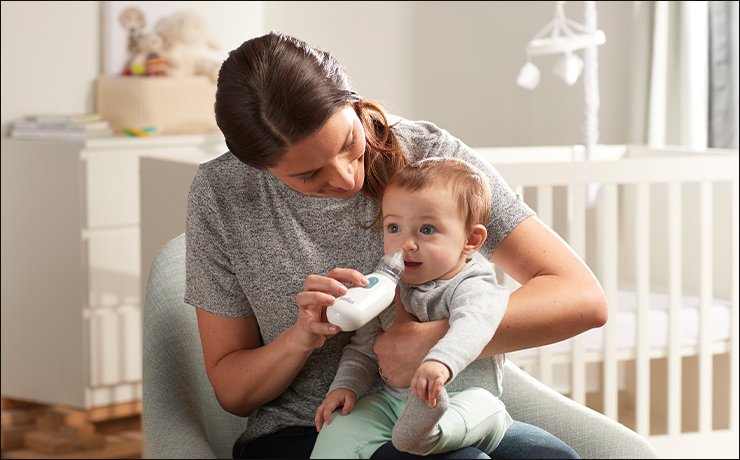 What is a nasal aspirator and why do I need one?
A nasal aspirator is the helping hand you and your baby needs when they develop a stuff nose. With either an electrical or manual version, it can relieve bunged up noses by quickly, gently and quietly removing mucus from your baby's nose.
WHY USE A HUMIDIFIER?
Humidifiers help you keep a good moisture level in your home. This in turn allows your baby to breathe more easily, prevents their skin drying out and can help to ward off viruses.
Some humidifiers can also be combined with a variety of essential oils. Menthol oils offer extra comfort to your child if they are congested or have a cough, but can only be used over the age of 3, whereas lavender can be used for babies over 3 months to help them sleep better.
BEST HUMIDIFIERS FOR BABIES
BENEFITS OF AN AIR PURIFIER FOR BABY
Babies take in more air than adults due to their smaller lungs, so it's important the air they're breathing in is as clean as it can be.
Air purifiers help to eliminate toxins, allergens and chemicals, providing a pollution-reduced environment. This is invaluable for babies already suffering from allergies or respiratory conditions such as asthma. But even if they aren't, the cleaner air quality can help to prevent your baby even developing these problems in the first place.
HOW TO WEIGH A BABY
If you're using an ordinary baby scale, make it comfortable for them first by placing down a blanket or something similar. Then set to zero before laying your baby gently on top of it. You should wait until your little one is relatively still before taking the measurement as movement can affect the result.
If you're a fan of multitasking, you can purchase a baby bath with a built-in scale so you can weigh them while they're relaxing in the water.
Explore more baby and nursery advice