Argos Card Credit Plans
Shop at Argos with flexible payment plans that give you longer to pay. Representative 34.9% APR Variable.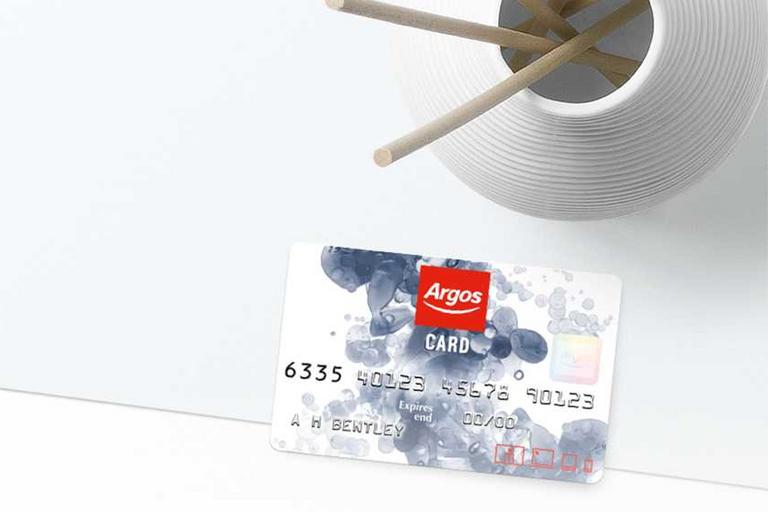 Apply for an Argos Card
Representative 34.9% APR Variable
The Argos Card lets you shop at Argos and Habitat, with flexible payment plans that give you longer to pay. Plus, you can buy everyday groceries and fuel at Sainsbury's using an Argos Card (just like a regular credit card).
Shop with an Argos Card
So, what credit plans are available?
We have standard 3-6 month credit plans, plus up to 12 months to pay on selected products. With the Argos Card, no interest will be charged if you pay in full within your credit plan period and keep your account up-to-date. If you don't pay in full, you'll be charged interest on any balance remaining at the end of the plan. This interest will be backdated to the date of purchase.
Manage your Argos Card account
Already got an Argos Card?
From making payments, to changing your contact details, it's quick and easy to keep on top of your finances with the Argos Card App.
Want to learn more?
Credit Scores
Being a grown up is hard. While credit scores might seem dull, getting your finances in shape is a really important life admin task to tick off the list. We've pulled together some info with Sainsbury's Bank to make it all a bit easier to understand.
A to Z of finance terms
What on earth does that mean? Some abbreviations, institution names and definitions in the banking and finance world can be confusing. We've brought together a glossary of words to help simplify the small print and untangle the T&Cs...
Need more info? Here are some quick links...
We treat all our customers and their applications on an individual basis. The APR we offer is determined by the details you supply and the credit you are applying for, along with an independent verification of your credit and repayment history.
Accidents happen...
Protect your new stuff with one of our Argos Care policies and get extra cover in addition to your standard manufacturer's guarantee. * T&Cs and exclusions apply
*Argos Monthly Care, Argos Breakdown Care, Argos Jewellery & Watch Care, and Argos Replacement Care are provided by Domestic & General Insurance PLC. Argos Furniture Care is provided by Novus Underwriting Limited on behalf of Helvetia Schweizerische Versicherungsgesellschaft in Liechtenstein AG and administered by Castelan Limited.
Argos Limited who is authorised and regulated by the Financial Conduct Authority as a credit broker (713206), and works exclusively with Argos Card Lender, Home Retail Group Card Services Limited trading as Argos Card and Argos Financial Services, who are authorised and regulated by the Financial Conduct Authority to provide credit (716148). Home Retail Group Card Services Limited is registered in England (04007072) at 489-499 Avebury Boulevard, Milton Keynes, Buckinghamshire MK9 2NW.
Spread the cost on your Argos shopping with an Argos Card. Spend over £50 to choose from one of our standard credit plans or check out our special offer credit plans. These are time-limited credit offers available on top products including phones, furniture and vacuum cleaners.

The Argos Card allows you to buy now, pay later and it's easy to manage your account with the Argos Card App. So, if you need a new washing machine, want to shop the latest looks from Tu Clothing or are on the hunt for the latest gaming PC, apply for an Argos Card online or in-store.

Credit subject to status. T&Cs apply. Representative 34.9% APR variable.