Apply for an Argos Card
Representative 34.9% APR Variable. Credit subject to Status.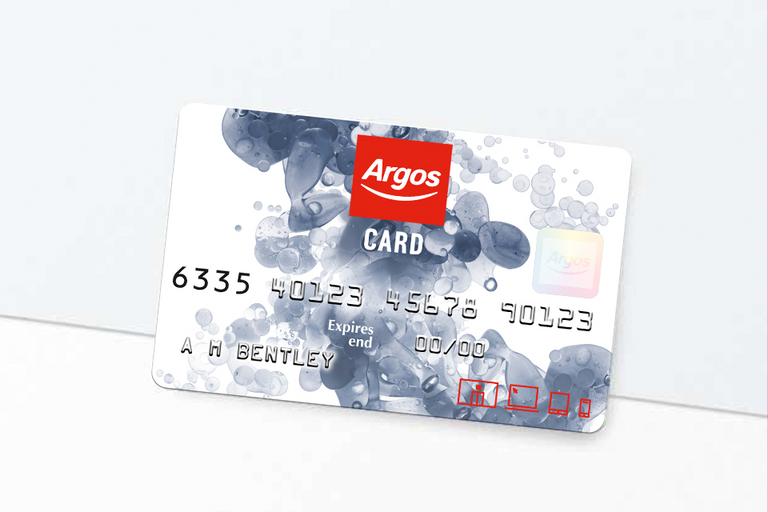 Spread the cost with a credit plan
Flexible repayment options
Representative 34.9% APR variable

So what's an Argos Card?
The Argos Card lets you shop at Argos and Habitat with flexible payment plans that give you longer to pay. And you won't pay any interest if you pay within the credit plan period. If you don't pay in full, you'll be charged interest on any balance remaining at the end of the plan. This interest will be backdated to the date of purchase. Plus, you can buy everyday groceries and fuel at Sainsbury's using an Argos Card (just like a regular credit card).
Ways to apply
It's easy to apply for an Argos Card. The way you apply depends on whether you need a credit plan today... Or whether you're lining up credit ready for future shopping at Argos or Habitat.
Apply when you check out
Got your eye on something today? Keep shopping and we'll remind you to apply when you check out. you can choose to collect your products in-store or have them delivered.
Apply to shop later
If you're planning ahead, you can apply for an Argos Card today. We'll send out your card within 10 days. As soon as it arrives, you can shop online and in-store.
Apply in-store
When you go into any store, you can apply for an Argos Card and pay for your stuff using it the very same day. Just remember to bring ID and a household bill to prove your address.
You can apply if you...
- Are over 18
- Have your bank details to hand
- Can tell us where you've lived for the last two years
- Have been a permanent UK resident for over a year
So, now you're ready. Click to apply now...
Need a little extra help?
If you have questions about what you're applying for, or want to tell us anything that may affect your application, we're on the other end of the phone. Give us a call on 03456 400 700. We'll be able to discuss your needs and offer suitable support.
Monday to Saturday: 8am - 6pm
Sunday: 10am - 6pm
Need more info? Here are some quick links...
Argos Limited who is authorised and regulated by the Financial Conduct Authority as a credit broker (713206), and works exclusively with Argos Card Lender, Home Retail Group Card Services Limited trading as Argos Card and Argos Financial Services, who are authorised and regulated by the Financial Conduct Authority to provide credit (716148). Home Retail Group Card Services Limited is registered in England (04007072) at 489-499 Avebury Boulevard, Milton Keynes, Buckinghamshire MK9 2NW.
The customer reviews programme for the Argos Card is a separate activity from the rest of the product reviews programme.
Reviews have been collected since 18th September 2018 and customers that have a successful application for the Argos Card and have made their first purchase were contacted to leave a review about their application process.
All reviews are subject to an independent moderation service. Please search Argos/Product Reviews for full details or read here