TV stand and media unit ideas
Find the perfect stage for your TV with our stand and media cabinet ideas for living rooms.
Shop all TV stands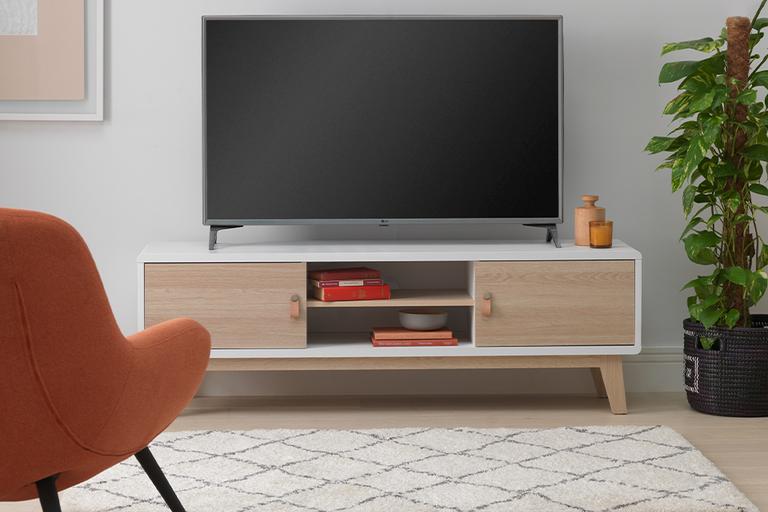 10 TV stand designs to enhance your living room
1. Industrial TV units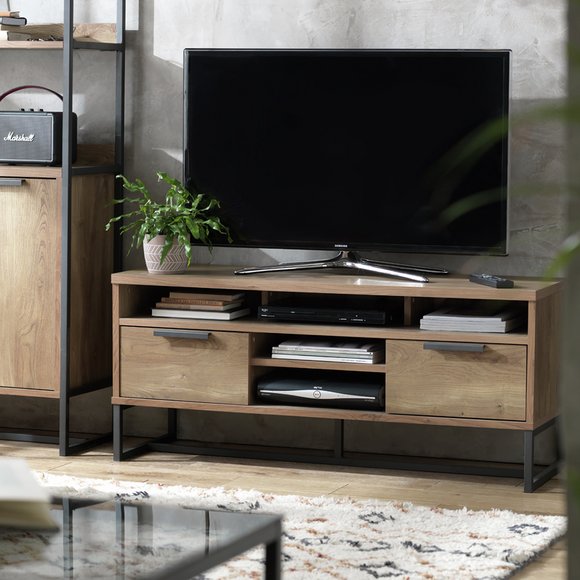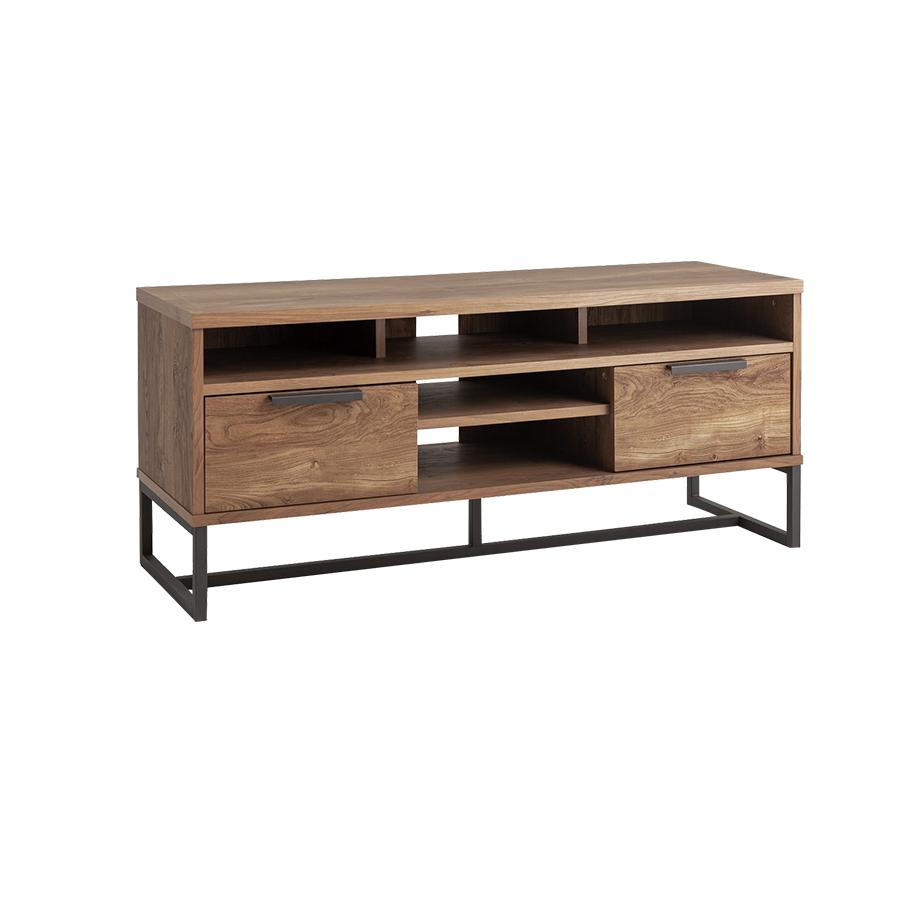 1. Industrial TV units
Elevate your entertaining space with a stand or cabinet in an industrial style. Bringing together wood and metal elements in a chic, stripped-back design, this unique piece is sure to make an impression in any lounge area.
2. Scandi TV cabinets
Keep your interior looking fresh with a light wood cabinet influenced by Scandinavian design.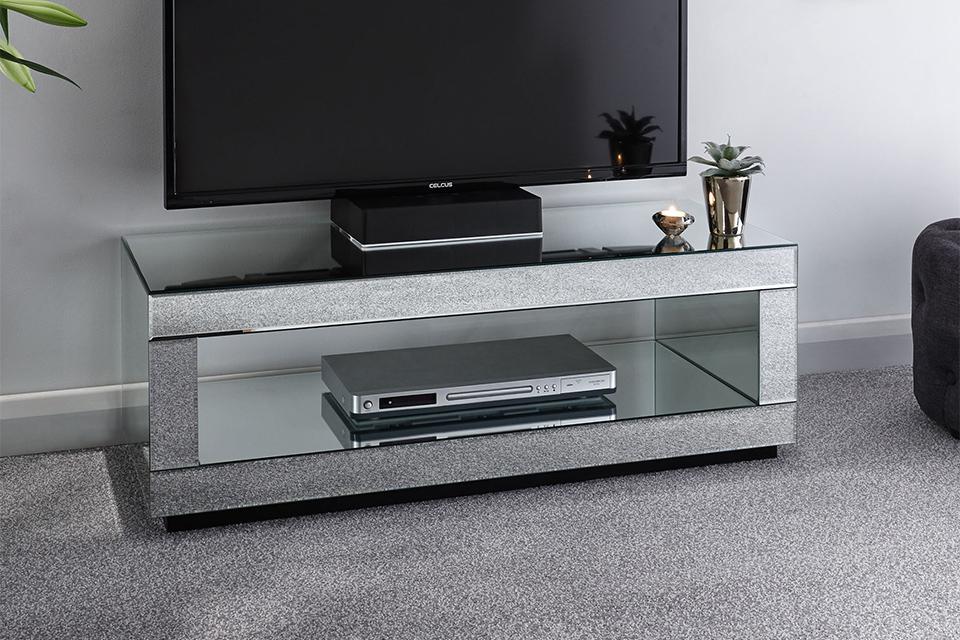 3. Mirrored TV units
The mirrored, reflective surface of this TV unit makes living rooms feel bigger and look brighter.
4. Contemporary TV units
Give your lounge a more modern feel with a TV cabinet in a smart gloss finish.
5. Solid wood TV cabinets
Easy to look after, strong and long-lasting, solid wood TV cabinets offer a truly natural look.
6. Wood-effect TV cabinets
Lightweight and versatile, wood-effect units come in a range of styles to match the rest of your décor.
7. Glass TV units
Sleek and modern, glass cabinets are the perfect complement to a monochrome or all-white theme.
8. Real wood veneer TV cabinets
With a traditional wooden outer layer, these sturdy units add a rustic finish to your living space.
9. Corner TV units
These units have angled rear corners, making them a good option for rooms where wall space is limited.
10. Floating TV stands
The floating design of a wall mounted TV stand creates a cinema-like experience in your home.
Choosing the best stand for your television
Whether your TV is the centrepiece of the living room or tucked away in a corner, you need a stand to suit. From style to practicality, there are some things to consider before you settle on the right one for you.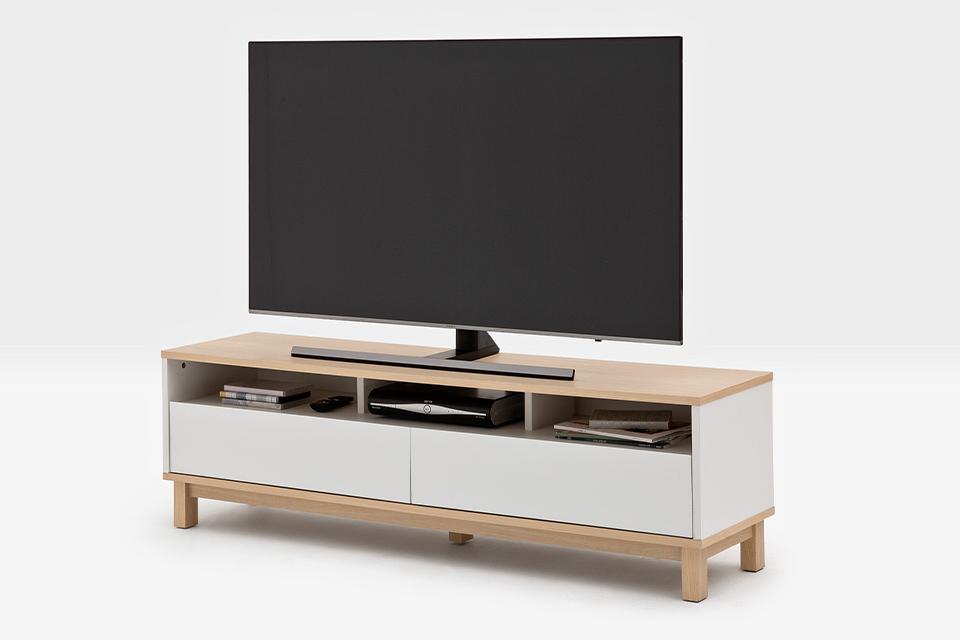 What size stand do I need?
Pick a stand that is a proportionate size to your TV. A smaller TV might look even smaller if it's placed on a unit that's meant for a large screen. Try to choose one with a maximum width that's close to the size of your television set.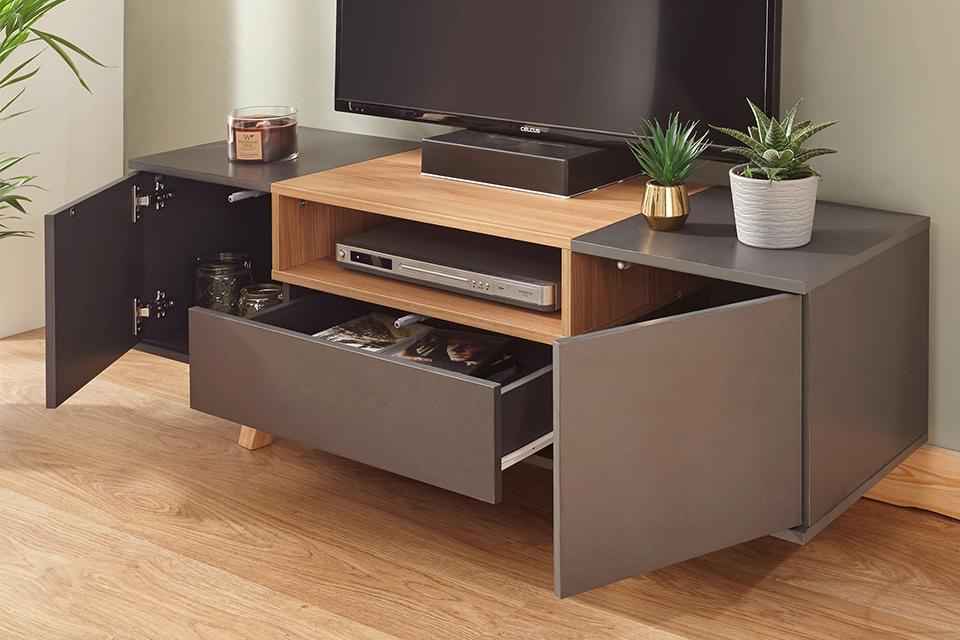 TV units with storage
Opting for a TV unit with storage space underneath can help you organise your entertainment essentials. These units provide ample room for both a viewing box and games console as well as DVDs, video games and remotes.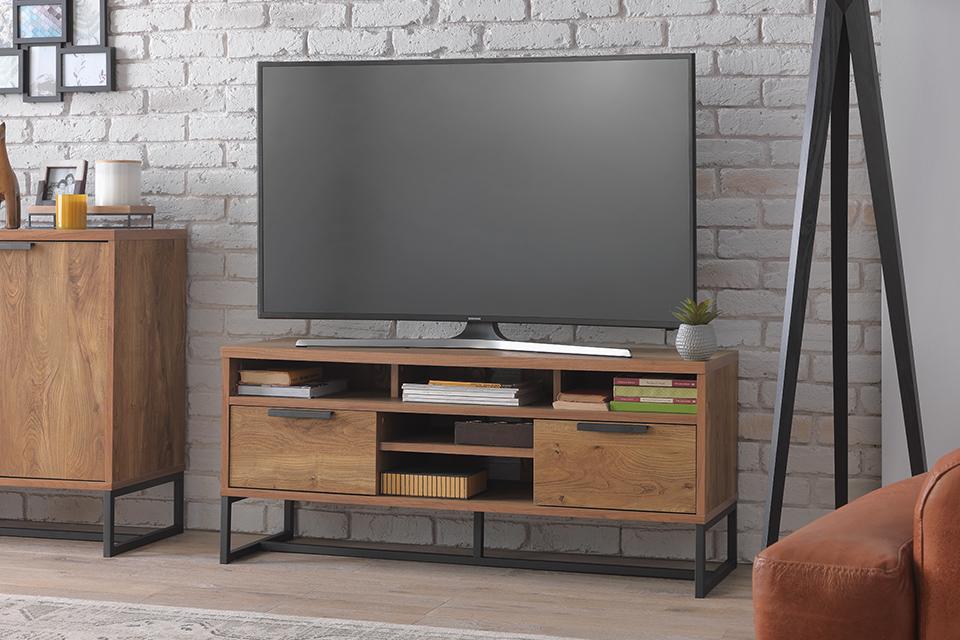 Positioning your TV stand
You also need to consider whereabouts in your living room the TV stand is going to live. Think about where the plug sockets are too, as you might need to invest in an extension cable for plugging in your TV and A/V devices.
Shop stands by TV size
Knowing the screen size of your TV is vital when it comes to picking a stand for your living room. All of our TV stands and media cabinets list the width of TV that is suitable for them.
Using a sideboard as a TV stand
If your living room is limited for space, you might want to consider using a sideboard instead of a media unit for your TV. Sideboards are typically long and shallow, which makes them ideal for flat-screen displays. Many include drawer and cubby space, providing you with convenient storage for DVDs, remote controls and other media accessories.
DIY or fully assembled
We offer both self and fully assembled TV units, so you can choose a cabinet that arrives in one piece, or one that needs assembling at home.
Self-assembly units
The majority of our TV stands and cabinets come flat-packed for assembly at home. The advantage of this is that it's easy to get the packaging into your living room, and you can build it from there.
Fully assembled TV units
These cabinets take the hassle away from building your unit, as they arrive in one piece. The only consideration is that you'll need to get the completed item through your home and into the living room.
More help and inspiration
Why buy at Argos?