Vlogging cameras
Creating top quality video content.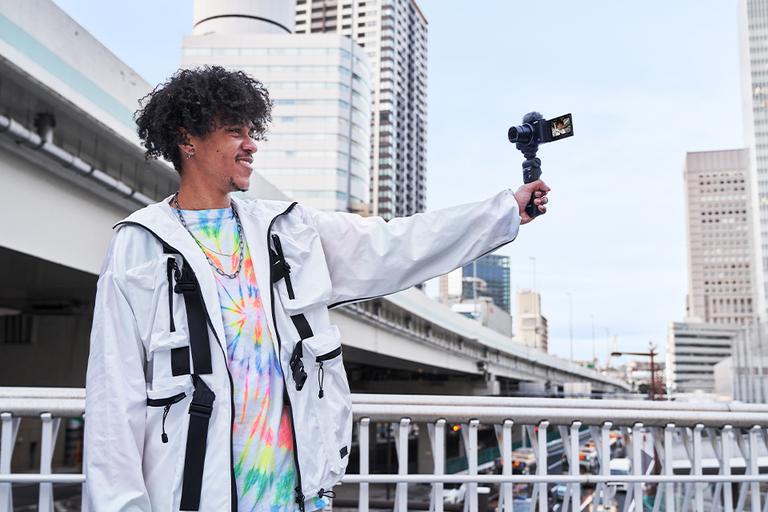 Vlogging has exploded in popularity over the last few years - and shows no signs of slowing down. Whether you're new to the game or a fully-fledged expert, here's a quick guide to find the best vlogging camera for you.
What is a vlog?
With cameras designed for use on the go, you can film, edit and upload a 'video-blog' to platforms like YouTube, taking your viewers with you wherever you go. Lifestyle, fashion, film, gaming or something more niche, there'll be an audience waiting to watch.
Vlogging hints and tips
Getting started...
If you're interested in vlogging, we've teamed up with Canon to bring you some helpful hints on how best to use your camera, and get the most out of your vlogs.
Be prepared – know what you want to say and what you want to achieve.
Set the right height and distance for your camera to ensure you capture everything.
Avoid shaky videos by investing in a tripod for your camera.
You can also use the image stabilisation feature on your camera.
Autofocus and face detection are great for clearer images.
Try a flip screen camera to create different viewpoints.
Consider low light conditions and look for cameras that can control the light settings.
Make use of editing software to tweak your videos and add music, or use your camera to upload straight to social media.
Camera features
To help you choose the best vlogging camera, experts explain the top features to look out for.
Camera vs. camcorder
For their compact design, features and ease of use, we generally recommend a camera over a camcorder for filming vlogs. Most cameras come with a video function as standard.
Flip screen cameras
Many vloggers enjoy talking to the camera and it really helps to have a vlog camera with a flip screen so you can see all of the footage that is being recorded.
Connectivity
Wi-Fi lets you upload your vlog direct to a smartphone. You may prefer to transfer from an SD card to a laptop so you can edit – but it's handy if you want to upload Instagram photos too.
Video quality
To ensure your vlogs are the best they can be, film in HD. Beyond this, the highest video quality is 4K - however these can only be fully appreciated on 4K screens and suited more to advanced vloggers.
Image stabilizer & autofocus
These help keep your footage smooth and in focus – they'll minimise any 'camera shake' or blurring that you may get when vlogging on the go.
Low-light performance
To help you control lighting when you film in different settings, look for cameras with a wide lens aperture and a large sensor.
Compact size
Think about whether you want to vlog when you're on the move – most of the best vlogging cameras are compact in size making them perfect for day-to-day use.
Top Vlogging picks
What type of videos will you film?
Out and about vlogs
If you want to take viewers with you while you're on the move, portability is a key factor so opt for compact models and hand-held accessories.
Stationary vlogs
Tutorials, hauls, reviews, gaming - if you plan on filming in a relatively fixed location you can choose larger cameras and more substantial tripods.
Extreme action vlogs
If you want to capture more extreme sports, a mountable or portable camera will let you film your adventures hands-free.
Add-ons & accessories
A laptop to edit on
Many vloggers will edit their videos on a portable laptop rather than a desktop, so they can edit their videos on the go. Your laptop may come with basic editing software, and there are video editing software packages that you can download for free (research free video editing software online). For more features you can pay for packages, but whatever software you choose you'll need a laptop with enough memory and storage space.
Tripods & hand grips
Mount your camera to one of these to get a steady shot. Handheld monopods or flexible tripods that can be wrapped around a surface are great for on-the-go vlogging. Full length or table top tripods are great if you're filming in a fixed position as it lets you keep the same setting while you shoot.
Memory cards
Filming HD or 4K footage can take up a lot of space so you'll probably need a high capacity memory card to store and back-up your clips. Make sure the SD card is compatible with your camera, and that it has a fast read and write speed for fast transfers to your computer or laptop.
Why buy at Argos?
Vlogging ideas
Now you know about the equipment and features, you're set to start. But what will you start on? Well, there are many interesting things you can do to captivate your audience. Play the Christmas fairy as the day approaches - show off your Christmas gifts, wintery recipes, festive décors and seasonal clothing. So get Christmas baking and spruce up your home with some home ideas.
Those who like to travel have a wealth of potential material. Whether you're going to a winter wonderland, a sizzling Sahara or somewhere more moderate, document your adventures so you can share them online. Make sure you're aware of the cabin luggage sizes before you go – you may need to check out our luggage range.
Streaming
If you're into gaming, get yourself a quality webcam and microphone so your audience feel connected. A plan for streaming the upcoming games will help you capitalise on the interest at release. Streaming can also be tough on your system, so you'll be needing lots of processing power and RAM to make sure your frames-per-second stay at least at the 60 mark.