Tea gifts and tea party ideas
Gift inspiration for the tea lover in your life.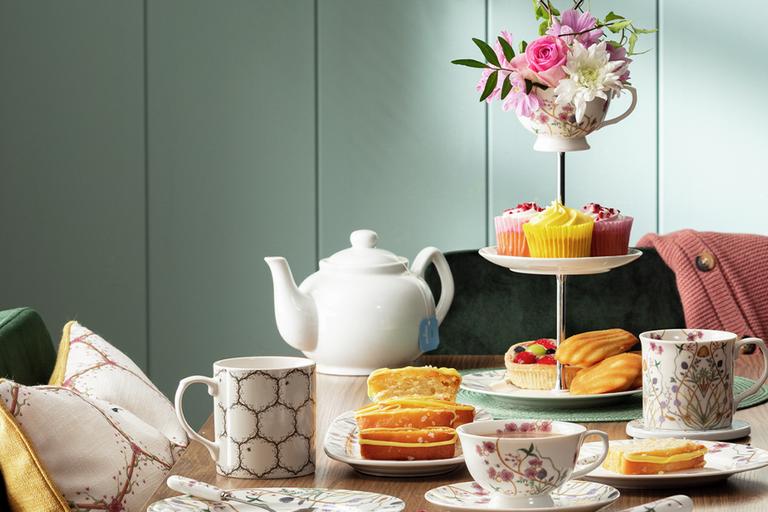 Fancy a cuppa...
Looking for a little something for the tea lover in your life? You're in the right place! From tea gift sets to top teapots, the best kettles and afternoon tea parties, our tea gift ideas are perfect for those that love a cuppa. The possibili-teas are endless…
Our top picks
Gifts for tea lovers
Escape to the Country
Brew-tiful tea gifts are a top pick for the tea-rrific people in your life. Our new Escape to the Country range is quintessentially British and perfect for the cutest afternoon tea set up. All you need now is tea and cake…lots of cake.
Teapots
When you're hosting tea for two, three, four (or more!), a teapot is a must have. Choose one to suit their style; glass designs work well in contemporary homes while pretty pastels are great for floral or vintage themes.
Mugs
Mugs are an obvious choice for anyone that loves a hot drink. Luckily, there's plenty of eye-catching designs that'll make these mugs their new favourite.
Travel mugs
Let them take their tea to go with a travel mug. The ideal way to keep a morning brew warm all the way to work.
Afternoon tea experience days
Alternatively, take them out on a tea date for two. Not only can you indulge in a fresh brew with some delicious treats, but some options are combined with a soothing spa break or champagne brunch too.
Teasmade
Perfect for someone who loves waking up to a warm brew - and with a vintage teasmade, they don't have to wait!
Best rated kettles
Think all kettles are the same? Think again! These ones offer something a little bit different than a standard brew.
Glass kettles
With a glass kettle, you can watch the water bubble and boil while you wait. Some even illuminate for added effect.
Smart kettles
These kettles are seriously clever. The pre-set temperature settings are designed to heat the water perfectly for whatever you are brewing, leaving your cup of tea or coffee juuuuust right.
Stove top kettles
Kettles with a classic style that whistle while they work. There's no forgetting you've just boiled the kettle, because the trademark whistle will let you know.
Stay warm kettles
These kettles stay warmer for longer, meaning less re-boiling when you get distracted before making a brew.
Travel kettles
The perfect travel companion for someone who just can't go a day without a good cuppa. These kettles are small enough to take with you, and often include a couple of little mugs too.
Kettle reviews
Our customers love these!
Tea party ideas
Tea party essentials
All you need to throw a proper afternoon tea party at home. We've got the kit you need to be a top host or hostess, and you can get great recipes and some tasty tea from our friends at Sainsbury's. The ideal birthday surprise for those who love their tea and cake.
Afternoon tea cake
An afternoon tea classic. There's a layer for every taste, with one chocolate, one strawberry and one vanilla, with fresh strawberries as the metaphorical cherry on top.
More tea party ideas
Want to have your cake and eat it? From scones to sandwiches and macaroons to millionaire squares, there's plenty of other tasty treats that are perfect for an afternoon tea party.
Tea at Sainsbury's
Whoa, hold the phone, aren't we forgetting something? The tea! Luckily, Sainsbury's offer a wide selection, from everyday tea, to green tea, decaf and loose-leaf tea. Panic over…
More help and inspiration
Coffee machine buying guide
Need some help choosing the best coffee machine for you?
Why buy at Argos?
Afternoon tea
Tea is most people's favourite drink, and if your mum is one of them, this Mother's Day throw her a tea party to show how much you care. Fill the tea pot, add some tasty cakes and sandwiches and gather the family over. If you are feeling adventurous, you could have a go at making the bread yourself in a handy bread maker. Our bread maker buying guide will have lots of tips and advice that will help you make the right choice.
Coffee morning
Perhaps it is coffee you prefer, and you want to indulge in an espresso at home over the weekend. Treat yourself to a coffee machine that can be your go to when you fancy a Fika. What is Fika? In its simplest form it is a coffee and cake break, but it is more about taking a break from your busy schedule to share some time with others, over a coffee and slice of cake. Are you are confused about which coffee maker to buy – one that makes lattes, cappuccinos or espressos? There is a wealth of information in our coffee machines buying guide for you to make the right choice.
Easter treats
With Easter just around the corner there will be a whole long weekend to socialise with friends and family, and yet more opportunities to arrange a tea party. So, get the Easter decorations out, pile up the hot cross bus and pour a cuppa. Or if you prefer a quieter moment... have a Fika break.