Looking to host a casual meal with friends or come-dine-with-me dinner party? From the cutlery and crockery you need to the latest table trends, we've got everything you need to wow your guests.
How to set a table
1. Tablecloth
Place a tablecloth down first. Use one that reflects the occasion and try to match it to your dinnerware if you can.
2. Placemat
Placemats come next. Lay one down at each place setting.
3. Serving plate
On top of the placemat, add a large dinner plate or charger.
4. Cutlery
Once these have been laid, the cutlery can be set. Cutlery should be arranged based on use, from the outside in, with forks being on the left of the plate and knives and spoons on the right.
5. Napkin
You can now add a napkin, placed either in the centre of the plate or next to the fork.
6. Glassware
If you use any glassware, place it above the knives and spoons on the right.
Shop tableware
Tableware finishing touches
Adding a table centrepiece
After the table has been set, a centrepiece can be added. These can be as simple or elaborate as you wish, depending on the occasion - from a seasonal arrangement of fresh flowers to an elegant 5-arm candelabra. Typically, the centrepiece will tie the whole table together, so choose one that matches the theme of the meal.
Setting the mood
Think about the mood you want to set. If it's an intimate affair, you may wish to light up the table with tea lights or jars filled with fairy lights. For less formal occasions, consider creating a playlist of music that sets the tone for the dinner and evening ahead.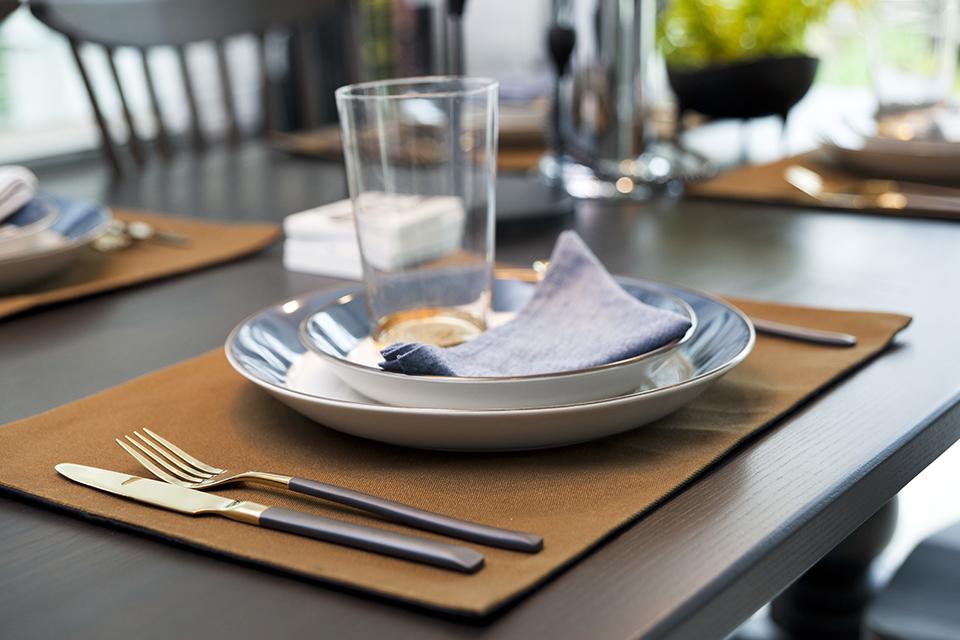 Place settings for formal occasions
Having a dinner party at home provides the perfect opportunity to show off your best crockery and cutlery. Choose pieces that are classic in style, such as fine china, crystal and silverware. Statement tableware is often the key to a formal look, so skip the everyday dishes and opt for something more striking and distinctive.
Choosing your tableware
The type of tableware you use for your table settings very much depends on the occasion. Some crockery and cutlery sets work well for fancy dinners, while others are better suited to casual dining.
Crockery
When selecting your dinnerware, consider how it will look with the food you are serving. Earthenware and stoneware dishes are a good option if you're looking to create a casual, homely setting. For more formal affairs, opt for porcelain or bone china.
Cutlery
With such a wide variety of styles available, finding the right cutlery to go with your table setting is easy. Classic silver stainless steel is a popular finish, as is rose gold and matt black.
Glassware
The glassware that you use for your table setting will depend on the beverages you wish to serve. For instance, if you're serving wine at the table, pick glassware that is shaped to enhance the wine's taste.
4 table setting ideas
Whether it's a family dinner or spontaneous get-together, these tableware trends will set the scene for a meal, be it big or small.
More dining inspiration
Why buy at Argos?