Find your perfect sofa style
Looking for 'the one'? We'll help you find the sofa type that will best suit your lounging style and complement your living room look.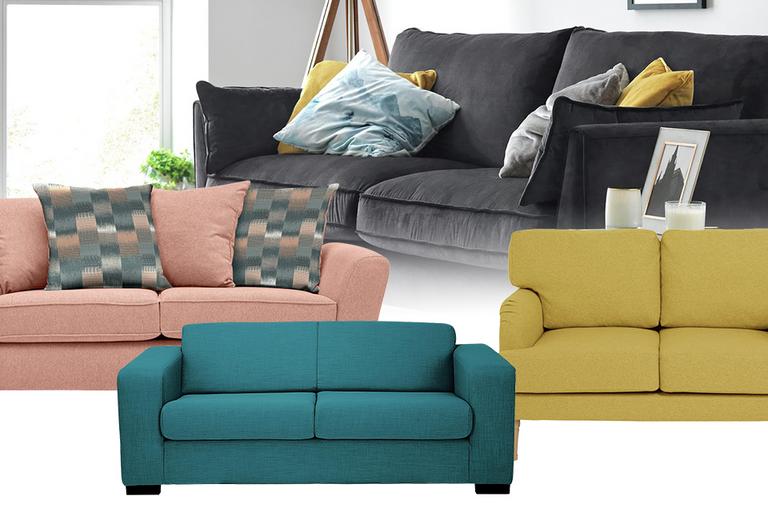 Sofa types
There are lots of styles that reference both modern and traditional designs - here are some of the most popular shapes.
Chesterfield sofas
You can easily spot these for their quilted, button-detail back and rolled arms which are the same height as the back of the sofa. These are a stylish pick, and comfy too if you like a more structured seat - a few cushions will make the button detailing more comfortable for lounging on.
Lawson sofas
If you were to draw a picture of a sofa, it would probably be a Lawson. These plump lovelies can look quite different depending on whether they have curved or more square styling, but they all share arms which sit lower than the back of the sofa and removable back cushions (great for hoovering-up crumbs).
Tuxedo sofas
Like the Chesterfield, the arms and back of Tuxedo sofas finish at the same height and they don't have removable back cushions - but that's where the similarities stop. Their angular shaping will complement a much more contemporary look.
English rolled arm sofas
With their high back and structured styling, these will suit people who prefer a perch with more support. Firm doesn't mean uncomfortable - these are cushioned all over, including those neat low armrests.
Mid-century modern sofas
A fit with Scandi and minimalist aesthetics, these are characterised by clean lines, exposed legs and slightly retro styling. Look out for solid wood legs that slightly taper out.
Camelback sofas
So called because of their lovely hump (or humps). These look great finished in plush velvet - it all adds to the opulent, classic styling that wouldn't look out of place in a stately home.
Decor styles (and the sofa to match)
See the sofa types we've picked out to perfectly complement some of our favourite trends - or mix and match for a unique look.
Is lounging your priority?
Every sofa in our range should of course be comfortable, but there are certain styles that are better suited to lazy Sunday snoozes and curling up in front of the TV. Generally styles with deep seats, low and padded armrests and a cushioned back will offer the cosiest space to hang out with a cuppa.
Why buy at Argos?