Choosing the right sofa material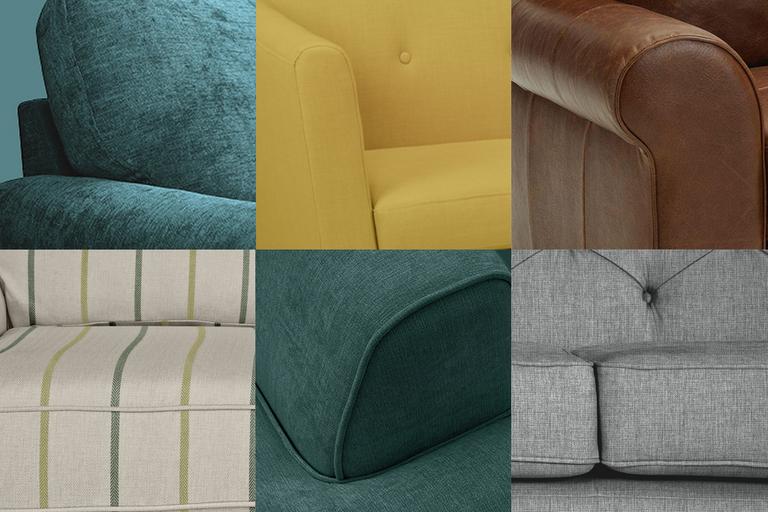 You probably already have a look in mind, maybe even a colour, but what about material type? Even in the same shade, different finishes can completely change the look, feel and practicality of a sofa - we'll help you find the one that's right for you.
Materials & their features
Before we get into the nitty gritty, you should know that all of our upholstered sofas meet the UK standards for domestic fire retardancy.
Velvet
The super silky, on-trend option.

What's it made of?
Did you know velvet can be made from different types of fibre? We've opted for a durable polyester weave - it's less prone to fading and marking vs natural fibres, but still boasts that oh-so-strokeable finish.
It's great because...
Velvet is definitely an en vogue choice, and adds a look of luxury. Oh and did we mention how soft it is? Perfect for snuggling into.
Just consider...
Velvet tends to attract more fibre and dust vs other materials so not the best choice for allergy sufferers or pet owners. It can also mark and scuff - we think it adds character and depth but some prefer a more uniform look.
How to maintain
Velvet is luxurious, and fittingly needs more upkeep than other materials. You'll want to vacuum quite regularly to avoid a build up of dust, and use a soft brush to keep the pile in the same direction. Spillages will need to be tackled straight away with an absorbent cloth.
Leather
The hardwearing, classic option.

What's it made of?
Most of our range is 'top grain leather' which means we've buffed away any blemishes to create an even finish which is preserved with a top coat. For a more natural looking leather opt for semi-aniline, which has the natural grain on show but is lightly coated to make it a more durable vs 100% aniline.
It's great because...
Leather is naturally a really tough material, so it will hold up well to everyday use and is easier to clean vs most fabric sofas.
Just consider...
Some people don't like how it feels (personal preference, others love its smoothness ). You're also tied to more neutral colours, so opt for fabric if you want a colour pop or print.
How to maintain
Leather doesn't attract much dust, so you'll just want to vacuum up any crumbs every now and then. It does soak up liquid which can leave a mark, so liquid cleaners should be used sparingly. You can buy specialised conditioners that keep the leather soft and supple.
Faux leather
The 'leather look for less' option.

What's it made of?
PU or PVC, two techniques that give synthetic fibres the look of leather. PU generally offers a more realistic imitation of genuine leather but is usually more expensive than PVC (but still a cheaper alternative to real leather sofas).
It's great because...
Faux leathers are still really durable, and tend not to crack or fade over time. You'll see more colour options and they'll keep that uniform 'like-new' look vs real leathers which will develop a patina (beautifully worn look) over time.
Just consider...
Faux leather won't stretch or wear over time (in a good way) like real leather does and is not quite as resistant to tears.
How to maintain
It's even easier to look after faux leather vs the real stuff. A slightly damp cloth with mild soapy water will tackle most spillages.
Chenille
The soft and cosy option.

What's it made of?
Like our velvet sofas, our chenille is made from polyester. The fibres are woven to create a raised textured surface (chenille comes from the French word for caterpillar) - flumpy best describes its feel for us. This bumpy texture also creates a slightly mottled colouring.
It's great because...
Chenille is incredibly soft and cuddly, and its naturally bumpy texture means that any pulls or marks are usually well disguised.
Just consider...
Because of its slightly raised pile it can flatten or crush over time and the tufted pile can be snagged by the claws of pets.
How to maintain
Regular brushing with super soft bristles will keep the fabric looking plump, and help loosen any dirt. Follow up with vacuuming to suck up any loose dirt.
Cotton & cotton blends
The light and airy option.

What's it made of?
Cotton is a natural fibre and can be used on its own or in a mix with synthetic fibres like polyester and polycotton. It can be woven to create different finishes, like a lovely linen look.
It's great because...
One of the best things about cotton is that it's really breathable which makes it a great option for summer seating. It's quite a flat fabric too, so it tends not to pile like tuftier velvet or chenille fabrics do over time.
Just consider...
Cotton can wrinkle, so is definitely a more relaxed look. It's quite absorbent too, so light coloured fabrics can be more susceptible to staining. Polycotton is a little sturdier and more family friendly.
How to maintain
Many cotton fabrics are washable - for the best finish we'd recommend taking any removable covers to your local dry cleaner (you shouldn't need to do this too often).
Other polyester finishes & blends
The versatile option.

What's it made of?
We've already mentioned our polyester based velvet, chenille and faux leather sofas, but there are many more finishes achievable with polyester and polyester mixes: woolly, smooth, linen-look, colourful, plain, patterned....
It's great because...
Synthetic fibres are really strong, especially when mixed with other fabrics like lurex and nylon, so it's a great choice for high traffic areas. It's also more resistant to pet claws vs natural materials.
Just consider...
While polyester is great for mimicking the look of more expensive fabrics like leather or woollen tweed, it won't give you quite the same feel - but we still think you'll be impressed.
How to maintain
These are pretty low maintenance. A great property of polyester is that it's usually resistant to water-based stains, so you can just wipe away.
What to consider
How often will it be sat on?
Seems like a silly question, but this will tell you how durable the sofa needs to be. The main sofa for your living room is probably going to get more use than the sofa-bed in your spare bedroom, so you'll want to choose more robust materials like leather (real or faux), polycotton or polyester.
Does it need to be kid or pet proof?
Or 'clumsy friend with the red wine'-proof? If this is going to be a high traffic sofa that's clambered on by lots of friends (four legged included), you're going to want to opt for something that's easy-clean and quite durable. We'd suggest a top grain leather, polyester or cotton with removable and washable covers.
Do you like to change your decor?
Ask yourself if you'll still like colour and finish of the sofa in 5 years. If you're someone that likes to switch up your style, you might want to opt for a more neutral fabric and colour, (leathers or grey and muted fabrics). Switching up the cushions will create a new look. Really love the statement sofa? Go for it.
Get a swatch
Go on, have a feel
While you can't stroke the sofa itself, you get the next best thing - a swatch. You'll be able to colour match with the rest of your decor and check that you're happy with the finish. For us it's a free service that covers most of our sofas, and we'd recommend taking full advantage of it. Order a few samples from your shortlist so that you can compare.
Why buy at Argos?