Smart Home Devices
Your everyday just got easier. Discover how to control your smart home and find the best smart devices for you.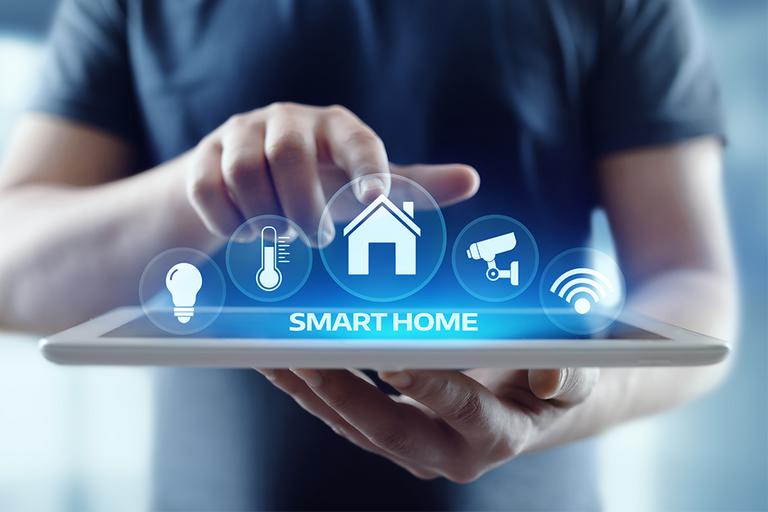 What is a smart home?
Take charge of your home
A smart home is where you control your devices from your smartphone or speaker. Using your Wi-Fi, you can turn up the heat, answer the door, dim the lights and more - wherever you are.
What can a smart home do for me?
Choosing the right smart speaker
Make your everyday easier with a Smart Speaker or mobile app. These are the heart of your smart home system as you use them to control your appliances and devices, adjusting them with the touch of a finger or a simple voice command.
The heart of smart
Your voice-activated home assistant. Whatever you need, all you have to do is ask. You can request your favourite track to listen to, arrange your calendar, order your shopping and so much more.

Use a smart speaker to control your smart home - say "lights off" and they're off, ask for more heat and it warms up. Your smart home is yours to command.
What is Amazon Echo?
A hands-free speaker you control with your voice. Echo connects to the Alexa Voice Service to play music, ask questions and much more. Just ask Alexa to control your compatible smart devices, such as lights, switches, thermostats.

To set up your Echo you'll need a free Amazon account and internet connection.
What is Google Home?
A voice-activated speaker powered by the Google Assistant designed to simplify your everyday life. Google Home is compatible with Android and iOS operating systems, and can control compatible smart devices.

To set up your Google Home you'll need a Google account and internet connection.
Save money on heating
Smart Heating - never come home to the cold
What is Smart Heating?
With smart heating you can adjust the heat from anywhere, get reminders if you've left the heat on, or use GPS to turn it off automatically when you leave. All you have to do is replace your old thermostat.

How does Smart Heating help you save money?
Smart devices help heat your home evenly throughout, so you should be able to set your thermostat lower which can save you money. Also you can easily delay the thermostat coming on if you're late home so you don't end up heating an empty house.
Secure my home
Smart Security - protecting your home
Keep an eye on your home with cameras that connect straight to your phone. Get alerts with smart doorbells, and answer with your phone so you can tell people you're busy or where to leave the parcel.

Smart cameras are ideal for security or for watching the kids and smart smoke alarms speak to you so you can act quickly, whether it's burnt toast or something more serious. Just download an app and connect the camera and sensors to your home Wi-Fi and smart devices.
Control my lighting
Switch on to smart lighting
Left a light on downstairs? Grab your phone and switch it off. Fancy watching a film? Dim the lights without standing up. There's no more reaching for the switch with smart lighting, simply pick up a starter set that has a smart hub, replace your old bulbs and connect the hub to your Wi-Fi network.
Power my home
Smart plugs
Forgot to turn something off? With a smart plug you can use your phone to turn any appliance on or off wherever you are. Going away? Set a schedule to turn lights on and off so it looks like you're still at home.
With a smart plug, you can turn regular products smart. Whether you want to schedule your kettle to brew your morning tea or transform a non-connected lamp into a smart light, simply connect them to the plug and use your app, smart device or voice to start controlling when they turn on/off.
There's no expensive cables, all you need is Wi-Fi set up at home.
The rest of my home
Smart furniture
Charge your phone and play music from your table, desk, or bed with elegantly designed smart furniture. All of the Koble range can wirelessly charge your phone (see products for compatibility) and include Bluetooth speakers. The beds also feature LED lighting to guide your way in the dark.
Smart appliances
Kitchen control - straight from your phone. Adjust the temperature of your fridge or cooker wherever you are. See what food is in your fridge without having to open the door. Let the dishwasher and washing machine choose the perfect program so everything comes out spotless.
Pet tech
Use monitoring systems to watch and communicate with your pet wherever you are. Keep out fluffy intruders with microchip pet flaps and digital feeders programmed to only open for your pets. And with connected pet flaps, lock and unlock the flap using your phone.
Start or expand my smart home
Get yourself started
Ready to upgrade to a Smart home? From starter kits to speakers, find your smart home devices here.
Get even smarter
Is your home ready for the next level? Discover smart locks, spotlight cams, learning thermostats and more.
Stay connected
Networking guide
Discover how to make the most of your internet. Covering all the techy stuff from modems to routers and much more.
Up to 6 months to pay on Smart Home products when you spend £99 or more with the Argos Card.

Representative 34.9% APR Variable.

Credit subject to status. T&Cs apply.