Small bathroom & cloakroom ideas
Benefits of a second bathroom
Having a second bathroom in your home makes a huge difference, especially if you have a large family. Not only does it make the morning rush that little less chaotic, it gives you the perfect setting to try out new décor styles. Need some inspiration? Take a look at our tips on how to make the most of this bathroom space.
Decorating a small bathroom
Design and décor tricks for small bathrooms, cloakrooms and en suites.
Expand the room with mirrors
One easy way to make a small bathroom appear bigger is to place a large mirror on the back wall or over the sink. Doing this helps reflect light into the room, creating the feeling of more space. Some mirrors also double as cabinets, so you can conceal clutter too.
Install a wet room
With a shower system installed, you can turn even the smallest of bathrooms into a sleek and modern wet room. Simply separate the toilet and basin from the shower area using a screen and waterproof the walls and floor. This will give the space a more spa-like feel.
Cloakroom wallpaper
Wallpaper works really well in cloakrooms and en suites and is an easy way to add visual impact. Nautical motifs and navy and white stripes are a popular choice, but don't be afraid to try more daring and adventurous designs.
Pick an all-white scheme
White décor is especially effective in small bathrooms as it opens up the space and makes it more appealing. Having a white or neutral base also gives you the freedom to experiment with colour and pattern elsewhere.
Space-saving bathroom ideas
After storage ideas for a small bathroom? Follow our tips to maximise your space.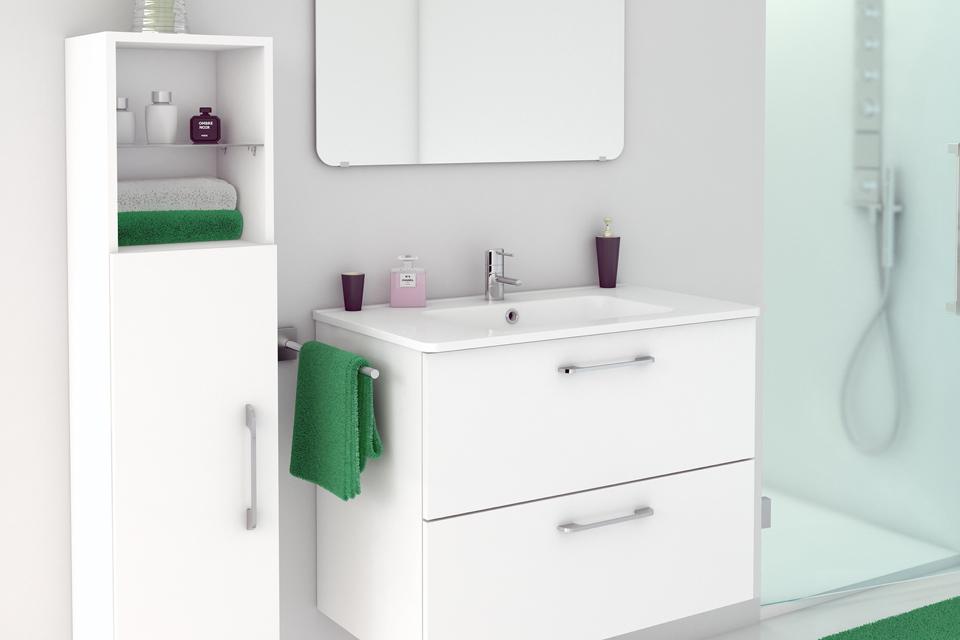 Fit a vanity unit and basin
With a small room like this, multifunctional furniture is a big plus. So why not opt for a vanity unit and wash basin in one. These units utilise the empty space below the basin, giving you a nifty spot for storing items like toiletries and towels.
Turn walls into storage
Smaller bathrooms lack floor space, so consider storing things in wall mounted units instead. These take up far less room than free standing units and come in shapes and sizes to meet a wide variety of storage needs.
Make space beneath the sink
If you have a pedestal sink, try placing a shelving unit or cabinet underneath. This is a great way to add extra storage to a bathroom or downstairs toilet without sacrificing floor space. It also gives you a convenient place to stash your cleaning products.
Use slimline storage
In tiny bathrooms, where storage is limited, every inch counts. Use tall and narrow shelving units that fit between your bathroom fixtures to maximise the useable space. Opt for open shelves instead of closed cabinets as these will make the room look less cramped.
Utilise corner space
If you want to make use of empty space, converting corners into storage areas is a great idea. Many cabinets and shelving units are designed to tuck neatly into these awkward spaces, ensuring that no nook or corner goes to waste.
More bathroom inspiration
Why buy at Argos?