Use up and down arrows to review and enter to select. Touch device users, explore by touch or with swipe gestures.
Shower buying guide
Our guide makes shower shopping much easier. Time to throw tricky decision making down the drain.
Shop showers and accessories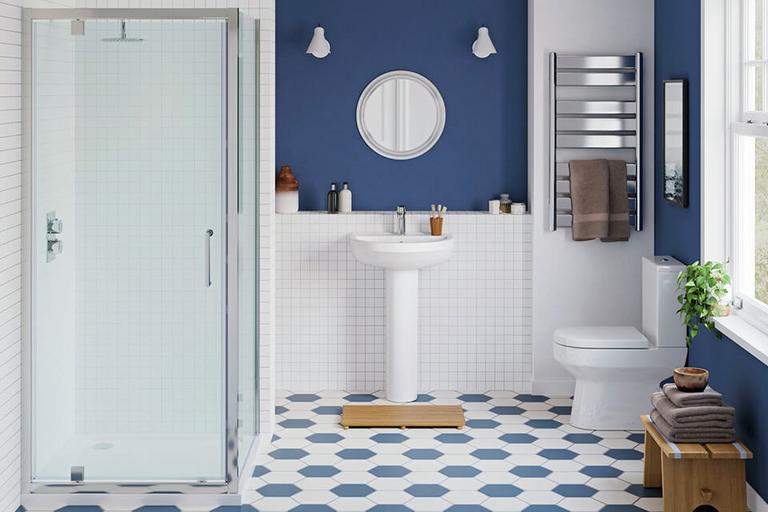 Types of showers
What is a mixer shower?
A mixer shower blends hot and cold water for the ideal temperature. They are great if you have lots of stored water from a combi boiler or large hot water cylinder. Mixer showers usually provide a faster flow than electric showers.

Mixer showers have 3 different temperature controls:
Manual control: temperature may vary depending on changes to the incoming water supply.
Pressure balancing: mixers compensate for a pressure imbalance between hot/cold for a stable showering temperature.
Thermostatic mixers: temperature stays constant even if another tap is turned on.
What is an electric shower?
Electric showers use an element to heat the cold water as it passes through the unit, so as not to use up any stored hot water.
There's no pump involved, so the amount of water will depend on your mains water pressure. The higher the kilowatt rating, the more powerful the water flow.
They're also independent of the hot water system, so if your boiler fails you can still have a hot shower. It only requires a mains cold water supply and heats water on demand, so it's pretty economical.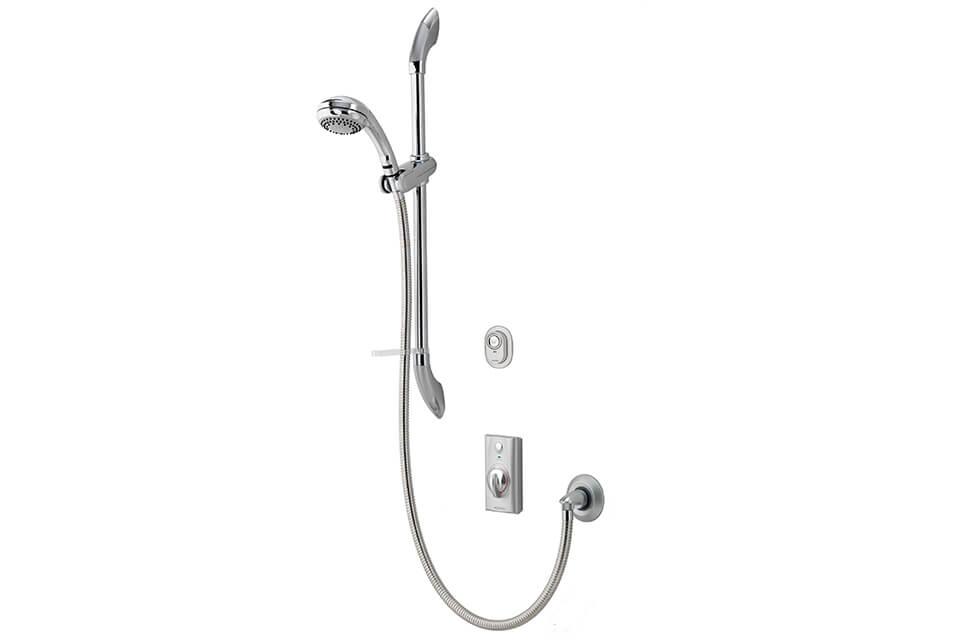 What is a digital shower?
Digital showers let you pre-programme the water temperature and flow to suit your preferences. Some showers are controlled with a wireless remote.
There are 2 types of digital showers, a low-pressure variant which has an inbuilt pump as part of the valve, and a high-pressure variant.
No pipes are on show as water is delivered through a riser rail, ceiling or wall.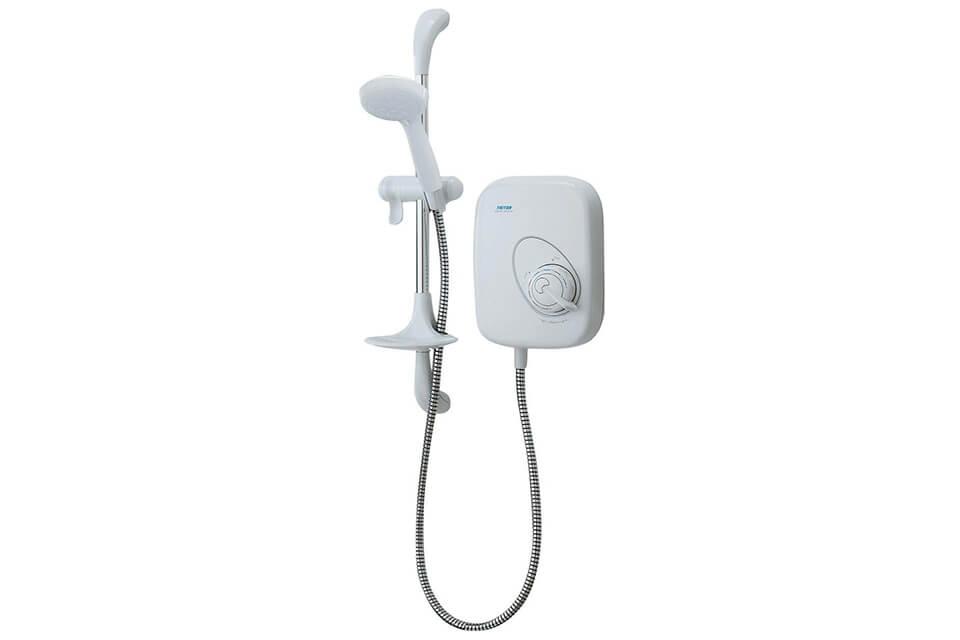 What is a power shower?
Power showers mix hot and cold water to the optimum temperature.
They have an inbuilt pump so are able to significantly increase the water flow rate from a gravity fed system. This is a great option if you have low water pressure.
What water system do you have?
The type of water system you have in your home will affect the type of shower you can install.
Low pressure gravity system
A cold water tank with a hot water cylinder below it (usually found in an airing cupboard). Water in the cylinder is heated by a boiler or immersion heater and fed to the taps via a pipe.

Mixer, power, electric and digital showers all work well with this system.
Mains pressure combination
A combination, or combi, boiler heats water directly from the cold mains supply. If you have a combi boiler you won't have a tank in the loft or a cylinder.

Mixer, electric and digital showers work with this system.
Mains pressure unvented
A hot water cylinder which is directly fed from the mains supply, without the need of a cold water tank. The water is heated by a boiler or immersion heater.

Mixer and digital showers work with this system.
Cold mains supply
An electric shower fitted to the cold mains supply. The water is heated automatically when switched on so you won't use up any hot water stored in a cylinder.

Only electric showers work with this system.
Key features
Check out some of the other things you should consider before making your choice.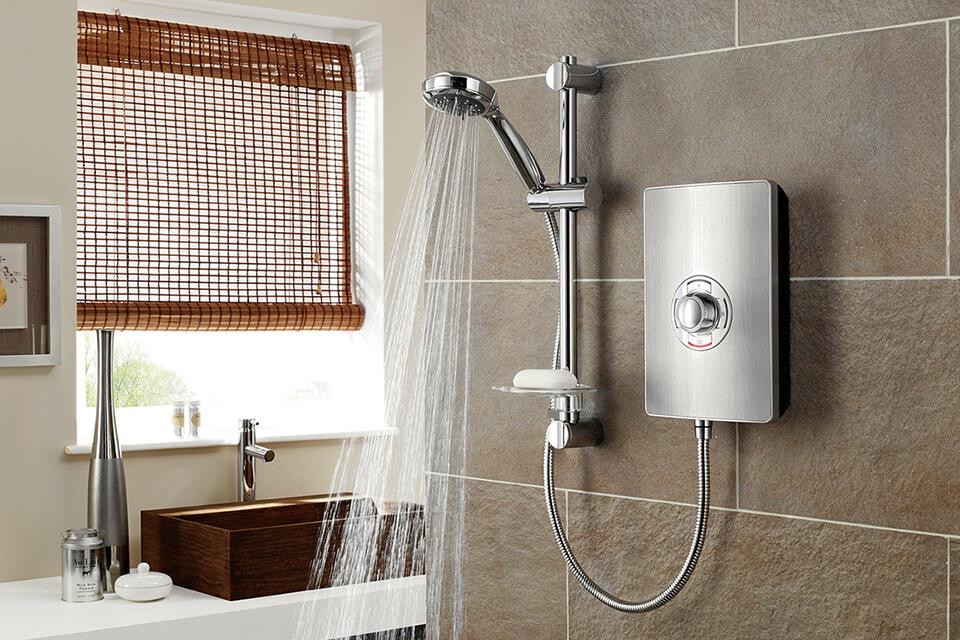 Flow rate
The amount of water that a power shower can generate, i.e. 8L per minute. The higher the water flow, the more powerful the shower.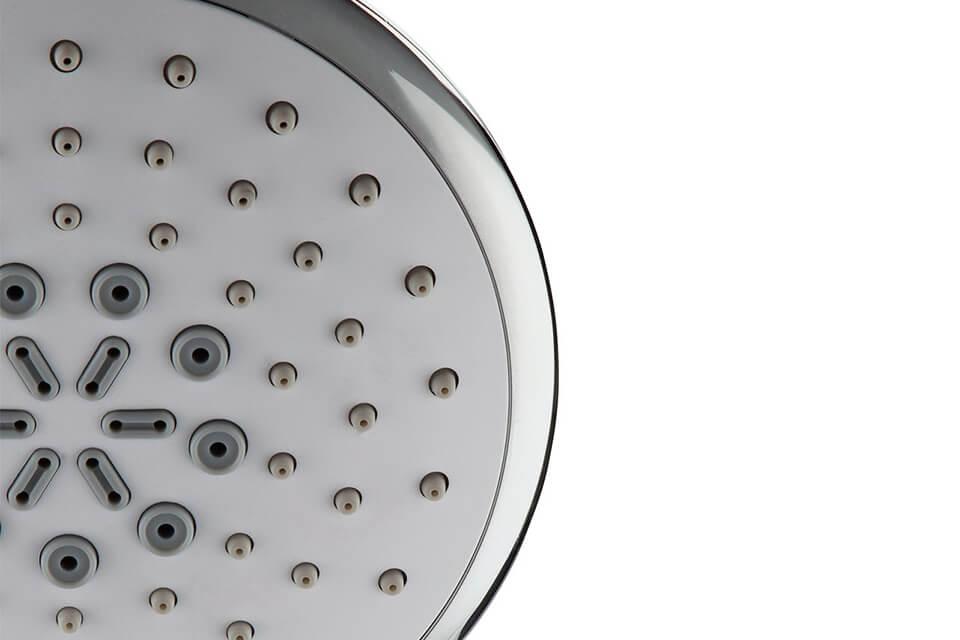 Shower spray modes
Showerheads can vary from a single mode to multiple different spray settings to change your showering experience.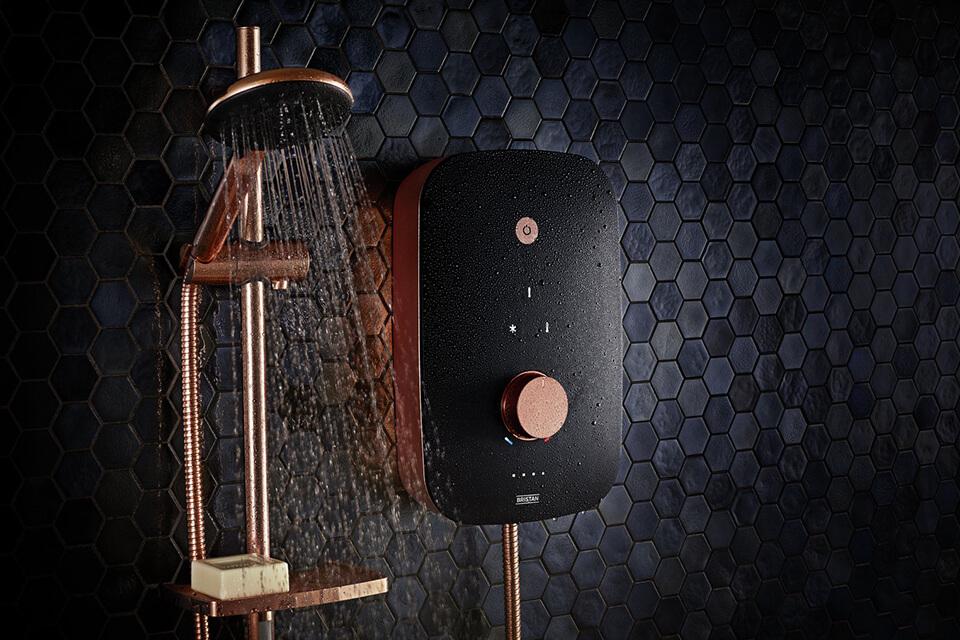 Push button
The temperature and flow settings remain the same each time the shower is used.
Accessories
Shower curtains
Freshen up your shower space with a choice of plain colours, animal designs or patterns. Some curtains are mould resistant and anti-bacterial too.
Shower heads
A simple way to give your shower an upgrade. Some shower heads feature different spray modes and are limescale resistant.
Shower enclosures and screens
Our range of shower screens prevents spray getting out of your tub. For smaller spaces and easier access, opt for shower enclosures.
Shower shelves
Keep all your toiletries at touching distance. From multi-tiered shelves, to hook-over caddies, we've got all sorts of space savers.
Shower hoses
A worn shower hose can impact the water flow. Our durable replacement hoses are simple to install.
Inspiration
Bathroom ideas
Not stopping at the shower? Here's a bath-full of inspiration to get you on your way. We're talking the latest trends, quick wins and storage saving hacks.
Why buy at Argos?