Room divider ideas
Master the art of zoning.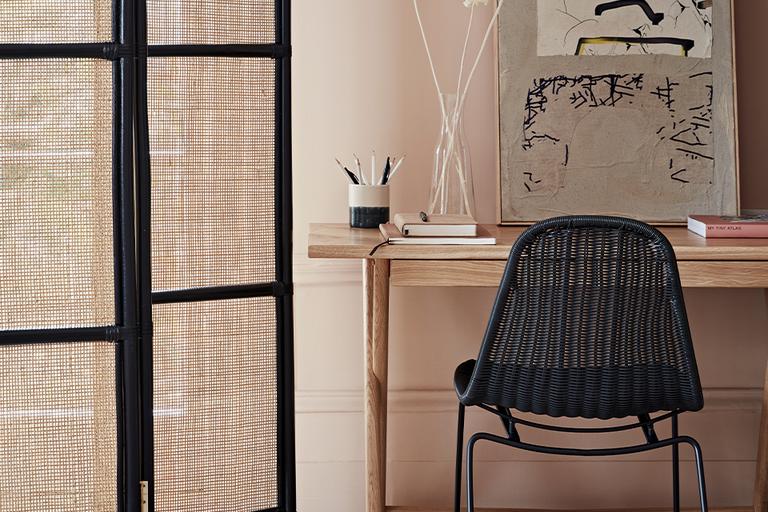 Making the most of your space
An open plan home has lots of benefits, but it can lack the privacy that separate rooms offer. The solution? With some strategic placing of furniture you can easily shape whatever space you have into perfect little pockets to dine, relax, work and play in. Here are some of our favourite room divider ideas.
How to divide a room
Here are 6 simple ways to divide your room (without getting the builders in).
1. Reposition a storage unit
With a row of bookcases or shelving units, you can split a room into different zones, or partition off an area for privacy. Consider using ones with open cubbies and shelves, as these won't completely close off the space.
2. Be clever with a clothes rail
Hang plants (real or faux) from a clothes rail to make a green DIY room divider. In this bedroom space the mood-boosting greenery doesn't overwhelm the decor, but creates a practical partition between the sleep space and study zone.
3. Move sofas and beds away from the walls
Often we push these big furniture pieces against a wall, but by bringing them into the centre of the room you can use them to section off different zones. Corner sofas work particularly well to create pockets within your living space.
4. Use rugs to define areas
Large floor rugs are a great way to split out different 'zones', and add colour and texture to your decor. Position under furniture pieces, like your sofa or dining table, to maximise the effect.
5. Create pockets of light with pendant lighting
Lighting is a secret weapon when it comes to freshening up your decor, but it can also be used to highlight different uses of a multifunctional room. Pendant lights are ideal for putting a spotlight on different zones, like over a dining table.
6. Use different wallpaper or paint
If you're up for a little DIY effort, why not try painting or wallpapering a part of your room in a coordinating colour or pattern. It will instantly section off that space, and make it feel more like its own room.
How to use your space
Be inspired by these popular and practical multifunctional room ideas.
Add a home office
Use a room divider to carve out a productive space, perfect for school work or working from home.
Make room for a dining space
Fed up of lap dinners? Make more of mealtimes with a kitchen-diner or breakfast bar area.
Create a pocket play area
Give the kids their own zone, and keep toys and mess confined to one spot (or that's the idea at least!).
Top tips for harmonious open plan living
Opt for quiet appliances
A noisy dishwasher or loud kettle can be distracting if you're sharing the space. Instead opt for quieter kitchen companions.
Cover up kitchen smells
Another tip for open plan kitchen areas - add a fancy fragrance or two to help distract from any lingering dinner smells.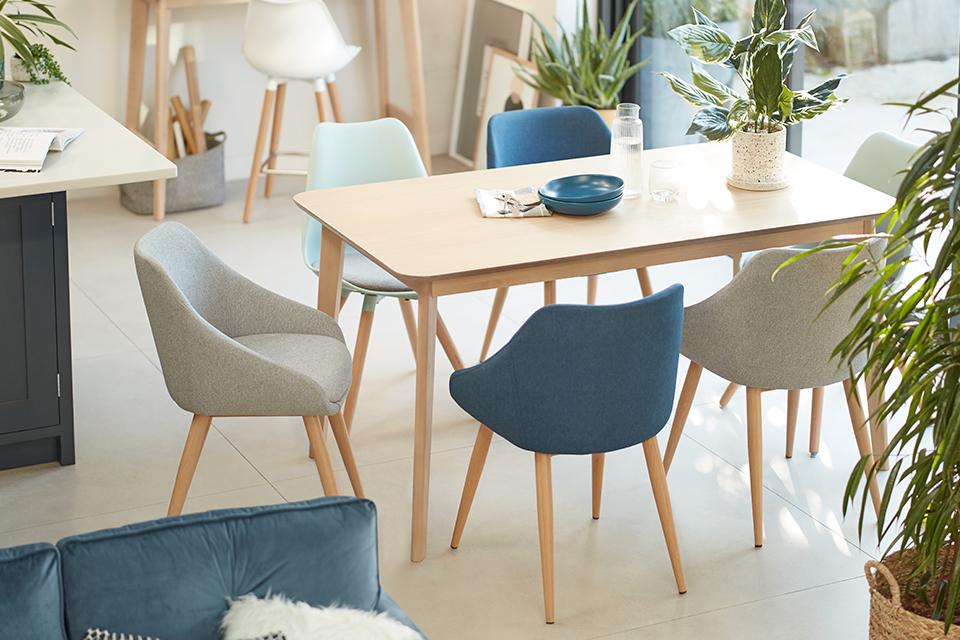 Use a consistent colour scheme
When blending spaces, using the same palette or accent colour (like this teal blue) will help tie the decor together.
More space saving ideas
Why buy at Argos?