Use up and down arrows to review and enter to select. Touch device users, explore by touch or with swipe gestures.
Wedding and engagement ring guide
From styles, stones to sizing, get all the information you need to choose the perfect ring.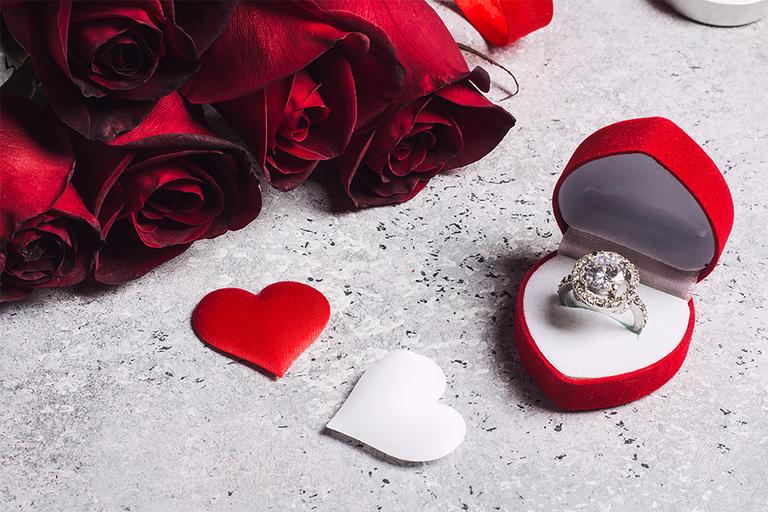 Preparing for one of the most special moments of your life? Picking the right ring can be a minefield- but don't worry, here's a guide to make it easy for you.
How much should I spend on an engagement ring?
Generally, there's no right answer. It's not all about the price tag - the most important thing is the love it symbolises. But it also helps to choose a ring your partner will like too! How much you spend is always at your discretion. Start by having a budget in mind and then go from there. It's simple really...
Engagement ring styles
Silver
Silver engagement rings are perfect for those who prefer a clean, polished look.
Gold
Forever favourites, gold engagement rings are available in a wealth of styles.
Platinum
One of the most popular precious metals for engagement rings.
Wedding ring styles
Plain wedding band
The most traditional type of wedding ring, made of just one metal and no gemstones.
Diamond set wedding band
A more elaborate choice with added sparkle, the metal band has diamonds set into it.
Matching wedding and engagement rings
If you want to create your own unique style, you can find engagement and wedding rings separately that go well together.
But if you want to eliminate the work of finding that perfect match, you can buy a bridal set which includes both the wedding and engagement ring. They are designed to complement one another and fit together effortlessly.
Choosing the ring metal and size
Which metal to go for
From traditional gold to contemporary silver, find out about the different types of metals and finishes to help you make your important decision.
How to get the size right
After finding THE ring, the last thing you want is to get the sizing wrong. Check out our size guide to avoid any awkward situation and find the perfect fit.
Caring for your ring
How to propose this Valentine's Day
Popping the question can be a daunting enough task, without the added pressures of being limited on where you can go outside your home. If you're thinking of proposing this Valentine's Day (or any day for that matter!), take a look at a few of our favourite ideas on how to make it unforgettable.
Our favourite Valentine's proposal ideas
Set up a cute scavenger hunt around the house with clues for where your partner needs to search next. The final location could have a 'Will you marry me?' message for them to find, or simply have you waiting there to pop the question.
Place the ring within a bigger box and wrap it, then that box in a bigger box and wrap that, then that box... you get the idea. This will completely throw your partner when they try to guess what's inside. Add messages when they reach each new layer for a personal touch.
If you can't go out for dinner, why not create a romantic candlelit dinner for two at home. Dress up smart, create a playlist, scatter petals or hearts. However you dine, whether you make it, fake it, or just order takeaway, it's bound to be an evening neither of you will forget.
Escape the house for a while and go on a relaxed walk together, finding a quiet spot along your route where you can pop the question. The best part about this idea is you can rewalk your route in the future and reminisce about it together.
Eager to start wedding planning?
It's never too early for wedding inspiration
There's no harm in getting a few ideas for the big day early on (even if you haven't proposed yet...). So go on, what are you waiting for?
Found a ring you love?
Simply order online to collect in store. Our staff will be delighted to help you find the perfect fit.
Why buy at Argos