Inspiration: Rattan garden furniture
Effortlessly elegant, there are contemporary and classic designs to suit every style and taste.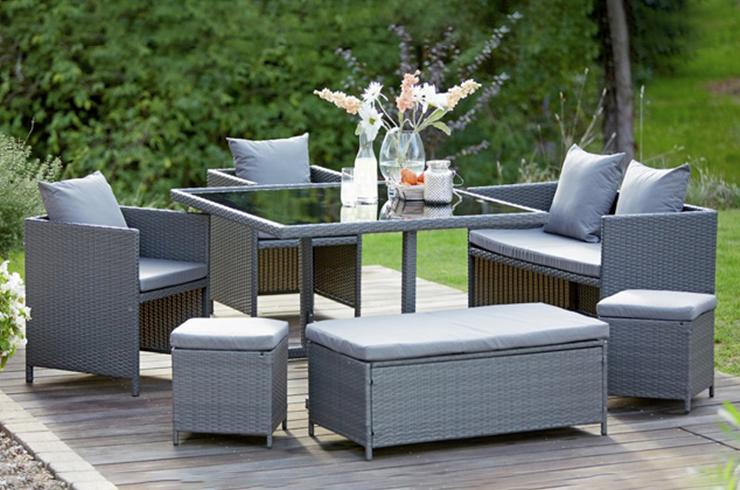 Shop by size
2 to 4 seaters
Whether you're working with limited space, or just want to introduce more seating areas into your garden, these rattan sets will add charm and character without taking over your outdoor or conservatory space.
5 to 8 seaters
Be the host with the most by adding gorgeous, comfy outdoor seating and dining that will accommodate large groups. All that's left to do is gather your family, invite your guests and get set to impress.
Search by style
Rattan cube sets
Smart and neat, these stylish space-savers are ideal for small gardens and maximising your outdoor space. All elements of the set can be packed away underneath the table, creating the cube shape.
Rattan sofa sets
Sofas aren't just for indoors. Indulge in the ultimate relaxation with everything from cosy and compact to large and perfect-for-entertaining sets.
Rattan dining sets
Breakfast, lunch or dinner, you'll be finding any excuse to dine alfresco with these on trend collections. They're available in different shapes, sizes and styles, so you can find one perfectly suited to your garden.
Begin your rattan research
Is rattan furniture weatherproof?
Most rattan furniture will be naturally weatherproof, so you can leave pieces outside without risking weather damage. However, any additional accessories that come with your sets like cushions or covers should be taken inside when the weather takes a turn for the worse. Anything that's 'rattan-effect' will also need extra protection from the elements so you may want to consider a good weatherproof cover.
How to clean rattan furniture?
Firstly, use a fairly stiff brush to go over your rattan, removing any surface dirt. After you've done this, go over the furniture with a cloth that's been soaked in warm soapy water (made with washing up liquid, not any other cleaning agents). Leave the suds on for a couple of minutes before removing with cold water. Let your pieces dry naturally in the sun. Do not use a pressure washer on rattan furniture.
Want to see more?
Why buy at Argos?