PC gaming guide. Find your perfect gaming laptop or desktop.
Looking to upgrade your gaming? Gaming PCs are well known for their excellent graphics and high performance. Follow our guide below to discover your ideal laptop or desktop to suit your budget and gaming style.
Do you want a laptop or a desktop?
Gaming laptops
If you want to get started right away, you may want to consider a gaming laptop as they're easy to set up and ready to use straight out of the box. They're also, of course, a lot more portable than desktops.
It's worth noting that laptops are not easy to upgrade, as components are built-in. To futureproof, you may want to choose a laptop with a powerful GPU and CPU than you currently need. Also, consider size: a larger screen may mean a heavier laptop.
Gaming desktops
If portability and set-up isn't an issue, a gaming desktop may be right for you. They are traditionally more powerful than gaming laptops, but may require a little more hardware know-how.
A benefit of a gaming desktop is the ability to easily change components. You can add RAM or a new graphics card later down the line, have your choice of monitor, keyboard and speakers, and customise til your heart's content.
What graphics card do you need?
Graphics cards
The graphics card, or GPU, is arguably the most important factor in choosing your gaming PC, especially if you're after the best graphics. A more expensive graphics card will allow you to play games at higher resolutions and higher frame rates. NVIDIA and AMD are the main producers of graphics cards and both have options for each level of gaming.
Premium
Play almost all the latest games on "ultra" graphics settings at 4K resolution and 60fps, or (if supported by your monitor) higher frame rates at 2K.
Nvidia GeForce RTX 2080 Ti
Nvidia GeForce RTX 2080 Super
Nvidia GeForce RTX 2080
Nvidia GeForce RTX 2070 Super
AMD Radeon VII
High-end
Perfect for 2K gaming on "ultra" graphics settings, or 30fps at 4K.
Nvidia GeForce RTX 2070
Nvidia GeForce RTX 2060 Super
Nvidia GeForce RTX 2060
Nvidia GeForce GTX 1660 Ti
AMD Radeon 5700XT
AMD Radeon 5700
AMD Radeon RX Vega 64
Mid-range
In most cases, play the latest games at 1080p at 60fps, and over 30fps at 2K resolution.
Nvidia GeForce GTX 1660 Super
Nvidia GeForce GTX 1660
Nvidia GeForce GTX 1060 Super
Nvidia GeForce GTX 1060
AMD Radeon RX Vega 56
AMD Radeon RX 590
AMD Radeon RX 580
AMD Radeon RX 570
Budget
A good choice for eSports and other less demanding games at 1080p resolution. In some cases, you may have to scale back graphics settings to play with a smooth framerate.
Nvidia GeForce GTX 1650
Nvidia GeForce GTX 1050 Ti
Nvidia GeForce GTX 1050
Nvidia GeForce GT 1030
AMD Radeon RX 560
AMD Radeon RX 550
What processor do you need?
Processors
The processor (or CPU) defines how well your PC runs and multi-tasks. If you're interested in virtual reality, it's recommended you get a high-end processor. Processor speed is measured in GHz (gigahertz) - 2.5GHz is the minimum recommended speed for mid-range gaming. The number of processor cores in a PC influences how many tasks it can handle simultaneously - quad core or hex core are recommended for gaming.
High performance
Play the most demanding games with these next-level processors.
Ryzen 7 3700X
Ryzen 7 3700
Ryzen 7 2700X
Ryzen 7 2700
Intel Core i9-9900K
Intel Core i7-9700K
Intel Core i7-8700K
Intel Core i7-8700
Mid performance
Ideal for multi-tasking whilst playing mainstream games.
Ryzen 5 3600X
Ryzen 5 3600
Ryzen 5 2600X
Ryzen 5 2600
Intel Core i5-9600K
Intel Core i5-8600K
Intel Core i5-8400
Entry
Suitable for most mainstream games.
Ryzen 5 2400G
Ryzen 3 2200G
Intel Core i3-8350K
Intel Core i3-8100
Hardware to consider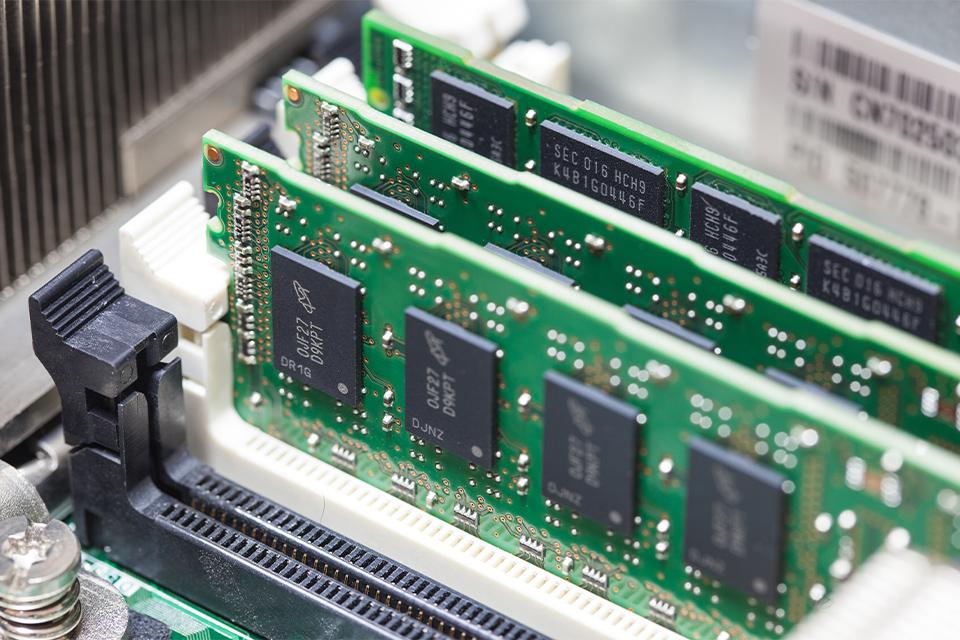 RAM
RAM (random access memory) affects speed and performance. 8GB is the minimum needed for most modern games, but 16GB will offer greater speed and multi-tasking - all the better for competitive gaming. Basic games require less RAM than mainstream titles, whilst more RAM may be needed for good performance with high end games and virtual reality.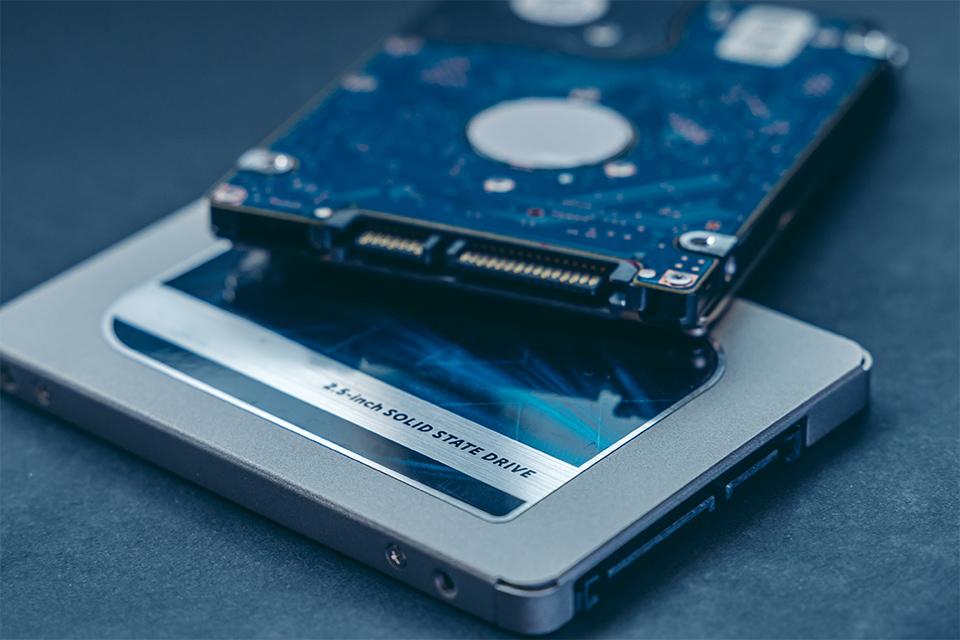 Storage
Gaming PCs are likely to have both HDD (hard disk drive) and SSD (solid-state drive) storage. Data saved in an SSD is typically fast to access and can speed up the performance of your PC whilst HDDs are able to store vast amounts of data, such as your games library.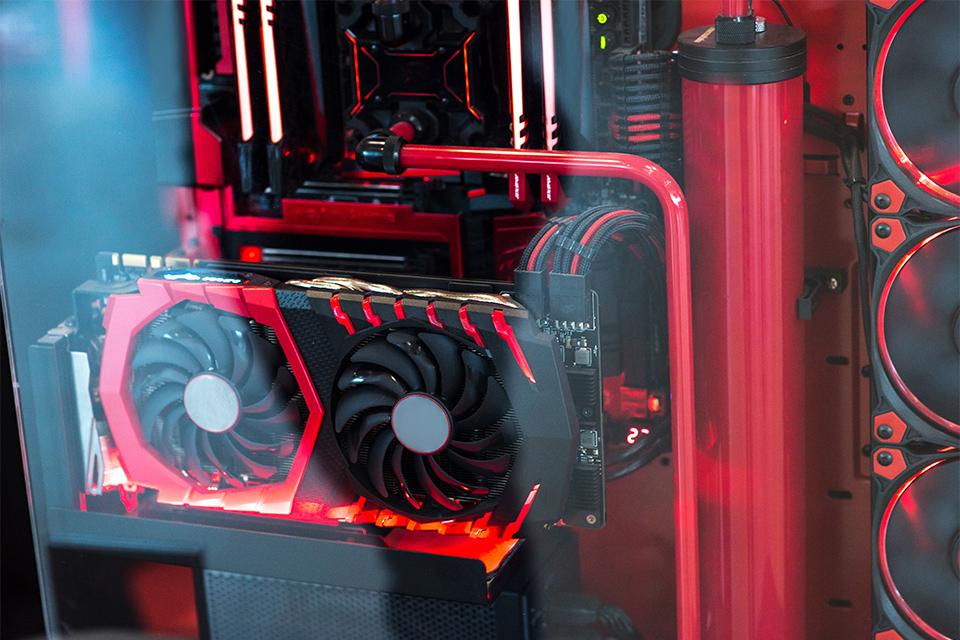 Cooling
These PCs need built-in features like fans or water cooling systems to keep cool and optimise gaming experience, especially if you plan to 'overclock': run components at a higher speed than they're designed to. While this can add to performance, it's important to ensure your PC has the right care and cooling to handle a higher level of performance or you may risk components overheating.
Displays and monitors
Laptop displays
Your display is an important consideration - it's where you'll be looking after all! Most laptop screens are 15 to 17 inches from corner to corner, but there's some variance. Remember that the bigger the screen size, the heavier the laptop. Also take a look at resolution: a 1920 x 1080 display is considered the recommended minimum for gaming.
You can of course, link your laptop to a monitor at home, if you later want a larger screen or richer resolution.
Monitors
A full HD resolution of 1920x1080 is considered the minimum - higher resolutions are available, but this comes at the cost of refresh rate speed. The faster the refresh rate, the smoother your experience will be.
Also, consider motion blur: blur reduction decreases the amount of time a frame appears on screen, meaning you should see fewer colour streaks and blurring for more stable gameplay.
For an immersive experience, you could connect your desktop to more than one monitor for multi-display gaming, allowing you to see more than on a single display.
Essential accessories
PC games and VR
PC games
Browse our fantastic range - from challenging strategy games and action-packed RPGs to engaging simulations, there's something for every type of gamer.
Virtual reality
Looking to explore the world of VR? You'll need a headset which is compatible with your new PC - we've picked them out here.
Get your set-up
More guides and advice
Argos care
With Argos Care, you can save yourself the hassle and pay nothing for replacements. Ts&Cs apply.
Why buy at Argos?