Patio ideas for small gardens
Reach your petite patio's potential.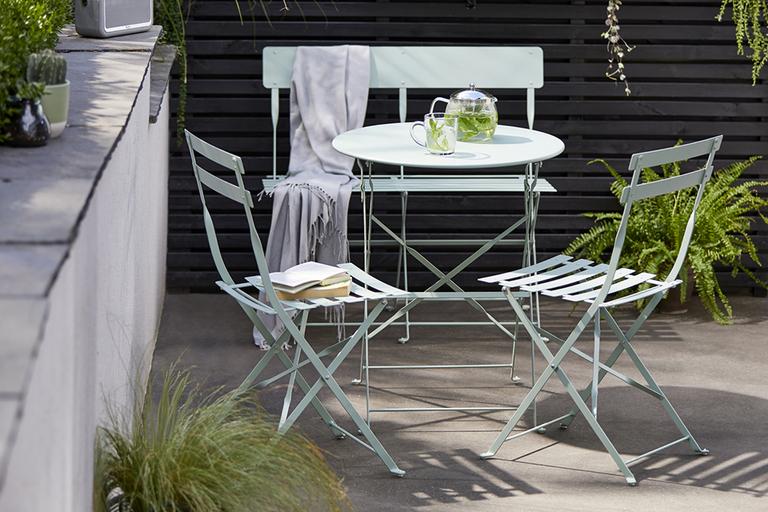 Are you making the most of your outdoor space?
Blue skies are heading our way, so it's a good time to rethink your little slice of sunshine. Here are our best big ideas for small patios, featuring slimline furniture styles and savvy storage solutions, designed with pint-sized plots in mind.
Seek out smart seating
Opt for styles that tuck
If you like to eat and entertain outdoors but are worried about a dining set taking up too much room, look for options where the seats can completely tuck into the table when not in use.
Choose flexible folding furniture
Another winner for any small patio space is folding furniture, especially if you'll only eat out occasionally. When not in use just flatten and store against a wall to free up your space.
Go casual with outdoor cushions and rugs
These coated accessories create an easy-going area for lounging around, and are much less bulky than furniture sets. They'd look just as good indoors if you need a 'whatever-the-weather' plan B.
Our favourite furniture picks for patios
Add in some savvy storage
No room for a shed? These space-savvy outdoor storage solutions mean you can still store your cushions, toys and gardening tools safely out of the elements.
Make it a multi-functional space
'Grow your own' with a mini greenhouse
Petite planters and pop-up greenhouses let you 'grow your own' in any space. How about a herb garden? They're easy to grow, useful for cooking and will give your patio a fresh scent.
Create a compact outdoor kitchen
Eating al fresco is one of the best bits about summer. A space-saving BBQ or table top styles let you create that smoky chargrilled deliciousness, even in the smallest of courtyards.
Add wall lights for evening entertaining
Who said the party has to end at sundown? Wall or string lighting doesn't take up any of your precious floor space, but lets you continue entertaining after dark.
Balcony ideas
In an apartment? We show you how to make the most of your outdoor space with furniture designed just for balconies.
More help and inspiration
Why buy at Argos?