Use up and down arrows to review and enter to select. Touch device users, explore by touch or with swipe gestures.
Best built-in ovens for cooking up a storm
From convection to self-cleaning ovens. We have all you need to know about your new built-in oven.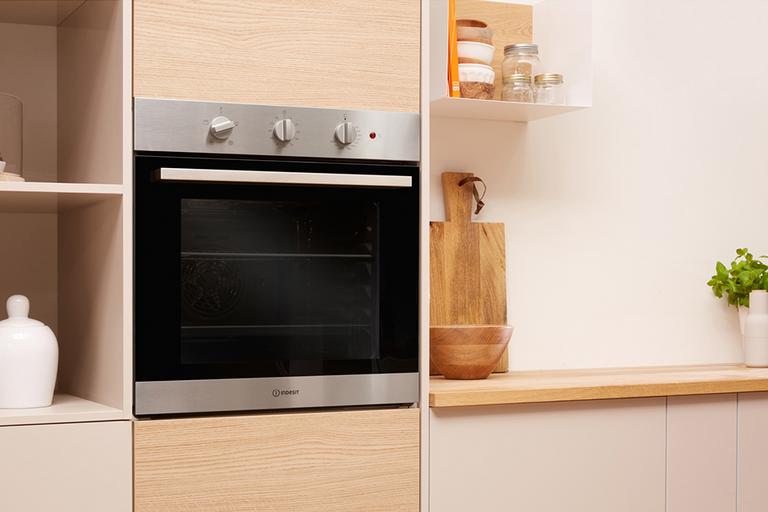 Whether your oven has just given up or you're looking to revamp your kitchen, look no further than our built-in oven guide to help you choose the best oven to suit your lifestyle.
Gas or electric?
While most built-in ovens are electric, there are a few gas models out there. Explore the differences below.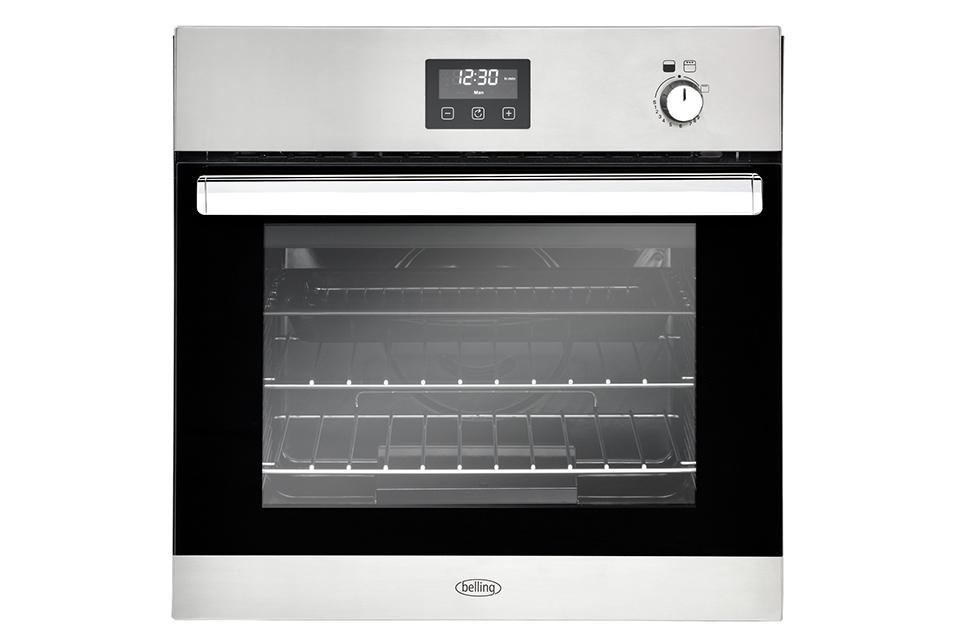 Gas oven
Cheaper fuel type than an electric oven, although this is marginal.
Not as effective at keeping to the temperature it is set to.
Heat acts more like a conventional oven with most built-in gas ovens. As it rises it means that the top of the oven tends to be hotter than the bottom. You can get some models that are fan assisted.
Heat up immediately due to the gas flames.
Will probably still require an electric connection as most need this for the electric ignition.
Should be installed by a professional.
Electric oven
More expensive to run than a gas oven.
Has better accuracy in the temperature settings, allowing for more precise cooking.
Most electric ovens come with fans, allowing for the heat to be distributed evenly around them.
Take longer to heat up due to their heating elements.
Although they take longer to heat up, they still tend to cook food in less time.
Some models come with a wide range of extra features and self-cleaning functions.
Should be installed by a professional.
Types of built-in oven
Take a look at the size options below to see what suits your kitchen needs.
Built-in single oven
Big enough for most families, a built-in single oven is the most popular and common oven option. These are quite adaptable in regards to where they can be placed, be it under the worktop or eye level in a built-in unit.
Compared to a built-in double oven they are limited in size. However, if you're not cooking for many on a regular basis and you won't need to bake and grill at the same time, a single oven is a great option.
Built-in double oven
A built-in double oven is perfect for those with larger families or keen cooks that make a lot of different dishes. Their two separate oven sections allow you to grill in the top oven while you cook something else in the bottom oven.
The increased oven capacity however, means that the size of a double oven is a fair bit bigger than a single oven. So keep that in mind when looking for your next oven, as they will take up more space. Being a built-in appliance though, they are still an incredible space saving kitchen addition.
Built-under double oven
If you need more cooking flexibility than a single oven but don't have enough space for a built-in double oven, then a built-under double oven may be the option for you. They feature the two separate oven sections in a more condensed space.
It's important to note that they are not much bigger than a single oven.
While they are called 'built-under' ovens, they can be placed either under a kitchen counter or within a kitchen unit at eye level.
Cooking function
There is more than one way that ovens can create heat to cook your food. The four key types are explained below to help you understand the differences and decide what works best for you.
Convection oven
Convection ovens, also known as fan ovens, use internal fans to distribute the heat inside the oven evenly, meaning there will be no section hotter than another. They're great for providing an even bake across multiple dishes in your oven.
Multifunction oven
Multifunction ovens have more than one cooking feature built in for optimum cooking opportunities. This tends to be a combination of heating features that can include a grill function, defrost setting, conventional and fan cooking.
Conventional oven
Conventional ovens have a static heat source, usually placed at the bottom of the oven. Meaning it heats from the bottom up, and once fully heated, the top will tend to be hotter than the bottom. It can take some getting used to, but can be beneficial for cooking multiple dishes that require different temperatures.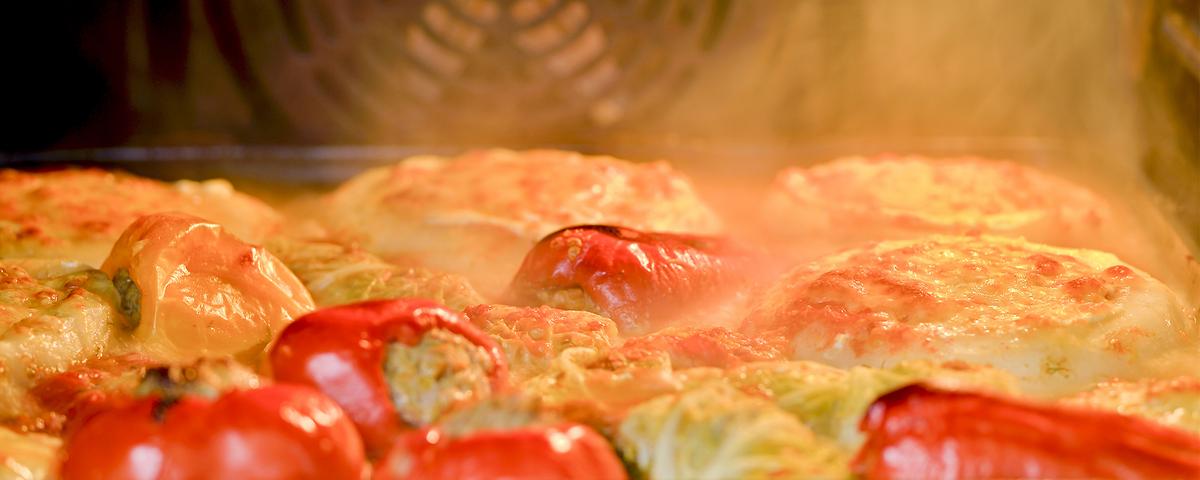 Steam oven
Steam ovens are essentially oven sized pressure cookers. They are a great purchase for the health conscious as they lock in up to 25% more nutrients and don't need oil to aid cooking. They also don't create smoke whilst cooking (just steam of course!) and are a really energy efficient option.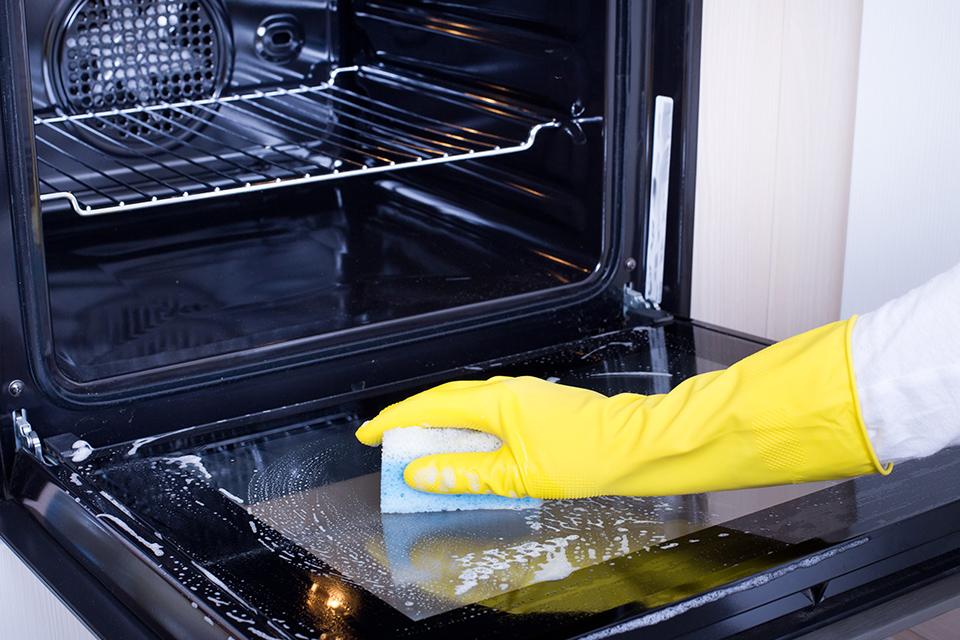 Self-cleaning ovens
Hate cleaning? How about getting an oven that does all the hard work for you? Take a look at the three main types of self-cleaning ovens below to determine what will help you ease up on the elbow grease.
Catalytic cleaning oven
A catalytic cleaning oven has specially treated liners fitted on the inside that absorb the grease created by cooking. They are cleaned by running the self-cleaning programme every month or so. This tends to blast the inside of the cooker at 200+ degrees celsius which burns off most of the grease deposits and softens the rest so you can easily wipe away with soapy water. Once it's cooled down of course!
Pyrolytic cleaning oven
Pyrolytic ovens work by increasing their temperature to 500 degrees celsius and literally burning off the grease and dirt. It is a complete clean, so all you need to do is wipe the ash away that is left behind. While this may sound quite scary, it is incredibly safe, with extra insulation built in to protect the surrounding areas. They also have 'cold doors' which don't reach over 60 degrees celsius and remain locked until the cleaning process is complete and it is safe to open.
Steam cleaning oven
Steam cleaning ovens work by giving the inside of the oven a 'steam bath'. All you will need to do is add a little water and washing-up liquid to the bottom and select the hydrolysis cleaning function. This will create the steam which will soften any grease and dirt attached to the inside walls. Once the cleaning programme is complete and the oven has cooled, you should be able to wipe it off easily with a cloth or sponge.
Some more top oven features to look out for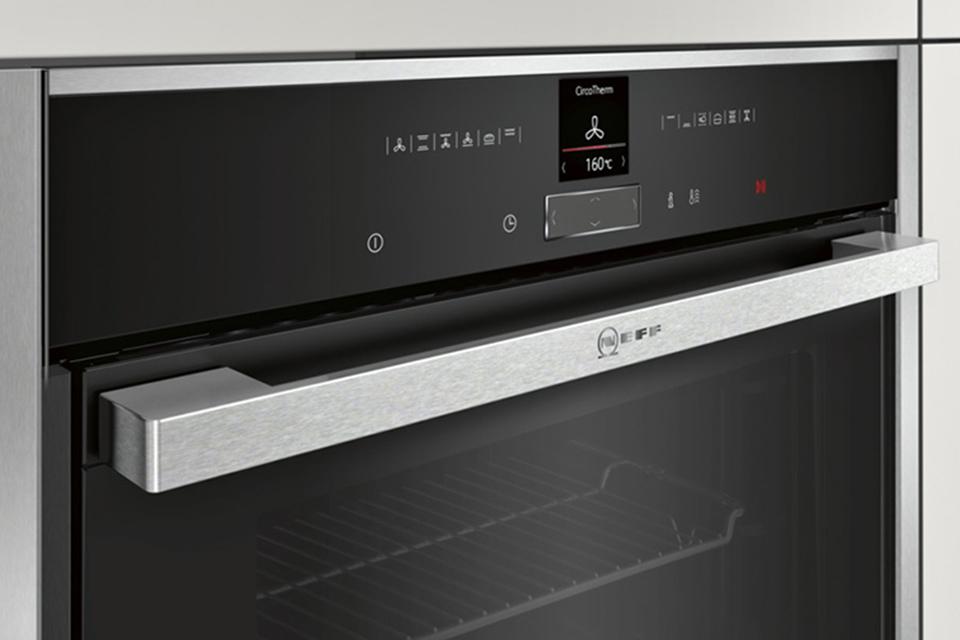 Digital controls
Digital controls allow you to be more precise with your cooking as they can be set to specific temperatures more accurately than ovens with dials. Aesthetically they provide a sleek and streamlined look allowing them to blend into your kitchen seamlessly.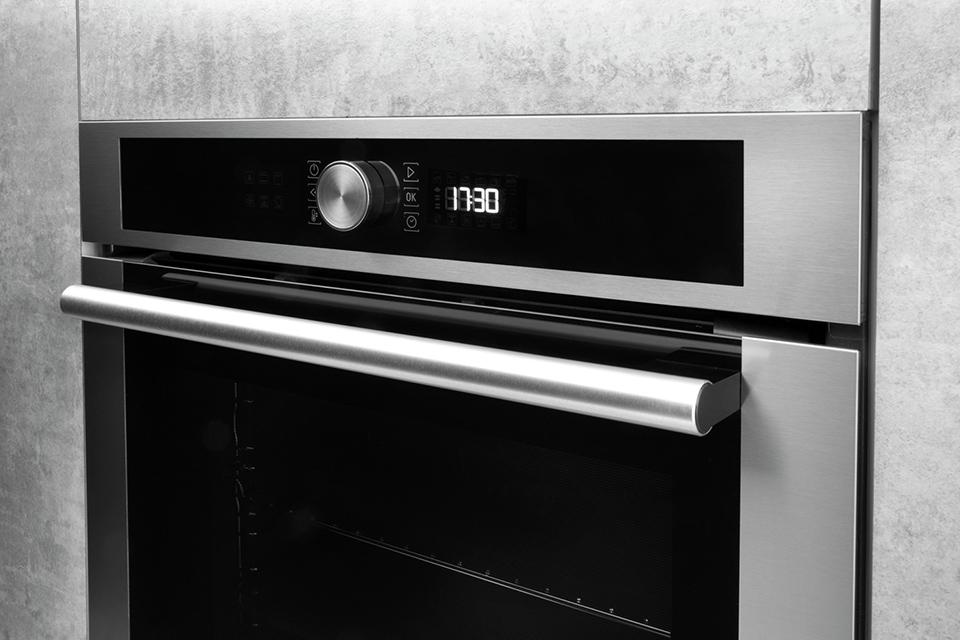 Automatic cooking controls
Automatic cooking controls give you the ability to prepare your dish, select what you're cooking on the oven and then the oven will automatically set the temperature, cooking time, heat source e.g. the grill, and even the moisture levels.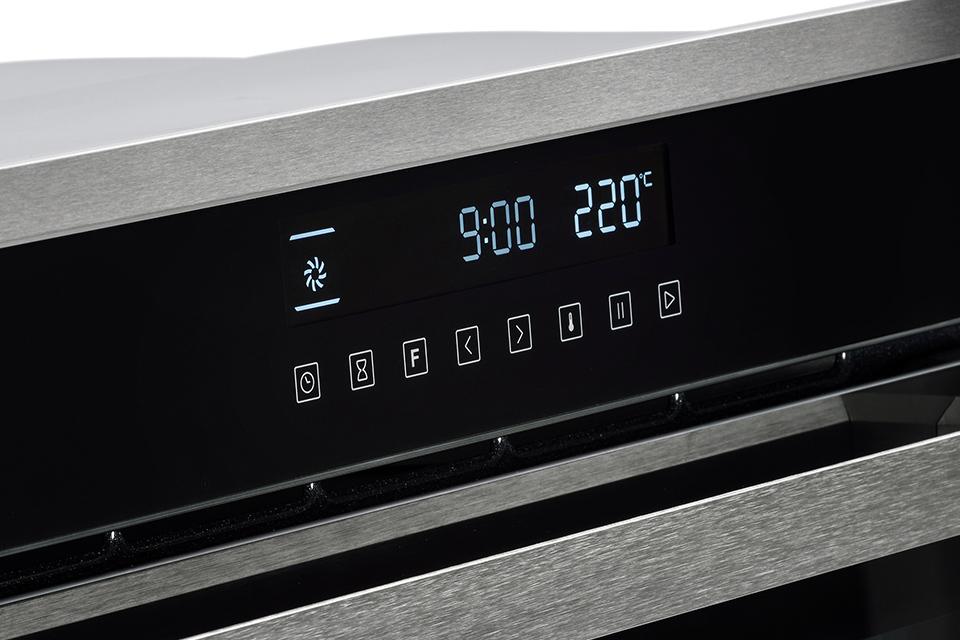 Programmable timer
This feature is great if you have something to cook for a specific time. The timer can be set to finish cooking your meal at a given time, meaning it will switch on automatically, cook your food and then switch off again once complete.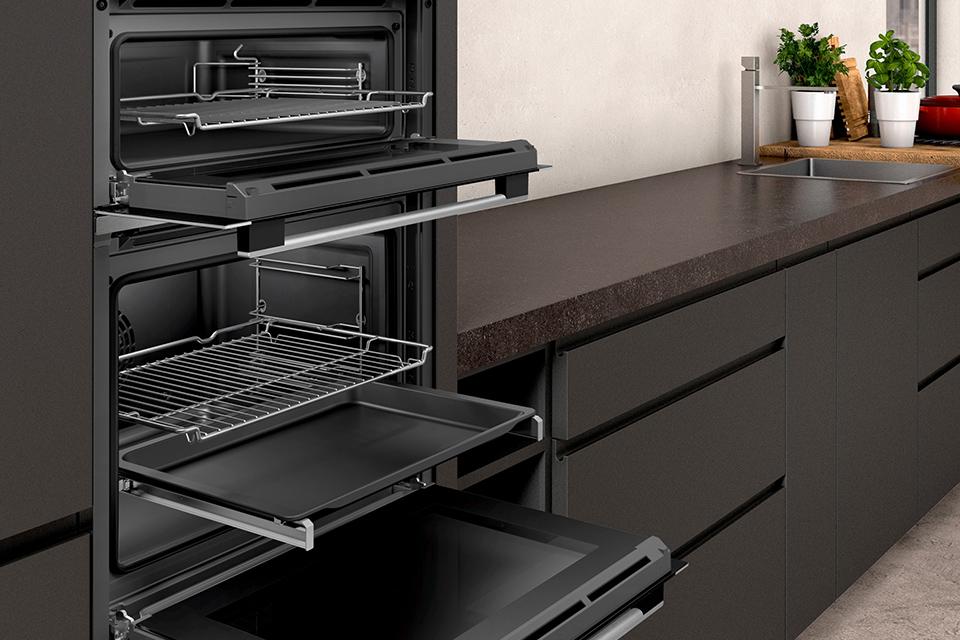 Telescopic runners
These are really useful for getting to what's in your oven with ease. The inside shelves are built onto sturdy telescopic runners allowing them to be pulled out smoothly, meaning you can check or take out your dish safely and with little effort.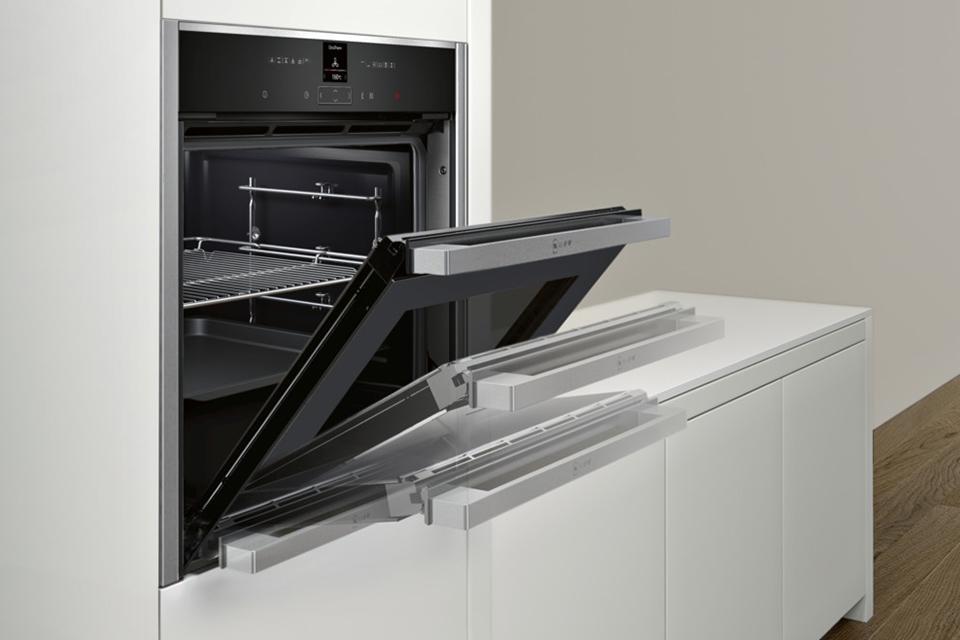 Slide away door
Some ovens have a slide away door, which are great for kitchens where space is at a premium. Once fully open, the door then slides underneath the oven, giving you easy access to the oven interior without having to reach over it.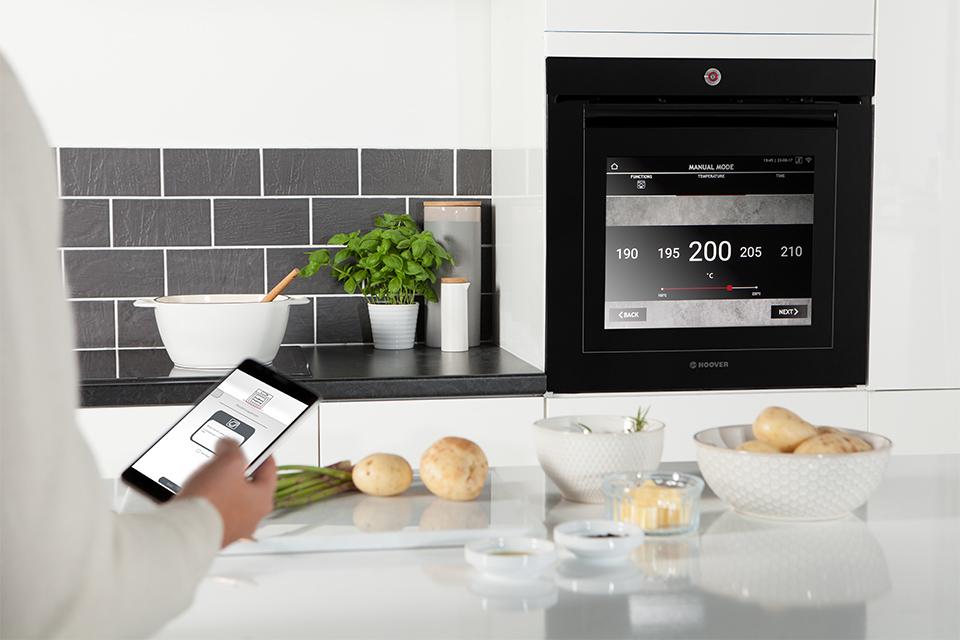 'Smart' ovens
Ovens that have 'smart' connectivity support the functionality of connecting your smartphone or tablet to it. Meaning you can control certain cooking functions or even check on your food without needing to go to the oven itself!
Sustainability corner
What does the energy rating mean on an oven?
Ovens have energy ratings that vary from A+++ to D. To put it simply, the higher the energy rating an oven has, the less energy it will use overall. It is also less likely to waste energy, so it uses it more efficiently. Costing you less money to run, as well as keeping your carbon footprint smaller. Sounds like a win-win to us!

If you'd like to read more about energy efficiency, take a look at our handy guide.
Clean cleaning tips
Need to clean your oven but don't have a lot of time to spare? Then look no further! Check out these fab cleaning hacks.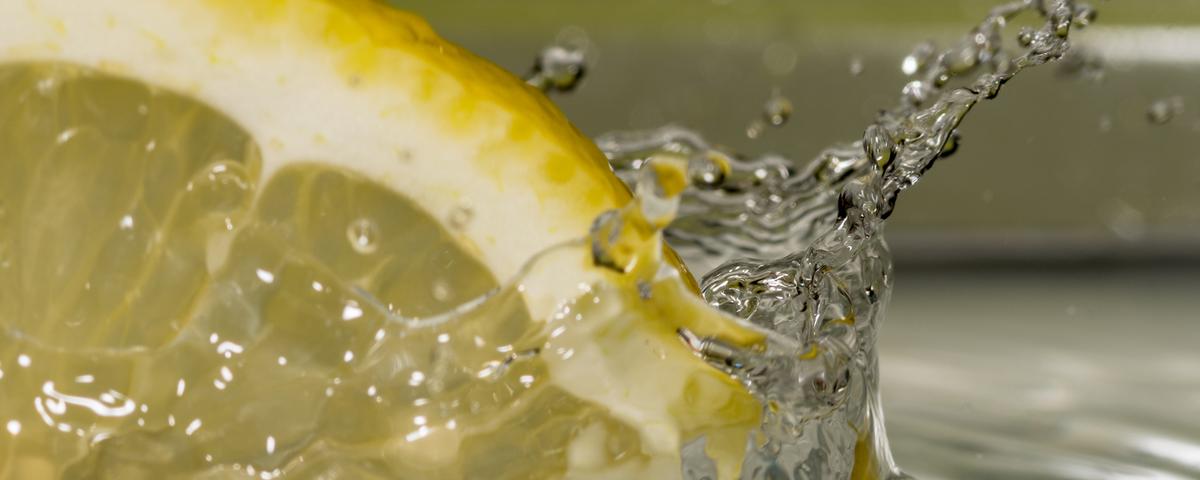 Lemony fresh
Grab an oven safe dish and add some water.
Squeeze in the juice of 2 lemons then add in the squeezed lemons themselves for extra cleaning power.
Pop the dish in the oven at 250 degrees Celsius for around 30 minutes.
Once the oven has cooled down you should be able to wipe away the dirt and grease with a damp cloth.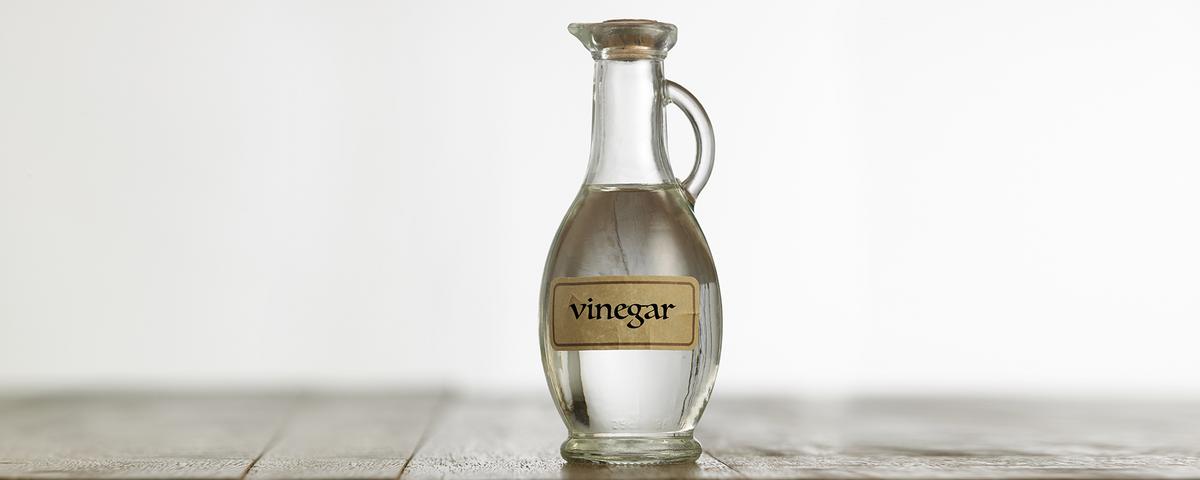 Win-egar
Preheat your oven to 230 degrees Celsius.
Grab an oven safe dish and add some water and half a cup of vinegar.
Place the dish in your preheated oven and leave for 20-60 minutes (depending on how much grease there is!).
Once the oven has cooled, wipe away the softened dirt and grease with a cloth.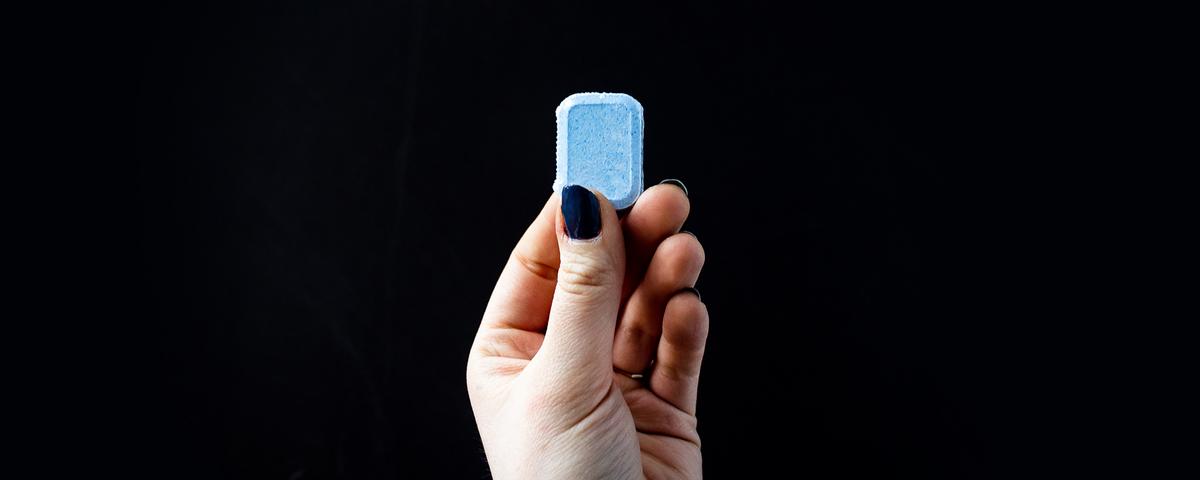 Dirty oven door, no more!
Grab a dishwasher tablet (not a gel based one in a pouch as these will just make a mess!) and dip one end in some water.
Rub the wetted side over your oven door and leave for 5 - 10 minutes.
Wipe the door over with a damp cloth and any remaining dirt and grease should come off with it.
Our delivery and installation service
Thinking of opting for our paid installation service? To ensure your delivery and installation goes smoothly, we've put together a short video to walk you through the process, step by step. It's really important that these steps are met otherwise we may not be able to deliver your new oven to your home.
Cooker and oven delivery and installation
We're working with a partner on some of our deliveries, your item will arrive on an AO van, but you'll still get the same expert installation and aftercare that you'd expect from Argos.
Our partner will contact to schedule your delivery.
Suitable for electric, gas and dual fuel cookers, ovens and hobs.
We'll text you the day before your delivery with a 4-hour time slot.
On the day of delivery, you'll be able to track your order.
Before we arrive, you'll need to ensure the hot zone (the area above your cooker) is free from combustible materials such as wallpaper, cupboards, shelves, plug sockets and switches.
If we're installing a gas appliance, ensure your gas pipework is in good condition and 1 metre away from where your appliance will sit.
These are legal requirements and if we're unable to connect your appliance due to one of the above checks not taking place, we won't be able to refund your delivery and connection charge (this does not affect your statutory rights).
Delivery and installation will take around 1 hour.
Did you know you can recycle your old electronic items in-store for free, when purchasing a new item?
We'll recycle items if the store sells similar items and you've purchased a replacement item from us within the last 28 days, click here for full details.
Kitchen-spiration
Oven and hob packages
If you're looking for a complete built-in look, check out our oven and hob packages.
Why buy at Argos?