Use up and down arrows to review and enter to select. Touch device users, explore by touch or with swipe gestures.
Outdoor Christmas lights and decoration ideas.
Trending now
Be inspired by some of our festive favourites.
Outdoor Christmas lights
Whether you think less is more, or more is more, we're brimming with outdoor Christmas lights to suit every seasonal style.
Outdoor icicle lights
These popular lights create a winter wonderland effect. Hang from the eaves of your porch, garage or roof to turn your home into a twinkling ice palace.
Outdoor string lights
Go big and bold with colourful bulbs, or opt for glittering golden lights. The smaller bulbs are great for wrapping around tree trunks or weaving through foliage.
Window lights
Want the glitz of lights without the faff? This net style is easy to hang up on the inside of your windows and creates a festive glow that can be enjoyed both sides of the glass!
Novelty Christmas lights
Amp up the festive fun with colourful Christmas lights and seasonal characters. Pop-up snowmen, nodding reindeer and paths of quirky candy canes add instant HO HO HO to your home.
Shop by colour
Outdoor Christmas decorations
Create your own garden grotto with these statement seasonal styles.
Front door decorations
A wreath is the easiest way to fancify your front door. From glamourous gold to traditional foliage, or even DIY pom-poms, choose a style that coordinates with the rest of your Christmas decor.
Pop-up and inflatable decorations
A great option if you're short on storage space, these jolly characters create an instant seasonal statement and neatly fold away when the festivities are over.
Light projector
No snow? No problem. Position this projector in the direction of a boring wall or garage door - as night falls it will be transformed into a sparkling snow scene.
Shop by look
Got a style in mind? Browse our outdoor lights and decorations by these popular themes.
Tools & tips
Accessories and advice to help you set up your winter wonderland.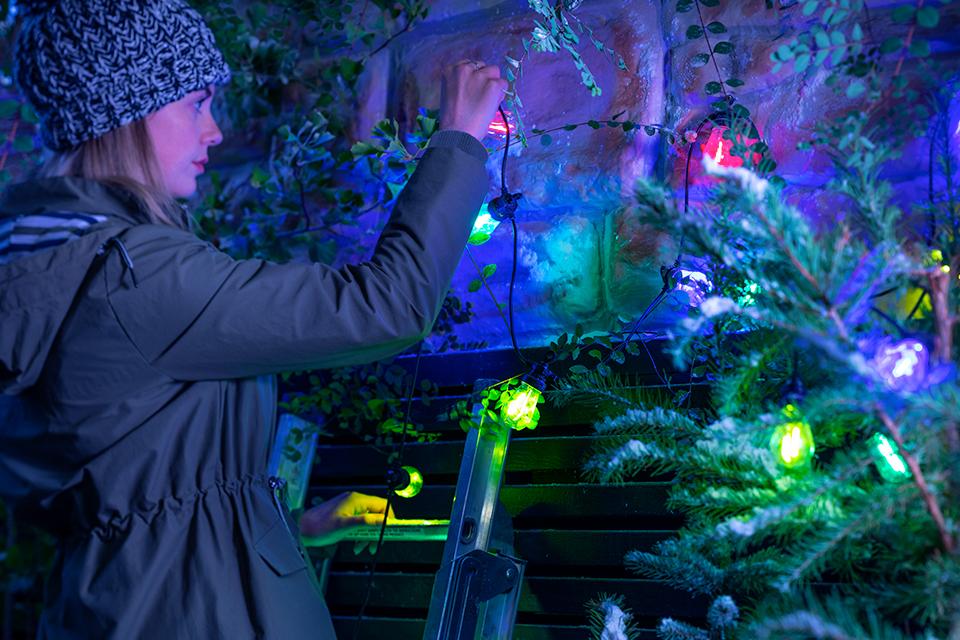 How to hang Christmas lights
Measure: Use a tape measure to find out how long your lights need to be. If you're using mains-powered lights, don't forget to include the distance to your power supply.
Check the lights: Before you hang your lights, switch them on to check they are all working. Change any bulbs that are broken.
Put fittings in place: You'll need to buy these separately, but they are easy to find at most DIY shops. Make sure you choose the appropriate fitting for the surface that you are fixing your decorations to. Leave about 1/2 a meter between each fitting, or closer if the lights are heavy.
Grab a ladder: And someone to hold it steady for you.
Hang your lights: Starting from the power source, attach the lights to the fittings. Try to keep an even tension so you get a neat finish.
Switch on: Step back and admire your work. Need to tweak? Make sure you turn off the lights before you make any adjustments.
Safety tips
Don't leave Christmas lights running when you go to bed at night, or when you leave the house.
Don't use tacks, nails or screws to hang lights, which can pierce the cable and become electrified. Use insulated hooks instead.
If bulbs have burned out replace them right away, but make sure you use the correct wattage bulbs.
More Christmas inspiration
Why buy at Argos?