Our guide to the best pressure washers
Blast away dirt on any surface with our guide to pressure washers.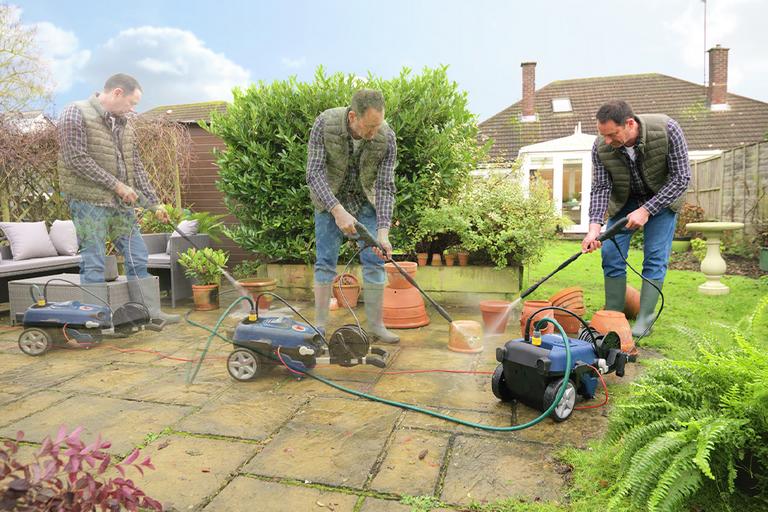 How to choose the best pressure washer
The right pressure washer for you depends on what you'll be cleaning with it.
Light duty
Best for – Garden furniture, small cars and light patio cleaning.
Pros – Lightweight and less expensive than more powerful models.
Cons – Not enough power for tougher jobs.
Which accessories do I need? – Detergent, pressure adjuster, car wash brush.
How much power do I need? – 1400 to 1600w.
Medium duty
Best for - Most everyday cleaning of gardens, patios, decking and family cars.
Pros – Versatile choice for most garden jobs.
Cons – More power needed for intense cleaning.
Which accessories do I need? – Patio cleaner, on-board storage, car wash brush, long hose and mains cable.
How much power do I need? – 1700w to 2000w.
Heavy duty
Best for - Tough tasks and larger driveways, patios and vehicles.
Pros – Powerful enough for any job.
Cons – Can be heavy.
Which accessories do I need? – Dirtblaster lance, long hose and mains cable, extension lance, adjustable pressure.
How much power do I need? – 2000w+.
Pressure washer reviews
Pressure washer guide
Don't know your bar from your flow rate? Here's all you need to know about the technical features of a pressure washer.
How does a pressure washer work?
Pressure washers connect up to your garden hose and use electricity to power a pump system, which then accelerates the water at a high pressure. Despite being a lot more powerful, they actually use less water than your hose, making them incredibly efficient.
Power – A pressure washer's power is measured in watts. More watts equal more power.
Flow rate – Flow rate is measured in litres. The faster the flow rate, the quicker the water comes out.
Pressure - Rated bar is the average pressure a pressure washer will reach while you use it. Higher pressure is best for tough jobs, while light jobs are better suited to using less pressure. Max bar is the maximum amount of pressure that a pressure washer can reach, although it is unlikely to able to reach that level consistently.
Pressure washer features and accessories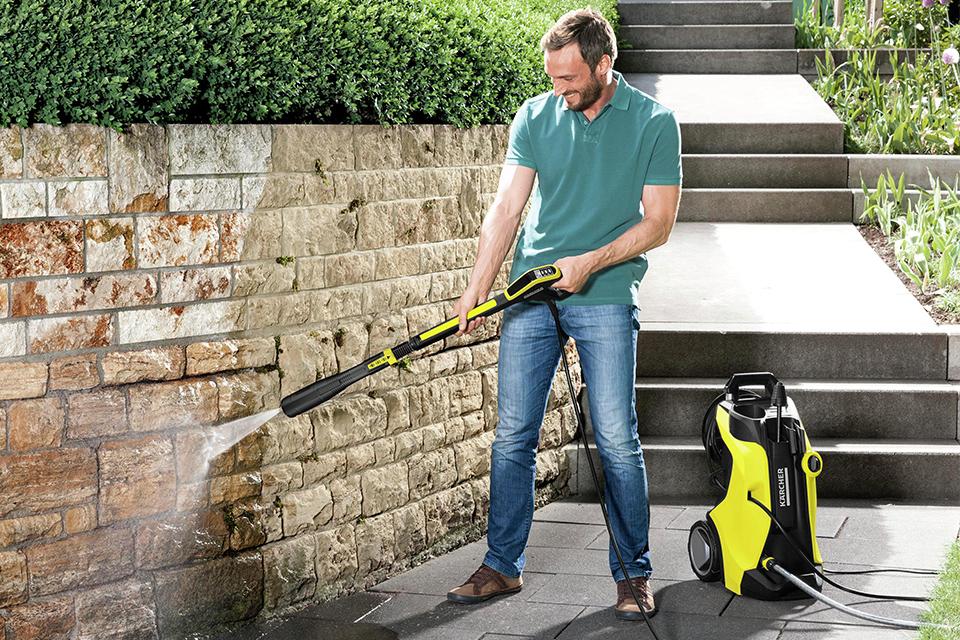 Extension lance
An extension lance is a longer nozzle that helps you clean hard to reach areas.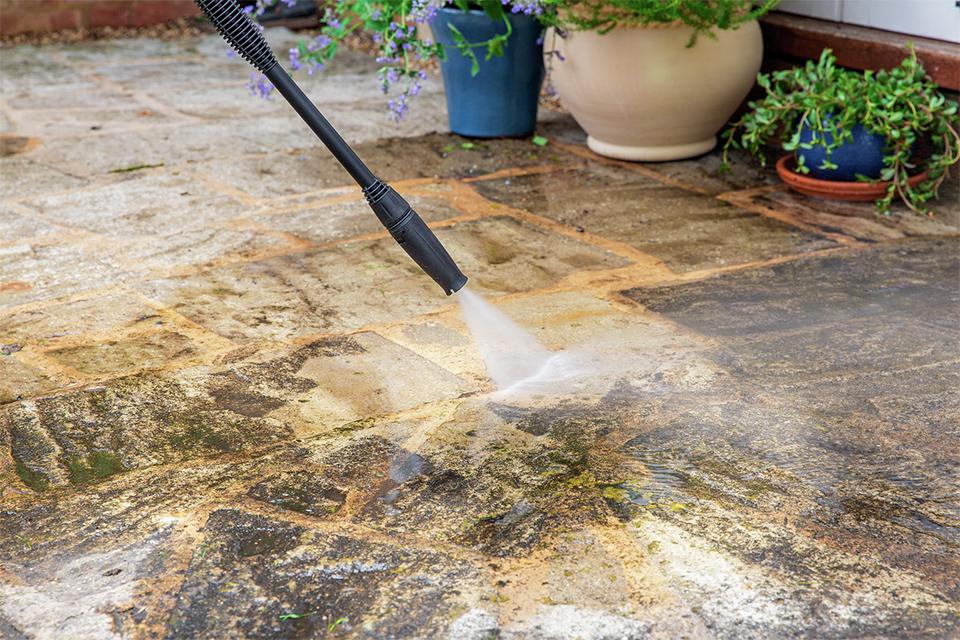 Dirtblaster lance
As the name suggests, a dirtblaster lance is for when you need extra power to complete a particularly tough job.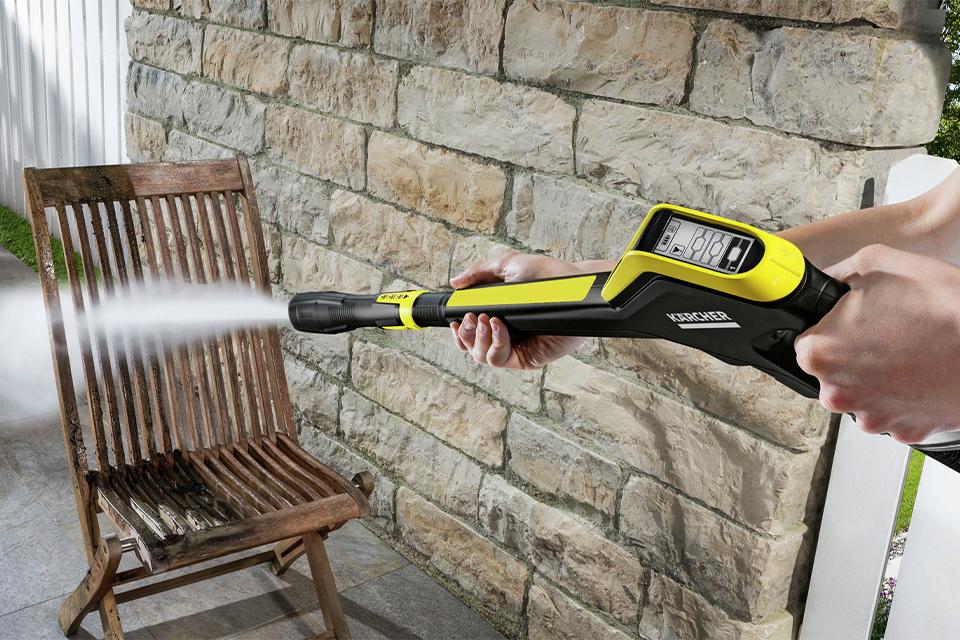 Pressure adjustable lance
Adjustable pressure is an important feature if you need to do a variety of light, medium and heavy duty tasks.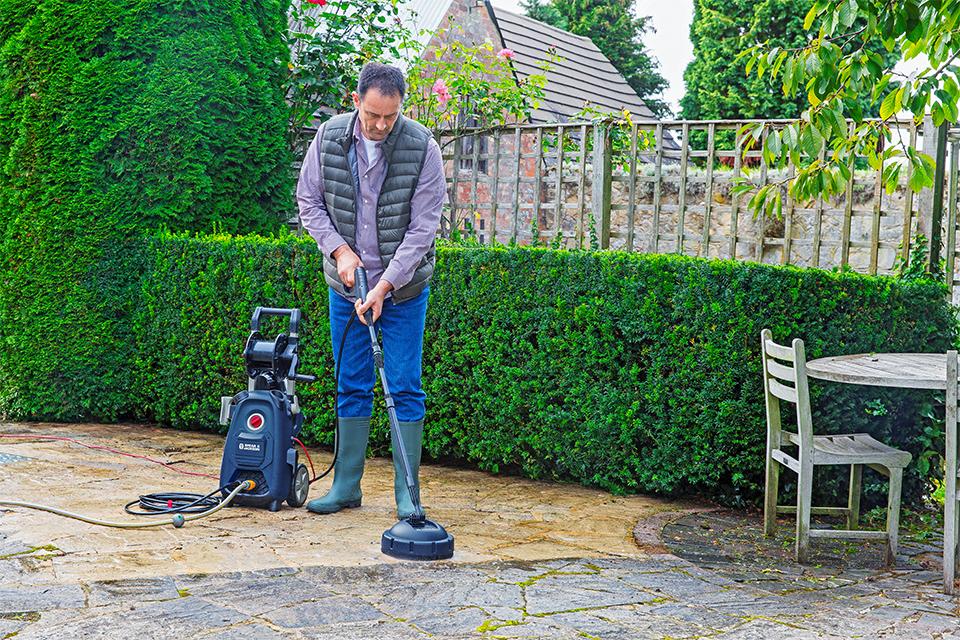 Patio cleaner
An attachment that makes light work of patio cleaning. The circular design concentrates spray into one area.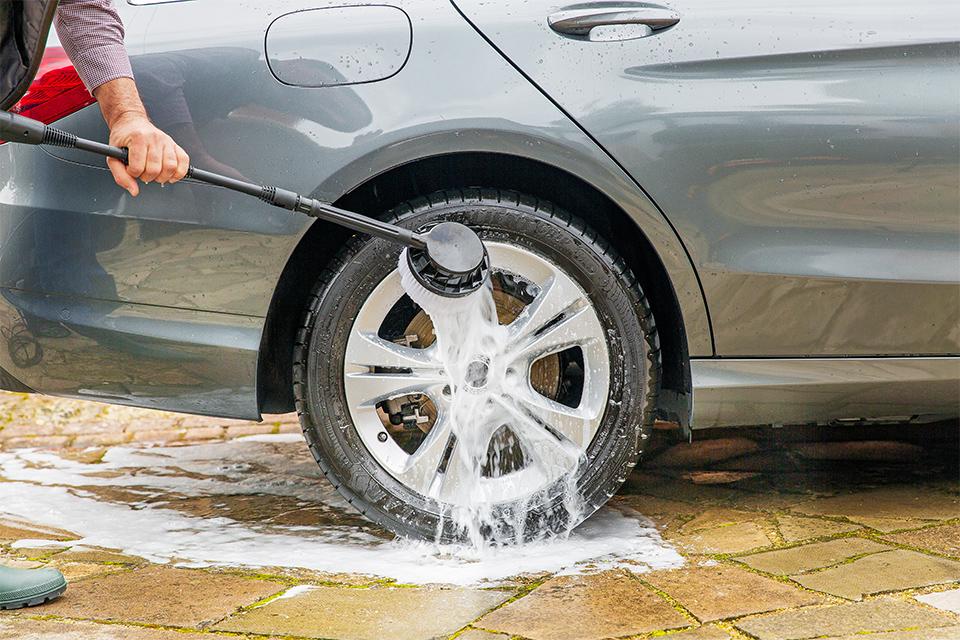 Brushes
Some pressure washers include a brush which can help you finish off smaller jobs like washing the car or garden furniture.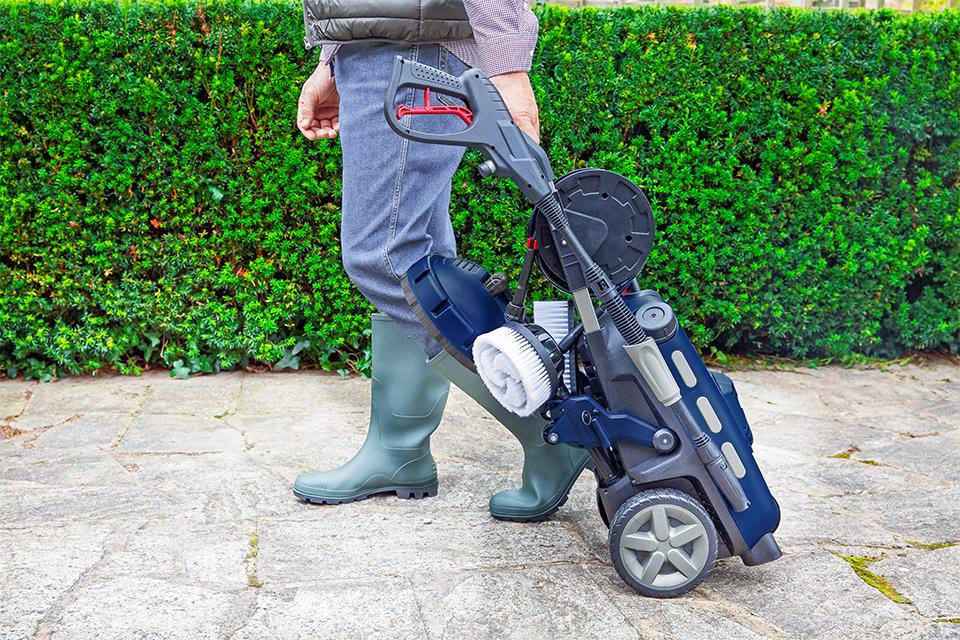 Wheels
The more wheels a pressure washer has, the easier it is to manoeuvre.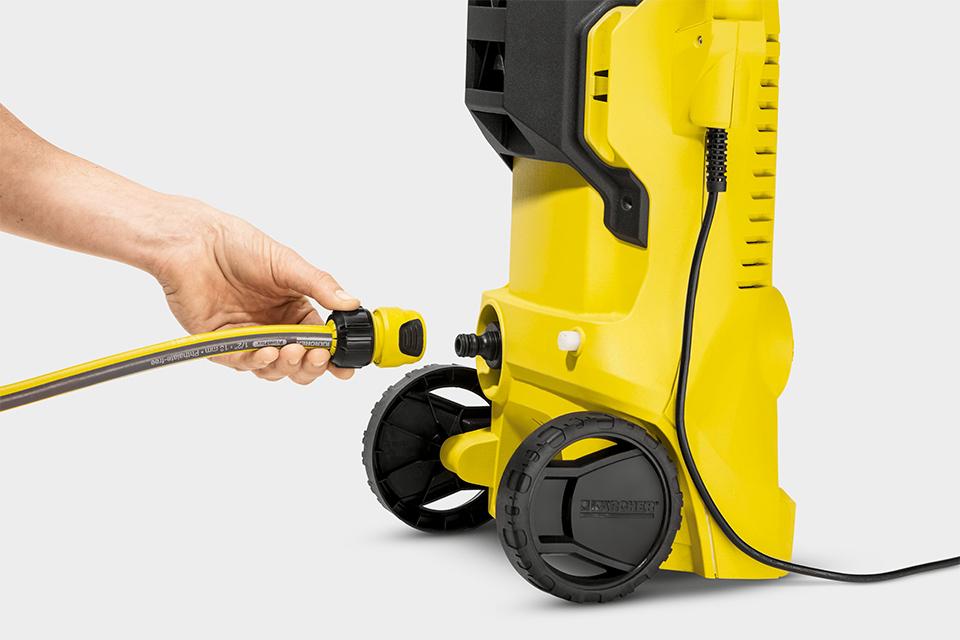 Universal hose fitting
A universal fitting should be able to connect to all types of garden hose.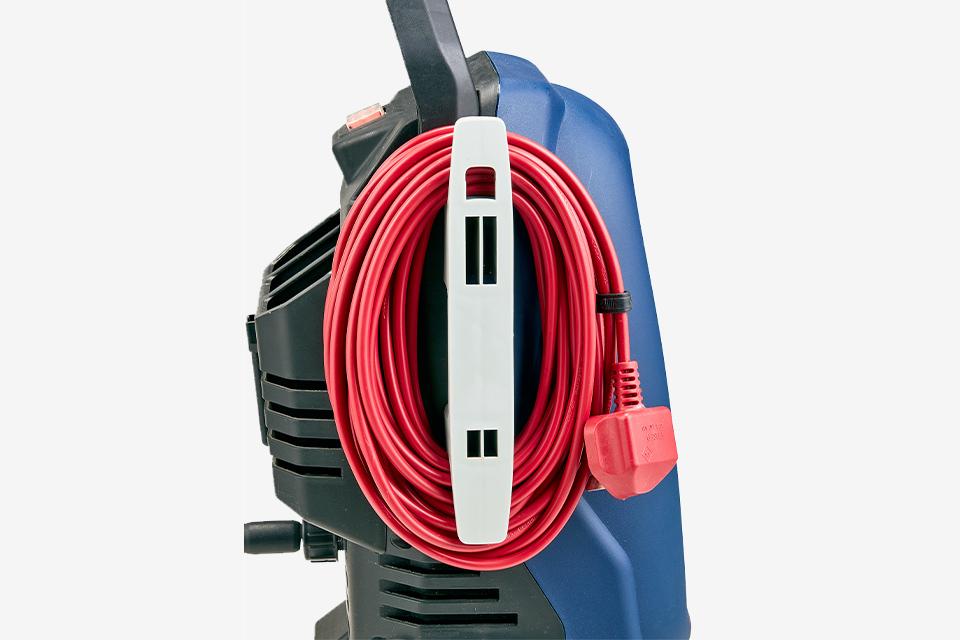 Cable tidy
Prevents the cable from getting in the way while you clean.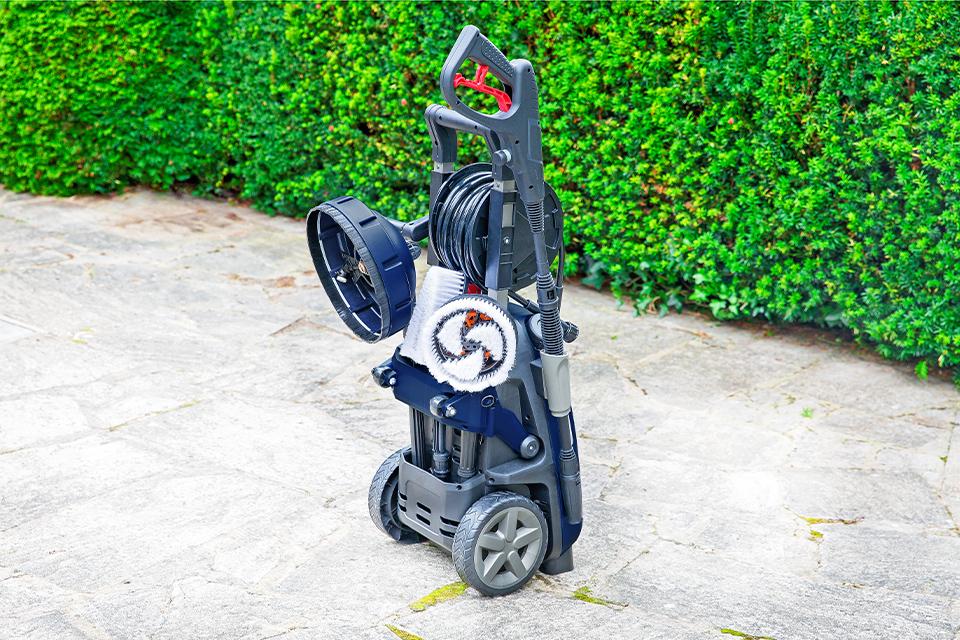 On-board storage
Gives you space to keep other essential cleaning equipment close to hand.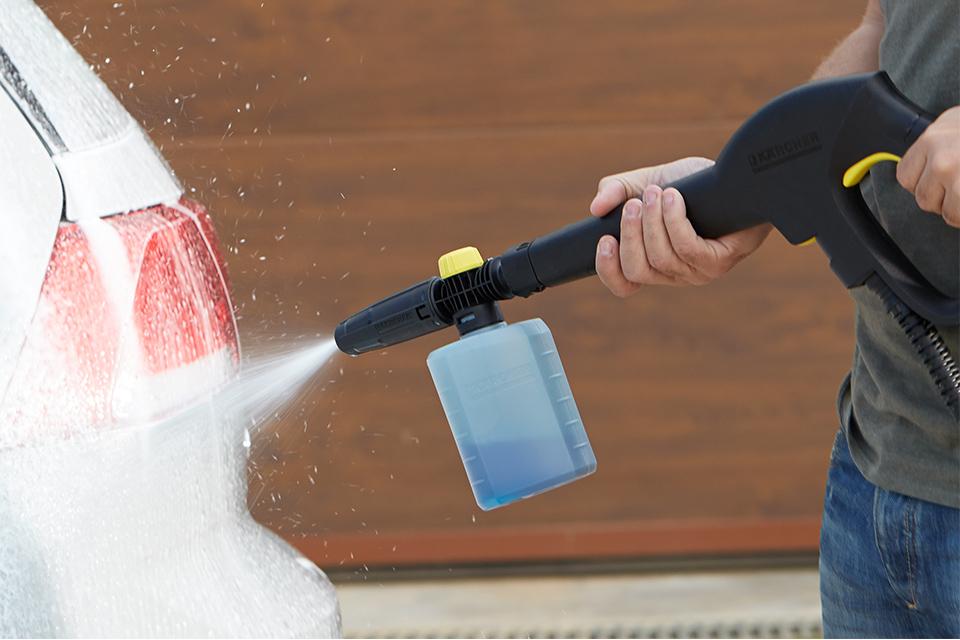 Foam nozzle
An attachment that goes on the end of the pressure to powerfully spray foam.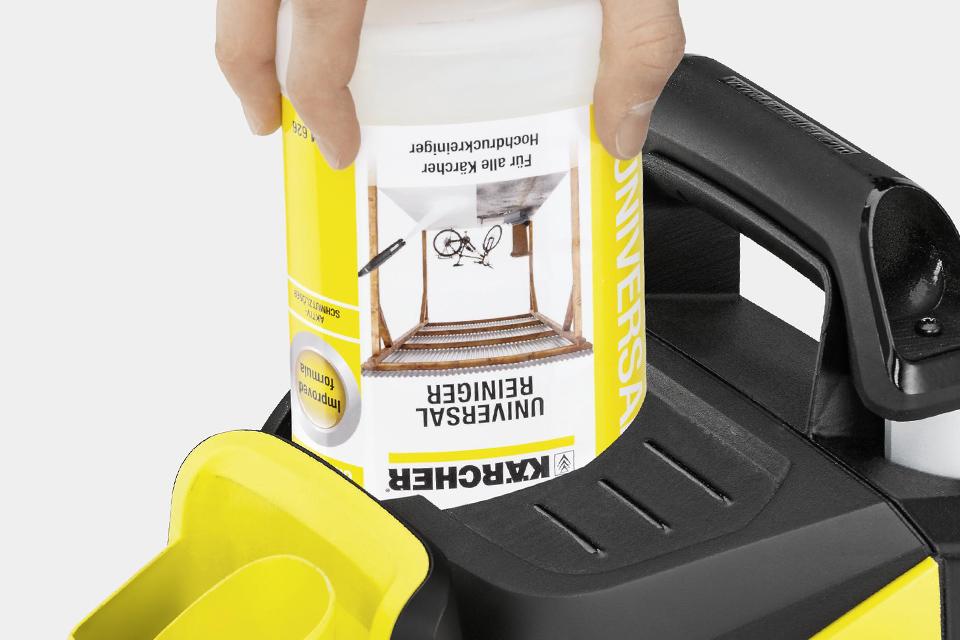 Detergent
Many pressure washers include a detergent which provides an even more comprehensive clean.
Ready to shop?
More help and inspiration