Use up and down arrows to review and enter to select. Touch device users, explore by touch or with swipe gestures.
Fireplace and mantelpiece ideas.
Mantel decoration
A mantelpiece can be artfully decorated with everything from candles and ornaments to seasonal items such as garlands. Unsure what to put on your mantel? Here are some great ideas for styling them.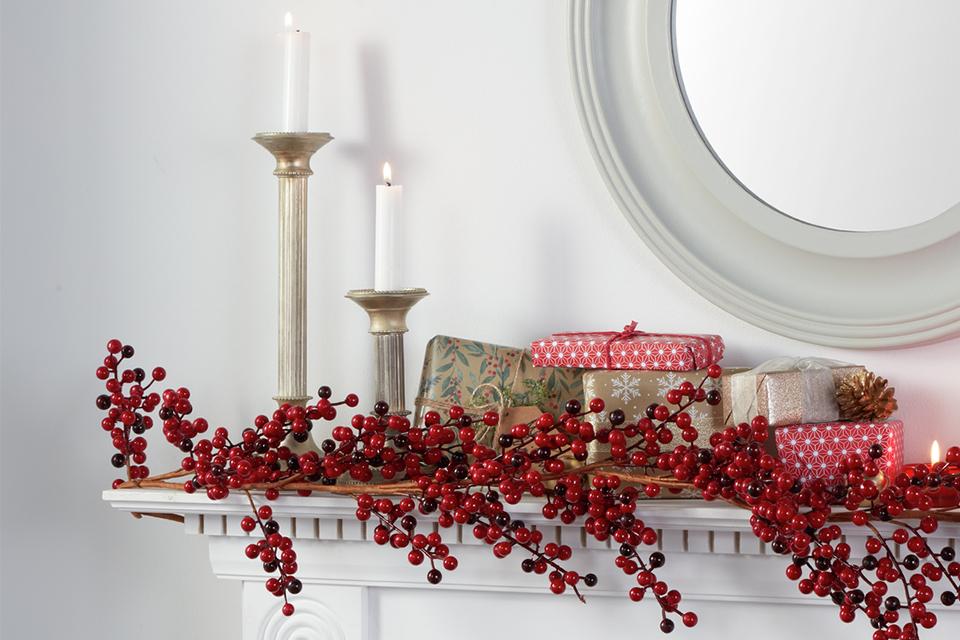 Mix and match
Try layering up objects of varying size in front of each other to create depth and visual interest. Start with the biggest objects first and work your way down to smaller items like candles and ornaments. For a more eclectic look, mix up different textures, colours, patterns and finishes.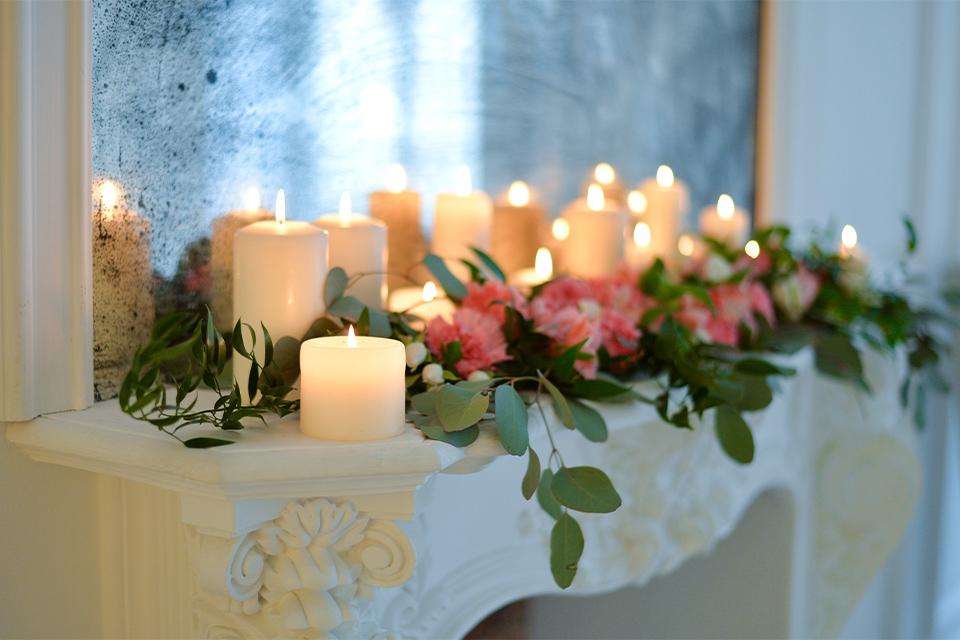 Fireplace flowers
Freshen up your fireplace with a lush floral display. Rather than one large centrepiece, use vases of different shapes and sizes with brightly coloured blooms. Add in some budding branches and lots of greenery to create a beautiful focal point for your living room.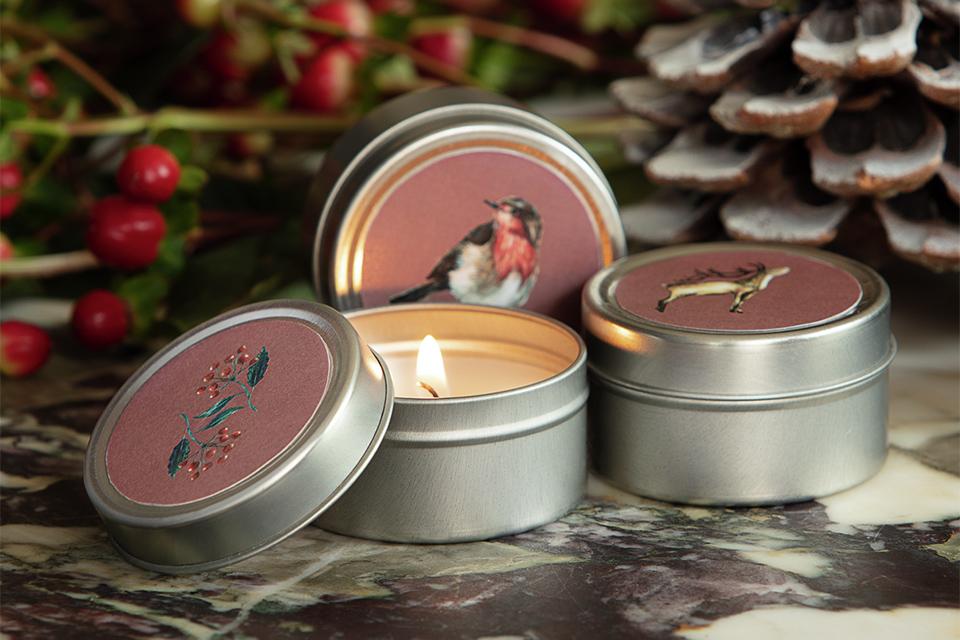 Create a rustic fireplace
Give your home a cosy cottage feel by decorating the mantel of your fireplace in a rustic style. Set the mood by lining the mantel with candles, lanterns and flickering tealights. Continue the theme with natural elements such as pinecones, acorns and twiggy branches.
What to put on a mantelpiece
If you have a fireplace, the mantel provides the perfect platform to showcase your creativity. Here are a few things you can add to make it really standout.
Decorating a festive fireplace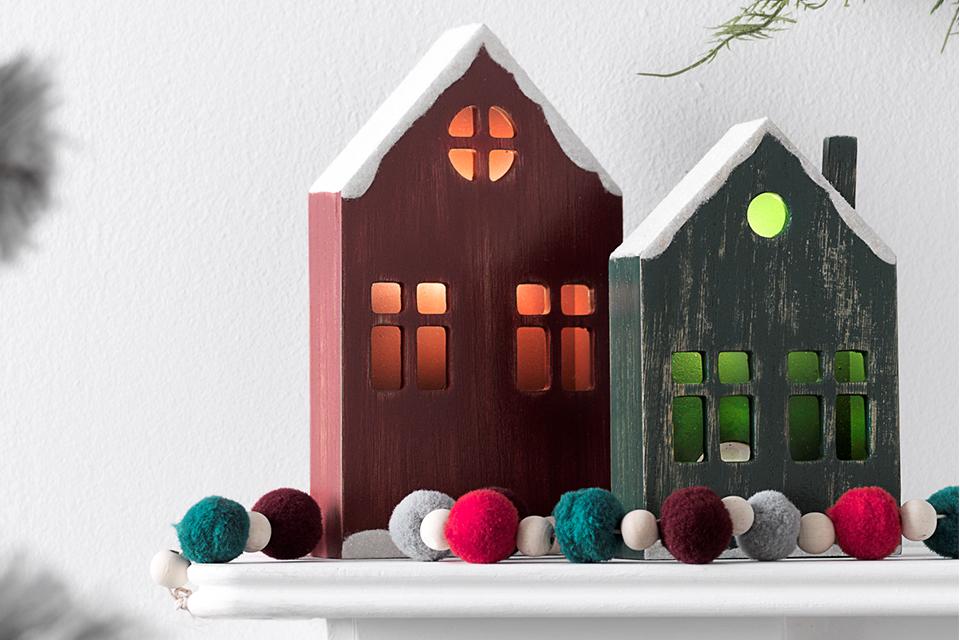 Christmas mantel décor
During the festive season, it's traditional to hang stockings from your mantel, but that's not the only way to decorate this space. With a few, simple seasonal touches, you can turn it into a stunning backdrop to your Christmas celebrations.

A garland of pinecones and berries looks gorgeous draped across the top of a fireplace. Not only does it add a lovely cosy feel, it provides the perfect base for your mantel display.

Use a string of fairy lights to turn the fireplace into a festive focal point. Cluster them together along the mantel or around the fireplace surround to create a shimmering effect.

Give the mantelpiece a soft, festive glow by mixing tall and short candles with clutters of tealights and votives.
Overmantle mirrors
Hanging a mirror above a fireplace is a great way to add symmetry to the space. Aside from making a room feel bigger and brighter, it also draws the eye to the mantel area. There are many different shapes and styles of overmantle mirror available, from round to rectangular, modern to ornate.
Mirror over fireplace rules
When hanging an overmantle mirror, make sure that the mirror is smaller than the width of the fireplace below it. Generally, it's best to position the mirror several inches above the top of your mantel, so you have enough space to display your ornaments. If the mirror is particularly tall, try leaning it on the mantel instead of hanging it.
Timely additions
If you're in need of a centrepiece for your arrangement, consider a mantel clock. Having a clock above your fireplace naturally attracts the eye, so the rest of your mantelpiece decorations should complement it, rather than detract from it.
Wooden mantel clocks
Anchor your mantelpiece with the quintessential accessory - the wooden mantel clock. A traditional clock such as this works particularly well with rustic or shabby chic themes.
Ornate mantel clocks
If it's elegance you're after, then a mantel clock with an ornate frame is a real eye-catcher. Surround it with accessories of similar style for a look that's decorative and functional at the same time.
Modern mantel clocks
Modern mantel clocks provide an interesting alternative to traditional timepieces, and are perfect if you want to create a contemporary fireplace display.
More inspiration
Why buy at Argos?