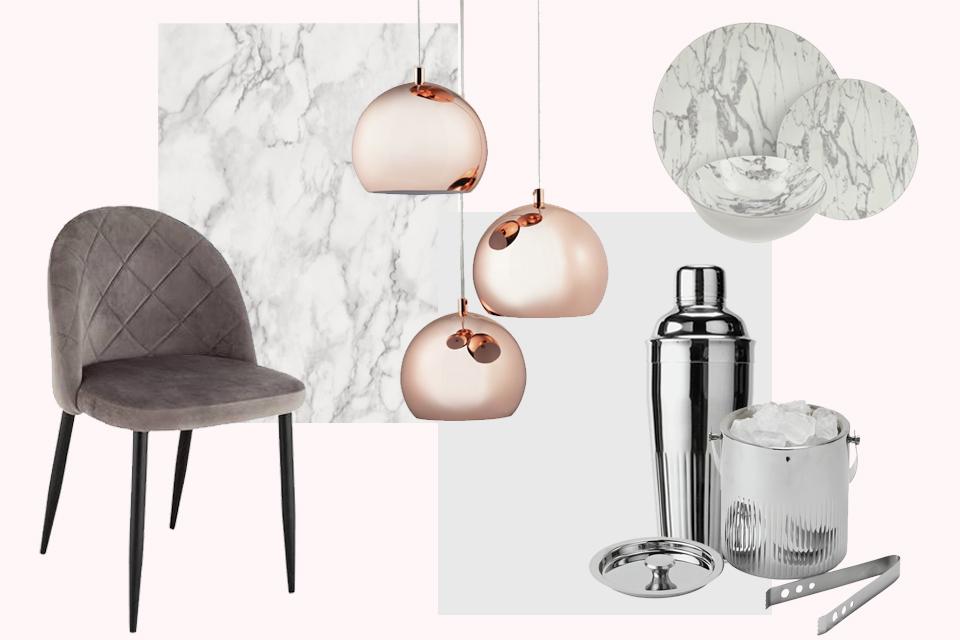 What is the 'luxe' look?
Inspired by boutique bistros and the enviable home of Mrs Hinch (yep, we're Hinchers), this glam decor starts with a soothing base of muted grey and neutral tones. Layered on top you'll find indulgent textures that really amp up the 'expensive' look. Made for showing-off, it's time to get a dinner party in the diary...
In the dining room
Indulge the senses
Formal dining doesn't have to be stuffy. This modern take on an entertaining space is both sophisticated and relaxed, how? It's all about texture.
Let's talk velvet. Those inviting quilted chairs are as sumptuous to sit on as they are to look at, and those modern black legs and colour pop pink bring that 70s favourite fabric up-to-date.
To keep the look informal we've mixed and matched two sets, and paired with our slinky Sienna table, featuring another key finish - marble. Smooth and shiny (= easy to clean), it beautifully reflects the shimmer from those drop pendant lights.
Tableware to tuck into
Make your plain white dinner set feel a bit more special by layering in some fresh styles. Our silver-rimmed set looks really chic, and those gorgeous marble bowls bring in a bit of pattern. If you're after colour we'd opt for blush pink, but anything really goes with white.
Raise a glass
Display your fancy glasses and favourite tipples on a sleek sideboard, ready to mix up a refreshing aperitif for your guests, or pour yourself a post-dinner night cap. Those pretty bottles, elegant glasses and shiny barware double as on-trend accessories. Cheers.
Seek out extra hiding places
Clutter doesn't really fit with the clean, modern aesthetic, so make sure you incorporate in some storage to keep your extra glasses, spare table cloths or that 'best' dinnerware out of sight until you need it.
And your storage doesn't have to be boring, it can make a style statement too - take our Sleigh sideboard with its futuristic legs. Finished in room-brightening white gloss, it's a good choice for smaller rooms or areas that don't get much light.
In-kitchen diners
Elevate your everyday
A kitchen diner space can be chaotic, especially on those manic midweek mornings. Adopting this soothing colour palette and prim furnishings could be just what you need to calm the space.
In our model home we had the luxury of a larger space to work with (that marble kitchen island was just dreamy) - but the great thing about our palette of pastels is that those airy tones can actually open up a petite space.
Even the dinkiest of kitchens usually has a corner free to add a compact table or a couple of breakfast bar chairs, so you don't have to compromise on making more of your mealtimes.
Choose styles that don't compromise on the squish
Quilted velvet and stud details are the heart of luxe dining, and their on-trend cushioning is much softer than most stool styles. Guests can perch, you can catch up with the kids or get comfy for some quiet time – it's the perfect social space.
Coordinate your tea, toast and tableware
Focusing on the details is key to this polished look, so don't leave out your kitchen electricals when considering a makeover. That pastel kettle and toaster set picks out the same pastel pink hue in the tableware, tying the look together.
Use lighting to define the space
Lighting is a sure way to make a space look more expensive - so don't hold back.
It's especially important in open plan rooms, like a kitchen-diner. A pendant light over the breakfast bar or small table will separate the dining space from the rest of the kitchen, and lets you add more light just where you need it.
In this instance three's not a crowd - lining up a few of our aptly named Boutique pendant lights creates a designer look, that makes a real style statement.
Key pieces
Here are some of our top picks to help you nail the luxe look in an instant.
More inspiration
Why buy at Argos?