The perfect outdoor retreat
By Lucy Whitehouse (At Lucy's House)
The perfect outdoor retreat.
Styling the perfect outdoor retreat
Interiors blogger Lucy shares her inspiring tips to re-invent your outdoor space for warmer weather.
Maximise your garden space
Find the perfect fit
It doesn't matter how big your garden is, it's about utilising the space you do have to create another living space for your friends and family to enjoy. Choosing the right furniture and accessories will allow you to create something that is personal to your style and is sure to entice you all outside to relax and reconnect.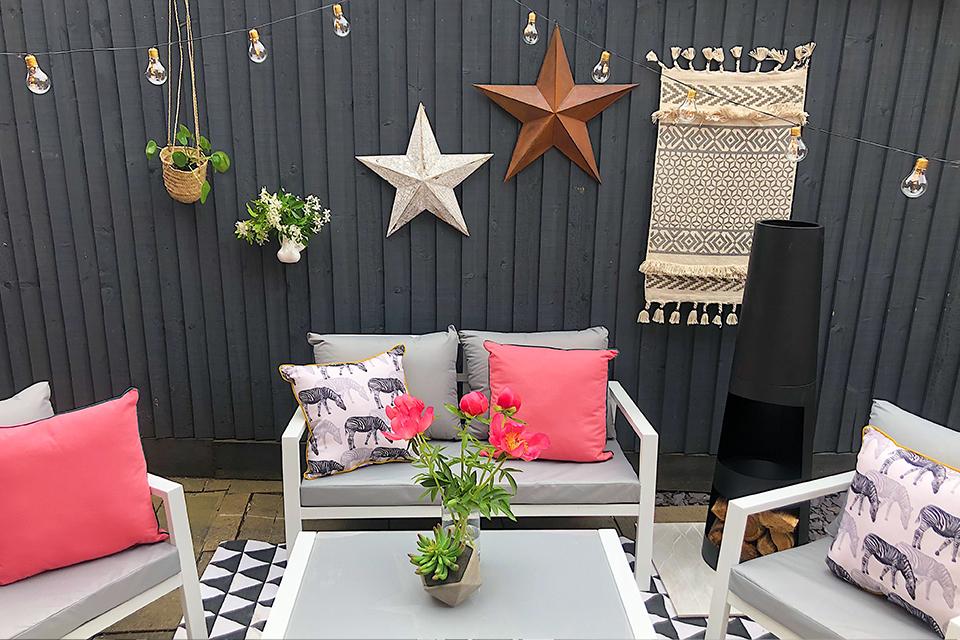 Take the transformation step-by-step
If you have a garden that needs a lot of work, it's important to tackle one bit at a time. It will feel satisfying quickly creating something out of nothing, and a beautifully styled patio or seating area will give you a designated zone to hang out in during the summer whilst you tackle the rest of it.
Refresh and revamp
Making over a small section of our garden took just a few hours to complete, but it was extremely satisfying seeing such an ugly and under-utilised area transform into a cosy and inviting little chill-out haven. The transformation doesn't need to break the bank: a few key affordable accessories can make all the difference.
Outdoor lounge looks
Simply Scandi: Bring your interiors style outdoors
I wanted to replicate the Scandi vibe we have inside our home, so I chose the Argos Home aluminium outdoor sofa and chair set for its clean lines and slight industrial feel. I also love the fact that the frame is made of aluminium, making it easier to care for than traditional wooden furniture sets. Neutral tones make it easy to accessorise by mixing and matching summery trends, and it's perfectly complemented by timeless features such as the chimenea and lantern.
Add the finishing touches
Brighten up with pops of colour
To complement minimalist and modern furniture, contrasting outdoor cushions add pops of colour and interest. A few brightly-coloured garden accessories on a sunny day make outdoor spaces look jollier and more inviting, as bright sun can wash out pale tones. Summer is a perfect time to have fun with colour, especially if your interiors are neutral.
Add faux floral flourishes
Argos has such a fabulous range of faux plants, so I couldn't resist this faux succulent in a cement-style pot for on top of the table. Faux plants are easy to take care of all year round whatever the weather, and will also blend in with other (real or faux!) flowers or foliage. If you don't have a lawn this is an easy way to inject some green.
Create a warm ambience
Outdoor lighting is really important to consider, in order to create the right welcoming ambience. Invest in a log-burning chimenea that is both beautiful to look at and provides some much-needed warmth when the sun goes down, or add outdoor lanterns for a candlelit effect.
Shop my favourites
Looking for more home decor ideas?
Visit our spot for talking the latest trends, inspiring interiors and handy home improvement hints.
Why buy at Argos?