Use up and down arrows to review and enter to select. Touch device users, explore by touch or with swipe gestures.
Our range of lamps, lights and shades are sure to light up your life. Discover the latest trends, types of lighting we offer, and which are best for each room. And if you're struggling with the jargon or in need of inspiration, we've got plenty of helpful hints and styling tips too.
Ambient, task, accent and bias lighting explained
Types
Lighting by room
Living room lighting
You use your living room for a range of activities like socialising and relaxing, so it requires a combo of lighting.
Overhead lighting, spotlights or a pendant ceiling light, spreads light around the room.

Table lamps and floor lamps create a relaxed atmosphere for lounging.

Use spotlights to highlight decorative features, like paintings, and create a focal point.

Task lighting, like table and desk lights, is ideal for reading or working.
Bedroom lighting
From night time reading to dimly-lit closets, your bedroom needs a couple of lighting options to cater to these tasks.
A ceiling light brightens the whole room when getting ready for bedtime or on darker days.

Desk lamps or positioned spotlights offer directional light for reading and studying.

Consider an illuminated mirror for applying make-up, these mimic natural light for application accuracy.

Use spotlights to illuminate the inside of a wardrobe to make it easier to see into.
Bathroom lighting
Bathroom lights are usually ceiling flush and spotlights and require additional protection from water and moisture. Only lights with a suitable IP (ingress protection) rating can be used in specific bathroom zones.
IP67 - Zone 1: the inside of the bath or shower

IP65 - Zone 2: the area directly around the bath or shower. With a height of up to 2.25m above the floor and a radius of 1.2m from the water outlet

IP44 - Zone 3: 60cm wide area next to and around zone 1 and 2.
Kitchen lighting
You'll need a good level of light for food prep and cooking. From ceiling to spotlights, be strategic with your light positioning.
Light fittings with moveable spotlights allow you to angle light on areas which need additional illumination, such as a worktop.

Under cabinet spotlights can also provide extra light for tasks like chopping.

The area directly above the sink is also subject to lighting safety legislation as it requires an IP44 rating.
Dining room lighting
As much as restaurants really like to dim the lights low for some mega mood lighting, in your dining room, there needs to be enough light for you to see your guest's faces as well as your food.
Pendant lights shine light down onto the table, drawing attention to the main focus of the room – the feast. Lights hung in a cluster or a chandelier fitting can really make an impact.

Additional floor lamps or wall lights are ideal for entertaining as they provide softer, atmospheric lighting.
Children's bedroom lighting
This lighting should be customisable. Bright and functional for playing, with the ability to soften on an evening.
Ceiling lights provide good general lighting, while table lamps or night lights offer a softer glow.

A desk lamp is an ideal choice for studying.

Many table lamps have a fully encased light bulb to protect little fingers.

Dimmer switches help create a soothing atmosphere and reassure those who are scared of the dark.
Hallway, landing and staircase lighting
Landings can often be dark, so the lighting here needs to be bright enough for putting on shoes, as well as welcoming guests.
Pendant lights are a good choice, particularly at the top of staircases, which need to be well lit to prevent accidents.

Wall lights or a table lamp can help make these areas feel warm and inviting.

Dimmer switches are ideal for walkways as they can be turned to a low level at night.
Outdoor lighting
Light can create the illusion of space by creating zones to draw the eye around the space. Outdoor lighting is particularly useful to highlight pathways, create serene settings and as a form of security.
Floodlights and motion sensor lights will turn on when movement is detected to illuminate the area, whether that's to scare off an intruder or if you just forgot to put the bins out.

Use solar lights to outline paths.

Spotlights are great for highlighting garden features.
Novelty lights
These lights add personality to your parlour and retro feels to your retreat. A great option for the kids', the relaxing changing colours and movements can help them drift off to sleep. Plus, they're a bit of fun, so why not?
What does LED mean?
LED stands for 'light-emitting diode'. Basically, it's a technology which means that LED bulbs use up to 80% less energy than incandescent and halogen bulbs. Their lifespan is approx. 50,000 hours and lasts twice as long as fluorescent bulbs, and more than 50 times longer than incandescent.
Bulb breakdown
Not sure watt's what? Find the light bulb you need with our helpful guide.
Jargon buster
We don't expect anyone to be a bright spark when it comes to lighting. So we thought we'd shed some light on what some of the terms you'd expect to come across actually mean. You're welcome.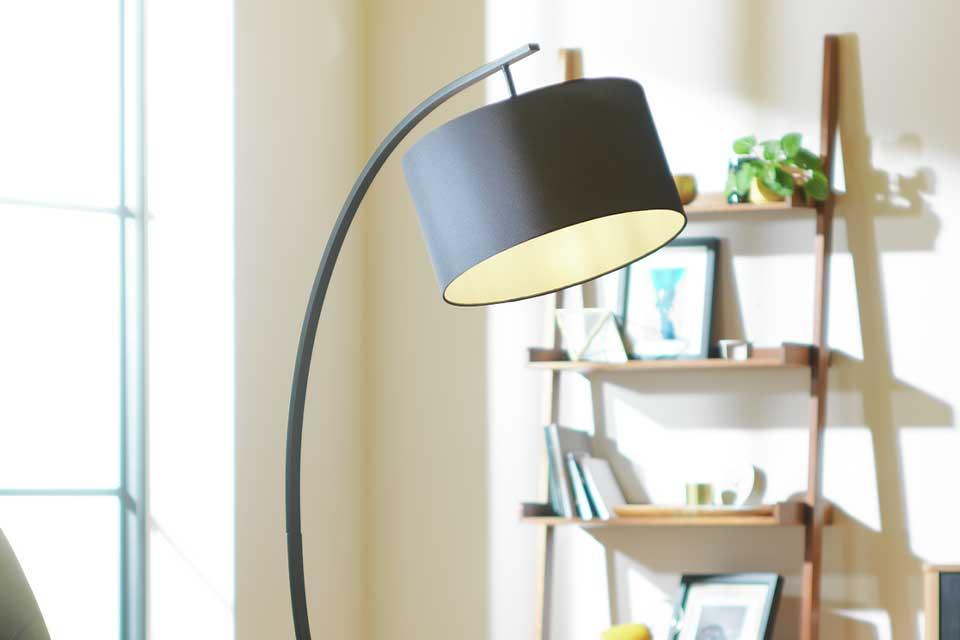 CFL or, 'compact fluorescent light bulbs' are energy-saving and designed to replace incandescent bulbs.

Lumens measure light. Basically, the more lumens, the brighter the light.

Kelvin is the bulb's colour temp. The lower the kelvin the warmer the light, and vice versa.

LED or, 'light-emitting diode'. Up to 80% more efficient than incandescent bulbs and lasts up to 6 times longer!

Colour rendering index (CRI) is measured on a scale of 0-100 and indicates how well a light reflects colour. The higher the CRI, the more accurately colours are reproduced. 80% or higher is ideal for home everyday use.

Wattage tells you how much power a bulb uses. More watts mean more power – not more brightness – for that you need to look at the lumens.
Accessories
Switches and dimmers
Switches are self-explanatory. They turn the light on, and off, and come in a variety of finishes to match your décor. Dimmers control the brightness, either by touch, a switch, or through a smart phone. Great for children's bedrooms and hallways.
Lampshades
Keep it consistent with matching wall and ceiling shades or opt for statement lighting that'll pop!

Play with materials and shapes. Brushed metals give raw and industrial feels, while wood's simplicity creates a stripped back Scandi vibe.

Geometric shapes become a feature creating shadow patterns when lit, and origami designs add an abstract and cultural influence.
Styling tips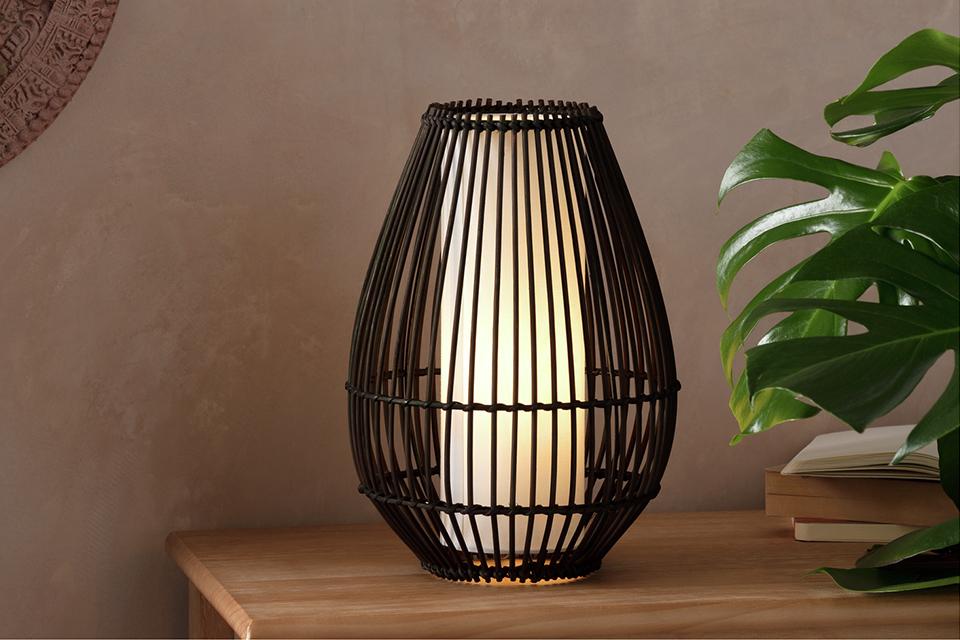 The latest in lighting
The characterful Rattan table lamp will add warmth and depth to your home. If you want to achieve a boho look, opt for natural tones and textures. The result? A calm, relaxed living space. Perfect.
Bright ideas
For outdoor decorating, dangle fairy lights from branches and wrap them round tree trunks for a magically rustic look. Get all the festival feels with lanterns and solar lights.
Need more inspo to light up your life?
For more tips, tricks and trends, check out our inspiration page.
Why buy at Argos?