Use up and down arrows to review and enter to select. Touch device users, explore by touch or with swipe gestures.
Our range of lamps, lights and shades are sure to light up your life. Discover the latest trends, types of lighting we offer, and which are best for each room. And if you're struggling with the jargon or in need of inspiration, we've got plenty of helpful hints and styling tips too.
Light up your home
Make your house a home with our bright lighting ideas and the latest lighting trends. We're here to shed some light on how to refresh your home with our latest lighting arrivals.
Ambient, task and accent lighting explained
Ambient lighting
Think table and floor lamps, chandeliers and pendants. More commonly known as mood lighting, a soft glow will spread across the room providing enough light to chill and chat without a harsh glare.
Task lighting
What it says on the tin. Great for prepping dinner, helping the kids with their homework or anything else that requires extra lighting. Desk lamps and under cabinet lighting are examples.
Accent lighting
Show off a prized painting or highlight a garden feature. The idea is to draw attention to a focal point and enhance details. Wall sconces, recessed lights and spotlights will do the trick.
Energy efficient lighting
Smart lighting
Smart lighting comes in a range of shapes, sizes and colour tones to create a calming ambience, and can be dimmed depending on your mood. Schedule them to turn on and off and control them from your phone when out and about for added security and energy efficiency.
LED lighting
LED stands for 'light-emitting diode'. Basically, it's a technology which means that LED bulbs use up to 80% less energy than incandescent and halogen bulbs. Their lifespan is approx. 10,000 – 25,000 hours but some can last up to 50,000 hours. That means they last twice as long as fluorescent bulbs, and more than 10 times longer than incandescent.
Fancy something different?
Novelty lighting
These lights add personality and retro feels to your retreat. Do check out lava lamps as they're all the rage now.
Animal lamps
An animal-themed table lamp is sure to give your space a quirky and playful look. Perfect to pop on your console table; why not go for an endearing elephant for reading or a squirrel as you study?
Industrial lamps
Industrial lamps are a great choice for those who prefer a contemporary or more stripped back style. With metallic shades and oversized fittings, this type of lighting lends itself perfectly to open-plan spaces.
We don't expect anyone to be a bright spark when it comes to lighting. So we thought we'd shed some light on what some of the terms you'd expect to come across actually mean. You're welcome.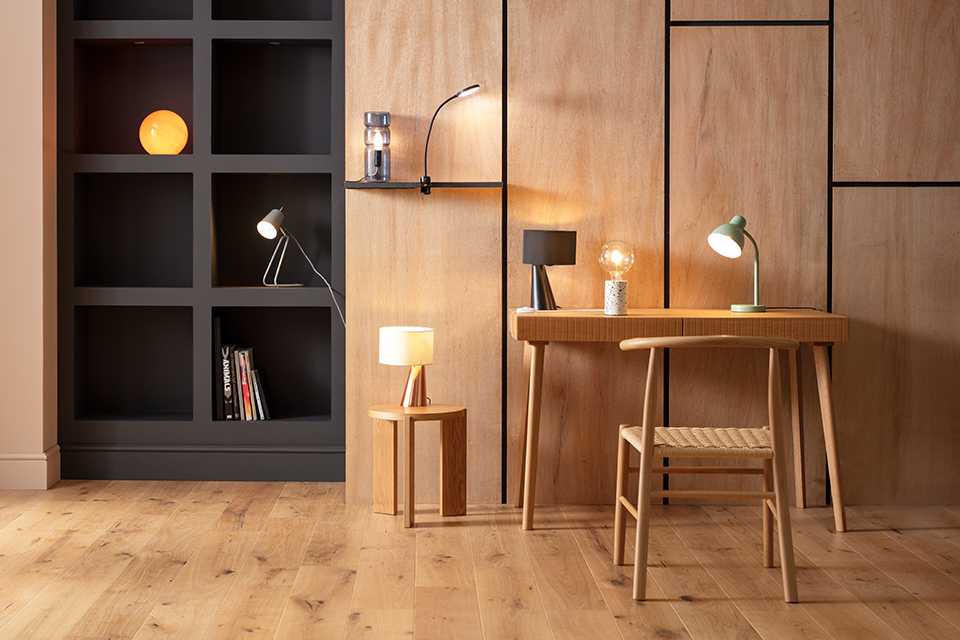 CFL or, 'compact fluorescent light bulbs' are energy-saving and designed to replace incandescent bulbs.

Lumens measure light. Basically, the more lumens, the brighter the light.

Kelvin is the bulb's colour temp. The lower the kelvin the warmer the light, and vice versa.

LED or, 'light-emitting diode'. Up to 80% more efficient than incandescent bulbs and lasts up to 6 times longer!

Colour rendering index (CRI) is measured on a scale of 0-100 and indicates how well a light reflects colour. The higher the CRI, the more accurately colours are reproduced. 80% or higher is ideal for home everyday use.

Wattage tells you how much power a bulb uses. More watts mean more power – not more brightness – for that you need to look at the lumens.
More lighting inspiration
Kitchen lighting ideas
Light up your kitchen for cooking and entertaining.