Kitchen trends
We've picked out three of our favourite of-the-moment looks to inspire your own easy update.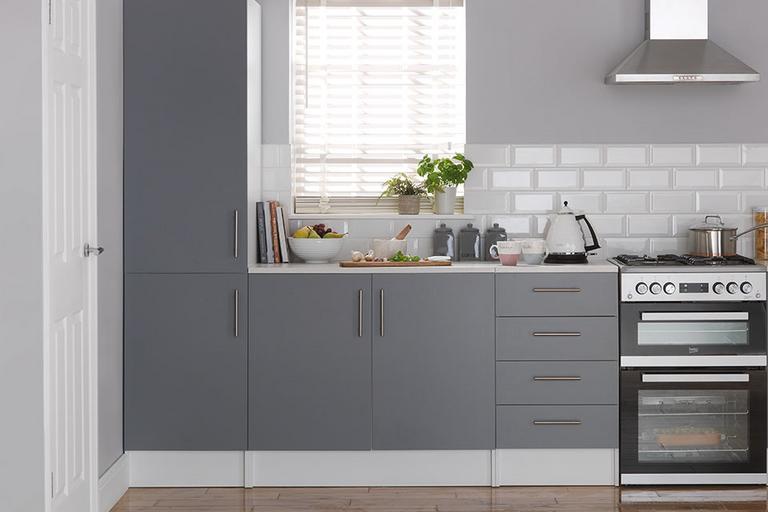 Country kitchen
If this classic farmhouse favourite had a smell, it would be of freshly baked bread and warm apple pie. We love it because it's such an easy look to weave into a slightly dated kitchen, especially if you're starting with cream or wood units.
The appliances
Cream or almond are obvious choices, and opt for distinctive looks that have slightly nostalgic styling (don't worry, the tech is up-to-date). We love this pyramid kettle combining a classic almond design with a stainless steel finish.
The furniture
If you're adding a breakfast bar or table, look for chunky wooden styles. A kitchen island is in the tick list for most dream farmhouse kitchens - here's how to fake it: A solid wood kitchen trolley will give you valuable worktop space, and can be wheeled out of the way when you're done.
The tableware
Twee prints and cute characters are key to country looks. Don't be afraid to layer up patterns; tableware with a woodland-inspired pattern and a floral centrepiece. This look can easily be updated season to season - just add in reds and check prints for winter.
Modern kitchen
For contemporary kitchens you're looking for sleeker styling and a cooler colour palette. Grey has been a staple in home styling for the last few seasons - and shows no signs of fading out of fashion. It's the perfect partner to monochrome units.
The appliances
We're big fans of the ombre effect on this kettle and toaster set - as a rule of thumb your looking for angular shaping in black, white, grey or chrome finishes. 'See-through' kettles are an uber cool alternative.
The furniture
Sleek, sleek, sleek. Look out for brushed metal finishes and clean lines. For an on-trend twist you could tap into the industrial trend with a mix of dark woods and metal - it has an urban appeal which works really well in small spaces.
The tableware
You could go minimalist with simple all white or black dinnerware - you can really have some fun layering these up with statement place settings and copper cutlery. For pattern we love this on-trend leopard print.
Scandinavian kitchen
The kitchen is the perfect place to practice the less-is-more aesthetic favoured in Scandi homes. Cream and grey are your colour staples, but don't be afraid to mix in pops of colour - mustard yellow or aqua blue are some of our go-tos.
The appliances
The shaping is quite nostalgic, with retro references to the 70s, but at its heart Scandi designs are simple and fuss free. With this in mind you're looking for slimline handles and buttons with rounded shaping.
The furniture
The Scandi ethos is rooted in nature, so incorporate natural materials where possible. Blonde woods work well, and look out for that distinctive tapered shaping (like the lovely legs on this breakfast table).
The tableware
This is your chance to have some fun with colour, like this lustrous pink. It pairs perfectly with the grey, and the simple shaping keeps it from being too fussy. If you're looking for print opt for big bold geometric patterns.
Pop the kettle on
More kitchen essentials
Why buy at Argos?