Gaming for kids
Find age appropriate games and consoles for smaller gamers.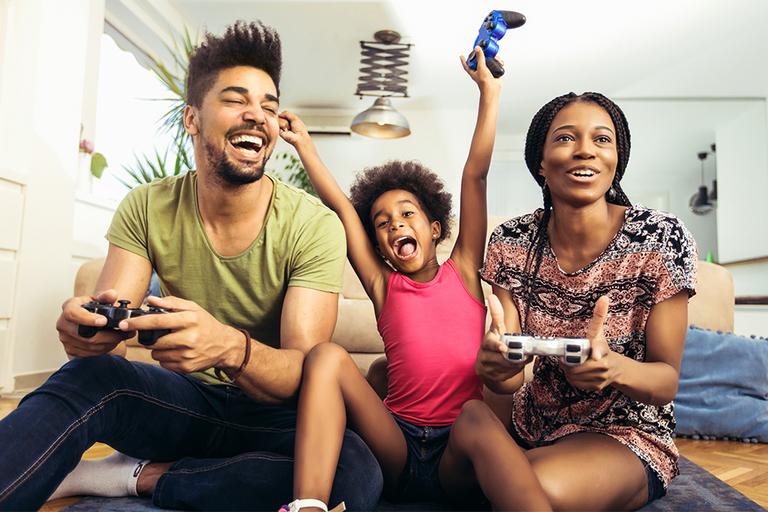 Need help choosing the right video games and consoles for kids? Unlock all you need to know about age ratings, parental controls and online safety and more.
What are the benefits of gaming for kids?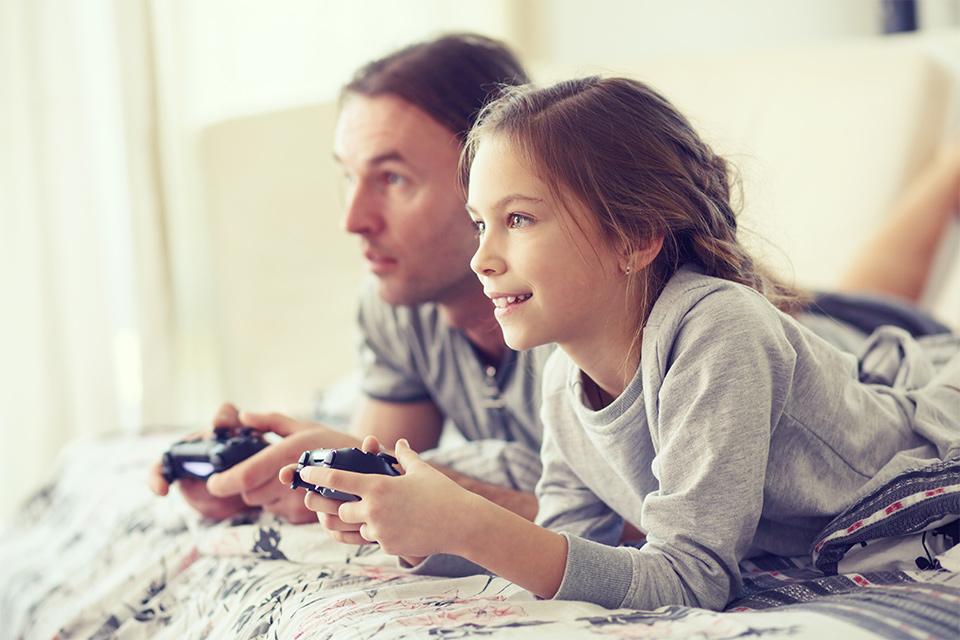 Why gaming can be great for kids
• Games like Minecraft can encourage creativity and imagination, letting them build whatever their mind conjures up.
• Playing together with a family member or friend can also help to improve their team working and social skills.
• Puzzle games can help with their problem-solving skills, as they have to find the right solution to progress through the game.
What's the best games console for kids?
Nintendo Switch
Ideal for little ones, Nintendo Switch has plenty of kid-friendly series including Mario and Splatoon. Play it with a TV in the living room, on a surface in tabletop mode or on-the-go in handheld mode.
Nintendo Switch Lite
Like a handheld-only Nintendo Switch: these lightweight, colourful consoles are perfect for playing out and about, and no TV hogging. It can play any Nintendo Switch game that has a handheld mode.
PlayStation 4
Enjoy family fave games on the versatile PS4. The PS4 now comes in a much slimmer package, plays Blu-rays and has access to online entertainment apps like Netflix and Spotify.
Games console guide
PS5, Xbox or Switch? Find the best console to suit the way you and your family you like to play.
Which games are suitable for kids?
It's important to look for the PEGI rating of a game to see if it's appropriate - think of it like the certificate for a film. The older the rating, the more mature the content. It's worth noting that PEGI ratings don't provide guidance for how difficult a game is - FIFA, for example, is rated PEGI 3.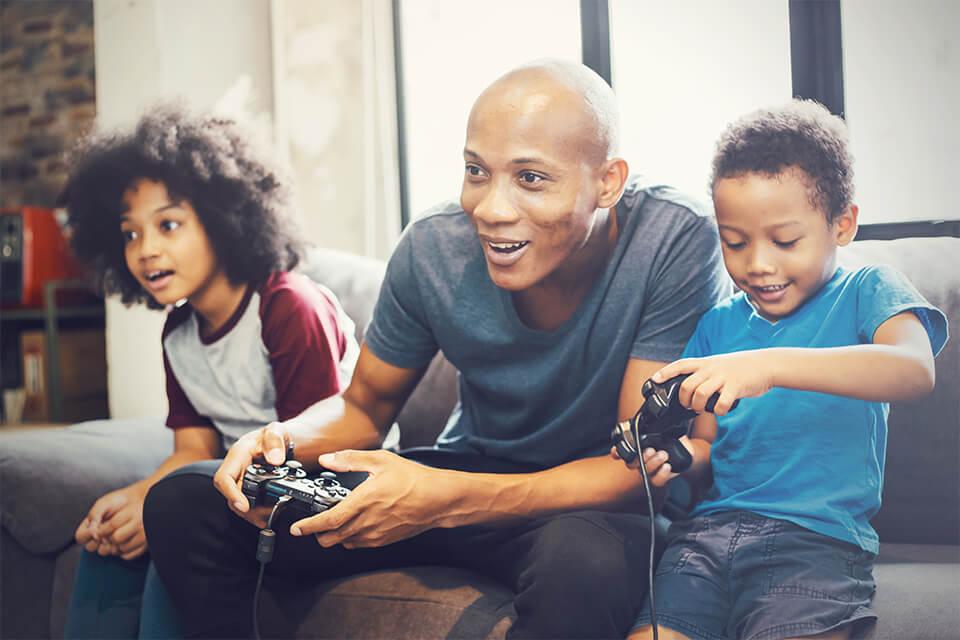 What does PEGI mean?
PEGI stands for Pan European Gaming Information. Every game receives a PEGI rating, which defines what age group it is suitable for.
• PEGI 3: Suitable for ages 3 and up. Shouldn't contain images or sounds likely to frighten young children.
• PEGI 7: Recommended for persons 7 and older. No parental guidance needed.
• PEGI 12: Suitable for persons 12 and older. Medium parental guidance.
• PEGI 16: Suitable for persons 16 and older. Strong parental guidance.
• PEGI 18: Suitable for adults only.
Find the best kids games by console
Games for the whole family
Multi-player madness!
The best games for families are the ones you can play together. Luckily, all the consoles offer a number of games that are great for the whole family. Race to be the fastest with Mario Kart, dance your heart out with Just Dance, and more!
Play with their faves
Parental controls
Parental controls are a feature of all games consoles that let you restrict content, usage and permissions.
How to set parental controls on a Nintendo Switch
1. Open up the systems settings section from the Nintendo Switch's home page.

2. Go to parental controls, then select this console and then restriction level. You'll be given a choice of pre-set restrictions for child, pre-teen, or teen, or custom settings that you can set yourself.

3. If you choose custom settings, you can restrict certain game ages, social media posts, online features and playing time.
How to set parental controls on a Nintendo DS
1. Open the system settings tab from the home screen.

2. Press the parental controls section and set up a PIN code so that your child cannot change your chosen settings.

3. You can then set up restrictions on game age rating, online interaction, the DS shop and more.
How to set parental controls on a PlayStation 4
1. From the PS4 home screen press up on the d-pad to get to the functions area.

2.Go to the settings tab, then click on parental controls, and then on restrict use of PS4 features.

3. You'll then need to set up a parental control passcode and from here you can set the level of control.
How to set parental controls on an Xbox One
1. Once you've created a user account for your child, you can add them to your Xbox family in the setting section.

2. Then click on your child's account and accept the privacy setting agreement.

3. You can then set restrictions for access to content and apps, web filtering and descriptions in One Guide.
Nintendo Switch Parental Controls App
As a parent, it's not always easy to keep an eye on your children's time spent with entertainment devices. The Nintendo Switch Parental Controls smart device app is a free smart device app which you can link with Nintendo Switch to easily monitor what and how your children are playing. If you do not have a smart device you can also set certain restrictions on Nintendo Switch directly.
Gaming safely
Playing time
Experts agree that it's important to set limits on screen time. An hour a day is a good starting point for younger children.
Age appropriateness
It's really important to choose games that are suitable for your kid's age. PEGI ratings can help with this, but you should also consider other factors like if a game will be too difficult or too scary for your child.
Activity
Game time should always be balanced with staying active. Although some consoles have games you can play on your feet, it's still recommended to take regular breaks and stay active away from the screen.
Online safety
Most consoles have access to the internet and social media. You can limit your child's access to these sites and apps by setting parental controls.
Advice to keep your children safe online
Get free expert advice from Internet Matters on how to make your children's online life fulfilling, fun and above all safe. The non-profit organisation offers simple advice on the main issues children may be exposed to when browsing the internet, alongside safeguarding tips for setting up appropriate controls and filters across your devices.
More ideas and inspiration
Kids at Argos
From tiny tots to big kids, discover everything you need to help them grow, learn and play.
Why buy at Argos?
Spread the cost of gaming
Representative 34.9% APR variable
Credit Subject to status. T&Cs apply.