Use up and down arrows to review and enter to select. Touch device users, explore by touch or with swipe gestures.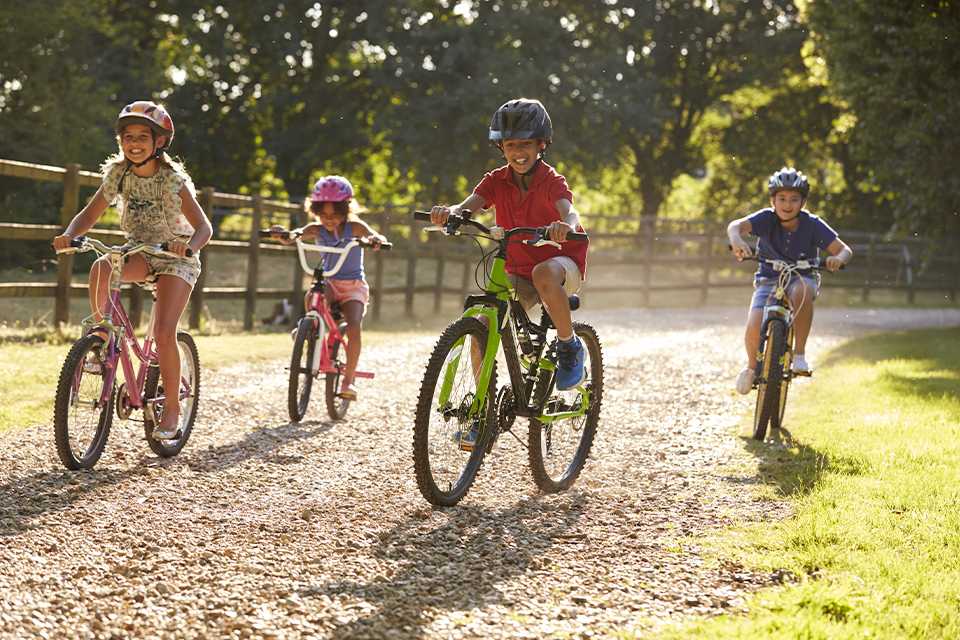 How to buy kids' bikes online
Kids love biking, but it's tricky to know what size and type they need.
Our guide is here to help you find the right bike for the age and size. Discover the difference between mountain, BMX, road and balance bikes and watch our 'how to measure' videos to find out exactly what size they need.
Bikes for 2-4 year olds
Type: Balance bikes for beginners.
Wheel size: Balance bikes
Height: 88-105cm / 2'11" – 3' 5" inches
Bikes for 3-5 year olds
Type: Starter bikes with stabilisers.
Wheel size: 12"
Height: 98-112cm / 3' 3" – 3' 8" inches
Bikes for 4-6 year olds
Type: Bigger bikes with or without stabilisers.
Wheel size: 14"
Height: 105-117cm / 3' 5" – 3' 10" inches
Bikes for 5-8 year olds
Type: Confident children ready to drop the stabilisers.
Wheel size: 16" / 18"
Height: 112 – 127cm / 3' 8" – 4' 2" inches
Bikes for 7-9 year olds
Type: More choice and styles for adventurous cyclists.
Wheel size: 20"
Height: 117 – 136cm – 3' 10" – 4'6" inches
Bikes for 8-15 year olds
Type: The best bikes for free-roaming big kids.
Wheel size: 24" / Adult bikes
Height: 127 – 145cm / 4' 2" – 4' 9" inches
To find the best size of bike for your child, you need to consider their height and the length of their inside leg. Watch the videos below to see step-by-step guidance on how to get the measurements you need.
How to tell if a bike is the wrong size
- Their feet don't touch the ground when the bike is upright.
- Their legs are significantly and uncomfortably bent when using the pedals.
- They have to stretch to reach the ground or handlebars.
Types of bikes - toddlers
Children can learn to ride a bike from as young as 2 years old. You have two choices when it comes to beginner bikes; balance bikes, which don't have pedals or a brake and beginner bikes, which have brakes, pedals and use stabilisers to keep them steady.
Balance bikes
What is a balance bike? – A balance bike is intended as a starter bike. They don't have brakes or pedals, but help kids get the hang of steering and balancing.
Benefits of a balance bike – In theory, starting off with a balance bike should make adapting to a bike with pedals much easier. Pedalling and braking are easier skills to master than steering and balancing, so the transition to a bigger bike should be smoother.
What to consider – Although balance bikes can be easier to learn, your child may grow out of them quicker than a beginner bike.
Bikes with stabilisers
What is a bike with stabilisers? – Stabilisers are a pair of wheels that attach to the rear of the bike and helps prevent learners from falling off. It's the traditional way of learning how to ride a bike. And when they're ready, the stabilisers come off.
Benefits of stabilisers – These bikes have pedals, brakes and gears, meaning you might not have to buy another bike when they outgrow the stabilisers - you simply have to take them off.
What to consider – Once stabilisers are removed, it can take time for them to learn how to steer and balance, as the bike feels completely different without them.
Types of bikes - big kids
When your child has mastered the art of cycling, they may be ready for a big kid bike. Here are some of the options to choose from.
Mountain bikes
Mountain bikes are designed for performance on all terrains. They have a strong suspension and grooved tyres for use on gravel, grass and other off-road surfaces.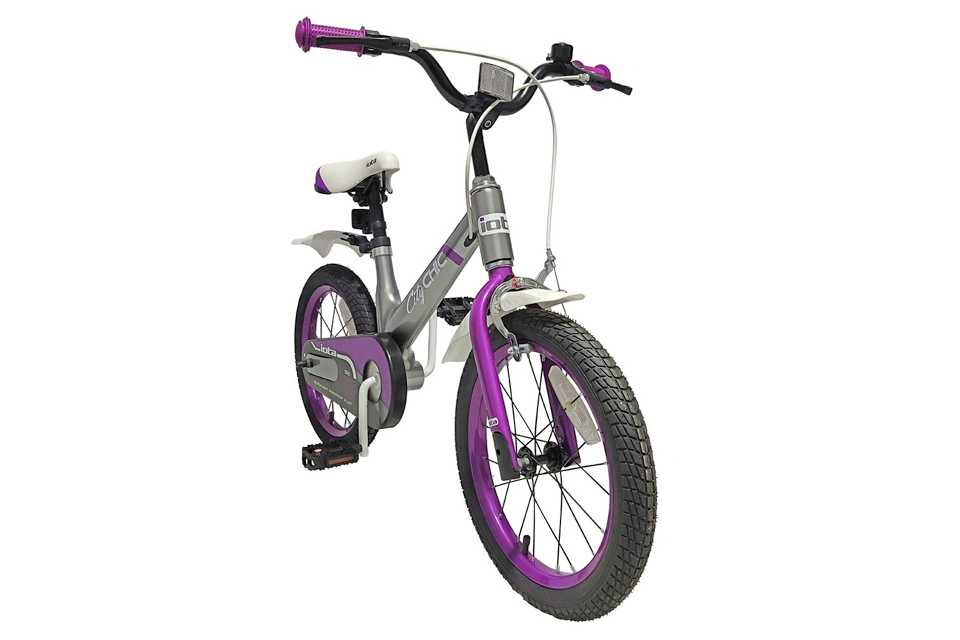 Road bikes
As the name suggests, these bikes are most suited to riding on flat surfaces and may struggle for speed and grip on tougher terrain.
BMX bikes
BMX bikes are built for jumps, tricks and stunt riding. Agile and lightweight, they usually don't have suspension or gears, and are suitable for road and off-road riding.
Adult bikes
When your little one is suddenly a big one, they might need to move up to an adult bike. Adult bikes have bigger wheels, making them more suitable for taller big kids.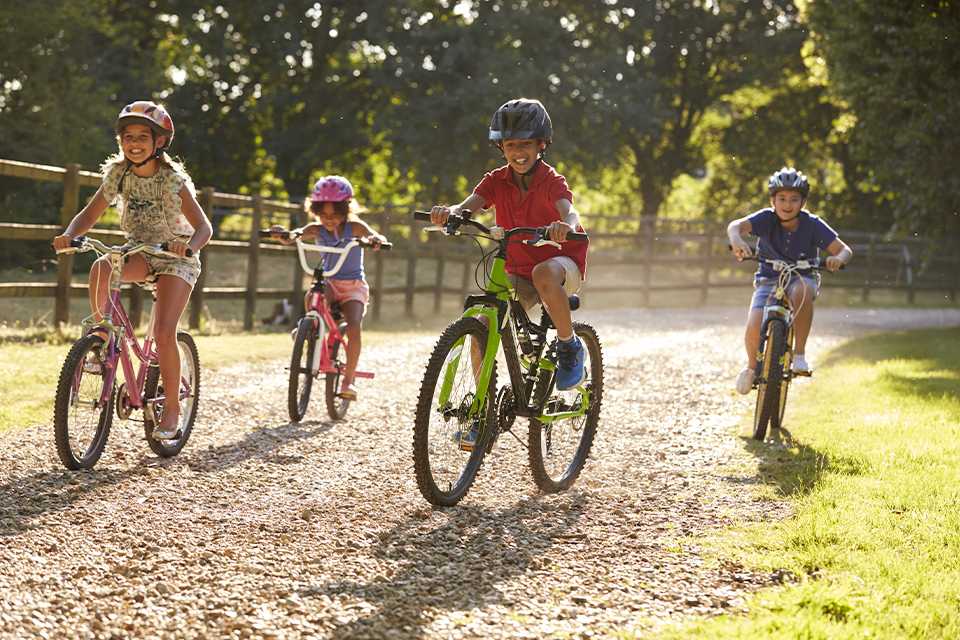 Bike safety for kids
It's essential for kids to stay safe when they cycle and take measures to prevent injury.
The highway code recommends that all cyclists wear a helmet and a bike must have lights, especially if you plan to ride when it's dark.
Knee and elbow pads provide added protection against falls, while you should also regularly check your tyres to ensure they are properly inflated.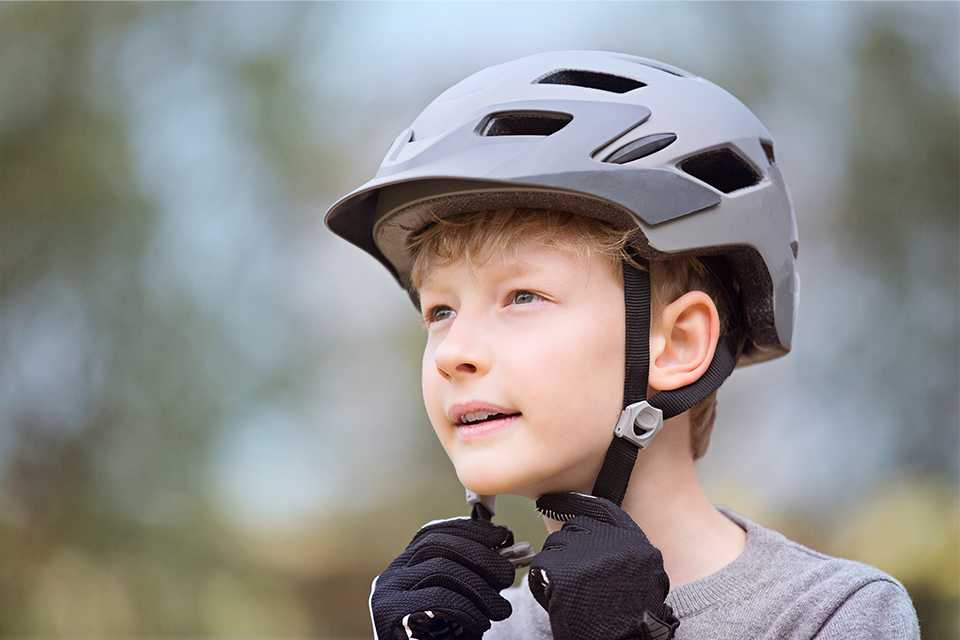 Fitting a child's bike helmet
Step one - Start by measuring the circumference of your child's head. Place a soft tape measure around the largest part of their head – above their ears and about an inch above their eyebrows.
Step two – Once you've found the correct helmet size, make sure it fits snugly on your child's head. The helmet should sit low on their head with the front about two finger widths above the eyebrows.
Step three – Next, adjust the side straps of the helmet so that they sit snuggly around your child's ears in a V shape. This keeps the helmet secure on their head.
Step four – It's now time to buckle the chin strap. The chin strap should be tight enough so that no more than one finger is able to fit between their chin and the strap.
Step five – Now that the helmet is on, check that it fits comfortably but not too tightly and doesn't obstruct your child's vision.
How to assemble a kids' bike at Argos
Here's all you need to know to assemble your little one's bike and get them all set to ride!
More help and inspiration